Editor's Note: Overdraft Apps provides detailed product reviews and recommendations based upon extensive research and our own hands-on testing. We may earn a referral fee when you sign up for or purchase products mentioned in this article.
If you're one of the 108 million Americans struggling with a low credit score (or no credit score), you'll end up paying more fees and higher interest rates on loans – if you're approved at all! Grow Credit's Mastercard provides a tiny credit line that you can use to pay for your favorite subscription services, delivering a jolt to your credit score. But with no cash now or down the line and strict spending limitations, you might want something with more flexibility. We've rounded up the top credit builder apps like Grow Credit to compare your options.
Odds are, you've got a Netflix account… or you know the logins to someone else's.
Grow Credit helps you improve your credit by paying for your Netflix account (or one of over 100 other popular subscription services). Your credit line and on-time payments are reported to all three major credit bureaus, which may help boost your credit. (It's important that you maintain on-time payments that you may owe other lenders, too.)
You can apply for this handy credit card with no credit check in just a few minutes. But Grow Credit's card won't be for everyone. For a start, there's a tiny $17 monthly spending limit, and you can only use the card for one or two of the pre-approved subscription services each month. You can view the full list of available subscriptions here.
Grow Credit users see their credit scores increase by an average of 51 points after twelve months1, thanks in part to to these small, on-time monthly payments. But if you're looking for a way to build up your savings or access cash upfront, you'll need to explore other options.
So, are there credit builder apps like Grow Credit?
We've answered that question by comparing the top products available. By taking into account a wide range of repayment options, low APRs and complementary products, you're sure to find the credit building product that's right for you.
The no-interest, no-fee way to build your credit >>> Check out Grow Credit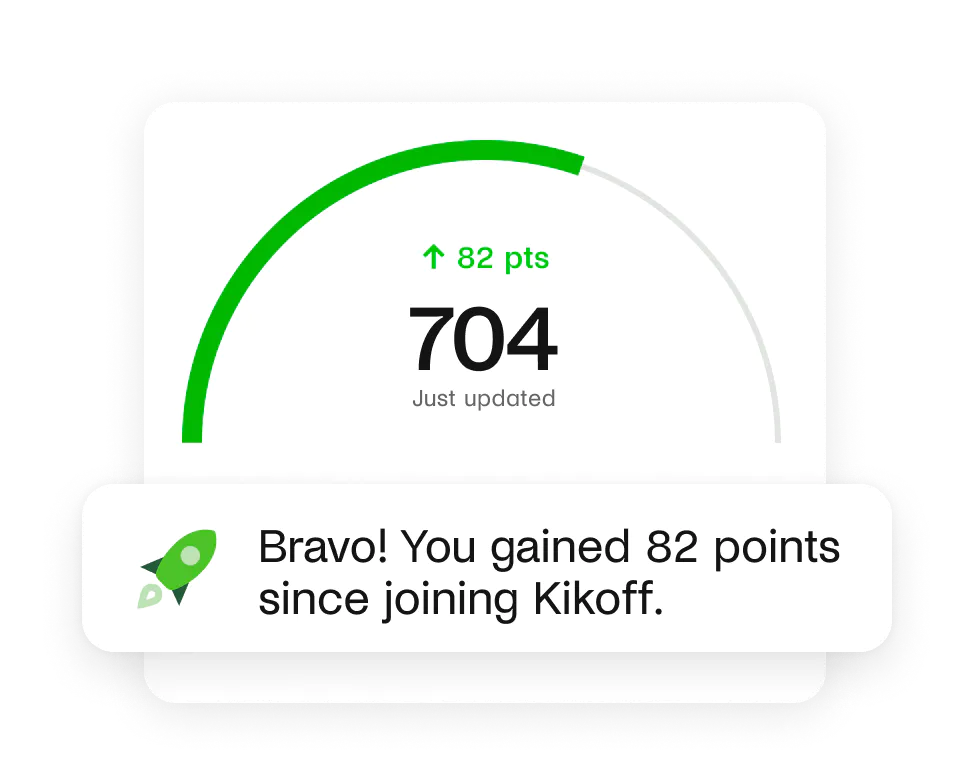 Kikoff Credit can help you build your credit with no credit check and no costly long term commitment.
On average, Kikoff customers with credit scores under 600 increase their credit scores by 58 points, with consistent on-time payments during the account lifetime. Many Kikoff customers have been able to qualify for better car loans, mortgages, credit cards, personal loans, and more.1
Kickoff has helped over 1 million people build credit and costs just $5/month!
Credit builder apps like Grow Credit
A credit builder loan can help you build credit AND save money – which Grow Credit won't do. With some of the most popular credit builders offering a portion of your funds upfront, you can access some cash immediately for those urgent expenses that can't wait, then build up a track record of on-time payments to boost your credit and walk away with a lump sum in your savings (minus interest and fees) once you've repaid your loan.
Some loans also offer a quick path to a secured and even unsecured credit card, which you can use to pay for your purchases, not just a small monthly subscription service bill or two.
If you're looking for a little more flexibility than Grow Credit's interest-free virtual Mastercard, it's nice to know you've got options. So read on for the best Grow Credit alternatives.
Credit Strong – Affordable credit builder loans for as little as $15/month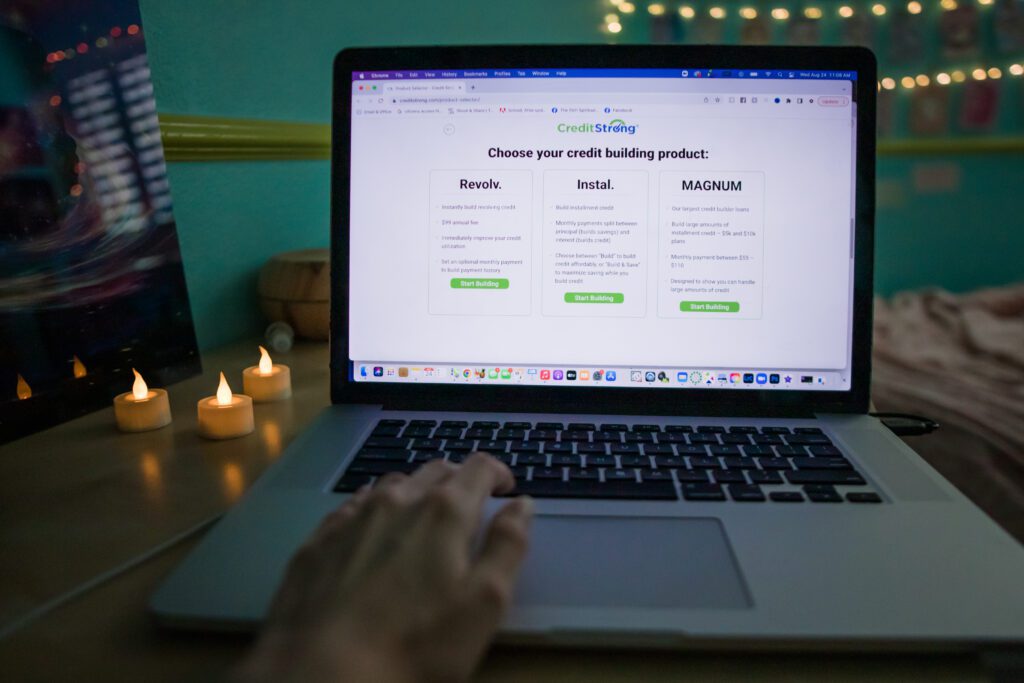 Credit Strong can help you build credit while you save with a range of credit builder loans. Your payment plan will depend on the loan size you choose, so you're not forced into a payment schedule that stretches you too thin.
Once you've selected your loan amount, 100% of your funds are deposited in a locked savings account. You won't have access to any money upfront, but the full amount is yours once the loan is repaid in full (minus interest and fees).
So, does Credit Strong help?
A study of 50,000 Credit Strong credit builder accounts shows handy credit score improvements! On average, account holders improved their FICO score by:
More than 25 points within three months.
More than 40 points after nine months
Almost 70 points after twelve months (for account holders who made all of their payments on-time)
Credit Strong's two most popular options – called Instal – are a $1,000 loan with $15 monthly payments or a $2,500 loan with $30 monthly payments. With multiple plans to choose from, there's something to suit any budget and credit history.
Here's what a loan like Credit Strong Build 1000 plan would look like for you…
You would make 120 monthly payments of $15 (plus a one-time $15 administrative fee), which totals $1,815. You will receive back $1,000 at the end of the plan, so the total finance charge is $815. The Builder 1000 plan has a 13.50% APR.
Eligibility Criteria:
No credit score minimum
No minimum income required
Not available in Wisconsin, Vermont, or North Carolina
Build your credit score for just $15/month >>> Get started with Credit Strong
Self Financial – Helping over 1 million customers build credit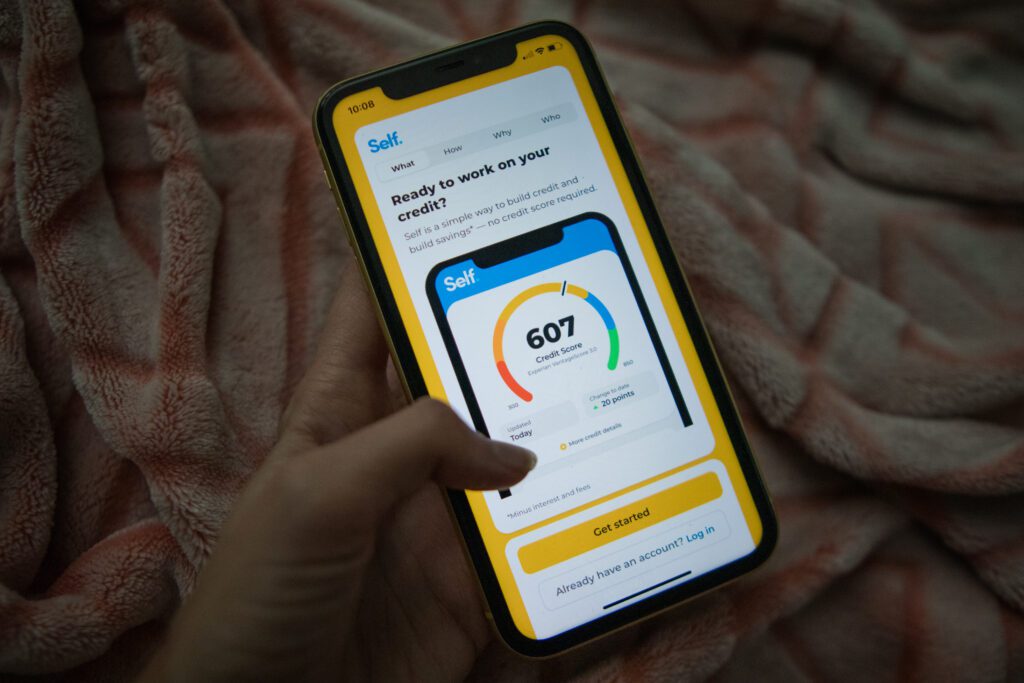 Self's Credit Builder Accounts have a proven track record of helping customers increase their credit score by an average of 32 points!2 People with very low credit scores often see the biggest gains with Self and if you don't have a credit history, apps like Self can help you establish a credit score with all three major credit bureaus – potentially in the fair-to-good range – in just six months. (Many factors go into your credit score, so individual results may vary.)
Self Financial can build your credit score by helping you show that you can make regular, on-time monthly payments. You'll select the amount you'd like to pay when you sign-up with Self, and your payments are held in an FDIC-insured bank account.
At the end of your 12- or 24-month plan, your payments are returned to you, less interest and a one-time $9 admin fee, so you're building up some savings at the same time that you're building your credit! Self's plans are very affordable, with several plan options costing less than $100.
You can apply for a Self Credit Builder Account online in just a few minutes, and poor credit or bad credit are no problem. Plus, if you ever have trouble keeping up with payments or just aren't satisfied, you can cancel your Self plan at any time and get your payments returned to you, less interest and fees.
Build your credit score and build your savings >>> Check out Self
Chime Credit Builder Credit Card – Interest-free secured credit card plus up to $200 in fee-free overdrafts
The Chime Credit Builder Card puts a new spin on a secured credit card with no interest, no fees and no credit check.
The advantage of this product is that you're 100% in control of your spending limit. You get to decide how much to pre-load on your card, so there's zero risk of spending beyond your means. That means you can't swipe your Credit Builder Card on extra drinks at the bar or splurge on a new wardrobe unless you already have the funds to pay for your purchases.
So, does Chime Credit Builder Card work?
Based on a representative study by Experian®, members who made their first purchase with Credit Builder between June 2020 and October 2020 observed an average FICO® Score 8 increase of 30 points after approximately 8 months.3
You will need a Chime checking account to qualify for this $0 annual fee credit card. But your Chime checking account ALSO comes with a Chime Visa® Debit Card that can make $39 overdraft fees a thing of the past. With your Chime Visa Card, you can enjoy up to $200 in fee-free overdrafts. If you haven't transferred enough to your Credit Builder Card, you can splurge with confidence knowing no frustrating overdraft fees are lurking around the corner.
Eligibility Criteria:
No credit check to apply
No minimum security deposit
Chime checking account with $200 in qualifying direct deposits
No interest credit card and up to $200 with no overdraft fees >>> Check out Chime
Kikoff Credit Account – Build your credit for just $5/month
If you're one of the 3 in 5 Americans living paycheck to paycheck in 2022, you may not be thrilled at the idea of a monthly payment schedule of $50 or $100 to improve your credit.
Kikoff offers an alternative credit building option that will cost you as little as $5 per month.
Instead of requesting a loan and paying off the total (plus interest), Kikoff opens a revolving $750 line of credit in your name. The catch is that you can ONLY spend your credit in Kikoff's online store. The Kikoff store sells eBooks on finance and personal well-being for $10 to $20. You don't have to buy anything if you don't want to.
Kikoff reports your monthly subscription ($5) to Equifax and Experian. Your plan ends after 12 months which can help you boost your credit score without committing to a longer-term payment schedule. On average, Kickoff Credit customers with credit scores below 600 increase their credit scores by 58 points 4!
Eligibility Criteria:
No credit check to apply
No obligation to use your line of credit
Not available in Delaware or Indiana
Kikoff app required
Build your credit for just $5/month >>> Check out Kikoff Credit
MoneyLion Credit Builder Plus – Borrow up to $1,000 with cash upfront
MoneyLion Credit Builder Plus can help your short-term AND long-term financial health with a credit builder loan up to $1,000 – which may include several hundred dollars in cash upfront!
Helping you build credit and save, Credit Builder Plus is open to people with poor credit or no credit history at all. Applying is easy online or through the MoneyLion app, and there's no credit check to apply. Link your primary checking account, and MoneyLion will scan your account to make sure you meet the minimum eligibility requirements.
If you're approved for a Credit Builder Plus membership (costing $19.99/month), you won't just get a credit builder loan up to $1,000. You'll also unlock 0% cash advances up to $300, weekly updates on your credit score, and members-only cashback rewards up to $19.99 a month. This can make your monthly membership effectively free!
Your payments are reported to all three major credit bureaus: Equifax, Experian and Transunion. And more than half of MoneyLion borrowers see a 42 point increase in their credit score after about 60 days5, so you can improve your credit with confidence and make borrowing money easier and cheaper in the future.
Eligibility Criteria:
No credit check
Detectible income with recurring deposits
Positive account balance and active transaction history
Build credit + 0% APR cash advances for up to $300 >>> Check out MoneyLion Credit Builder Plus
SeedFi Borrow & Grow – Get up to $4,000 cash now plus savings for later
Borrow & Grow was created to address what SeedFi CEO and co-founder, Jim McGinley, sees as the cause of many Americans' financial problems: savings (or a lack of them). SeedFi's Borrow & Grow plan is a conventional credit builder loan with the benefit of accessing some of your funds upfront.
Borrow & Grow loans range from $1,750 to $8,000 for first-time borrowers. $300 to $4,000 is available immediately, so you're not left with a cash flow problem while you pay off your loan. Repayment periods range from 10 to 48 months, and APRs range from 11.59% to 29.99% 6.
The benefit of borrowed funds and savings also needs to be weighed against some disadvantages. You'll need to make sure you make your repayments, or your credit score will take a hit. Loans like SeedFi Borrow & Grow can also be an expensive way to save because you're paying interest on more money than you need.
Even if you only need $500 upfront, the interest you pay on the remainder of your loan can add up. There are other ways to get emergency cash whether you need to borrow $50, borrow $100 or borrow $200. But if you need fast funding with a soft credit check, SeedFi may be right for you.
Eligibility Criteria:
Available in 36 states
$10,000 in annual take-home income
Minimum credit score 520 (borrowers with no credit score may be accepted)
Get up $4,000 and build positive credit history >>> Check out SeedFi's Borrow & Grow Plan
---
​​How we picked these apps
To come up with this list, we picked the top credit building apps like Grow Credit, hit the 'downloaded' button, and started comparing features and reading T's & C's. We considered features including total funds, availability of funds, APRs and loan repayment schedules. We also looked for additional features that might help people looking to rebuild or establish their credit. These include soft or hard credit checks, borrowing limits and additional financial features. We may receive a referral fee if you purchase or use some of the products described in this article.
WAIT! High overdraft fees aren't the only way your bank is costing you money.
With inflation overheating, you've probably heard that interest rates are climbing sharply. That means that for the first time in years, it's a great time to shop around for a high interest savings account.
The national average interest rate for savings accounts is currently 0.23% APY – that means that if you have $2,500 in a savings account, you'd earn just $5.76 after one year! Move those hard-earned savings to an FDIC-insured bank paying 3.50% APY and you'd earn $81.73 more!
Don't let your hard-earned savings sit there doing nothing. Check out the rates that you can earn at other banks:
Latest posts by Alexander Porter
(see all)