Editor's Note: Overdraft Apps provides detailed product reviews and recommendations based upon extensive research and our own hands-on testing. We may earn a referral fee when you sign up for or purchase products mentioned in this article.
A poor credit score can keep you from buying a car, renting an apartment, and get in the way of quite a few life and financial goals. It makes many things much more stressful and expensive. While there is no magic bullet to improve or establish your credit history, a credit builder loan from Credit Strong is an affordable and effective tool to get your credit on the right track within just a few months, and Credit Strong customers who make 12 on-time monthly payments see their credit score increase by an average of 70 points! Our Credit Strong review explains how it works, what results you could achieve and how much it really costs.
What's the Cost of a Low Credit Score?
For millions of consumers with a high credit score, credit cards and lenders often compete to pay them! High credit scores mean high class problems, like mailboxes stuffed with credit card offers shouting about large credit lines, and rich reward programs, like significant cash back on every purchase or mountains of reward points. High credit borrowers aren't nickeled and dimed by fees – they pay few of them – and their interest rates are often in single digits, including 0% rate offers that can be worth thousands of dollars! These offers often arrive pre-approved, so there's little stress around getting rejected for yet another credit application.
It's a very different story if you have a low credit score, or no credit score at all. You're often limited to spending what you have on hand, which means saying no to bigger purchases or need to plan your spending carefully until your next paycheck to avoid costly overdraft fees. Applying for a credit card or loan often comes with high stress of rejection and embarrassment, and if you really need to borrow money, the few loans you can get approved for usually cost so much that they just make your finances even worse.
Plus, a low credit score can seep into other surprising aspects of your life, such as preventing you from renting an apartment, making it more costly to obtain auto insurance and even keeping you from getting hired for some jobs!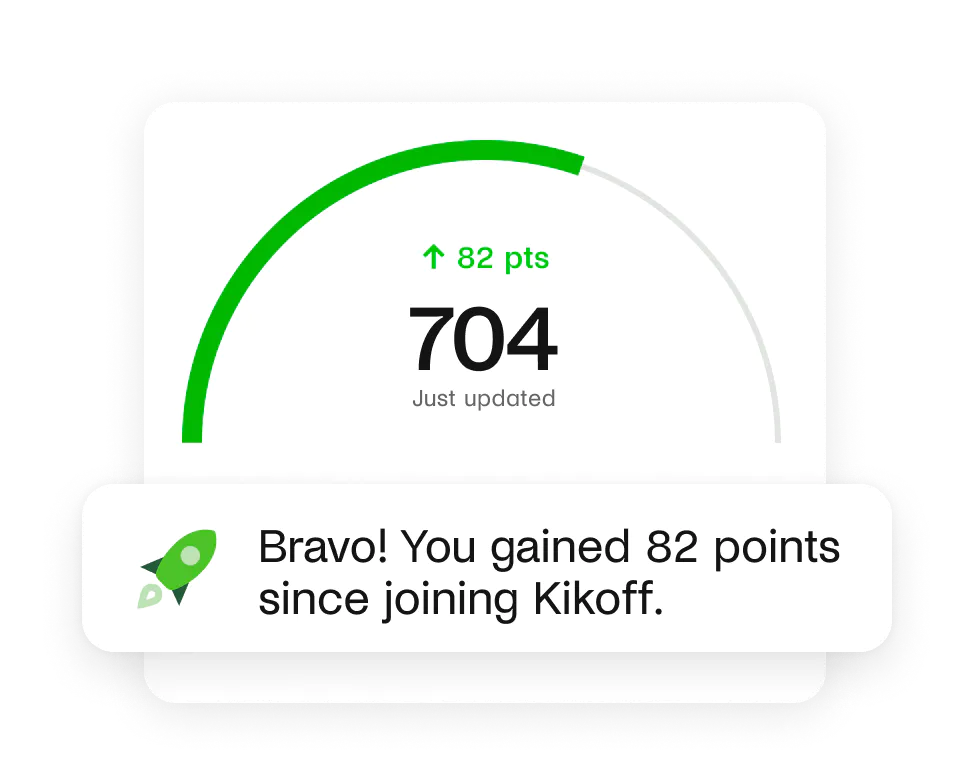 Kikoff Credit can help you build your credit with no credit check and no costly long term commitment.
On average, Kikoff customers with credit scores under 600 increase their credit scores by 58 points, with consistent on-time payments during the account lifetime. Many Kikoff customers have been able to qualify for better car loans, mortgages, credit cards, personal loans, and more.1
Kickoff has helped over 1 million people build credit and costs just $5/month!
If your credit score needs a serious jolt, the only proven strategy for a rapid score increase is to pay off all of your outstanding debt. However, your low credit score may have prevented you from establishing many loans or credit cards, and few of us have the cash to instantly pay them off.
It takes time and consistency to build or restore your credit. Fortunately, there is a proven and affordable product that can help speed up the process of building your credit, while helping to grow your savings at the same time – Credit Strong.
What is Credit Strong?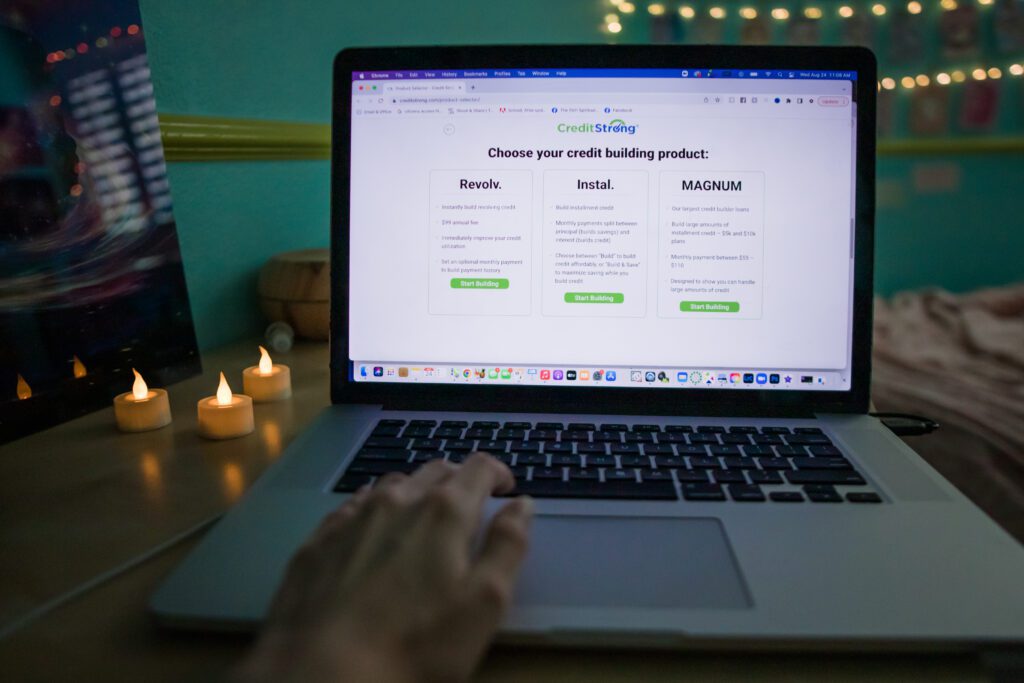 Credit Strong offers credit builder loans – small, affordable loans that are specifically designed to help you build your credit score. Credit Strong's lowest priced credit builder plan costs just $15 per month.
Credit Strong customers see their credit scores increase by more than 25 points within 3 months of opening their account, on average. Credit Strong customers who make 12 on-time monthly payments more than double that score increase to almost 70 points. If you don't have a credit score, it generally takes one or two months from the date your account is first reported to credit bureaus to get a VantageScore® and about six months to get a FICO® Score.
Credit Strong offers three products to help improve your credit:
Instal. – Very affordable credit builder loans and the most popular product. BEST choice for establishing or building your credit score.
Revolv. – Helps some borrowers with outstanding loans and credit cards improve their credit mix.
Magnum – Larger loans for borrowers with lots of cash on-hand who need to improve their established credit score to qualify for a mortgage or larger loan.
How does Credit Strong work?
You can apply for a credit builder loan from Credit Strong online in just a few minutes. There is no credit check, and you can qualify even if you don't have a bank account; though you will need a prepaid debit card.
When you take out a credit builder loan with Credit Strong, you'll select the payment plan that best fits your budget. The two most popular options, which Credit Strong calls Instal, are a $1,000 loan with $15 monthly payments or a $2,500 loan with $30 monthly payments. Both plans charge a one-time $15 administrative fee.
When you open your account, Credit Strong will deposit the funds in a 'locked' savings account. As you make your monthly payments, part of each payment will go towards interest and the rest will go towards reducing your loan balance, which is really building up savings that you'll get access to later. Once your loan is repaid (or cancelled), your accumulated savings balance is all yours!
Along the way, Credit Strong reports your monthly payments to the three major credit bureaus: Equifax, Experian and Transunion. Since payment history is the largest component of your credit score, making on-time payments can have a quick and significant on your score! (You should note that missed or late payments to Credit Strong or other lenders can damage your credit score.). Credit Strong offers a convenient auto-pay option at no extra charge, and also gives you free access to your credit scores with each credit bureau, so you can track your progress!
How much does Credit Strong cost?
Credit Strong's $1,000 credit builder loan, called Build 1000, features one of the lowest monthly payments of any widely available credit builder plan – just $15. Rates on the Build 1000 plan are an attractive 13.5% APR, which is two percentage points lower than the rates charged by Self Financial, one of the most popular providers of credit builder plans. (If $15 payments are still more than you can commit to, check out Kikoff Credit, which has a different type of credit builder account available for just $5/month.)
With the Build 1000 plan, you would make 120 monthly payments of $15 (plus the $15 administrative fee), which totals $1,815. You will receive back $1,000 at the end of the plan, so the total finance charge is $815. This plan is a great option for people who are committed to building their credit score, but don't have much wiggle room in their monthly budget.
If you choose the Builder 2500 plan for a $2,500 credit builder loan, you would make 120 monthly payments of $30 (plus the $15 administrative fee), which totals $3,600. You will receive back $2,500 at the end of the plan, so the total finance charge is $915. The Builder 2500 plan has a 7.75% APR. This plan is a better option if you want to make a bigger impact on your credit score, put away more savings and pay a lower interest rate, provided that you can comfortably make $30 monthly payments.
You can cancel your Credit Strong account at any time with no early termination fee or prepayment fee and receive back our accumulated savings, which is a valuable feature if you have achieved your target credit score, are having trouble keeping up with on-time payments or need access to an extra bit of cash.
While Credit Strong has a track record of delivering results (when you keep up with your on-time payments), ten years is an awfully long time to tie up your money. Self Financial and MoneyLion offer 12 month credit builder loans, while credit building products like StellarFi and Kikoff Credit have simple month-to-month plans with no commitment.
Is Credit Strong legit?
With over 1 million customers, Credit Strong is one of the most popular credit builder products in the United States, and certainly the largest offered directly by a bank. Credit Strong is a product offered by Austin Capital Bank, SSB, an independent community bank. Since Austin Capital Bank is a member of the FDIC, your Credit Strong savings account is federally insured up to $250,000. The bank is regulated by the Texas Department of Savings and Mortgage Lending.
Credit Strong has received just 62 complaints with the Better Business Bureau over the past three years – a small number compared its large customer base – and responded to 100% of them.
You should note that there is no Credit Strong app, so beware of mobile apps with similar names.
Watch: Build your credit and savings with Credit Strong
WAIT! High overdraft fees aren't the only way your bank is costing you money.
With inflation overheating, you've probably heard that interest rates are climbing sharply. That means that for the first time in years, it's a great time to shop around for a high interest savings account.
The national average interest rate for savings accounts is currently 0.23% APY – that means that if you have $2,500 in a savings account, you'd earn just $5.76 after one year! Move those hard-earned savings to an FDIC-insured bank paying 3.50% APY and you'd earn $81.73 more!
Don't let your hard-earned savings sit there doing nothing. Check out the rates that you can earn at other banks:
Latest posts by Mitchel Harad
(see all)
Credit Score Increase: Based on Kikoff customers that used the Credit Account product and made consistent on-time payments during account lifetime. This data is based on observed VantageScore 3.0 credit score changes. Payment behavior can have an impact on your credit score, and individual results may vary. Data current as of March 2022.