Editor's Note: Overdraft Apps provides detailed product reviews and recommendations based upon extensive research and our own hands-on testing. We may earn a referral fee when you sign up for or purchase products mentioned in this article.
Turning 18 is one of life's major milestones. To help kickstart adult life, improving your credit score is an important step towards financial independence and stability.
But how and where should you get started?
Whether you've just turned 18, you're a young adult looking for tips to build a strong credit history, or a concerned parent who wants the best for their child, it's tough to know what to do first.
Thankfully, while you or your teenager may not have much credit history yet, there are still things you can do to start building a positive credit record. In this article, we'll show you how to build your credit score at 18.
Why does improving your credit score at 18 matter?
There are two versions of you.
There's Current You (the one reading this right now). And then there's Future You (the one who'll take over in 5, 10 or 20 years from now). Your credit score is a BIG deal because the decisions you make today can have a significant impact on your options in the future.
It's easy to spend time thinking about what school you'll go to, where you'll live, or who you'll date – but being proactive about your credit score now can unlock more opportunities and options in the long run.
From buying a car to renting a house, and even applying for certain jobs, your credit score can make life easier… or much harder.
Having a good credit score can also give 18-year-olds more financial independence. With a good credit score, teens and young adults have better chances of qualifying for loans and credit cards and will be able to get better terms and lower interest rates. (Not 18 just yet? Check out these debit cards for teens.)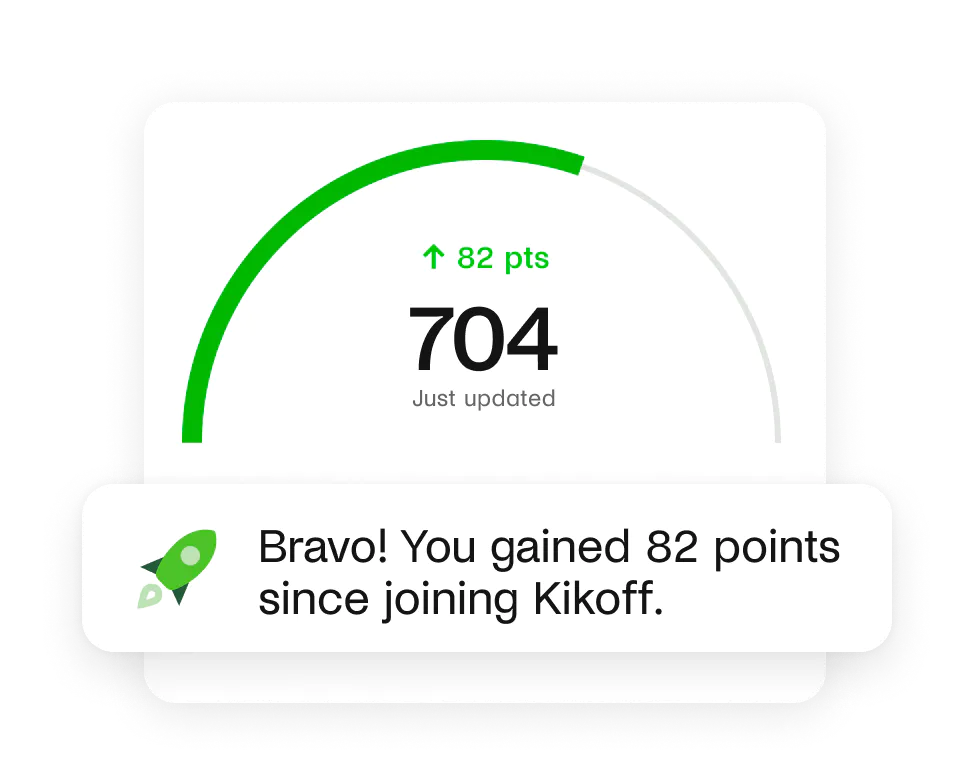 Kikoff Credit can help you build your credit with no credit check and no costly long term commitment.
On average, Kikoff customers with credit scores under 600 increase their credit scores by 58 points, with consistent on-time payments during the account lifetime. Many Kikoff customers have been able to qualify for better car loans, mortgages, credit cards, personal loans, and more.1
Kickoff has helped over 1 million people build credit and costs just $5/month!
Overdraft Apps Tip: Secured credit cards, like Chime Credit Builder Card, are a great starting point for teens. Security deposits dictate the line of credit – so there's no chance of spending what you don't have. Even though the card is tied to cash, you can use it to buy things and make monthly payments just like a regular credit card.
What is the average credit score for an 18 year old?
Most 18-year olds (84%) are credit invisible – meaning they have no credit history in the eyes of the three major credit bureaus (Equifax, Experian and TransUnion). While age isn't a direct factor in your credit score, the age of your accounts is – which is why you can build your score over time.
Don't stress if your credit score falls in the Fair range (660). With a little help, you can build and maintain a good credit history. You'll want to hit a few key milestones to make life easier. A score of 600 means you're subprime and need a little help. Some lenders will work with you at this score, although 660 is considered prime – and can unlock decent loans/rates. A credit score of 720 is considered great.
As an 18-year old, chances are you're keen on some financial independence. There's no magic credit score that makes you eligible for a credit card. But the higher your score, the better your chances of being approved.
P.S Don't forget your score is used for other things like a car loan or renting an apartment, so take yours seriously!
8 of the best ways to build credit at 18 (perfect for beginners)
We've rounded up 8 beginner tips to set you on the road to financial independence and set yourself up for future financial success.
As you blow out candles each year, improving your credit score should be part of your goals. The steps below won't take you from a Bad credit tier to an Excellent one overnight, but they'll get the ball rolling.
#1 – Get a credit card
One of the easiest ways to start building your credit is by getting a credit card. It's best to look for a card with a low credit limit and no annual fee. You may be able to find a student credit card, which is specifically designed for young people with little or no credit history – but don't rule out secured credit cards which can add a safety net. Whatever you buy on credit, make sure to pay off the balance in full each month. This will help you establish a good credit history and avoid high-interest charges.
#2 – Become an authorized user on someone else's credit card
Unable to get a credit card on your own? A workaround to this is to become an authorized user on someone else's account. Putting your toes in the water like this lets you use their card without being legally responsible for the debt. So make sure it's with someone who trusts you and understands your credit-building goal). To qualify, you'll usually need to be added to the account by a parent or legal guardian who trusts you to use their card responsibly.
#3 – Pay your bills on time
Easier said than done, we know. But one of the most important factors in determining your credit score is your payment history. Late payments can have a major impact on your score. It is important to ensure all of your bills are paid on time. Consider setting up automatic payments for your bills to help ensure that they are paid on time.
#4 – Keep your balances low
A major factor in determining your credit score is your credit utilization. This is a fancy way of describing how much credit you're using compared to the amount of credit available to you. The lower your balances, the better your credit utilization will be. It's best to keep your credit card balances as low as possible.
#5 – Check your credit report regularly
Your credit report is a record of your credit history, and it is used to calculate your credit score. It's a good idea to check your credit report regularly to make sure there are no errors and to track your progress. You are entitled to one free credit report every year from each of the three credit bureaus. There are tons of free apps, like Credit Karma, that can help you view your credit score anytime and understand how to improve it.
#6 – Consider a secured credit card
A secured credit card is backed by a deposit you make with the issuer. These cards are often easier to get than traditional credit cards. They can also be a good way to build credit. With a secured card, you'll need to make a deposit that's equal to your credit limit, and the issuer will use that deposit as collateral if you don't make payments.
Learn more about secured credit cards with our Chime Credit Builder Card review ????
Building good credit takes time and effort, but it is worth it in the long run. By following these tips, you can improve your credit score and set yourself up for financial success in the future.
5 advanced tips to help you build credit
An estimated 26 million consumers in America are considered "credit invisible". Trust us, it's not a superpower you want. To give you even more of a leg up, here are a few advanced tips to help you build your credit score.
#1 – Try to maintain a good mix of credit types
Having a good mix of credit types, such as a mortgage, a car loan, and a credit card, can be beneficial to your credit score. This shows you can manage different types of credit responsibly.
#2 – Take advantage of a flexible credit-builder loan
A credit builder loan is a type of loan that is designed to help you build credit. With this type of loan, you'll make regular payments to an account that is held by a bank or credit union. Once you've completed the loan, you'll be able to access the funds, and you'll also have a positive credit history. Some loans, like MoneyLion Credit Builder Plus, provide funds immediately AND boost your score over time – so you get the best of both worlds.
#3 – Be wary of credit repair services
Be wary of credit repair services that promise to improve your credit score quickly or remove negative information from your credit report. Many of these services are scams, and some may even be illegal. Instead, focus on the steps you can take (like the ones in this article) to improve your credit score on your own. For example, paying your bills on time and keeping your balances low.
#4 – Keep credit accounts open
When you close a credit account, it can hurt your credit score because the length of your credit history is a factor in determining your score. Even if you don't use an account, it might be useful to keep it open and active. This isn't a hard and fast rule, but be open to leaving some accounts open if it's right for you.
#5 – Be patient
Building good credit takes time and effort, so be patient. It may take several months or even years for your credit score to improve – but you've got your whole life ahead of you! By following the tips above and staying consistent, you can reach your goal of a good credit score.
???? Overdraft Apps Tip: Building credit doesn't have to be expensive. With apps like Kikoff Credit you can start improving your score for as little as $5 per month over a 12-month plan. That's less than your weekly coffees each month to make a positive change that Future You will thank you for.
Remember, building good credit takes time, but it's worth it in the long run. Not only will it make it easier for you to qualify for jobs, loans, credit cards and mortgages. But it will also help you get better terms and lower interest rates.
Building good credit is a marathon, not a sprint. Start today, and enjoy the benefits tomorrow.
Check Out Our Most Popular Articles For Young Adults:
---
WAIT! High overdraft fees aren't the only way your bank is costing you money.
With inflation overheating, you've probably heard that interest rates are climbing sharply. That means that for the first time in years, it's a great time to shop around for a high interest savings account.
The national average interest rate for savings accounts is currently 0.23% APY – that means that if you have $2,500 in a savings account, you'd earn just $5.76 after one year! Move those hard-earned savings to an FDIC-insured bank paying 3.50% APY and you'd earn $81.73 more!
Don't let your hard-earned savings sit there doing nothing. Check out the rates that you can earn at other banks:
Latest posts by Alexander Porter
(see all)
Credit Score Increase: Based on Kikoff customers that used the Credit Account product and made consistent on-time payments during account lifetime. This data is based on observed VantageScore 3.0 credit score changes. Payment behavior can have an impact on your credit score, and individual results may vary. Data current as of March 2022.