Editor's Note: Overdraft Apps provides detailed product reviews and recommendations based upon extensive research and our own hands-on testing. We may earn a referral fee when you sign up for or purchase products mentioned in this article.
Bad credit is an expensive hole that can sometimes seem impossible to climb out of. It can seem cruel and ironic that people who most need to borrow money are the least able to do so. Plus, the sky-high interest and fees on the few credit cards or loans that you can qualify for often leave your finances in even worse shape.
There are no magic bullets for establishing or improving your credit history, but a credit builder plan from Self Financial is an affordable tool that could help meaningfully build your credit score, while helping you build up some savings too. We explain how it works, what results you could achieve and how much it really costs in our Self Financial review.
Your credit score is a powerful number
If you've earned a high credit score through years of responsible borrowing and timely repayments, you may find your mailbox stuffed with credit card offers touting large credit lines, low interest rates (sometimes 0% to start!) and rich reward programs, like significant cash back or buckets full of frequent flier miles. A high credit score can be a ticket to a low-rate mortgage, an affordable car loan and the confidence that your application for financing could be quickly approved, possibly with the best available terms.
However, if you have a low credit score because of some financial mistakes, tough times or you haven't yet established much credit history, accessing credit can be challenging, stressful and extremely expensive. You may not be able to borrow as much as you'd like to and could be trapped paying costly fees and sky-high rates that could put more strain on your finances.
Plus, a low credit score can have significant hidden impacts on your life, potentially preventing you from renting an apartment, possibly costing you more for insurance and maybe even disqualifying you from getting hired for some jobs!
Building or restoring your credit history takes time and consistency. Other than paying off most of your outstanding debt, which unfortunately may not be a realistic option for most, there aren't solutions to rapidly and dramatically better your score (and you should be wary of any products that claim that they can do so.)
However, there is a product that can help you build your credit and your savings at the same time – Self.
What is Self Financial?
Self partners with banks to offer credit builder loans – loans with fixed monthly payments that are specifically designed to help bump up your credit score by reporting your on-time payments to major credit bureaus. You can apply for a loan online or via the Self Financial app in just a few minutes, and a low credit score or no credit file are no problem.
When you open a Credit Builder Loan1 with Self, you commit to making a regular monthly payment for 12 or 24 months.2 At the end of your plan,these funds are yours (less fees and interest) so you're building up some savings alongside improving your payment history.3
Unlike a traditional personal loan, which will provide you with your loan proceeds before you start making payments, with a credit builder loan through Self your payments are locked in a savings account and are returned to you upon completion of your plan, minus interest and fees.
Along the way, Self reports your monthly payments to the three major credit bureaus (Equifax, Experian and Transunion) each month. Your credit score is based on several factors and the largest component is your payment history. So, making on-time payments on your Self Credit Builder Loan could help bump up your score, sometimes. Self makes it easy to set up automated monthly payments, so you never need to worry about missing a due date.
Adding a Self Financial Credit Builder Loan to your credit profile may also bump your score by adding an installment loan to the types of credit products that you have. Credit bureaus view having multiple types of credit and loans favorably, though this is a smaller factor in your credit score than payment history.
Self makes it easy to track your credit score, so you can see your progress. Plus, there's no 'hard pull' when you apply, so you can see if you are approved without your score receiving a ding. You can also qualify for a Self Visa® credit card in as little as three months4, with a credit line that could be secured to up to $3,000!
Build your credit and your savings >>> Check out Self
How much could Self Financial improve your credit score?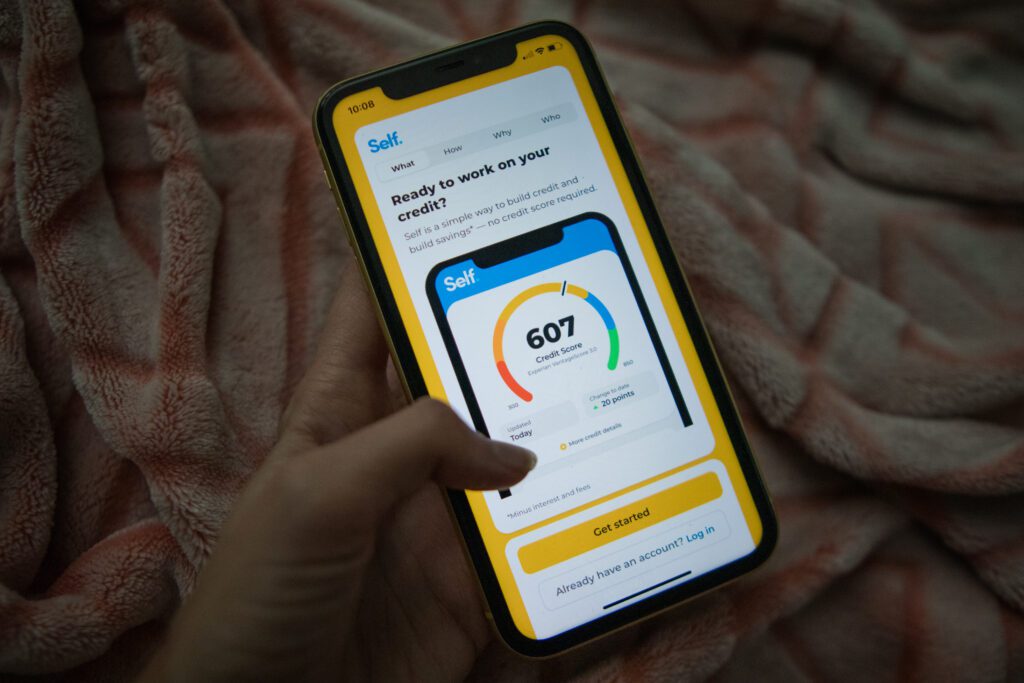 Self customers see their credit score increase by an average of 30 points!5 And, customers with a starting credit score of 600 or below were more likely to see positive score change results. Individual results vary, of course. (Average outcome for customers who opened a 12 month Credit Builder account in Q1 2021, who made on-time payments, based on Vantage Score 3.0. Other factors, including activity with your other creditors, may impact results.)
The payoff from a higher credit score can be substantial, with the possibility to borrow more, pay lower interest rates and fees, and tap rich credit card rewards programs.
If you don't have a credit history, Self can help you establish one. You can have a credit score with all three major credit bureaus just by making on-time payments on your Credit Builder Loan.
600 is a key credit score threshold, as it is the minimum score that many lenders require for personal loans, unsecured credit cards and in-store financing offers.
Self's Credit Builder Loan can be an effective tool for establishing or re-establishing credit, especially if you:
Are a person who does not have a credit history
Have a low credit score
Are trying to reestablish your credit after bankruptcy
If you already have a great credit score a credit builder loan like Self may not add many points to your score and could actually lower your score in some circumstances. Missing your monthly payments could damage your score as well, though you can close your Self account at any time and receive savings you have built up, minus interest, fees and penalties.
Start bettering your credit score >>> Check out Self
How much does Self cost?
Self's Credit Builder Loans may be affordable and help you build savings along the way, which are returned to you at the end of the 12 or 24 month term that you selected, less interest and fees, including a $9 one-time admin fee. The Annual Percentage Rate (APR) on Self's loans range from 15.65% – 15.97% – substantially lower than the 36% APR you may find on many personal loans for borrowers with a blemished credit history.6
You can choose the monthly payment amount and plan length that works best for you, ranging from $25 – $150 per month7. Larger monthly payments can help you build up more savings.
Here are Self's four plan options:
| Self Plans: | $25/month for 24 months | $35/month for 24 months | $48/month for 12 months | $150/month for 12 months |
| --- | --- | --- | --- | --- |
| You'll Pay | $600 | $840 | $576 | $1,800 |
| You'll Get Back | $520 | $724 | $539 | $1,663 |
| Total Cost | $89 | $125 | $46 | $146 |
| APR | 15.92% | 15.97% | 15.65% | 15.91% |
There is also a one-time, non-refundable admin fee of $9.
For example, if you choose the Self Credit Builder Loan with a $48 monthly payment for 12 months, you'll make $576 in total payments and receive back $539 upon completion of your plan. Self's interest cost and upfront admin fee will total $46. The loan has a 15.65% APR.
If you need to access your funds early or are having trouble keeping up with payments, you can easily cancel your Self account at any time, for any reason. Your funds will be returned to you, minus interest and fees.
Pick your own Credit Builder Loan >>> Check out Self
Qualifying for the Self Visa® Credit Card
Self's Credit Builder Loan is a great tool designed to help improve your credit score, but since you don't get the savings you've built up until the end of your plan, it doesn't provide much help if you've got a cash crunch today.
The great news is that after you've made just three on-time monthly payments on your Credit Builder Loan and have at least $100 built up in savings in your Credit Builder account (and your account is in good standing), you're eligible for the Self Visa® credit card! Self customers who meet these criteria are automatically able to apply so you won't ding your credit score with a hard credit pull.
With a traditional secured credit card, you need to post a deposit to secure your credit limit. However, with an active Self Credit Builder Loan you can use your savings progress to secure your Self Visa® Credit Card and set your credit limit. The Self Visa® Credit Card has a $25 annual fee, charged 10 days after the secured account is opened.
Secured credit cards like the Self Visa® Credit Card are a great way to put a 'real' credit card into your wallet. Don't confuse it with prepaid debit cards, which only let you spend the amount that you've paid and don't offer any unsecured credit or report to credit bureaus.
As you continue to make on-time monthly payments on your Self Credit Builder Loan, you can use your savings progress to increase the credit limit on your card. You may also be able to access unsecured credit (which enables you to spend more than your deposit amount) with on-time monthly payments on your credit card account. Plus, activity on your Self card is also reported to the three major credit bureaus, so your on-time payments could help your credit score climb even higher!
Start building your credit score >>> Check out Self
Is Self legit?
Self has helped over 1 million people build their credit and savings since the company was founded in 2015. The company is backed by prominent venture capital firms, including Altos Ventures, Silverton Partners and Meritech.
Self Financial is rated 3.84 out of 5 by the Better Business Bureau, with over 600 reviews as of December 2022. Many of the one star reviews relate to customer services complaints, frustration around allegedly inaccurate reporting to credit bureaus, and Self's fees being deducted after plans have been completed or canceled. (Self discloses its fees throughout its website and app and within the application process.)
When you open an account with Self, your funds are held by one of three banks (Lead Bank, Sunrise Banks, N.A. or SouthState Bank, N.A.) each of which is a member of the FDIC, meaning that deposits are federally insured. Your money is safe and secure.
Self is available in all 50 states. You can open and manage an account entirely online or via the Self mobile app.
Build your credit and your savings >>> Check out Self
Watch: How Self Credit Builder Accounts Work
WAIT! High overdraft fees aren't the only way your bank is costing you money.
With inflation overheating, you've probably heard that interest rates are climbing sharply. That means that for the first time in years, it's a great time to shop around for a high interest savings account.
The national average interest rate for savings accounts is currently 0.23% APY – that means that if you have $2,500 in a savings account, you'd earn just $5.76 after one year! Move those hard-earned savings to an FDIC-insured bank paying 3.50% APY and you'd earn $81.73 more!
Don't let your hard-earned savings sit there doing nothing. Check out the rates that you can earn at other banks:
Latest posts by Mitchel Harad
(see all)