Giving your kid a debit card is one of the easiest ways to hand out pocket money. Debit cards can also help teach your kids the basics of personal financial management. Besides, with their parents increasingly paying for small purchases by cards, kids might well demand a payment card of their own. You've got plenty of options, read on to find out more about the best prepaid debit cards for kids.
Free debit card for kids
Issuing a debit card is not free, card providers pay stiff costs around admin and infrastructure and need to generate a profit. That's why all the prepaid cards in this article come with a small monthly account charge.
You do have the option of opening a joint checking or savings account with your child and some of these accounts charge no monthly fees. Yet many parents don't like the idea of managing a bank account for their child and formal bank accounts can lead to unexpected fees and charges or require account minimums.
Instead, a prepaid debit card is a simple product without the risk of high charges for going overdrawn, for example. Some prepaid debit cards for kids come with top-notch apps too that gives parents close control of their child's spending. Let's take a look at some of the top examples.
GoHenry debit card
GoHenry has quickly become one of the most popular debit card options for kids – and their parents. It provides a MasterCard debit card for you kids to use, and an easy and engaging app for both kids and parents to move and manage spending money. Plus, it helps teach kids about how to manage their money through concise and interesting "money missions".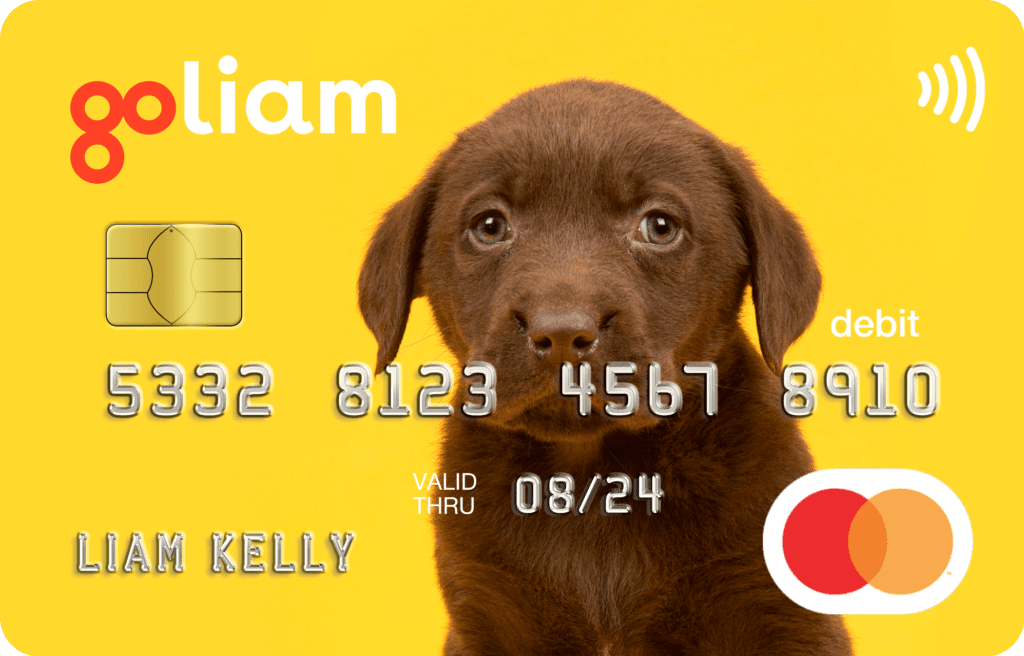 Over 1.5 million families are using GoHenry to help teach lifelong money skills. With a linked pre-paid debit card and app, kids can learn the basics of budgeting and spending without racking up huge bills. Plus, with plenty of features for parents like an allowance manager, real-time notifications, and customizable spending controls, parents can keep track of how and where their kids are spending.
You can start using GoHenry with a 30-day free trial. Perfect for kids aged 6 to 18, the addition of videos and interactive quizzes in the GoHenry app, along with a physical debit card for purchases, nurtures money confidence and builds real-world financial habits – with zero risk of overdrafts.
Here's are some of the features GoHenry offers to help instill money confidence:
Via pre-paid debit card: This means no overdrafts. Ever.
Mobile app: With a companion app for Moms and Dads to supervise
Instant notifications: Know what your child is spending and where
Parental control: Choose where and how much your child can spend
Regular payments: Set up pocket money payments and teach about savings
Set chores: Pay kids for chores completed to show the value of money
You can order your GoHenry card in minutes and cancel at any time.
Greenlight debit card
Just like gohenry, Greenlight is also a prepaid debit card made just for kids but with the benefit of allowing multiple cards for the single monthly fee of $4.99/month. Parents with several young children in need of payment cards will find Greenlight a better deal compared to gohenry. The features of the Greenlight debit card are broadly similar to gohenry too.
You can customize the Greenlight card, but it's with your child's photo, not their name. You can set up spending control specific to types of stores and brands, but Greenlight does not offer the option for kids to earn pocket money in the app like gohenry. However, you can add savings goals to your kid's Greenlight card and choose to add interest to savings, though interest will come out of your pocket.
Users of the Greenlight app like what's on offer, with the iOS edition of the app scoring a particularly high 4.8 / 5. iOS users are very positive about the Greenlight customer service, with Greenlight clearly being responsive to feature requests. Android users give Greenlight a decent 4.4 / 5, suggesting that it's a really convenient way to hand out allowances.
Famzoo prepaid debit card
Have a couple of kids you want to give debit cards to and want to pay as little as possible? FamZoo is your best choice. Though the standard per-family monthly fee for FamZoo is $5.99, you can pay as little as $3.33/month by opting for the $39.99 annual fee. In return, you get all the essential features just like gohenry and Greenlight, but the FamZoo app is not quite as feature rich with many features only available on the FamZoo website.
FamZoo doesn't charge you for using the card inside the United States and there is no charge for topping up via a select number of top-up methods. You get full insight into your kids spending too and also have the option to set up an interest-earning savings option for your kid, though note that just as with Greenlight the interest comes out of your pocket.
Even though the FamZoo app is a little restricted it does get positive reviews, scoring 4.6 / 5 on the Apple App Store while Android users award FamZoo 4.4 / 5 on the Google Play store. Users are generally full of praise, suggesting that FamZoo is simple and easy to use while helping kids learn basic personal finance skills.