Cash used to be the only way for kids to spend their allowance – who didn't have a jar full of coins? But now, cards are king and the days of carrying mom's credit card along with a note saying it was ok to use are long behind us.
There's an exciting generation of new apps, tied to prepaid debit cards, to help minors spend and manage their money. They make it easy for parents to send additional funds and see where they're going, while also teaching kids valuable lessons about budgeting, saving and investing.
Here's a look at some of the most popular debit card apps for kids:
Debit card for kids under 13
GoHenry app
GoHenry is one of the fasting growing apps (along with a debit card) to help kids learn about, manage and spend their money.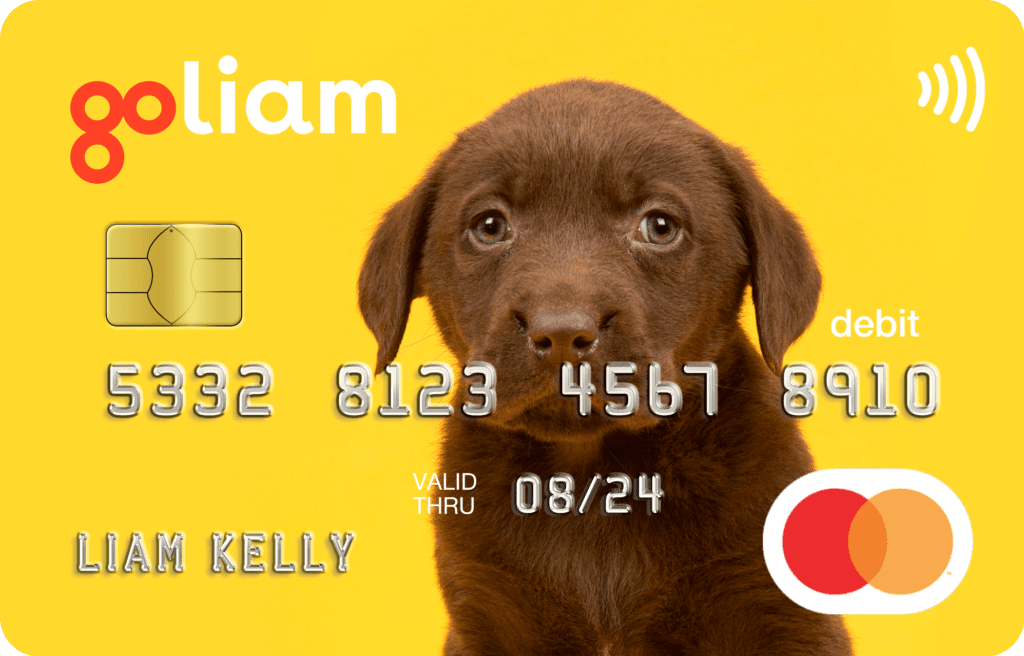 With a linked pre-paid debit card and app, kids can learn the basics of budgeting and spending without racking up huge bills. GoHenry is famous for its fun "money missions" that make it easy and engaging for your kids to learn money basics. Plus, with plenty of features for parents like an allowance manager, real-time notifications, and customizable spending controls, there's peace of mind for the whole family.
Over 1.5 million families use GoHenry to help their kids manage and spend their money! You can test out GoHenry with a 30-day trial. Perfect for kids aged 6 to 18, the addition of videos and interactive quizzes in the GoHenry app, along with a physical debit card for purchases, nurtures money confidence and builds real-world financial habits .
Famzoo Mastercard®
Famzoo offers prepaid debit cards for kids of any age, even those younger than 13 years old. The cards issued for under 13s are "on behalf of" cards where the parent is the legal card owner. The parent can track purchase activity and must be present with the child in store when the card is being used.
The debit card works in conjunction with the Famzoo virtual family bank account, where the parent can transfer funds from their "primary funding card" onto the child's prepaid debit card. With the card being a Mastercard, it's accepted pretty much anywhere online. Find out more about the costs for this card below:
Subscription fee – there is a fee to use Famzoo, with the best deal being $2.50 per family per month for 24 months (but you will need to pay the fee in advance, which costs $59.99). If you want the subscription to auto-renew on a monthly basis, it's $5.99 per month.
Other fees – there are no overdraft fees, no inactivity fees, and no credit fees to worry about. There are no purchase fees as long as the card is used in the U.S. only. A shipping fee (for shipping out multiple cards) may apply.
Loading costs – loading the card with funds is free as long as you make a direct deposit from your bank account. There are other methods you can use for reloading, but fees may apply.
Greenlight
Greenlight also offers a debit card for kids of any age. Parents need to apply on behalf of their children. Using the Greenlight app, kids can request funds and parents can approve or reject their request. Once a request has been "greenlighted", the funds are added to the child's debit card, for them to make a purchase. All spending can be tracked. Note these key facts:
Subscription fee – the cost to use Greenlight is $4.99 per month per family account.
Loading costs – it's free to load funds onto the Greenlight Card, but you must transfer a minimum of $20 each time if you load via debit card. If you transfer funds by direct deposit, the minimum amount required is $1.
Other fees – the only additional fee is for a card replacement, although you can request a replacement card once for free. Afterwards, this costs $3.50, plus an optional $19.95 if you want the card delivered by express service.
Prepaid card for teens
TD Go Reloadable Prepaid Card
The TD Go Reloadable Prepaid Card is suitable for kids over the age of 13. A person over the age of 18 must purchase the card – they will be the account holder, and the teen is the cardholder. The TD Go Card offers purchase tracking, parental controls and can be used anywhere Visa® is accepted, including Amazon and iTunes.
Purchase cost – there is no monthly subscription fee with this prepaid debit card, but it costs $4.95 to purchase a TD Go
Loading costs – it costs $1 every time the card is loaded with funds.
Other fees – if the card isn't used for a period of 12 months, an inactivity fee will be charged at $2.50. It's free to withdraw cash from a TD Bank ATM, but a $3.00 fee will be charged for out-of-network ATMs.
Free prepaid debit cards
Capital One MONEY Card
There doesn't seem to be any completely free prepaid debit cards for minors at present, but one option worth exploring is a Capital One MONEY account. This is a checking account especially for teens – here are some key features of it below:
Free debit card – the MONEY account comes with a free MasterCard® debit card (as opposed to a prepaid card).
No fees – there's no fees for setting up the account and no fee to use an ATM inside the Capital One and Allpoint® network.
Account minimum – there's isn't one, so no pressure to keep transferring funds into the account.
Promotes independence – the Capital One MONEY account and debit card is ideal for parents who want to give their teen a bit more autonomy by setting them up with their own account (the parent is a joint account holder).
Interest – a bonus is that interest can be earned on account balances at an APY of 0.25%.
App available – the MONEY account comes with an app that both the parent and teen can use to track spending, upload checks, and transfer funds.
Suitable for the long term – once your teen reaches the age of 18, they can roll over their MONEY account into a Capital One 360 checking account.
More on Banks with no fees
Prepaid travel money card for under 18
Prepaid travel money cards are ideal if your teen is traveling overseas for a gap year or study. They work in much the same way as regular prepaid debit cards, although they tend to come with more travel-specific perks, e.g., travel and emergency assistance and lost luggage reimbursement. A downside to prepaid travel money cards is that the foreign transaction fees can be quite steep.
The AAA Visa TravelMoney Card can be purchased by teens as young as 16 years old. Parents can buy cards for younger children too. Here are some of the key points to note about this card:
Purchase cost – the card itself costs up to $14.95 plus $1.50 for a backup card.
Loading costs – it's free to load by direct deposit or at any AAA location, but costs $30 for reloading online, a feature open to AAA members.
Foreign transaction fees – to use the card abroad, it costs 3% of the purchase cost each time, plus $3 for international ATM withdrawals.
Minimum load requirements – there's no minimum load requirement if you use direct deposit for transferring funds, but there's a $100 minimum if loading at an AAA location, or online.
More on Best travel credit card no annual fee
Summary
By allowing your children to use a prepaid debit card, they'll get the opportunity to manage money themselves in a safe way, without accumulating debt. As a parent, you can monitor their spending, and arm your kids with a degree of financial confidence and knowledge, so that they might make the right decisions around money when they go it alone as an adult.
More on Debit cards for kids