Editor's Note: Overdraft Apps provides detailed product reviews and recommendations based upon extensive research and our own hands-on testing. We may earn a referral fee when you sign up for or purchase products mentioned in this article.
If you're asking yourself, "Where can I get a loan with no credit?", perhaps you've already applied for a loan and have faced rejection because of non-existent credit history.
Fear not; there are some lenders that you can safely approach, who will be happy to do business with you. However, when it comes to not having any credit history at all, there are a few things you should think about when borrowing money for the first time.
No credit check loans online instant approval
RainyDay Lending
RainyDay Lending is a service that connects you to a possible lender. Even if you have no credit history, you can still use their service. Just submit your details via a short form on the RainyDay website, and they will attempt to match you with a lender. They have access to around 50 online and offline lenders, so there's a fair bit of choice.
If there's a matching lender available, you'll then have the opportunity to complete your application. If approved, you could receive funds of up to $2,500 the next business day.
LoanSolo App
Like RainyDay Lending, LoanSolo operates similarly. They also provide a loan matching service but can offer up to $1,000 by the next business day, if you're approved (which can happen in a matter of minutes).
You must have a steady income and a checking account in good standing to request a loan.
Avant
Avant typically lends to people with an average to below average credit rating (with a score of 580 or more and with a minimum income of $20,000). The lowest loan amount they offer is for $2,000, and the most they'll lend is $35,000.
Loan terms are between 2 to 5 years, and the interest rate starts from 9.95% right up to 35.99%. An arrangement fee of up to 4.75% is also added to the loan when you take one out.
You can apply online with Avant, and if you're happy with the quote options provided, you can sign your contracts online. The funds usually appear in your bank by the next business day.
Read more on Avant app
What about the loan terms and APRs of RainyDay Lending and LoanSolo?
Since these two platforms above aren't lenders themselves, they don't set the terms of loans, or APRs. You'll need to read the small print during your application with a lender to find out those crucial details.
First time personal loans no credit history
Upstart
Upstart has a unique approach to lending, enabling them to offer loans to younger people, who may not have a credit history, but who do have good prospects for the future. Upstart factors in education and experience as part of their lending criteria.
It may be possible to borrow between $1,000 to $50,000 with Upstart. Rates vary between 9.57% to 29.99%.
Self Lender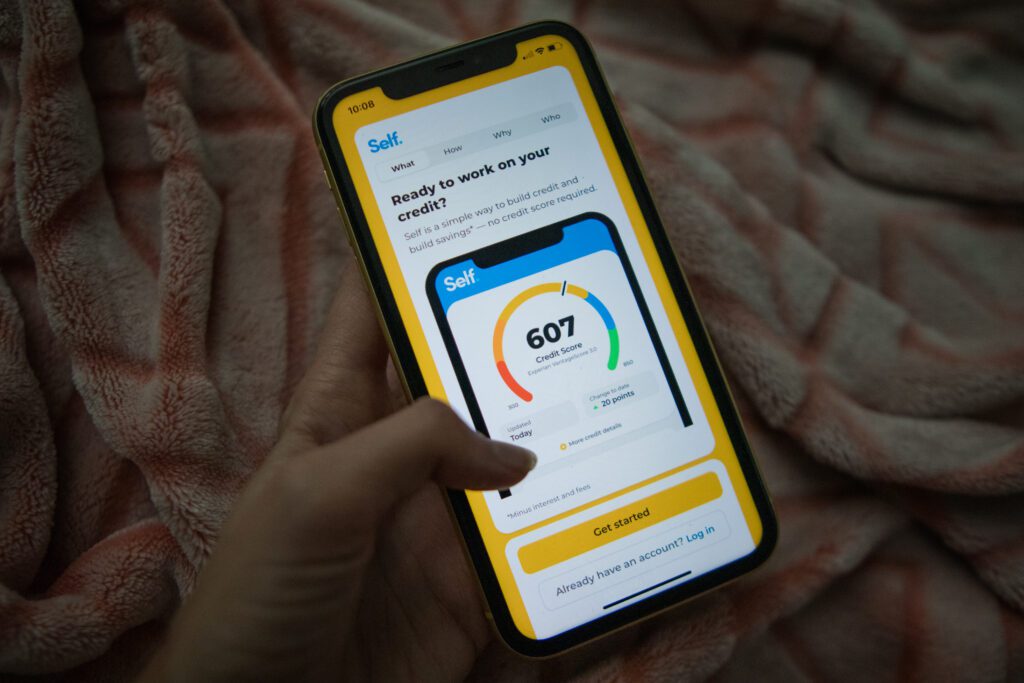 Self Lender offers people with no credit history a way to build their credit score through a credit-building loan.
It works a bit like a savings account, where you make payments each month and then get access to your money after the loan term. Your cash is held in an FDIC insured Certificate of Deposit bank account. Every month, Self Lender reports your payments to the three leading credit reporting agencies.
Like a savings account, you'll earn interest, but only at a low rate of 0.1% APY for 12 months. Just like a loan, you'll also have to pay interest on the loan amount (no more than 16% APR) as well as an annual administration fee of between $9 to $15.
Credit builder apps like Self Lender or SeedFi could be a good option if you don't need money upfront now, but do want to build up your credit score and get a lump sum payment at the end of the loan term. A one-off amount like this could then be used towards a savings goal, to start an emergency fund or just for spending as you wish!
Considerations when borrowing for the first time
Usually, if you have no credit history, you'll be subject to a high-interest rate when applying for a loan, at least until you can build your financial reputation. To boost your credit score quickly, be sure to make your repayments on time, every time, as missing a payment can cause lasting credit score damage.
Read your loan paperwork closely concerning the loan terms and fees. For example, if you decide to pay off your loan early, check to see if you'll incur an early repayment fee for doing so.
Lastly, you may find that you're able to get a no-credit-check loan with a payday lender, but these are high-risk loans that come with massive interest rates. It can cost way more than the amount you borrow by the time you add on the interest. One late repayment can trap you in a vicious cycle of debt, so give payday loans a wide berth if you can.
Latest posts by Mitchel Harad
(see all)