Editor's Note: Overdraft Apps provides detailed product reviews and recommendations based upon extensive research and our own hands-on testing. We may earn a referral fee when you sign up for or purchase products mentioned in this article.
| | | | |
| --- | --- | --- | --- |
| Fee | Cost | Maximum Overdrafts Per Day | Maximum Daily Costs |
| Chase Overdraft fee | $34 | 3 | $102 |
| Chase Insufficient Funds Fee | $34 | 1 | $34 |
| Chase Linked Account Transfer Fee | $12 | unlimited | unlimited |
Chase, the largest bank in the United States, reported over $1 billion in revenue from overdraft fees in 2021. While some banks, like Citibank and Capital One 360, have recently moved to eliminate overdraft fees, Chase does not seem interested in sacrificing this major profit center that frequently dings customers for more than $100 in daily fees. However, some recently announced changes to Chase's overdraft policies do make them a bit more consumer-friendly and provide the opportunity to avoid fees if you pay careful attention to your spending and balance.
Understanding Chase's new rules for overdrafts could help you save significantly, while still giving you access to cash when your account balance is below zero.
What we'll cover
WAIT! High overdraft fees aren't the only way Chase is costing you money.
With inflation overheating, you've probably heard that interest rates are climbing sharply. That means that for the first time in years, it's a great time to shop around for a high interest savings account.
Chase savings accounts currently pay just 0.01% APY1 as of 11/22/2022. That means that if you have $2,500 in a savings account, you'd earn just $0.25 after one year! Move those hard-earned savings to an FDIC-insured bank paying 3.50% APY and you'd earn $87.49 after one year, and some banks now pay even higher rates!
Don't let your hard-earned savings sit there doing next to nothing. Check out the rates that you can earn at other banks:
What is Chase's bank overdraft policy?
When your Chase checking account balance goes below zero dollars, it is overdrawn and you may be charged multiple overdraft fees if you are enrolled in Chase's overdraft protection, which will enable you to continue to make purchases on your debit card or scheduled bill payments.
Overdraft protection is a free service that will link your Chase checking account and savings account. If you have a pending transaction that exceeds your checking account balance, Chase will automatically transfer funds from your savings account to cover the transaction, with no fee to you. If you do not have sufficient funds in your savings account, Chase may move the balance over to cover to part of the transaction and charge you an overdraft fee. (Chase will use the cryptic messages TOT ODP CR SWP MEMO and TOT ODP DR SWP MEMO on your account statements.)
If you opt-out of Chase's overdraft protection, you won't be subject to overdraft fees, but those transactions that will bring your account balance below zero will not be processed.
Chase honors overdrafts only at their discretion. They do not guarantee to pay or authorize any transaction. Two things will happen to your transaction if they do not allow an overdraft: it will be returned or declined.
Chase allows overdrafts on the following transactions, at their discretion:
Recurring purchases on your debit card
Checking account-automatic payments
Checks and your checking account number's transaction
Chase may pay an overdraft transaction for a fee based on your deposits, account history, and transaction amount. It offers overdrafts on all its checking accounts except Chase First Checking, Chase Secure Checking, and Chase High School Checking.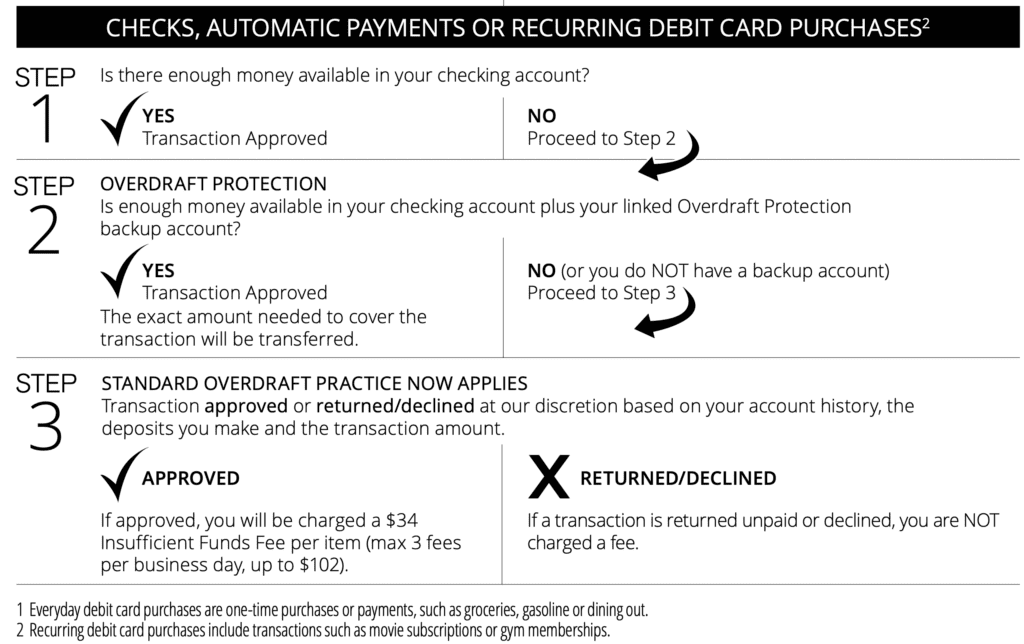 How Much are Chase Overdraft Fees?
Chase charges a $34 overdraft fee per transaction.
There are several cases when Chase will not charge you the overdraft fee. They include;
For products that are less and equal to $5
If a transaction was returned unpaid or declined
If your account balance has an overdraw of less and equal to $50 by the end of the day
Chase authorizes your debit card transaction when you have enough funds in your account.
If you conduct multiple transactions, then you will incur more fees. However, Chase allows a maximum of only three fees in a single business day. At $34 per fee, you can get a maximum of $102 in overdraft fees in one business day.
A recent change to Chase's policy provides a grace period to eliminate these fees. You currently have until 11:00pm EST to bring your account back to a positive balance via a deposit at an ATM, branch or the Chase mobile app. Even if you don't have the funds to cover your entire negative balance, making a small deposit into your Chase account could reduce or eliminate your fees by covering the cost of some transactions or bringing your negative balance below the $50 fee threshold. Chase has also announced that this grace period will be extended to two business days sometime in 2022.
If your account has a negative balance for more than 60 days, your account will be closed, and you may face significant consequences, such as a negative item on your credit report and the balance and costs being referred to a collections agency. Perhaps most significantly, Chase may report you to Chex Systems, a banking industry credit reporting bureau, which could make it challenging to open an account with other banks.
How much is Chase's overdraft limit at an ATM?
"I need quick cash for an emergency, but my account balance is insufficient. Can I withdraw from the ATM despite my overdraft balance?"
The answer is, "It depends."
If you are enrolled in Chase's overdraft protection program and have enough funds combined in your checking account and linked savings account, you can make a withdrawal from an ATM with no overdraft fees. (Note that there this a $5 fee if you make more than six withdrawals or transfers from your savings account in a month.)
If you don't have enough funds to cover the transaction, Chase will decline it, even if you are enrolled in overdraft protection. Chase does not permit you to overdraft an ATM; overdrafts are only covered for debit card purchases, checks and scheduled bill payments (all at the bank's discretion). You will not be charged an overdraft fee if your ATM withdrawal or debit card purchase request is declined.
Can you get a Chase overdraft fee waived?
Did you know banks collected about $6.13 billion in overdraft fees in 2021 alone? Despite the enormous revenue, the fees are making banks more unpopular. Furthermore, many people believe banks cannot waive overdraft fees. Thus, must go on paying the fees.
The overdraft fees are widely unpopular among the general mass. Regulators and lawmakers are pressuring banks to eliminate the decades-old practice. One of the main reasons for the campaign against it is that it significantly impacts poor citizens.
For instance, paying a $34 fee for a $5 purchase does not make sense. The campaigns have ensured that some banks change their attitudes towards the overdraft fee. They either seek to eliminate the fees, reduce them, or have some waivers.
Chase boasts that it has assisted 2 million and more of its customers to avoid overdraft fees. It has done it by:
Eradicating the returned item fee chase
Increasing the overdraft cushion to $50 from $5.
Giving its customers a 24-hours grace period
If you want to learn more about Chase's overdraft fee waiver, please contact 1-800-935-9935 or visit their website.
How to Avoid Overdraft Fees with Chase?
If you want to name one of the most frustrating bank fees, the overdraft fee wins the title. It accounts for 75% of customers' bank account fees. There are occasions when a bank can charge up to three feet in one day.
Furthermore, the fees can accumulate to some crazy amount. It is no wonder they are a huge turn-off to most account holders, especially those in financial distress. The overdraft fees tend to come up when people are experiencing economic downturns. Thus, making them more frustrating.
Some customers describe the overdraft fees as punishing. In such cases, you can always consider getting a short-term loan instead of bank overdraft coverage.
What most do not know is that they can get the fees waived. For instance, you can get your Chase overdraft fees waived. You can also avoid the fees.
Below is how to avoid Chase overdraft fees:
1. Set Up an alert on your Chase Mobile app or Chase online
One of the best ways to avoid overdraft fees is by taking advantage of the notification bar in your Chase mobile app. You only need to sign up to get alerts on your account by push notifications, text messages, or email.
The alerts will inform you if your balance is too low and your transactions. If you know that your balance is insufficient, you can avoid overdraft.
The best thing about Chase alerts is that it is very easy to get them. You only need to sign-up to the Chase Mobile app or Chase online. Then go to the navigation menu and choose alerts. Follow the instructions to select your delivery methods and alerts.
2. Get an instant, no-interest cash advance from Dave
Dave is a great app to gain some extra spending power and avoid Chase's high overdraft fees. With Dave, you can borrow up to $500 in minutes with no interest and zero credit checks. Download the free app and set up your account quickly and easily. Then, you may be eligible for a Dave cash advance up to $500 as soon as you sign up – you could have money in your account minutes from now!
There is no credit check to apply. Instead, Dave looks at a variety of factors, including your history and spending patterns, the amount deposited in your bank account each month, and when your next paycheck is due. With the Dave Debit MasterCard, you'll have access to your advance in no time. Plus, you can withdraw cash from an ATM or pay for purchases wherever MasterCard is accepted, with cash-back savings of up to 10% at popular restaurants and retailers.
You can also opt to have your advance sent to your Chase debit card in minutes, though a fee may apply. Plan ahead, and you can choose to have Dave send your funds directly to your Chase account for no fee, though it will take three banking days to arrive. With a subscription to Dave for just $1 per month, you'll get access to cash advances with no late fees, as well as additional features.
Start saving and get your cash advance for up to $500 instantly with Dave. Download the Dave app today.
3. Get a short-term loan through a cash advance app like PockBox for up to $2,500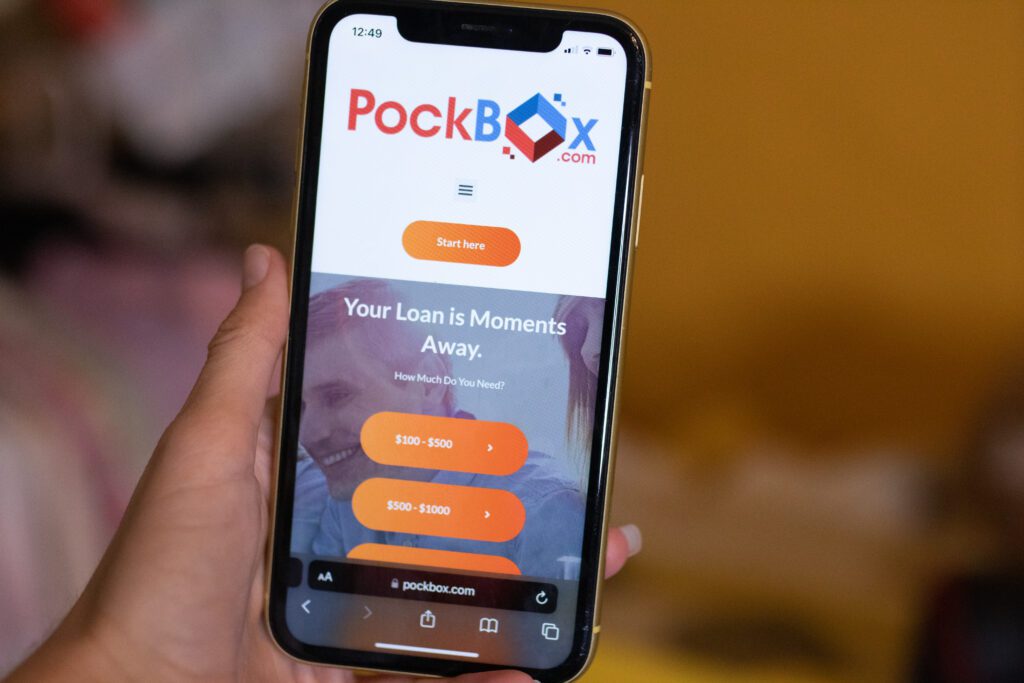 Cash advance apps, like PockBox, offer one of the quickest ways to get cash. The best thing is that they help you avoid the frustrating overdraft fees.
Pockbox is among the best cash advance apps available. It can lend you up to $2500 (10 times more than most other cash advance apps). Furthermore, anyone with bad credit can apply and get the money swiftly.
Short-term borrowing does not offer a long-term solution. But, PockBox can give you quick cash for emergencies.
Don't stress about a temporary cash shortfall >>> Compare multiple instant loan offers in minutes.
4. Use a no-fee overdraft app like Chime for $200 fee-free overdrafts

Why have 14 million people ditched their high-fee bank for Chime?
Chime is a financial technology company, not a bank. Banking services and checking account provided by The Bancorp Bank, N.A. or Stride Bank N.A.; Members FDIC.
Chase has recently established some of the best ways of managing overdraft fees. But, did you know that there is a way you can do away with the fees completely?
The innovation of apps like Chime's SpotMe service ensures fee-free overdrafts. The best benefit of the app is that it allows for free registrations. On top of that, you will get a $200 or more direct deposit per month. You can start with limits of $20 to $200 without incurring the overdraft fees.
Below is an example of how Chime SpotMe can help you avoid overdraft fees:
Let us say it is that time of the month when you need to pay your phone bill. The bill is $120, but you only have $60 in your account. Most banks would help you complete the transaction. They will also charge you a $34 overdraft fee (making your $120 phone bill $154).
SpotMe will approve the transaction at no fee. Furthermore, if you have a regular paycheck, SpotMe will help balance out the negative amount by your next deposit.
Explore SpotMe if you are tired of the overdraft fees.
Final thoughts and what to do next…
Whether your short-term emergency is your rent or electricity bill, a bank overdraft can cover you.
However, the $34 overdraft fee can quickly add up, worsening your already dire financial situation. As a Chase account owner, knowing how to manage the fees is essential.
The only limitation is that you will manage it but not do away with it. If you want a no overdraft fee option, you can choose to:
Sign-up for the SpotMe app and use your regular paycheck to cover the shortages.
Or use the cash advance app like PockBox to get up to $2,500 fast to avoid the overdraft fees.
You do not have to suffer the punishing results of overdraft fees when you can easily avoid them. Use what you have learned from the information above to do away with the frustrating fees.
Need quick cash? We've got you covered:
Watch: How to set up Chase Overdraft Protection
Latest posts by Mitchel Harad
(see all)
Chime SpotMe is an optional, no fee service that requires a single deposit of $200 or more in qualifying direct deposits to the Chime Checking Account each month and Visa debit card activation. All qualifying members will be allowed to overdraw their account up to $20 on debit card purchases and cash withdrawals initially, but may be later eligible for a higher limit of up to $200 or more based on member's Chime Account history, direct deposit frequency and amount, spending activity and other risk-based factors. Your limit will be displayed to you within the Chime mobile app. You will receive notice of any changes to your limit. Your limit may change at any time, at Chime's discretion. Although there are no overdraft fees, there may be out-of-network or third party fees associated with ATM transactions. SpotMe won't cover non-debit card transactions, including ACH transfers, Pay Anyone transfers, or Chime Checkbook transactions. See terms and conditions.