Editor's Note: Overdraft Apps provides detailed product reviews and recommendations based upon extensive research and our own hands-on testing. We may earn a referral fee when you sign up for or purchase products mentioned in this article.
You need $100. Right now.
It could be a $100 loan. Or a $100 cash advance on your next paycheck. Or $100 the next time you swipe your debit card.
What you don't need is to overdraft your account, fall into the trap of high-interest debt, or go dancing on the street for money (well, you can do that last one if you like, but only because the cardio is good for you.)
So we'll show you how to get cash fast from some of the best $100 instant loan apps WITHOUT paying overdraft fees.
Best of all, we'll outline 3 unique ways to get the hundred bucks you need so you can cover your purchases with confidence and avoid the frustration (and fees) that come with being short on money.
As a bonus, some of these solutions have low or no fees, so you can forget about paying more than $100 a day in overdraft fees and get the cash you need on your terms. And you may be able to borrow $100 instantly with no credit check and without moving your direct deposit, too! If you're one of the 64% of Americans living paycheck to paycheck, read on to learn how to borrow $100 from a cash app.
What we'll cover:
"I need $100 before payday": Use an early paycheck app
Best For: Accessing your paycheck before payday
You work hard for your money, so why shouldn't you access it when you need it?
That's the logic behind paycheck advance apps that get you the money you've earned even if payday is still around the corner. Let's say you're paid every two weeks (or monthly). Odds are you already know the pain of a cash shortage. With a pay advance app, you don't need to scrape through and eat ramen for every meal (unless you want to).
You can use your incoming paycheck to get an instant $100 loan! Then, when payday rolls around, your borrowed amount is balanced with your paycheck and you don't need to miss out on the money you need. Easy money.
Better still, since pay advance apps automatically deduct the amount you borrowed against your next paycheck, you don't need to stay on top of the process at all. Everything is done automatically so you can focus on living your life – not stressing over missed bills or overdraft fees.
We Recommend: Earnin
Earnin lets you get paid early any time you have earnings. While other apps give you access to cash one or two days before payday, Earnin gives you your wages right when you need 'em (it's even possible to access your wages almost instantly using Earnin's Lightning Speed feature).
Through Earnin's Cash Out feature, you can earn your way up to $100/day and $500/pay period. This means less stress and more paying for the things you want. In a handful of minutes, you can create an account and provide your job information. Then, once Earnin verifies your account, you can access and cash out up to $100 instantly. As you build your account history, higher limits and multiple cash advances are available. There are no minimum credit requirements and you don't need to set up a direct deposit with Earnin to secure a $100 instant loan with no credit check.
Best of all, there's no fee for using Earnin (adding a tip is optional and no tip is just fine). You can instantly borrow $100 and you'll never be stung with overdraft fees, account fees, or mandatory fees of any kind. Ever.
Explore Earnin (it's free to use with no mandatory fees ever)
| | |
| --- | --- |
| Pros | Cons |
| ✔ Get up to $100 as soon as your account is set up | ✘ "Voluntary" tips can encourage you to overpay |
| ✔ Access up to $500 per pay period with no fees! | ✘ Requires access to your bank account |
| ✔ No direct deposit | |
| ✔ No credit check | |
"I need $100 but my bank account is empty": Instant loan apps
Best For: Handy banking features with no fees and multiple ways to quickly get extra cash
You need a hundred bucks but your account is looking pretty anemic.
We get it. We've been there too.
Even worse, missing your bill payments can lead to dishonor fees and penalty payments that place even MORE financial pressure on your shoulders. And every time you see the $0.00 in your bank account it would be great if there was an app you could use to top up your checking account.
And there is. They're called 'neobanks' and they can help you borrow $100 instantly.
Neobanks aren't actually banks. They partner with FDIC insured banks to take deposits and make loans. One of their most popular features are instant loan apps that provide all the features of a legacy bank (plus a few cool new ones) from the convenience of your phone and often without the fees that come with traditional bank services. Compare this to an average $35 overdraft fee charged by traditional banks when your account goes negative and it's clear why neobank apps are exploding in popularity when you need to borrow $100 fast.
We Recommend: Albert
We recommend Albert for the $100 cash advance you need. Why? Because it actually has a limit of $250 so you can top up your checking account with a little wiggle room.
Although Albert offers a suite of tools to track your spending, saving and budgeting, it's tough to go past a $250 cash advance with zero fees or interest. Oh, and no credit checks either.
If you're like most Americans, you'd welcome a few tips on managing your money. Albert's cashback, fee-free ATM withdrawals on your Albert debit Mastercard, and automated savings contributions are pretty handy.
Plus, there's one feature that's tough to go past – a $150 bonus just for giving Albert a try!
Explore Albert (and get a $150 signup bonus)
| | |
| --- | --- |
| Pros | Cons |
| ✔ Borrow up to $250 | ✘ Funds take 2 – 3 days to reach your account* |
| ✔ No credit check | ✘ Requires access to financial information |
| ✔ No fees or interest | |
| $150 sign-up bonus | |
*Funds available immediately with a $6.99 express fee, or with no fee if you set up an Albert Cash account.
The fine print on Albert Instant: Download to see if you qualify. Repay the advance with your next paycheck. Fees may apply. Advance amounts based on qualification and may vary. Albert is not a bank. Banking services provided by Sutton Bank, Member FDIC.)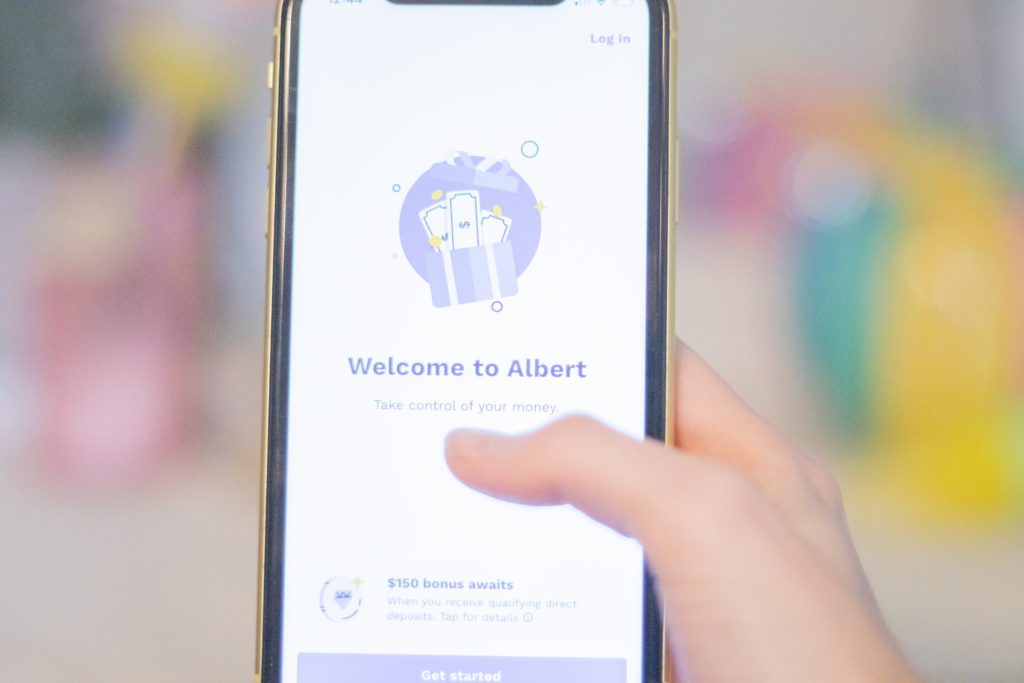 "I need $100 and maybe even more": Get a quick loan
Best For: Accessing larger amounts of cash or for those without a regular paycheck
Odds are, if you need $100 instantly, you'll also need extra funds down the line.
If a hundred dollars would help, but a bigger loan would help more, a short-term loan can put the funds you need in your bank account quickly and without hassle. Even better, you don't need to trap yourself in a cycle of high-interest debt to access loans anymore.
Instant loan apps let you compare lenders from the comfort of your couch (and are often designed for those with thin or no credit). You can get approved in minutes, grab the $100 loan you need, and top up your checking account with extra funds to make overdraft fees a thing of the past.
We Recommend: PockBox
Pockbox can provide up to $2,500 in a matter of minutes. All you need to do is fill out a few simple forms with some basic information about yourself (you can do this in 5 minutes, or roughly the time it takes to microwave mac and cheese in a mug), and PockBox will compare lenders for you.
You choose the lender that's right for you so you can qualify for a small loan instantly and borrow $100 fast (plus extra for a rainy day).
Typically, the funds you get via PockBox – whether $100 or more – are yours within 1 business day. This speed of borrowing $100 can help you sidestep overdraft fees as well as the potential damage to your credit score that comes from missing or bouncing important bill payments.
Browse PockBox lenders (get up to $2,500 fast)
| | |
| --- | --- |
| Pros | Cons |
| ✔ Access up to $2,500 fast | ✘ Must have regular income to qualify |
| ✔ Get approved for a $50 loan in minutes | ✘ Funds take 1 business day to reach your account |
| ✔ No fees or charges to apply | |
Final thoughts and what to do next…
If you've ever wondered "where can I borrow $100 instantly?", the answer doesn't have to be your parents or your best friend.
The rise of cash advance apps and neobanks means you can borrow $50 or $100 instantly without the frustration of dipping into overdrafts or applying for a traditional payday loan. The best app that will let you borrow $100 is the one that suits your needs and financial situation.
Take into account the borrowing limits, speed of funds landing in your account, and any interest or fees that come with your money.
Falling $100 short of a bill or emergency purchase is more than a frustration. It can quickly send you into a cycle of debt (not to mention the frustration of copping late fees, dishonor fees, or missing out on doing the things you love).
Consider the apps in this list to take control of your finances today.
So, which option are you going to use to put $100 in your pocket?
Latest posts by Mitchel Harad
(see all)