Editor's Note: Overdraft Apps provides detailed product reviews and recommendations based upon extensive research and our own hands-on testing. We may earn a referral fee when you sign up for or purchase products mentioned in this article.
You need to get $100 instantly. Right now.
It could be a $100 instant loan app. Or a $100 instant cash advance on your next paycheck. Or $100 the next time you swipe your debit card.
What you don't need is to overdraft your account, fall into the trap of high-interest debt, or go dancing on the street for money (well, you can do that last one if you like, but only because the cardio is good for you.)
So we'll show you how to get cash fast from some of the best $100 instant loan apps WITHOUT paying overdraft fees.
Best of all, we'll outline 3 unique ways to get $100 you need for emergency cash immediately, so you can cover your purchases with confidence and avoid the frustration (and fees) that come with being short on money.
As a bonus, some of these solutions have low or no fees, so you can forget about paying more than $100 a day in overdraft fees and get the cash you need on your terms. And you may be able to borrow $100 instantly with no credit check and without moving your direct deposit, too! If you're one of the 64% of Americans living paycheck to paycheck, read on to learn how to borrow $100 from a cash app.
tl;dr >>> Here's the fastest way to get $100 in under an hour.
What we'll cover:
How much does a $100 cash advance cost?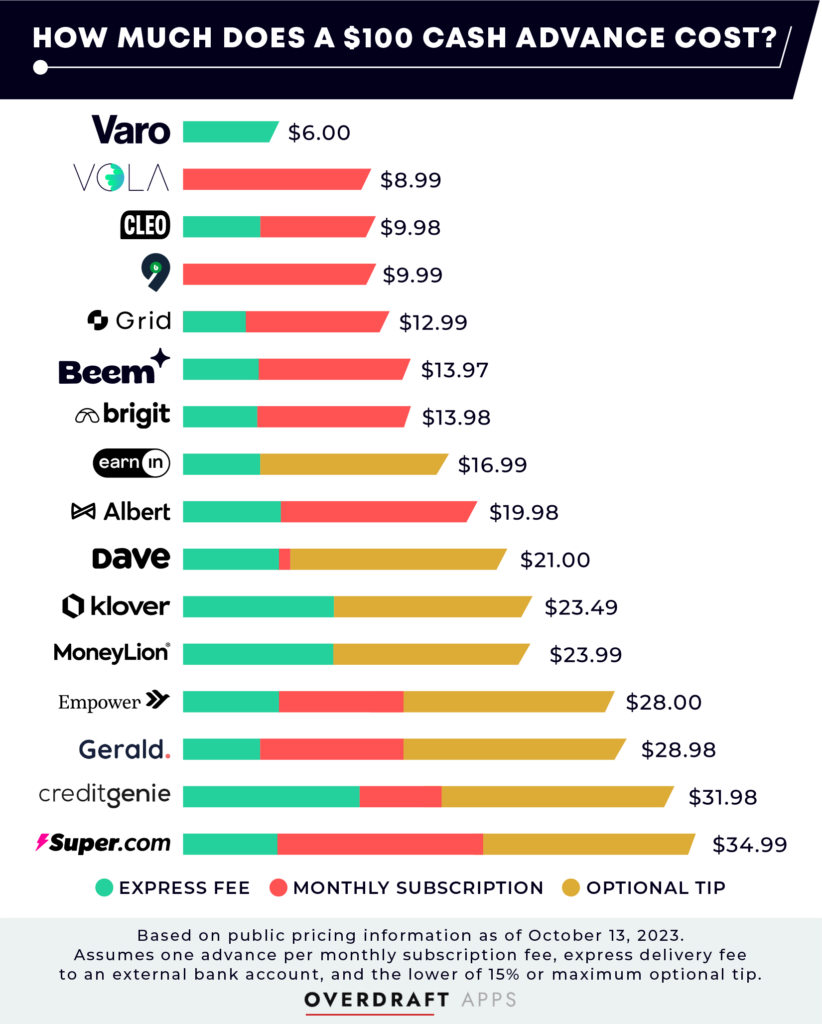 We researched the cost of a $100 cash advance from 15 of the most popular cash advance apps, and as you can see the cost of borrowing can vary quite a bit. We found that the average cost of borrowing a $100 cash advance is $15.35. That's les than half of the cost of a typical bank overdraft fee.
Most cash advance apps don't charge interest, but instead hit you with up to three fees:
A monthly subscription fee that you'll need to pay to access cash advances (or to increase your cash advance limit). Some apps don't charge a subscription fee, while others include additional features with a subscription, such as credit monitoring or budgeting tools.
An express fee to send your money to your bank account in minutes. Nearly every app also offers a slower option at no-cost, though you'll need to plan ahead and wait three to five business days to receive your funds. Some apps offer the option of accessing your money through a debit card, with lower or no fees, too.
An optional tip to help support the service. Apps like Dave suggest a 15% tip, which can add significant cost to your cash advance. Pay attention to the word 'optional' though – no app requires a tip, nor will a small tip or no tip impact your ability to receive a cash advance or reduce reduce your cash advance limit.
There are some simple strategies to greatly reduce the cost of your net $100 cash advance. In fact, it's even possible to get a free cash advance from many leading apps!
You can also reduce the fees on your next cash advance by choosing a lower cost app.
Varo Money came in as the cheapest cash advance provider, with a $100 advance costing just $6 in fees. However, you can't take out an advance until your Varo account is at least 30 days old and you've activated your Varo debit card. Plus, you'll need to receive at least $1,000 in direct deposits within the last 31 days to qualify for an advance.
If you don't want to wait that long or can't meet those qualifications, B9, Klover and Cleo are the next most affordable options, with a $100 cash advance costing $9.99. Cleo is a fun and sassy financial app that actually gives in a good laugh alongside helpful financial advice. It's one of the few apps that provides cash advances to Door Dashers and other gig workers, and if you don't need your money right away, you can avoid the express fee to reduce the cost of your advance to just $5.99!
No-interest cash advances for up to $100 >>> Create a Cleo account in two minutes
"I need to get $100 before payday": Use an early paycheck app
Best For: Accessing your paycheck before payday
You work hard for your money, so why shouldn't you access it when you need it?
That's the logic behind paycheck advance apps that get you the money you've earned even if payday is still around the corner. Let's say you're paid every two weeks (or monthly). Odds are you already know the pain of a cash shortage. With a pay advance app, you don't need to scrape through and eat ramen for every meal (unless you want to).
You can use your incoming paycheck to get an instant $100 loan! Then, when payday rolls around, your borrowed amount is balanced with your paycheck and you don't need to miss out on the money you need.
Better still, since pay advance apps automatically deduct the amount you borrowed against your next paycheck, you don't need to stay on top of the process at all. Everything is done automatically so you can focus on living your life – not stressing over missed bills or overdraft fees.
We Recommend: MoneyLion – $100 advance on your paycheck (and up to $250!)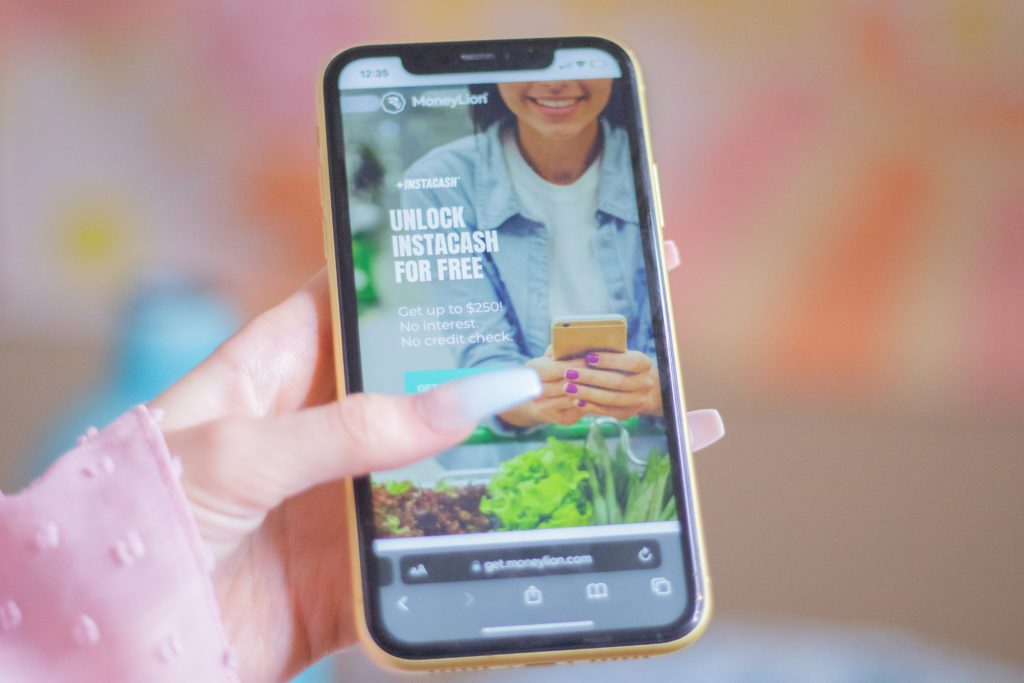 MoneyLion Instacash offers cash advances up to $250 when you're short of funds. With no interest and no fees and no credit check, this can be a handy option no matter what financial situation you're in.
You'll need a recurring deposit from an employer or benefits payment to qualify, but as long as you're eligible, you can use Instacash free. Like some other cash advance apps, you can leave a tip though this is entirely optional (and not tipping won't affect your ability to borrow $100 before your next paycheck rolls around).
Since you've got better things to do than monitor your notifications and stress about repayment dates, MoneyLion automatically handles the repayment of your cash advance on the due date of your next deposit. Whenever you get paid, your owed amount is balanced, and you can get on with your life without having to eat Ramen until payday.
You can get a MoneyLion cash advance for free – there is no interest and you don't need a subscription. (MoneyLion even made it on our list of Free instant cash advance apps.) However, to get your money within minutes, you'll need to pay an Instacash Turbo fee, which costs up to $5.99 to have your funds sent to your RoarMoney account or up to $8.99 if you'd like it sent to your bank account. Plan ahead and you avoid the fee, though it will take 12 – 48 hours to receive your cash advance via RoarMoney or 3 – 5 business days for it to reach an external bank account.
Get cash advances up to $250 with no interest >>> Check out MoneyLion
| | |
| --- | --- |
| Pros | Cons |
| ✔ Get up to $250 maximum cash advance | ✘ "Voluntary" tips can encourage you to overpay |
| ✔ 0% APR cash advances | ✘ Requires access to your bank account |
| ✔ No monthly account fees | |
| ✔ No credit check | |
"I need $100 now but my bank account is empty": Instant loan apps
Best For: Handy banking features with no fees and multiple ways to quickly get extra cash
You need a 100 bucks NOW but your account is looking pretty anemic.
We get it. We've been there too.
Even worse, missing your bill payments can lead to dishonor fees and penalty payments that place even MORE financial pressure on your shoulders. And every time you see the $0.00 in your bank account it would be great if there was an app you could use to top up your checking account.
And there is. They're called 'neobanks' and these loan apps can help you borrow $100 instantly, often with no credit check.
Neobanks aren't actually banks. They partner with FDIC insured banks to take deposits and make loans. One of their most popular features are instant loan apps that provide all the features of a legacy bank (plus a few cool new ones) from the convenience of your phone and often without the fees that come with traditional bank services. Compare this to an average $35 overdraft fee charged by traditional banks when your account goes negative and it's clear why neobank apps are exploding in popularity when you need to borrow $100 fast.
We Recommend: Albert for a 100 dollar instant loan with no credit check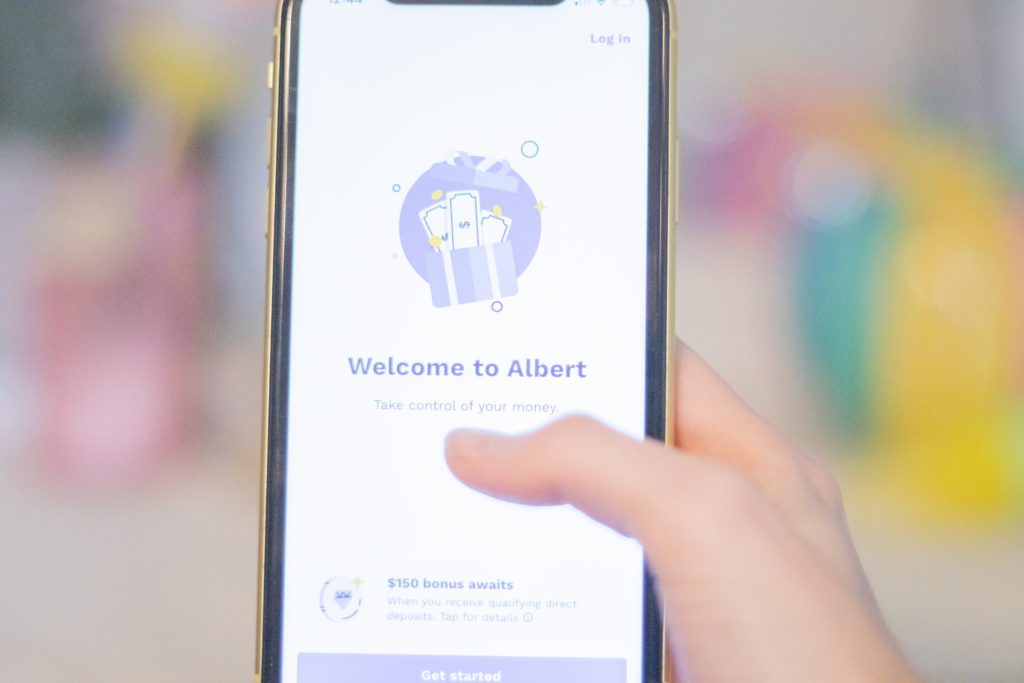 We recommend Albert for the $100 cash advance you need.1 Why? Because it actually has a limit of $250 so you can top up your checking account with a little wiggle room.
There's no credit check to qualify for an Albert cash advance. Instead, Albert securely links to your bank account (via Plaid) and analyzes your account activity history in just a moment or two. Having an established account where you get paid regularly and a few other factors can get you an instant cash advance, well, almost instantly!
Albert makes it affordable to borrow that extra $100 (or a bit more) when you need it, too. There's no interest and no monthly subscription fee to borrow. Need a little extra time to repay your advance? No late fee either. Just pay a small fee to get your money right away (instant delivery of $100 costs $6.99), or skip the fees altogether if you plan ahead and can wait a few days to receive your cash!
The Albert app also offers a great set of tools to track your spending, saving and budgeting. Plus, you get personalized recommendations and advice from Albert Geniuses. They'r real (human) financial experts who help you figure out the best way to pay down your credit cards, boost your credit score, start a budget, and more. Albert Genius is a great place to get help with all of those financial questions you've been afraid to ask, and you can try it out free for 30 days when you signup with Albert.
Get up to $250 with no credit check >>> Explore Albert
| | |
| --- | --- |
| Pros | Cons |
| ✔ Borrow up to $250 | ✘ Funds take 2 – 3 days to reach your account* |
| ✔ No credit check | ✘ Requires access to financial information |
| ✔ No late fees or interest | |
"I need to get $100 and maybe even more": Get a quick loan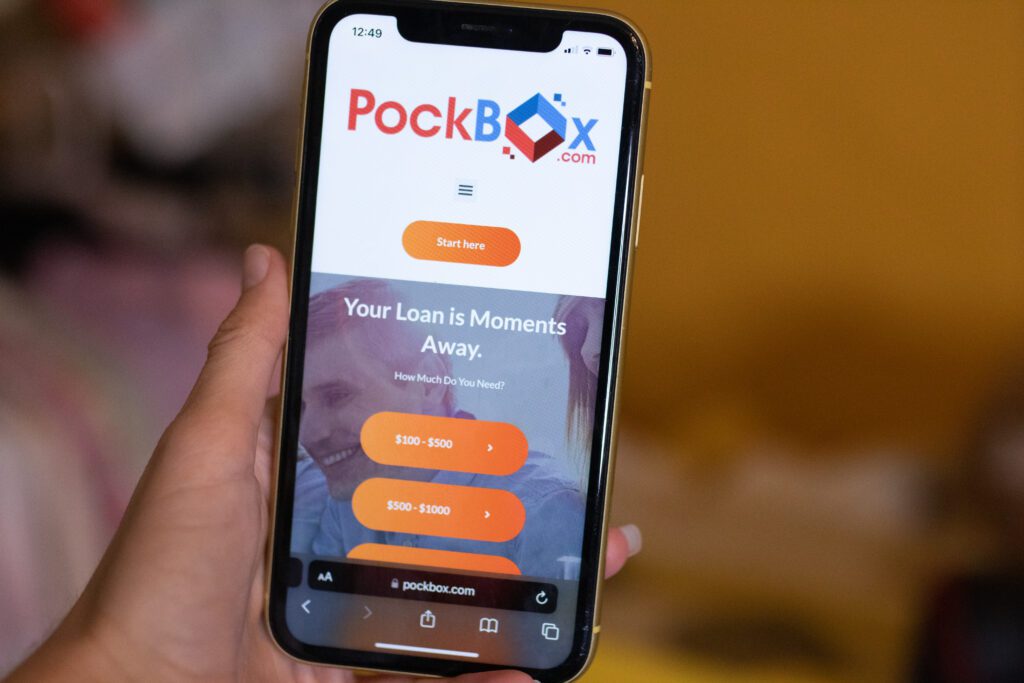 Best For: Accessing larger amounts of cash or for those without a regular paycheck
Odds are, if you need to get a $100 loan instantly, you'll also need extra funds down the line.
If a hundred dollars would help, but a bigger loan would help more, a short-term loan can put the funds you need in your bank account quickly and without hassle. Even better, you don't need to trap yourself in a cycle of high-interest debt to access loans anymore.
Instant loan apps let you compare lenders from the comfort of your couch (and are often designed for those with thin or no credit). You can get approved in minutes, grab the $100 loan you need, and top up your checking account with extra funds to make overdraft fees a thing of the past.
We Recommend: PockBox to borrow up to $2,500 regardless of credit
Pockbox can provide up to $2,500 even if you have bad credit. All you need to do is fill out a few simple forms with some basic information about yourself (you can do this in 5 minutes, or roughly the time it takes to microwave mac and cheese in a mug), and PockBox will compare lenders for you.
You choose the lender that's right for you so you can qualify for a small loan instantly and borrow $100 fast (plus extra for a rainy day).
Typically, the funds you get via PockBox – whether $100 or more – are yours within 1 business day. This speed of borrowing $100 can help you sidestep overdraft fees as well as the potential damage to your credit score that comes from missing or bouncing important bill payments.
Browse PockBox lenders (get up to $2,500 fast)
| | |
| --- | --- |
| Pros | Cons |
| ✔ Access up to $2,500 fast | ✘ Must have regular income to qualify |
| ✔ Get approved for a $50 loan in minutes | ✘ Funds take 1 business day to reach your account |
| ✔ No fees or charges to apply | |
Final thoughts and what to do next…
If you've ever wondered "where can I borrow $100 instantly?", the answer doesn't have to be your parents or your best friend.
The rise of cash advance apps and neobanks means you can get $50, borrow $200 or find a $500 loan without the frustration of dipping into overdrafts or applying for a traditional payday loan. The best $100 loan instant app is the one that suits your needs and financial situation.
Take into account the borrowing limits, speed of funds landing in your account, and any interest or fees that come with your money.
Falling $100 short of a bill or emergency purchase is more than a frustration. It can quickly send you into a cycle of debt (not to mention the frustration of copping late fees, dishonor fees, or missing out on doing the things you love).
Consider the instant loan apps in this list to take control of your finances today.
So, which $100 loan instant app are you going to use?
P.S Struggling with bad credit? Check out our Credit Builder Loan Guide for quick and easy ways to boost your score
WAIT! High overdraft fees aren't the only way your bank is costing you money.
With inflation overheating, you've probably heard that interest rates are climbing sharply. That means that for the first time in years, it's a great time to shop around for a high interest savings account.
The national average interest rate for savings accounts is currently 0.23% APY – that means that if you have $2,500 in a savings account, you'd earn just $5.76 after one year! Move those hard-earned savings to an FDIC-insured bank paying 3.50% APY and you'd earn $81.73 more!
Don't let your hard-earned savings sit there doing nothing. Check out the rates that you can earn at other banks:
Latest posts by Mitchel Harad
(see all)
Albert is not a bank. Banking services provided by Sutton Bank, Member FDIC. Albert Savings accounts are held for your benefit at FDIC-insured banks, including Coastal Community Bank, Axos Bank, and Wells Fargo, N.A. The Albert Mastercard® debit card is issued by Sutton Bank, Member FDIC, pursuant to a license by Mastercard International Incorporated. Mastercard and the circles design are registered trademarks of Mastercard International Incorporated. Early access to direct deposit funds depends on the timing of the payer's submission of deposits. We generally post such deposits to Albert Cash accounts on the day they are received which may be up to 2 days earlier than the payer's scheduled payment date. To be eligible for a direct deposit bonus, you need to receive a qualifying direct deposit and meet the spend requirements. Cash back terms apply. See app for details. To be eligible for savings bonuses, you must be subscribed to Genius and maintain a monthly average and ending balance of $10 or more. Bonuses for the month prior are paid by the 3rd of the following month. Download to see if you qualify for Albert Instant. Repay the advance with your next paycheck. Fees may apply. When you join Albert, you'll set up an Albert Cash account and a 30-day trial for Albert Genius as part of the sign-up process. If you cancel within 30 days of signing up, you will not be charged for your subscription. Your subscription will auto-renew until canceled. Even if you cancel, you can continue to access Albert Cash and Instant. If you cancel, you will lose certain benefits associated with your Genius subscription, such as Savings, Investing, access to Albert's financial experts, free in-network ATM withdrawals, and more.