Editor's Note: Overdraft Apps provides detailed product reviews and recommendations based upon extensive research and our own hands-on testing. We may earn a referral fee when you sign up for or purchase products mentioned in this article.
Making your money stretch until payday can often mean turning to costly overdraft fees or even costlier payday loans. While a new breed of cash advance apps offers fast access to extra cash at a more reasonable cost, they often have low limits and a long list of fees that can quickly add up.
B9 offers a new way to get early access to your wages. It can advance you up to $500 with no credit check and just one simple fee. We analyzed the cost of borrowing from the 15 most popular cash advance apps and you'll want to know where B9 ranked. We'll share all this and more in our B9 review.
What is the B9 app?
B9 helps you get cash when you've worked but haven't been paid yet. You can access up to $500 at a time with no credit check, no interest and no late fees. While many advance apps only consider your paycheck from a single employer, with B9 income multiple employers, side hustles, income from rentals or tutoring, and government benefits also qualify towards your advance limit!
You can also use your B9 account for everyday banking1, with no credit check or minimum balance requirement. There are no overdraft fees. The B9 debit card offers the opportunity to earn up to 5% cashback on spending categories you select.
And one more thing – we found B9 to be one of the lowest fee ways to access extra cash when you need it!
Get up to $500 in cash instantly >>> Check out B9
How do B9 advances work?
You can see how much of an advance you're eligible for at any time in the B9 app. When you need funds, it just takes a few taps to have them sent to you. You can access your money through the B9 debit card or have it sent to your regular bank account or debit card almost instantly, with no additional fee.
Your advance will be automatically repaid when you receive your next direct deposit. There's no late fee if you need more time. You'll be eligible for another advance within hours of repayment, provided your account continues to be in good standing.
B9 advances are based on your unpaid earnings, not your credit score. (Your B9 account also needs to be in good standing and have a positive balance to be eligible for advances.) Add the free-to-download B9 app to your phone and set it up in just a few minutes, and set your paycheck, gig work or freelance earnings to be direct deposited with B9. (They'll be safely held with B9's partner bank, Evolve Bank & Trust, member FDIC.)
You can access our money at any time through the B9 Visa® debit card2, which offers up to 5% cashback on the spending categories you use the most each month.
You can also transfer your money to another debit card or B9 user within minutes, or to an an external account via ACH. Fees may apply for transfers, including a 2% fee for sending money through apps like Venmo and Cash App. Unlike many banking apps, B9 does not offer access to a fee-free ATM network.
B9 isn't the best option if you need money NOW due to the direct deposit requirement, but you'll be eligible for an advance within an hour B9 receiving your initial direct deposit. You will have access to a virtual B9 debit card as soon as you've set up the app (though you may not have any funds available for withdrawal yet) and you'll receive a physical debit card within ten days of opening your account.
Advances up to $500 with no credit check >>> Explore B9
How much does a B9 cash advance cost?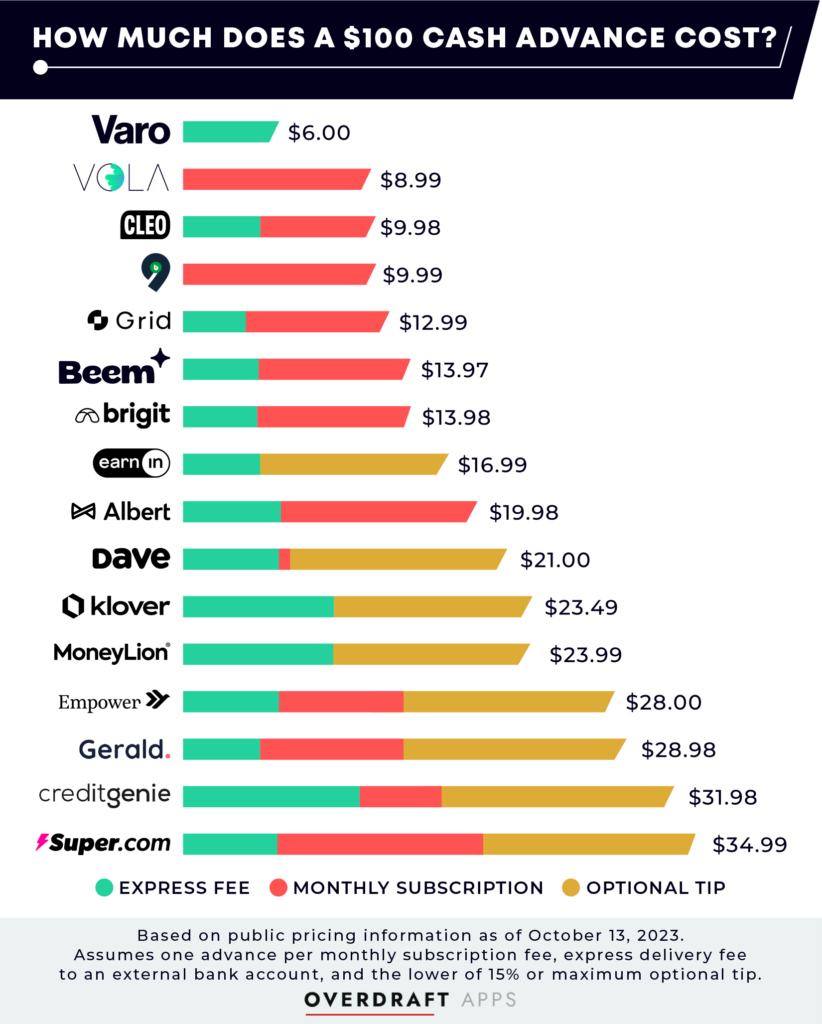 B9 charges just one fee for advances, a monthly subscription. There are no express fees, optional tips or interest.
You can choose between two subscription plans with B93:
Basic Plan – $9.99 per month for advances up to $100, and B9 Visa Debit Card with up to 5% cashback.
Premium Plan – $19.99 per month for advances up to $500, B9 Visa Debit Card with up to 5% cashback plus features to help you monitor your credit report and score. If you are a new B9 customer, your maximum advance limit won't exceed $100 to start.
We analyzed the cost of borrowing $100 from the 15 most popular cash advance apps in the App Store and Google Play and found that the average cost is $16.35.
If you subscribe to the Basic Plan and take out one $100 advance per month, the cost of your advance will effectively be $9.99. B9 tied for second place as the lowest cost app for borrowing $100! The B9 app cost less than the average to borrow $50, $200 and $500 as well. In addition, if you take out an advance from B9 more than once per month, the effective cost goes even lower!
Enjoy low fee access to cash when you need it >>> Check out B9
What are some apps like B9?
B9 is an earned wage advance app, with some features that are similar to Earnin and Even app. However, B9 offers some key advantages. While Earnin has a higher maximum advance limit, you can only access up to $100 per day and you'll likely opt in to paying an express fee (and perhaps a tip) on each advance, so the cost can really add up. Even has lower subscription pricing than B9 and in some cases those fees are paid by your employer, but your employer must be an Even partner for you to be eligible and you can't access any earnings from gig work or side hustles.
Is the B9 app legit?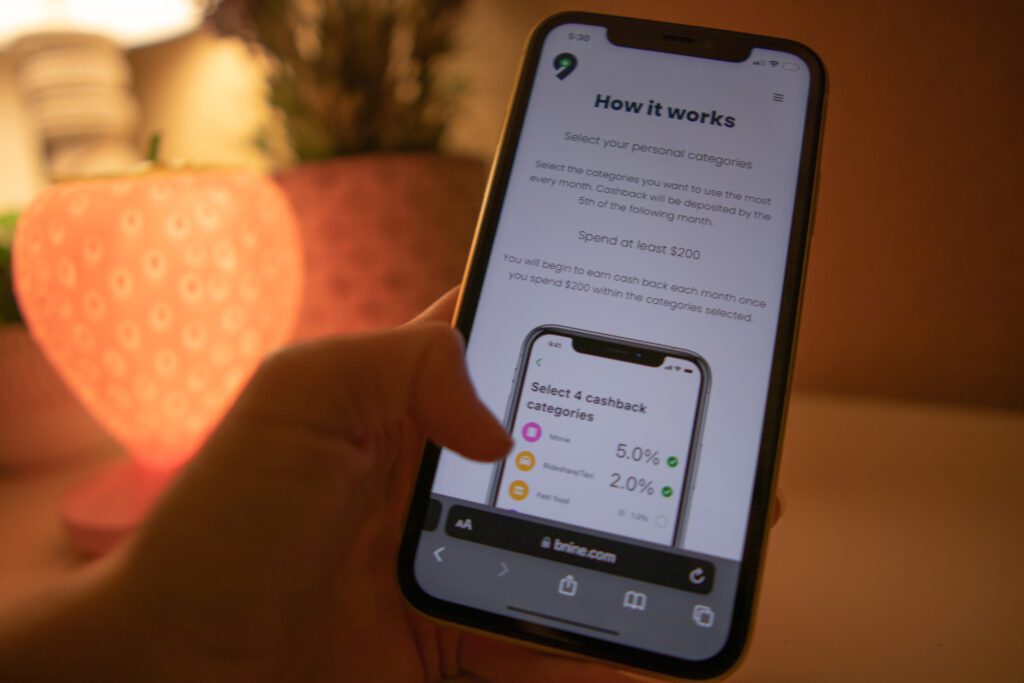 San Francisco-based B9 was founded in 2020. The company has raised $10 million in venture capital to date.
The B9 app has been dowloaded from the App Store and Google Play well over 100,000 times and received over 5,000 ratings and reviews.
Deposits to your B9 account are safely insured for up to $250,000 by the FDIC, as it is held in an account with B9's partner bank, Evolve Bank and Trust. The B9 Visa debit card includes Visa's Zero Liability Policy, which guarantees that you won't be held responsible for unauthorized charges made with your account or account information. You're protected if your Visa credit or debit card is lost, stolen or fraudulently used, online or offline.
Low-fee cash advances for up to $500 >>> Check out B9
Watch our B9 cash advance app review
WAIT! High overdraft fees aren't the only way your bank is costing you money.
With inflation overheating, you've probably heard that interest rates are climbing sharply. That means that for the first time in years, it's a great time to shop around for a high interest savings account.
The national average interest rate for savings accounts is currently 0.23% APY – that means that if you have $2,500 in a savings account, you'd earn just $5.76 after one year! Move those hard-earned savings to an FDIC-insured bank paying 3.50% APY and you'd earn $81.73 more!
Don't let your hard-earned savings sit there doing nothing. Check out the rates that you can earn at other banks:
Latest posts by Mitchel Harad
(see all)
B9 is not a bank. Banking services provided by, and the B9 Visa® Debit Card is issued by Evolve Bank & Trust, Member FDIC, pursuant to a license from Visa U.S.A. Inc.

B9 is partnered with Mbanq which provides B9 with technological capabilities and assists with the compliance of federal and state regulatory requirements.

B9 is not a Bank. B9 Card is issued by Evolve Bank & Trust pursuant to a license from Visa. Rewards are not offered by Evolve Bank & Trust and are instead offered and managed by B9. The amount of cashback that a you receive each month is dependent on the your aggregate spending each month at cashback eligible merchants. The cashback you receive may vary from month to month and year to year. All members with a B9 Debit Card are eligible for cashback rewards and will be given an opportunity to select up to 4 merchant categories when they sign-up for cashback, for which the member may receive cashback rewards, so long as the member satisfies the minimum monthly aggregate spending requirements of $200 with the selected MCCS. You may sign up for cashback rewards on the B9 App.
B9 Basic℠ and B9 Premium℠ are optional services, offered by B9 to its members that require to set up a payroll direct deposits to the B9 Account each month. All B9 Basic℠ and B9 Premium℠ members start with up to $100 early pay advance. B9 Premium℠ members have a potential for it to increase up to 100% of their earnings they deposit from their paycheck to their B9 Account. All B9 members are informed of their current available maxes in the B9 mobile app. Their limit may change at any time, at B9's discretion.