Editor's Note: Overdraft Apps provides detailed product reviews and recommendations based upon extensive research and our own hands-on testing. We may earn a referral fee when you sign up for or purchase products mentioned in this article.
30-SECOND SUMMARY: Instacart pays shoppers on Wednesday via direct deposit for the previous Monday through Sunday. With a fixed payment schedule, it's easy to end up without cash, while payday is still a couple of days away. Read on for 4 apps tailor-made for Instacart shoppers and drivers. If you're looking for a high borrowing limit and a low (like, seriously low) monthly fee, consider an app like Dave to borrow up to $500 immediately.
Need $500? See How Dave Works ⚡
PICTURE THIS: You've just completed a grueling day of fulfilling orders and delivering groceries to hungry, hungry customers. You're keen to grab a bite to eat with friends, but your bank balance has hit $0.
Instead of getting a stress headache or canceling your plans, what if you had access to a ready-made money-borrowing solution at your fingertips?
Enter the world of cash advance apps for Instacart drivers.
In this guide, we'll break down 4 of the best cash advance apps we've personally downloaded and tried. Each app caters to Instacart drivers (as well as other gig workers), so you're not punished for having fluctuating income or multiple income streams.
Let's get right into it.
Why cash advances are perfect for Instacart shoppers
The right sash advance app can be a lifesaver if you're an Instacart driver who needs a little extra cash before payday.
The key is to find an app that's tailored made for your side hustle, explains Brian Meiggs, Founder of My Millennial Guide. He says:
"Use apps that sync with your gig platforms. Many gig workers rely on specific platforms for their income, such as ridesharing, delivery services, or freelance marketplaces. Consider using cash advance apps that integrate with these platforms, allowing for seamless verification of your income and transaction history. This can simplify the application process and increase your chances of approval."
Since Instacart drivers are typically paid via direct deposit on a weekly basis, you might run into unexpected expenses or emergencies that require immediate cash. When these problems pop up, cash advance apps for Instacart drivers can provide a short-term solution to help cover your expenses.
Whether you need to fill up on gas, pay for car maintenance, or cover bills unrelated to your Instacart gig, the best cash advances can top up your checking account in a few clicks.
🤓 Overdraft Apps Tip: Some Instacart drivers may be eligible for Instant Cash Outs. You'll need to have completed at least 5 lifetime orders with Instacart, have a minimum of $5 in earnings, and have a debit card that supports instant payments.
What app will give me $50 instantly?
Looking for a little extra cash to cover you until your next Instacart payment drops?
Check out the following popular apps that consider income from multiple sources and are tailored for gig workers.
#1 – Brigit: Enjoy cash advances of up to $250, with an instant transfer feature to receive your funds ASAP. You'll need to become a paying user, which will set you back $9.99/month. This is less than the average overdraft fee of $39. The monthly cost can outweigh any other late fee or dishonor payment you'll be avoiding. | Explore Brigit
#2 – Dave: Manage your expenses with the added benefit of Dave's cash advances. Your interest-free cash advance is up to $500 even if you're a new user (which blows other new user cash advance limits out of the water). | Explore Dave
#3 – Earnin: Access your earned wages before payday. Earnin's "Cash Out" feature allows you to withdraw up to $100 per day and up to $1,000 per pay period, depending on the hours you've worked. | Explore Earnin
🤓 Overdraft Apps Tip: Many cash advance apps for Instacart drivers don't require a credit check or long application process. This can be particularly helpful if you've got a limited credit history or need funds quickly without going through a snooze-inducing approval process. Compare more options for borrowing $50 💰
Which apps give Instacart drivers an instant cash advance?
#1 – Dave: Up to $500 available (immediately) for Instacart drivers
Dave is our top recommendation for Instacart drivers and shoppers in need of quick funds.
With over 11 million users, Dave has established itself as a pioneer in the industry, offering a generous cash advance of up to $500 without any interest charges or credit checks.
1
With $500 available right away there's no need to wait weeks (or months) to build up your borrowing limit. This can be a priceless advantage when you're a gig worker and facing an unexpected cash shortfall.
You've got a few options when it comes to accessing your cash:
Dave Spending account: Express fees range from $1.99 to $9.99, depending on the size of your advance with your money available in seconds.
External debit card: Money can be sent to your card within an hour with fees ranging from $2.99 to $13.99.
External bank account: Wait a little longer (up to 3 days) and receive your funds via bank transfer with no fee.
✅ Get a cash advance for up to $500 instantly >>> Check out Dave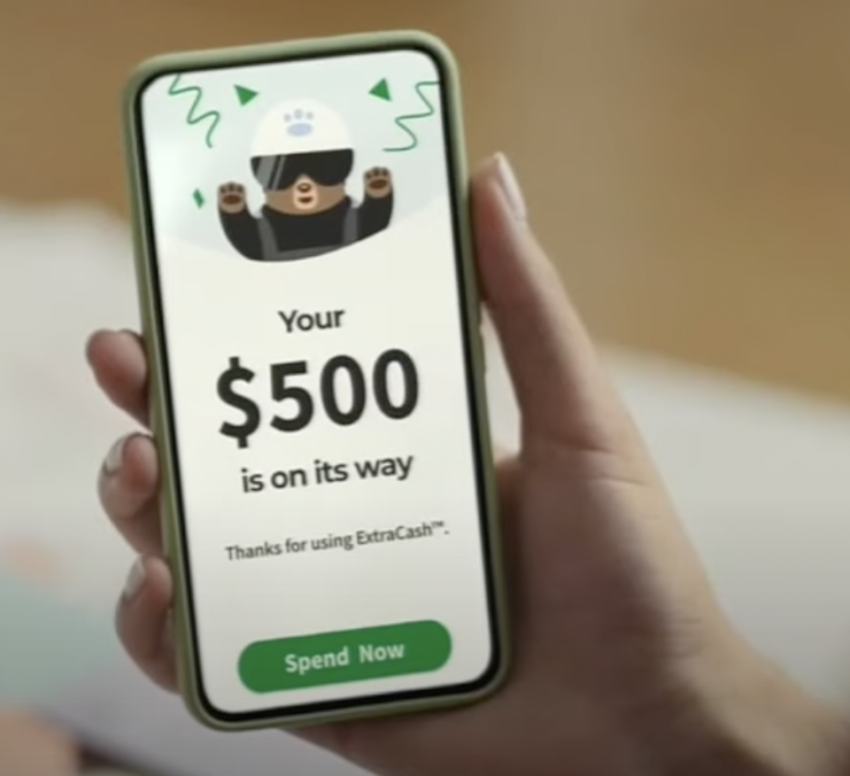 #2 – MoneyLion: Enjoy Instacash advances up to $250 for Instacart drivers
MoneyLion offers a convenient solution for freelancers, gig workers and Instacart drivers with access to borrowing, saving, investing, and earning opportunities.
After testing out the app, we found Instacash to be the stand-out feature. With Instacash you can access cash advances of up to $250 without any interest charges or credit checks.2 For drivers with fluctuations in their weekly earnings, this is a huge plus
MoneyLion's initial cash advance limit starts at $25, which is lower compared to Dave's eye-popping $500 initial limit. But MoneyLion provides the option to increase your borrowing limit up to $250 if you have recurring deposits. It takes approximately 3 to 8 weeks to become eligible for the maximum Instacash amount. Still, a quick $25 can be a lifesaver.
✅ Get cash advances up to $250 with no interest >>> Check out MoneyLion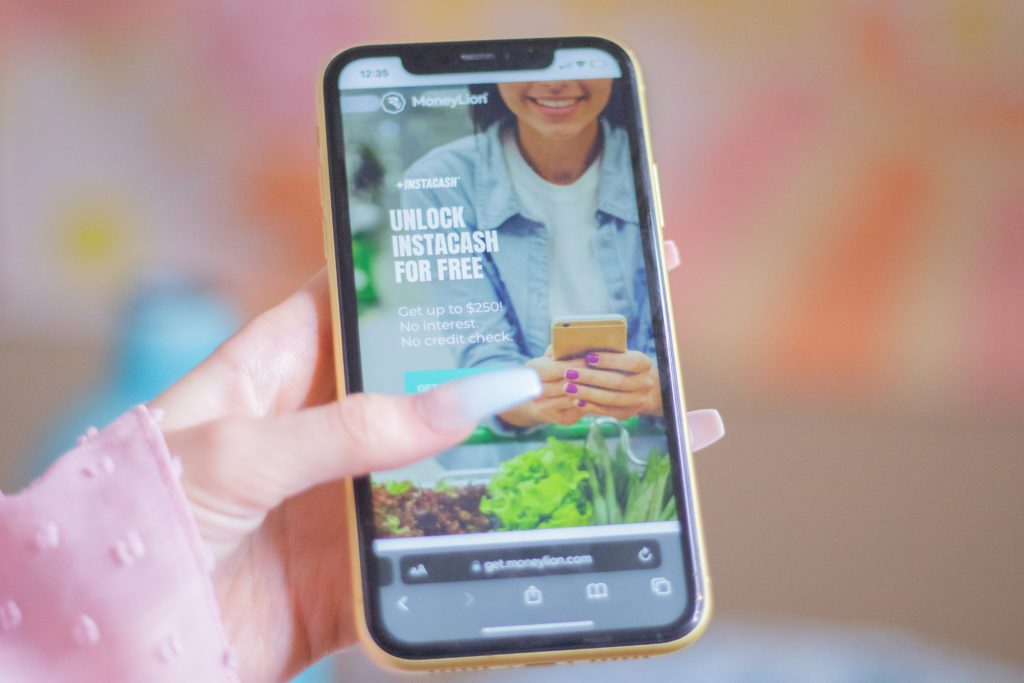 #3 – Brigit: Up to $250 cash advances tailored to your financial situation
Brigit lands on our list of cash advance apps for Instacart drivers with interest-free cash withdrawals ranging from $50 to $250 per pay period.3
Your borrowing limit is tailored to your specific financial circumstances, which helps you work towards responsible borrowing practices.
You'll need to pay a $9.99 monthly fee to access Brigit's cash advances. This is a step up from Dave's $1/month membership. But if you're facing overdraft fees or late payments on your bills, roughly ten bucks a month can still be a net positive in the long run.
If you're on the fence about paying $9.99 a month (we don't blame you), it helps to know Brigit's borrowing limit of $250 is among the highest available on the list of cash advance apps for Instacart shoppers and drivers.
✅ Access up to $250 in fee-free overdrafts >>> Explore Brigit Now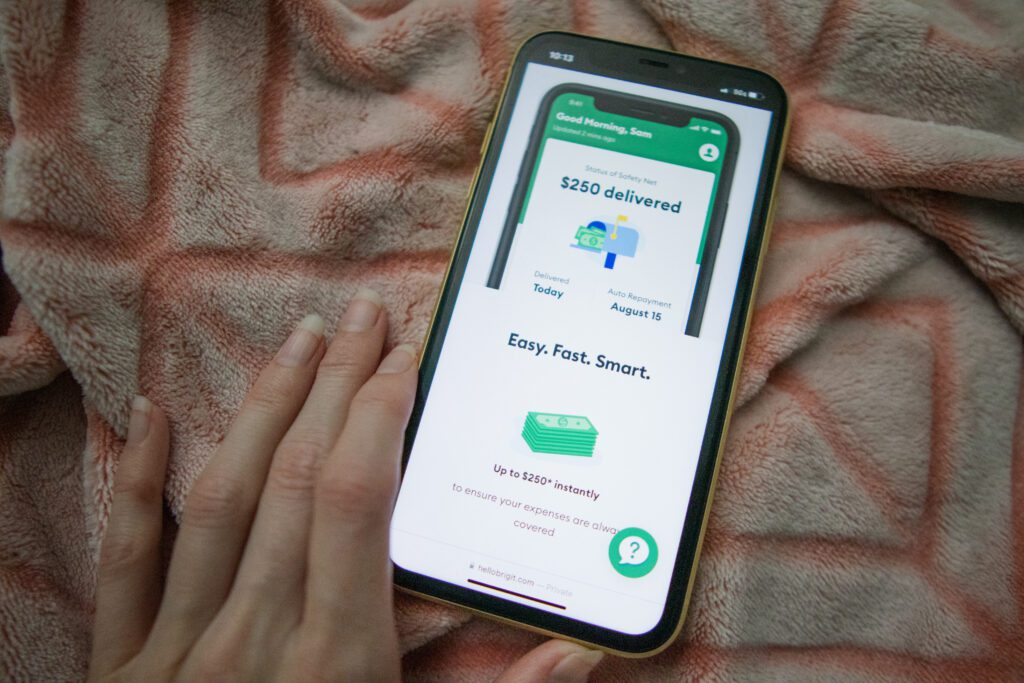 #4 – PockBox: Borrow up to $2,500 without stressing about your credit score
Cash advance apps can cover *most* emergencies… but not all.
Fingers crossed you don't need more than Dave's $500 borrowing limit. But if you're involved in an accident on the road, your car needs servicing, or you simply need funds to cover life's expenses, PockBox can help.
PockBox can help you borrow up to $2,500 (and as high as $20,000 in some cases!). By asking just a few simple questions, PockBox streamlines the often confusing process of determining where to apply for a loan. With access to loan quotes from up to 50 different lenders, you can conveniently compare your options from the comfort of your own couch.
With a mission to assist one million Americans in accessing the credit they need, PockBox can connect you with lenders who specialize in supporting borrowers with poor credit scores.
As an alternative to smaller gig cash advance apps, PockBox provides a solution for obtaining fast, unsecured funding when you find yourself in urgent need. There's no obligation to choose a lender. So you can explore available options at no cost or impact on your credit score.
✅ Quickly Compare Loan Offers Up to $2,500 >>> Browse Pockbox For Free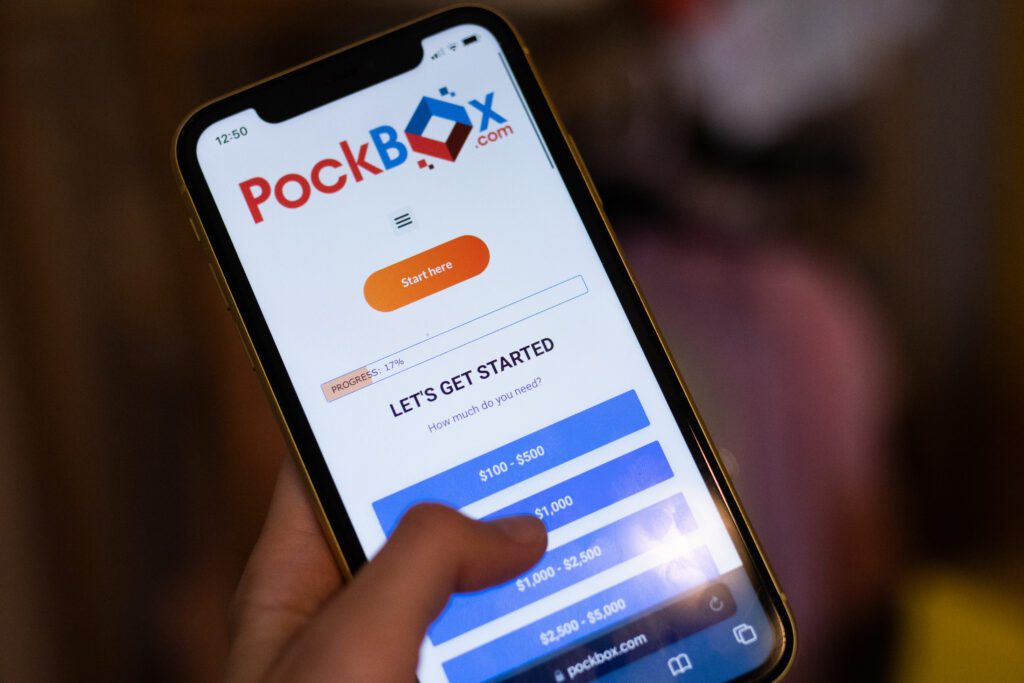 ---
Not an Instacart Driver? Try These Cash Advance Apps for Side Hustlers
WAIT! High overdraft fees aren't the only way your bank is costing you money.
With inflation overheating, you've probably heard that interest rates are climbing sharply. That means that for the first time in years, it's a great time to shop around for a high interest savings account.
The national average interest rate for savings accounts is currently 0.23% APY – that means that if you have $2,500 in a savings account, you'd earn just $5.76 after one year! Move those hard-earned savings to an FDIC-insured bank paying 3.50% APY and you'd earn $81.73 more!
Don't let your hard-earned savings sit there doing nothing. Check out the rates that you can earn at other banks:
Latest posts by Alexander Porter
(see all)
Designed by Dave, not a bank. Evolve Bank & Trust, Member FDIC, holds all deposits and issues the Dave Debit Card, pursuant to a license from Mastercard®. The ExtraCash™ account is open to new members only. ExtraCash™ is a DDA account with overdraft utility, advances are subject to eligibility requirements. Taking an ExtraCash™ advance will make your account balance negative. Express delivery fees apply to instant transfers. See the

Extra Cash Account Agreement

for more details.
Instacash is an optional service offered by MoneyLion. Your available Instacash Advance limit will be displayed to you in the MoneyLion mobile app and may change from time to time. Your limit will be based on your direct deposits, account transaction history, and other factors as determined by MoneyLion. See Membership Agreement and help.moneylion.com for additional terms, conditions and eligibility requirements.