Editor's Note: Overdraft Apps provides detailed product reviews and recommendations based upon extensive research and our own hands-on testing. We may earn a referral fee when you sign up for or purchase products mentioned in this article.
30 SECOND SUMMARY: The best app that lets you borrow money will offer a high amount upfront, come with low or no mandatory fees, and avoid interest or credit checks. The 12 apps on this list passed our strict "Is It Any Good?" test after being downloaded and tested personally. Every app can put cash in your pocket, but we found Dave's $500 limit and $1/month membership the gold star option.
Need $500? Check out Dave for yourself 👈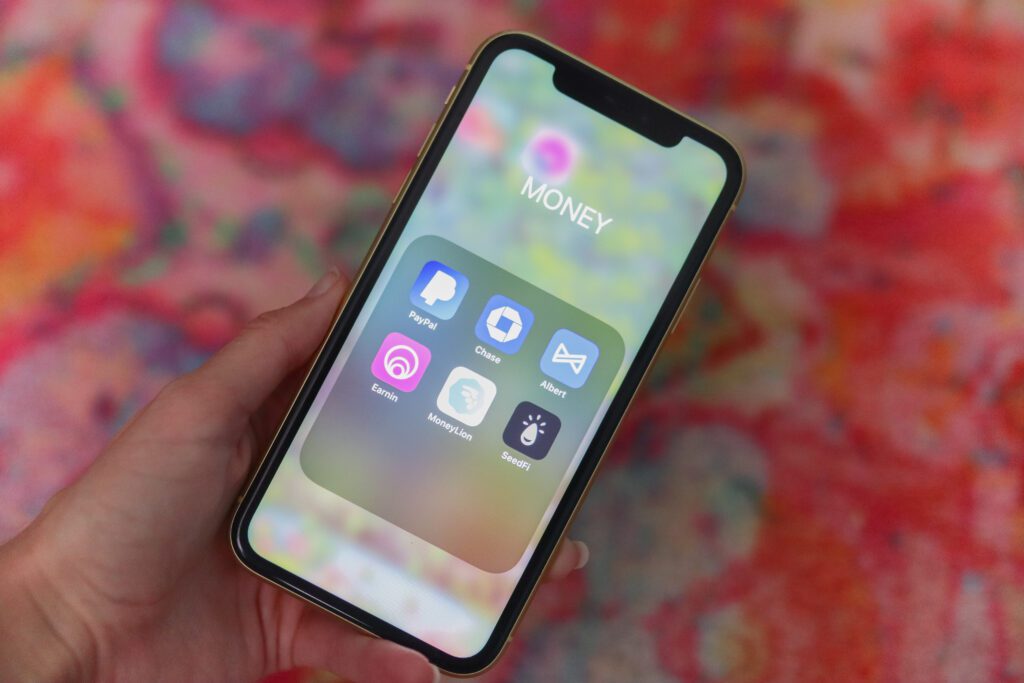 Looking for the best apps that let you borrow money?
Whether you need to cover your bills, this month's rent or it's time to splurge on yourself, extra options are always nice.
Even better, many of the apps for borrowing money on our list are made for those with poor credit – so don't stress if your credit score is lower than you'd like.
Borrow money apps are ideal for bridging your cash flow gaps and providing flexible funding options.
Read on for the top 12 apps that loan you money.
12 apps that let you borrow money (sometimes instantly)
Nearly 70% of Americans in a recent survey say borrowing money helped improve their financial situation.
The challenge is, each money-borrowing app is slightly different in the way it works and with lending requirements. You'll need to find the app that meets your individual requirements.
Many will let you borrow $40 immediately and increase your limit to $200 or more with more usage history. Others – Like Dave's incredible $500 – offer a full borrowing limit from day one.
Here are the best 12 apps we found after downloading and comparing options.
#1 – Dave: Instant $500 cash advances with no interest and no credit check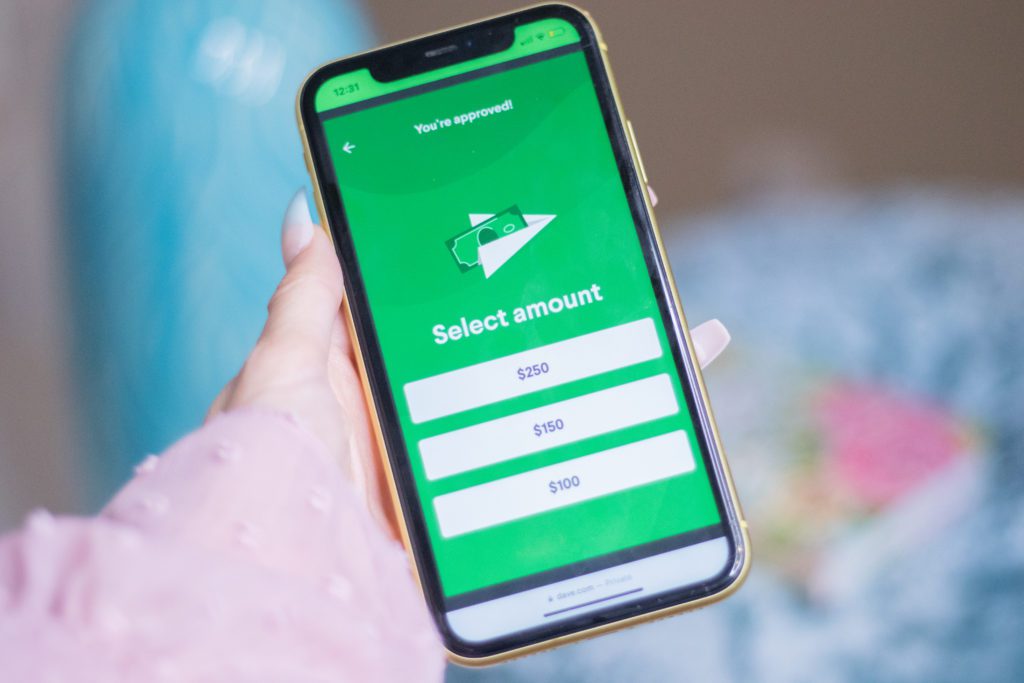 Dave invented the cash advance app, and today has millions of users who turn to it to borrow up to $500 with no interest and no credit check1.
Unlike many other apps, you can request a Dave cash advance as soon as you sign up, and receive your funds instantly (seriously, like in under a minute!) via Dave Debit MasterCard; there is a $1.99 – $9.99 express fee. You can use your Dave debit card at the millions of merchants who accept Mastercard, and even take advantage of up to 10% cash-back at popular restaurants and retailers, plus some limited special offers like 50% cash-back on your next order from Shake Shack!
If you're not in a rush, you have have Dave transfer your cash advance to your bank account within three business days with no fees. (You do need to subscribe to Dave for $1 per month to access cash advances plus some additional features.) Your advance will be automatically repaid when you receive your next paycheck, but if you happen to need some extra time, Dave charges no late fees. You can borrow again once your advance has been repaid.
Get a cash advance for up to $500 instantly >>> Check out Dave 👈
#2 – Albert: No interest cash advances for up to $250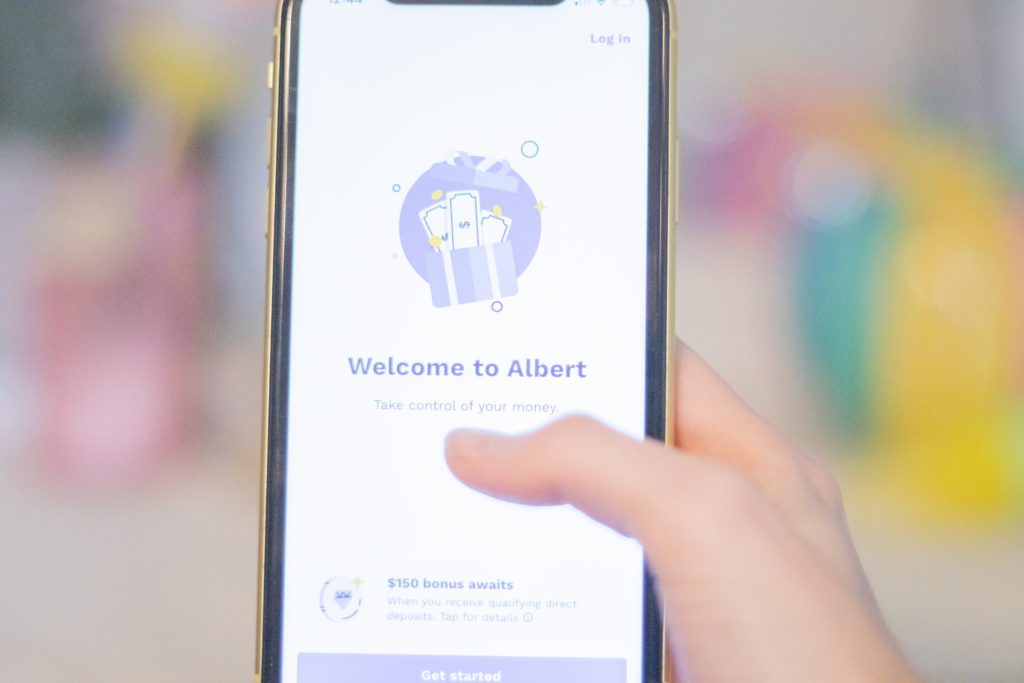 Albert offers cash advances for up to $250, which is amongst the largest amounts of any cash advance app, and they are totally free for most users!2
Albert doesn't charge interest or require you to subscribe to get cash advances. You can request money with just a few taps in the app, and have it sent to an Albert account in about ten minutes or to your bank account in three days with no fee. (You can have the funds sent to your bank account right away as well with an optional $6.99 express fee, the only cash advance fee that Albert charges.)
There is no credit check and Albert doesn't require you to move your direct deposit. You can qualify for up to three cash advances per pay period. Repayment is automatically set to the date of your next paycheck or benefits payment, but you can easily move this to be earlier or later. There are no late fees.
The Albert app is free to download and also gives you a great set of tools to help you manage your money, better understand your spending, and achieve your savings goals.
No interest cash advances up to $250 >>> Get the Albert app 👈
#3 – PockBox: When you need to borrow up to $2,500 fast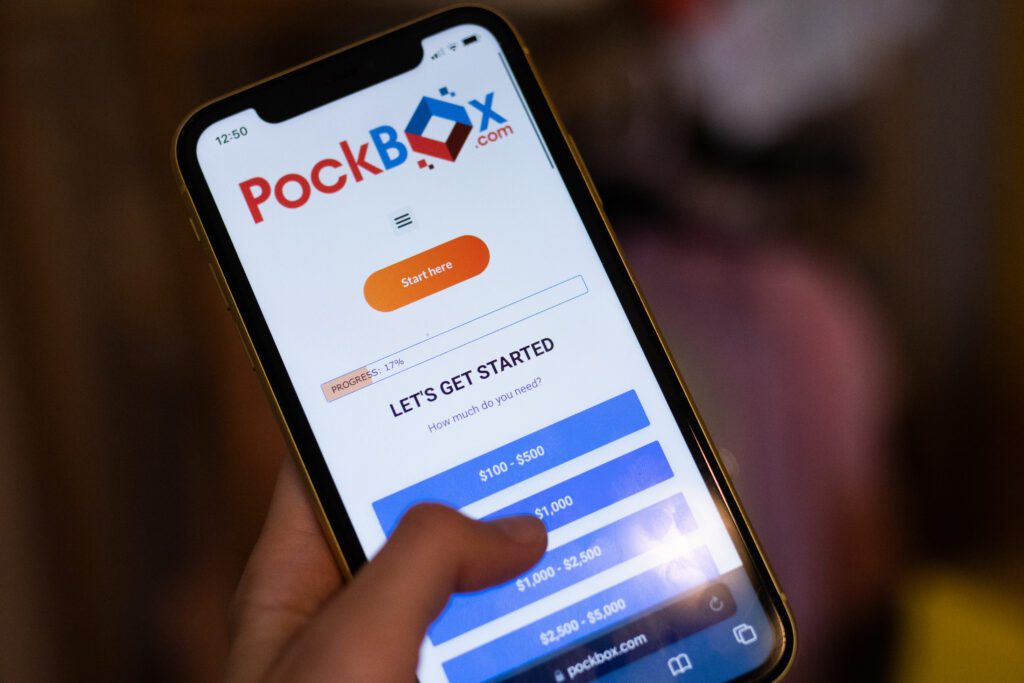 If you need more cash than most cash advance apps offer to new users, PockBox is a great way to see how much you can borrow.
Answer just a few quick questions, and PockBox will instantly fetch loan quotes from up to 50 lenders, so you can find the offer that works best for you. Loans start at $100 and you may be able to borrow up to $2,500. With most lenders you can get your loan by the next business day, and sometimes even faster.
PockBox is free to use and there's no obligation. Many lenders on PockBox specialize in borrowers with bad credit, so even if you've been turned down elsewhere, you may still qualify for a loan through PockBox.
Compare loan offers for up to $2,500 >>> Check out the free PockBox app 👈
#4 – MoneyLion: Low cost $250 cash advances from a full-featured financial app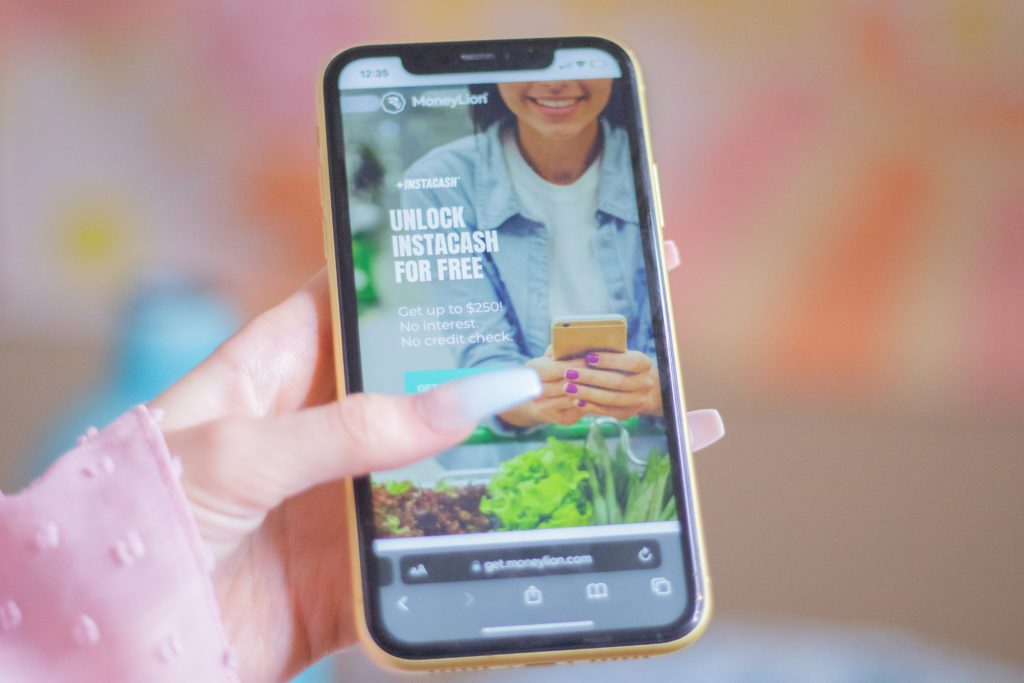 With MoneyLion Instacash, you can quickly borrow up to $250 with no credit check, no interest, and no monthly fee.
Setup your MoneyLion account with InstaCash and you'll be instantly eligible for a $25 cash advance. Your amount can quickly increase to up to $250 as you receive direct deposits in your existing bank account, or move your direct deposit to a MoneyLion RoarMoney account. You can get as many Instacash advances as you like, up to your eligible amount.
MoneyLion can get your cash in 48 hours for free. If you need your money faster, you have it almost instantly by paying a $3.99 fee to have it deposited into your MoneyLion RoarMoney account or $4.99 for it to be sent to your bank account.
Cash advances are just one part of the full-featured MoneyLion app, which also includes convenient tools for digital banking, automated investing, credit building loans, budgeting and financial tracking, and rewards.
Get cash advances up to $250 with no interest >>> Check out MoneyLion 👈
#5 – Cleo: $100 cash advances plus wise-ass money hacks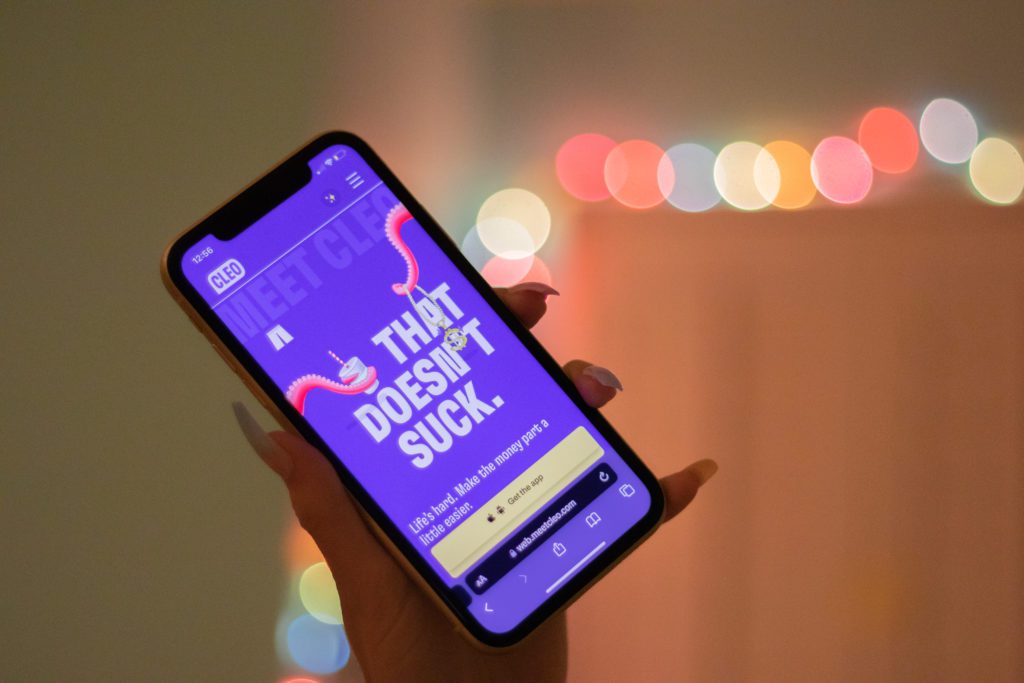 Cleo is an AI-powered financial assistance app that can provide you with no-interest cash advances for up to $100 almost instantly. She's also a hilarious wise ass.
Cleo uses artificial intelligence – plus hilarious memes, wisecracks and even the occasional yo mama joke – to get you to like paying attention to your finances. The Cleo app helps you track your spending, save automatically, and even earn cash-back rewards.
Download the Cleo app (it's free) and set up an account (also free) and you'll receive powerful insights and tips to get a better handle on your finances.
Cleo's top Features include:
'Roast Mode' if you need a little tough love on your spending habits
'Hype Mode' if you prefer to be complimented on your financial habits
A credit-building card (with no credit checks and no interest; subscription required)
Money-saving tools
And of course, cash advances of up to $100
When you need a $100 cash advance with no credit check, Cleo will send funds directly to your linked bank account. There is no interest, no credit check, and no need to submit timesheets, making Cleo a great option if you deliver for DoorDash, drive for Uber, or do other gig work.
Funds typically take 3 – 4 business days to land in your bank account. However, if you want instant funds, you can simply pay a $3.99 express fee to get your money inside 24 hours.
Get Started in 2 Minutes (And Borrow up to $100) >>> Check Out Cleo's Sass 👈
#6 -Brigit – Borrow up to $250 in fee-free overdrafts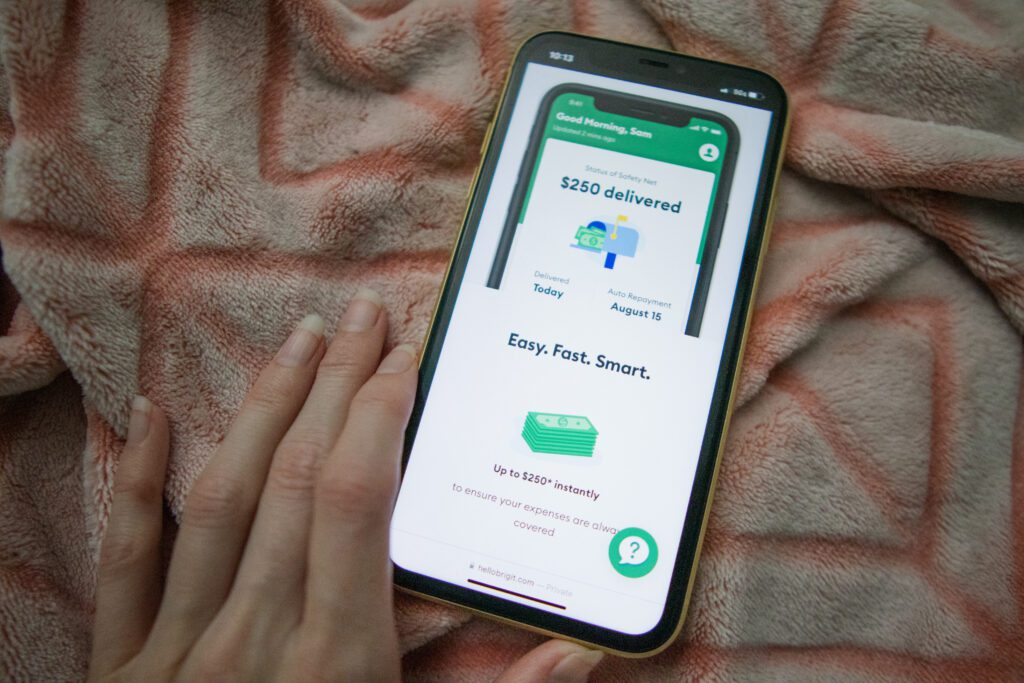 Brigit offers instant cash advances to help you in a pinch, whether it's for paying bills, emergency expenses, or simply accessing the funds you need to live your life.
You can get approval for a loan amount between $50 to $250 per pay period – with your specific amount based on your ability to comfortably repay.
It's worth noting, Brigit's free plan has limited features that don't include cash advances. You can unlock this service by opting for a $9.99 per month subscription.
While paying for a subscription may not seem ideal, consider the value Brigit provides. The $9.99/month fee is lower than practically any late fee you'll encounter, making it a cost-effective solution.
Additionally, Brigit's algorithm predicts when you may run low on funds before your next paycheck, and alerts you accordingly. As a bonus, Brigit Plus users receive up to $250 automatically when they face a cash shortage, reducing the risk of overdraft or NSF fees from banks.
Life's unexpected expenses are inevitable, but Brigit can help you cover your bills and payments without the sky-high interest rates that other cash advance apps may charge.
Access up to $250 in fee-free overdrafts >>> Explore Brigit Now 👈
#7 – Chime SpotMe: Borrow $20 right away (up to $200) with no overdraft fees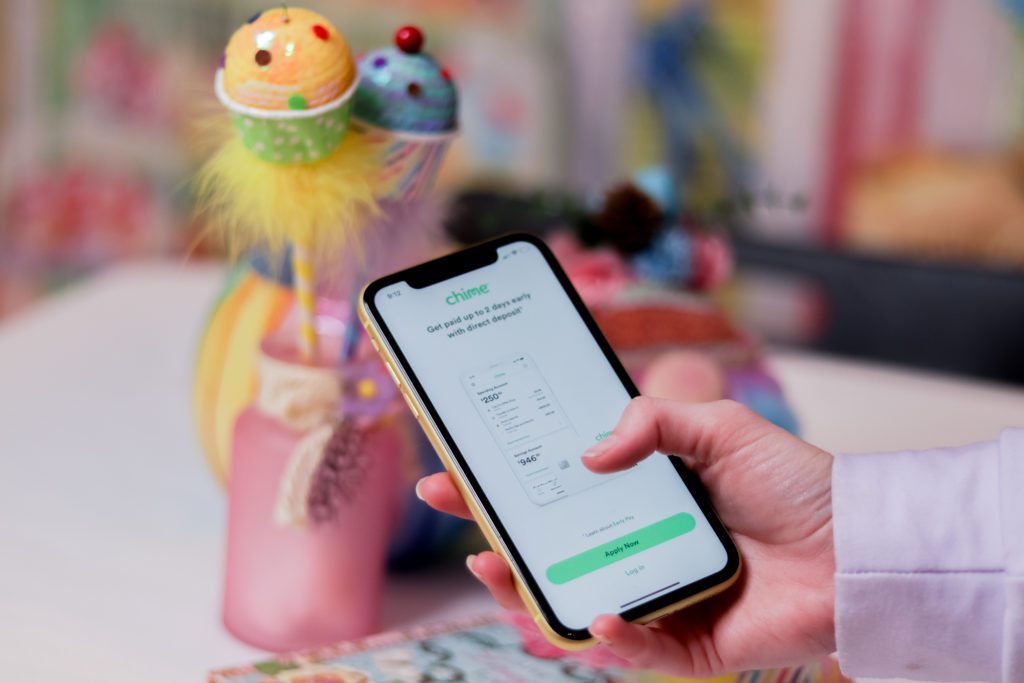 Chime SpotMe® can provide you with up to $200* in fee-free overdrafts.
Millions of people are downloading Chime to manage and borrow money on their terms using the SpotMe feature. This lets you overdraft your account via debit card purchases or ATM withdrawals with no overdraft fees (limits start at $20 and can be increased up to $200).3
Even better, there's no cost to enroll in SpotMe, and once you set up your account to receive a qualifying direct deposit of $200 or more a month, Chime will cover up to $200 in overdrafts on your account – without charging you overdraft fees!
SpotMe doesn't have high overdraft limits. But you can see how much you can spend in the app to help avoid fees (and those unwanted moments when your transactions are declined). You can access $20 in overdrafts right away and grow your limit over time.
Get fast access to fee-free overdrafts >>> Sign up for Chime in less than 2 minutes 👈
#8 – SeedFi: A loan designed to boost your credit score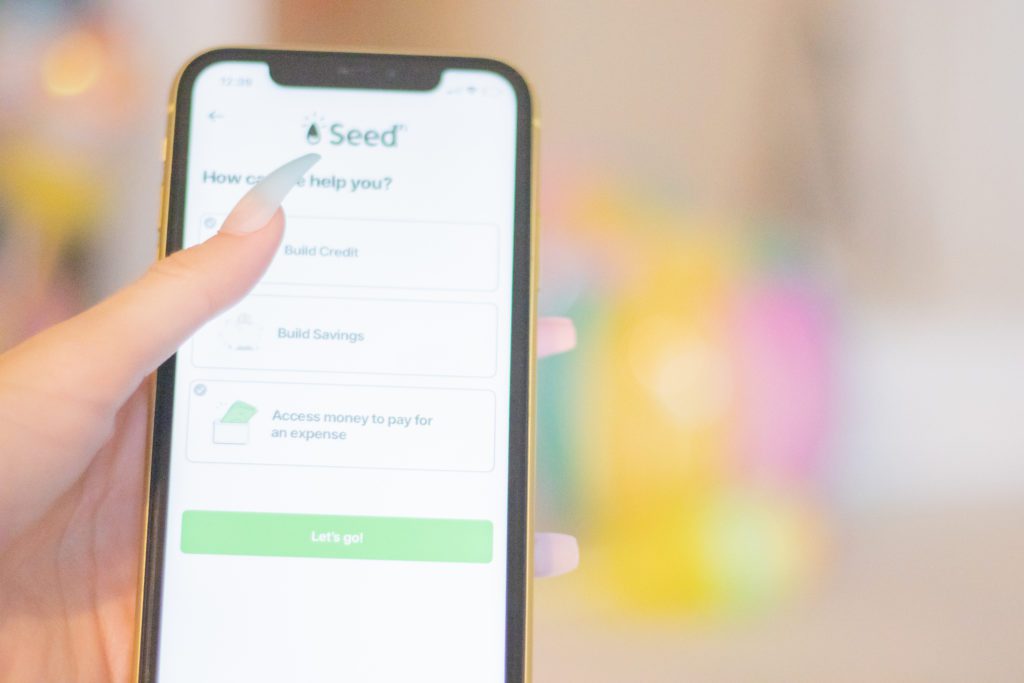 If you have poor credit or no credit history, SeedFi's Credit Builder Prime is a good first step to take to start improving your score. There's no credit check to get Credit Builder Prime – whatever score you have now won't impact your ability to get this product. You can establish and improve your credit since payments are reported to the three major credit bureaus – on-time payments can help boost your credit score4 – and you can also end up with savings in the bank that you didn't have before.
When you sign up for Credit Builder Prime, SeedFi opens a $1,000 line of credit in your name. You decide how much you want to draw, anywhere from $10 – $40, from the line of credit each pay period. SeedFi deposits this amount into a locked savings account in your name. Each draw is a small, interest-free credit builder loan, and, when you get your paycheck, you simply pay SeedFi back – no fees, no interest.
Credit builder apps like SeedFi report your payments to the three credit bureaus, so with each payment you are boosting your savings and your ability to build better credit.
Once you save $500, SeedFi gives you access to it. It's your money, so you can move it to another bank, use it to pay bills, or hang on to it and grow your savings.
So you're saving AND growing your credit at the same time. Plus, there is no up-front cost, no interest and no fees. You keep 100% of the money you save!
Find Out More >>> Check Out SeedFi 👈
#9 – Earnin: Get up to $500 with no fees
If you want to be able to borrow $100 instantly, per day, in just a few minutes – and with NO FEES – then the Earnin app is a must-have on your phone.
Earnin gives you fast and easy access to up to $100 per day and up to $500 per period. Download the free Earnin app, create an account in just a few minutes and you can borrow money right away, as soon as you're verified. There is no credit check and you don't need to setup direct deposit.
Earnin links to your existing account and gives you advances against your next paycheck. If you've worked this pay period (either for an employer or a gig company like DoorDash, Uber or Lyft) but haven't been paid yet, Earnin gives you instant access to your earnings.
Cash is deposited into your existing bank account, usually in under 30 minutes, so you can use it however you like – withdraw cash at an ATM, pay for purchases with you debit card, or make sure that a check or bill payment gets paid on time. It's a great way to get cash when you need it without paying overdraft fees. Your advance will be automatically repaid when you receive your next paycheck, and you can use Earnin to cash out again whenever you need to.
Best of all, you can cash out with Earnin absolutely free. There are no mandatory fees. You will be encouraged to leave an optional tip, but whether you tip or not won't impact your ability to make future cash outs.
Find Out Everything You Need to Know >>> Read Our Full Earnin App Review 👈
#10 – Current: Borrow up to $200 with fee-free overdrafts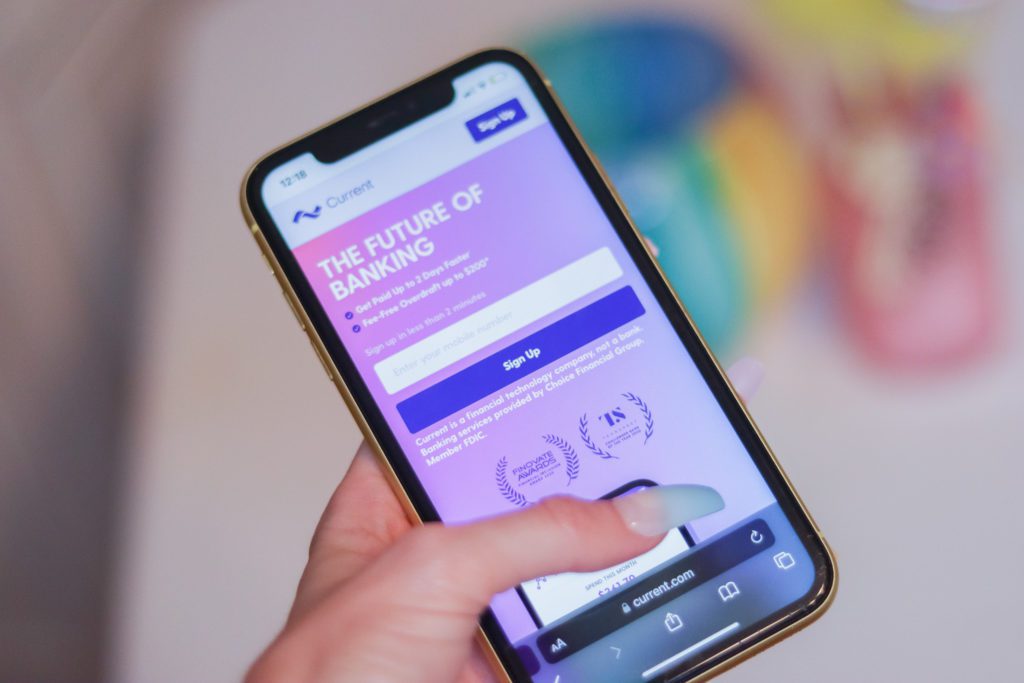 Current is a money borrowing app that gives you ability to instantly borrow $200 with no interest or fees. There's no credit check either.
With Current you get nearly all of the features you use a bank for, straight from your phone. Sign up for Current and you'll get a Current debit card, which you can use at the millions of merchants that accept Mastercard, or withdraw cash from nearly 40,000 ATMs with no-fee.
You can also cash checks right in the app, and even earn rich cash-back rewards when using your debit card, such as 4% at tons of local and national restaurants, and 2% back at brand-name gas stations.
According to Certified Financial Education Instructor and founder of Money For The Mamas, Kari Lorz, it's these additional features that can turn a good money borrowing app into a GREAT one. She explains…
"You should look for a cash advance app that has other features, like budgeting & saving tools. Both Albert & Current offer great budgeting features. Current even offers Savings Pods, so you can save for multiple things at a time (even earning 4.00% APY on your savings)! You can have an emergency fund, save for your kiddo's braces, and save for a weekend getaway! These pods are kept separate, so you never mix up what money is for what purpose."
The most popular feature however is Current Overdrive, which gives you instant access to up to $200 in no-fee overdrafts in debit card purchases. Unlike many other apps, you don't need to plan ahead for when you'll need extra cash.
Just make qualifying direct deposits to your Current account, and Overdrive will kick-in whenever you need it, so you can avoid the inconvenience, embarrassment and high fees of making your purchase when you don't have enough money in your account.
Get up to $200 whenever you need it >>> Check out the free Current app 👈
#11 – B9: Access up to $500 of your wages early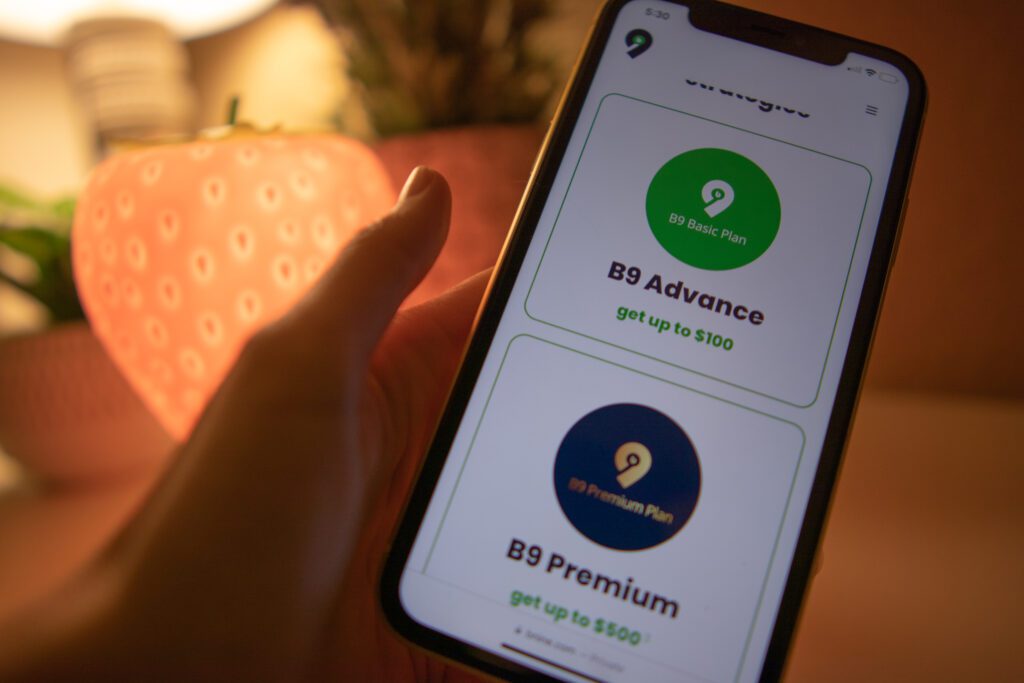 B9 offers instant advances on your paycheck so you can cover cash shortfalls between now and payday.
As a membership-based cash advance, B9 comes with just ONE fee. There are no express fees (you can get up to 100% of your paycheck), no optional tips (you keep your money), and no late fees.
You can choose between two membership options.
Basic: $9.99 per month for advances up to $100
Premium: $19.99 per month for advances up to $500
Despite the flat fee, B9 ranks as the second-lowest-cost app for borrowing $100!
You can apply for a B9 cash advance after your employer has deposited at least ONE paycheck into your B9 account. The amount of Advance you're eligible to get will be based on your B9 Account history, payroll direct deposit frequency and amount, and other factors determined by B9, and may change from time to time – according to B9's terms of service.
A handy addition for gig workers, B9 considers income from multiple streams. You could drive for Uber on the side of your full-time job, receive government benefits, make money online, or any other side hustle – and B9 acknowledges your income!
Your B9 cash advance is based on your unpaid earnings not your credit score. So you can still enjoy an advance even if your credit score is poor.
Access up to $500 of your wages early >>> Check out B9 👈
#12 – Empower: $250 cash advances but plenty of fees to watch out for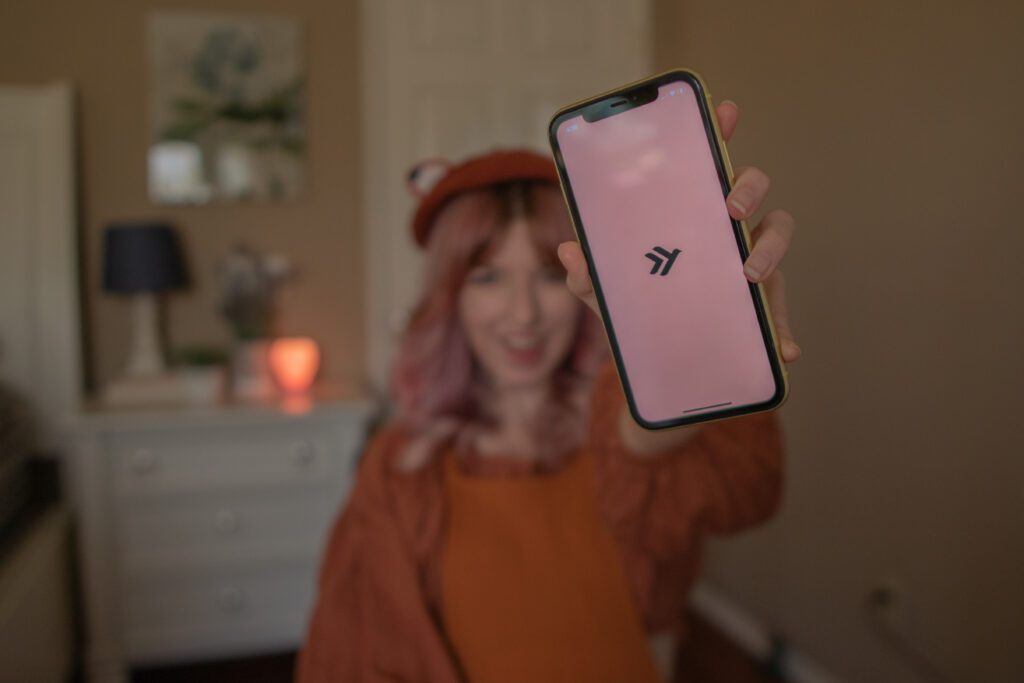 Empower provides immediate cash advances of up to $250 to assist you in bridging the gap until your next paycheck or covering unexpected expenses.
You can be approved for an initial amount of $75, which is a significant increase compared to other apps like Cleo and Grid Money, which typically offer limits between $20 and $50 initially. No credit check is required; instead, Empower securely connects to your bank account through Plaid and determines a borrowing limit based on your ability to repay comfortably.
Once approved, you can choose to have your Empower cash advance deposited into your bank account within minutes (this will incur a small delivery fee). Or, go for a fee-free transfer to save money (this will take one business day).
Empower lets you 'Try Before You Buy' with an 8-day free trial. After the trial period ends, you will be billed an $8 monthly subscription fee, which is lower than the fees charged by apps like Brigit ($9.99/month) and B9 ($9.99 – $19.99/month).
Enjoy up to $250 of your wages early >>> Check out Empower 👈
---
Frequently Asked Questions About Borrowing Money
What apps let you borrow cash right away?
This depends on the app you choose.
As long as you meet the eligibility requirements, you can get your cash in as little as a few minutes – or as long as a few days – depending on whether you pay an express fee or wait for your fee-free cash advance.
For example, an Albert Cash Advance of $100 can be yours in minutes if you're OK with paying a $6.99 express fee. You can skip the fee and wait 2 – 3 business days for your advance instead.
Check out the table below to help you compare possible wait times.
What app gives you $250 instantly?
We recommend Dave for instant cash. Dave's $500 limit is available immediately which is light years ahead of the other money loaning apps on this list.
If Dave's $1/month membership and zero interest advance isn't suitable, here's a few more apps with at least a $250 cash advance limit:
Albert
PockBox
MoneyLion
Brigit
Earnin
B9
Empower
How can I choose the best money borrowing apps on Android or iPhone?
Overwhelmed with choice?
We don't blame you.
Certified financial planner Gabriel Lalonde, of MDL Financial Group, recommends doing your homework before making any decision.
He explains, "my first tip for anyone looking to download a cash advance app is to do your research. There are many different apps available, and each one has various features, fees, and requirements. Take the time to read reviews and compare the options before deciding which one is right for you".
Start by thinking about how much you need to borrow. If you need more than $500 you can immediately rule out many of the smaller dollar apps like Go2Bank and Cleo.
Next, consider what your personal credit score is. Poor credit history may cause many lenders to refuse to lend to you. But the good news is that most of this new breed of apps makes lending decisions based on other criteria and there is no hard credit inquiry, which can make your credit score even worse.
Whether you sign up for some type of overdraft coverage or use apps like Dave or apps like Earnin, just remember there are a number of resources that can put cash in your pocket – almost too many to mention.
Additional cash advance apps like Payactiv, Grid Money, Beem, and Klover are increasingly popular.
It's never been easier to borrow money instantly
The latest figures show that 35% of Americans would struggle to cover an unexpected $400 cost, so if you're strapped for cash, the borrow money apps we've listed here can help remove some of the pressure of unpaid bills and expenses for school, family and other necessities.
Remember to carefully review the terms, conditions, and fees of the borrow money app you choose, and you'll have all the information you need to make an informed choice and get the funds you need to move forward in life.
BEFORE YOU GO… Check out our most popular articles:
WAIT! High overdraft fees aren't the only way your bank is costing you money.
With inflation overheating, you've probably heard that interest rates are climbing sharply. That means that for the first time in years, it's a great time to shop around for a high interest savings account.
The national average interest rate for savings accounts is currently 0.23% APY – that means that if you have $2,500 in a savings account, you'd earn just $5.76 after one year! Move those hard-earned savings to an FDIC-insured bank paying 3.50% APY and you'd earn $81.73 more!
Don't let your hard-earned savings sit there doing nothing. Check out the rates that you can earn at other banks: