Editor's Note: Overdraft Apps provides detailed product reviews and recommendations based upon extensive research and our own hands-on testing. We may earn a referral fee when you sign up for or purchase products mentioned in this article.
Looking to improve your credit score?
A credit builder loan could be the solution you've been looking for.
The problem is most credit builder loans lock your funds away until you've repaid the loan in full (plus fees). This can help improve your credit score. But it's not so helpful when you're short of cash – it can take up to TEN YEARS of payments before you get your savings back with loans like Credit Strong!
Thankfully, there are credit builder loans that can push your score in the right direction AND put money in your pocket.
We've scoured the market to bring you the top credit builder loans that offer money upfront. In this article, we'll compare the best products to help you work on building your credit while still accessing the money you need to pay for life's expenses.
Struggling with your credit score? Try these proven strategies: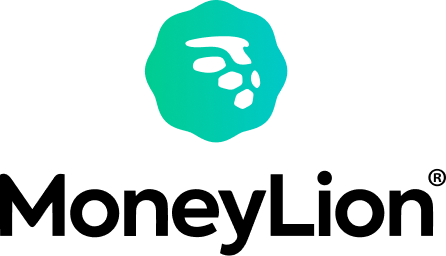 Why is MoneyLion one of our favorite cash advance apps?
Super speed - You could have up to $500 in your bank account in under 10 minutes!
No, No, No! - No credit check, no interest, no tips, no late fees
🏗️ 💳 💵 - Get the only credit builder loan that gives you up to $1,000 right away, with no hard credit check1
What is a credit builder loan?
Credit builder loans are designed to help you improve your credit score.
The loan works by lending you a small amount of money, which is held in a savings account. As the borrower, you make regular payments over a fixed period of time.
Once the loan is repaid in full (including any fees), you get the funds in the savings account and any interest earned.
| PROS | CONS |
| --- | --- |
| Easier to qualify for than a traditional loan | Funds borrowed are typically smaller than a traditional loan |
| May improve your credit score | May require an upfront deposit or other eligibility criteria |
| Often come with lower interest rates than other loans | Missing a payment can negatively impact your credit score. |
According to badcredit.org, an estimated 16% of Americans have 'bad' credit and a further 18% have 'fair' credit. Credit builder loans can play an essential role for these people (and millions of Americans).
By establishing a positive payment history, you may improve your credit score over time. With a higher score, you may enjoy more options, lower interest rates and more lending options, whether you're applying for a car loan, mortgage, or line of credit.
Do any credit builder loans give you money upfront?
Yes. Some credit builder loans give you some cash upfront. This can be helpful when you need immediate access to funds while still building your credit score. However, it's important to research and compare different credit builder loans and their terms to find the best option for your needs.
Check out the following credit-building products that come with an immediate cash advance.
MoneyLion Credit Builder Plus – Borrow up to $1,000 with cash upfront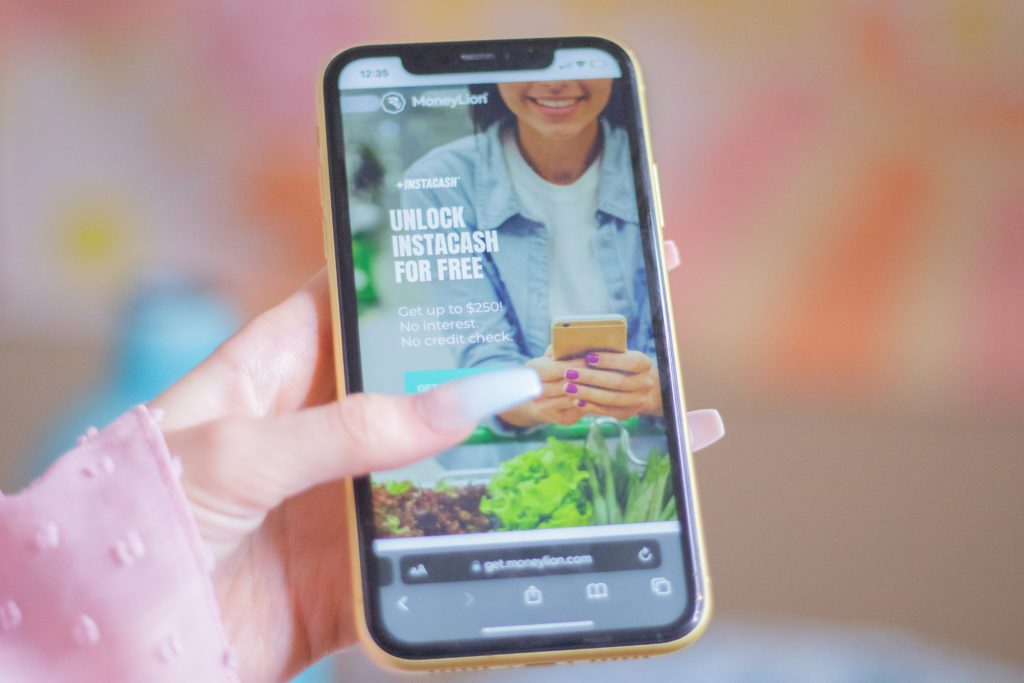 MoneyLion Credit Builder Plus offers up to $1,000 (APR ranges from 5.99% to 29.99%.) and, unlike most credit builder loans, can put several hundred bucks in your hand when you take out the loan – plus the ability to access instant, no-interest cash advances for up to $300 whenever you need a little extra spending money, too!
When you take out a Credit Builder Plus loan, you'll have 12 months to repay it – so you won't be locked in years of repayments and long-term interest rates. You can also set up your payment plan to match your paycheck schedule. This comes with the option of making multiple payments per month in smaller amounts to reduce any financial strain.
Monthly payments are usually less than $100. Or you can choose biweekly payments that are often less than $50. MoneyLion automates payments from your bank account, so you don't have to worry about making late payments that can damage your credit score.
Here's an example of what a Credit Builder Plus loan might look like for you…
If you qualify for an $899 Credit Builder Plus Loan, you'll receive $200 today and have $699 placed in your Credit Reserve Account. With a monthly payment plan, you would make twelve payments of $83.56 over the next twelve months (with a 23.99% APR). Once you make your last payment, your reserve account will be unlocked, and you'll have access to the $699. Your total payments will be $1,003, which includes $104 in finance charges.
Of course, Credit Builder Plus is designed to help build your credit score as you make on-time payments, too. Does it work? Well, more than half of MoneyLion borrowers see a 42 point increase in their credit score within 60 days.2 Your payments are reported to all three major credit bureaus: Equifax, Experian and Transunion. A higher credit score could have a big impact on your ability to get approved for loans or credit cards, score bigger borrowing power, and may even reduce the interest rate and fees that you pay.
???? Overdraft Apps Tip: Need a little extra cash to get you through? Credit Builder Plus customers are also eligible for Instacash. As MoneyLion's famous, no-interest and no-fee cash advance, you can get up to $300 with a couple of taps on your MoneyLion app. Explore MoneyLion Instacash here.
Get money upfront and build credit and savings >>> Check out MoneyLion Credit Builder Plus ????
Chime Credit Builder Card – Get creative to access up to $200 in fee-free overdrafts
OK, the Chime Credit Builder Card isn't *technically* a credit builder loan… but it can be used to boost your credit score AND put cash in your hand.
Here's how.
The Chime Credit Builder Card is a secured credit card with zero interest and zero annual fees. It requires no credit check or minimum deposit and allows you to set your spending limits.
You'll need to open a Chime checking account to qualify (there are no monthly fees, but you will need a direct deposit of $200 or more to unlock the Credit Builder Card). Once you've got your card, simply transfer funds from your Chime checking account into your secure Credit Builder Card account.
Since you're only spending money you've got, there's zero risk of overdrawing or spending your way into a financial hole. Your credit score may increase as every on-time payment is reported to the major credit bureaus.
Chime Credit Builder Card customers see an average credit score increase of 30 points!3
Now, here's where you can get creative to get cash upfront…
With your Chime account, you'll have two cards in your wallet:
Chime Credit Builder Card
Chime Visa® Debit Card
That second card comes with a handy SpotMe feature – which gives instant access to up to $200 in fee-free overdrafts via debit card purchases or ATM withdrawals.
With a Credit Builder Card and SpotMe, you can improve your credit and enjoy up to $200 with no overdraft fees or interest.4
Simple!
No interest credit card and up to $200 with no overdraft fees >>> Check out Chime ????
SeedFi Borrow & Grow – Get cash now with savings for later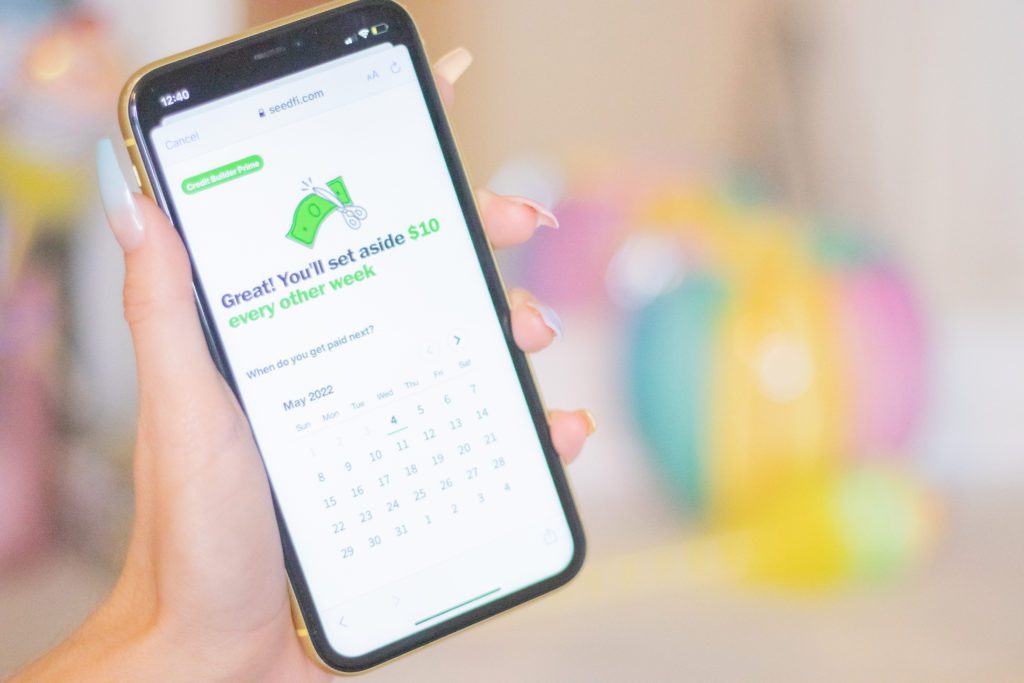 If your credit score is in the 'poor' to 'fair' range – but you need access to funds, SeedFi's Borrow & Grow Plan could be the perfect solution for you.
The Borrow & Grow plan allows you to access some cash upfront while building up savings for the future. And since it helps you build positive payment history with every on-time payment, you walk away at the end of your repayment schedule with cash in hand (and a potentially improved credit score).
First-time borrowers can receive loans ranging from $1,500 to $9,000. You can immediately access between $300 and $5,000 of your total loan. The remainder of the loan is held in a savings account until the loan is paid off in full.
Repayment periods range from 10 months to 48 months, and APRs range from 11.59% to 29.99%.
You can quickly and easily find out what you qualify for by visiting the SeedFi website, and the best part is that it won't impact your credit score.5
Read About 2023's Best Credit Builder Apps Like SeedFi ????
Which credit builder loan with money upfront will you use?
Waking up without the money you need to make it until payday can be a challenge.
Throw in a poor credit score that limits your borrowing options (and increases your interest rates), and life can become more challenging again.
A credit builder loan with money upfront can be an effective way to build your credit score and cover your expenses along the way. Remember to select a reputable lender with fees and borrowing limits that work for you.
You'll be on the way to potentially establishing a positive credit history with cash in hand.
Oh, and before you go, you should also know about a new breed of credit builder products that can boost your credit score by dozens of points in just a few months.
These alternative products, like Kikoff Credit, Grow Credit and StellarFi start at just a few dollars per month without the long-term commitment of a loan!
Check out our most popular articles before you go for quick and easy cash:
WAIT! High overdraft fees aren't the only way your bank is costing you money.
With inflation overheating, you've probably heard that interest rates are climbing sharply. That means that for the first time in years, it's a great time to shop around for a high interest savings account.
The national average interest rate for savings accounts is currently 0.23% APY – that means that if you have $2,500 in a savings account, you'd earn just $5.76 after one year! Move those hard-earned savings to an FDIC-insured bank paying 3.50% APY and you'd earn $81.73 more!
Don't let your hard-earned savings sit there doing nothing. Check out the rates that you can earn at other banks:
Latest posts by Alexander Porter
(see all)