Editor's Note: Overdraft Apps provides detailed product reviews and recommendations based upon extensive research and our own hands-on testing. We may earn a referral fee when you sign up for or purchase products mentioned in this article.
How much easier would your life be with an extra $500?
We're guessing the answer is "a lot". That's because 63% of Americans don't have enough savings to cover a $500 emergency.
Maybe it's for unexpected car expenses. This month's rent. Splurging on holiday season presents. A last-minute concert you can't miss. Or just a safety net that takes some of the pressure off your finances.
Whatever your needs, borrowing 500 dollars is an instant pressure release.
Thankfully, there are many ways to borrow money, even if your credit score is less than stellar, when you're living paycheck to paycheck, or if you just need fast funds without waiting through lengthy approval processes.
We've reviewed dozens of instant loan apps to identify those with straightforward pricing, quick funding and payback alternatives that can range from a few days to a few years. With most, you can check your rate without impacting your credit score, and if you have bad credit, these apps may connect you with no credit check lenders.
Here are our recommended instant loan apps to could help you get $500 instantly.
Compare personal loan offers from top lenders
Personal loans have exploded in popularity because you can quickly get cash to pay off credit cards, cover household expenses or pay for a major purchase. Rates can be lower than those charged by high-interest credit cards, and with a payback period that often ranges from one to three years, you'll have a monthly payment amount that can fit within your budget.
We've made it easy to see what loan terms you may qualify for instantly through our partnership with Fiona. It takes just minutes to get loan quotes from leading personal loan providers like Lending Club, PenFed, Prosper, Upgrade, Upstart, SoFi, and more!
Comparing personal loans can *literally* save you thousands of dollars in interest and fees. Plus, there's no impact on your credit score.
Using our comparison tool is 100% free with zero obligation ????
"I need to borrow $500 today and probably more": Get a quick loan
Best For: Accessing larger amounts of cash even if you have poor credit or for those without a regular paycheck
If you're looking to borrow $500 instantly, you could probably do with a bit of extra moolah to avoid falling back into debt, right?
Quick personal loans can provide a few thousand dollars, so you're not bouncing in and out of overdraft fees or getting hit by late payments on your bills. And thanks to the rise of flexible lenders, you don't need a perfect credit score to be approved.
The best instant $500 instant loan apps let you compare top lenders without commitment. All you have to do is enter a little information about yourself and your financial situation, and these apps compare your lending options. Many of the most popular apps are built for consumers with poor credit, so don't stress about suffering through sky-high APR loans if your score has taken a hit or you haven't built up a credit history yet.
Knowing which app to choose can be the difference between copping *another* late fee or missing *another* necessary payment and topping up your checking account with $500 (and potentially a lot more).
How much does a $500 cash advance cost?
We looked at six popular cash advance apps that offer loans of at least $500 with no credit check and found that borrowing costs can vary widely depending on the app, your need for speed, and your tipping habits.
On average, borrowing $500 from a cash advance app will cost you $74.32, with costs ranging from $20 to $90. Although many apps don't charge interest or late fees, most cash advance apps charge up to three different fees when you repay your loan:
Monthly subscription fee: Some apps require a monthly fee to access cash advances or to increase your cash advance limit.
Express fee: Nearly all apps offer an express option to send your money to your bank account in minutes. However, this service comes at a cost. Without the express fee, it may take three to five business days to receive your funds. You could also use a debit card issued by the cash advance app to access your funds, which might have lower or no fees.
Optional tip: Some apps suggest that you leave a tip to support their service. For example, apps like Dave suggest a 15% tip, which can add a significant cost to your cash advance. Remember, leaving a tip is always optional and won't affect your ability to get a cash advance or reduce your cash advance limit.
Skipping the tip and planning ahead so you can avoid express fees can greatly reduce the cost of a $500 cash advance – you could borrow $500 from Dave by paying just the $1 monthly subscription fee.
We Recommend: PockBox
Pockbox quickly compares lenders able to lend you up to $500 – but you can borrow up to $2,500!
The process is as simple as filling out a few simple forms from your laptop or smartphone. Answer just a few basic questions, then, PockBox compares up to 50 loan and cash advance options. There's no obligation to choose a loan, so you can browse your options risk-free with no commitment.
For the average American who doesn't have savings to cover a $500 emergency, PockBox is a handy solution. Many PockBox lenders specialize in borrowers with poor credit and perform no credit check, so if you need fast funds, you won't be left in the lurch. And since funds from your chosen lender are typically available as soon as 1 business day, you can dodge expensive dishonor charges, late fees or overdraft fees.
Quickly Compare Loan Offers Up to $2,500 >>> Browse Pockbox For Free
| | |
| --- | --- |
| Pros | Cons |
| ✔ Borrow up to $2,500 | ✘ No credit check loans can carry high rates |
| ✔ 100% free to compare options | |
| ✔ Compare up to 50 lenders | |
| ✔ Perfect for low credit borrowers | |
"I need to borrow $500 now, like RIGHT NOW": Use a fast cash advance app
Best For: Getting cash quickly (can be as quick as one minute) with no interest and no credit checks.
With dozens of cash advance apps available, there's a good chance you'll find an app that works for you… but what can you do if you need funds immediately?
The solution is to use an app specializing in quick cash advances – with many making funds available in as little as 60 seconds (or less!). If you've ever needed quick funds, you'll know that bills, landlords, and emergency expenses aren't always willing to wait.
Whether it's a 'now or never' opportunity or an urgent expense that can help you avoid further late fees or dishonor charges, fast cash advance apps can be a lifesaver.
We Recommend: Dave ExtraCash™
Dave ExtraCash™ offers up to $500 with zero hidden costs or surprises. That means no interest, no credit checks and no late fees.
Simply open an ExtraCash™ account to see how much of an advance you qualify for. Using a linked bank account, Dave will consider a number of factors including your history, your spending pattern, and how long until your next payday. You can sign up in minutes and request a cash advance immediately.
If you want your funds instantly (we're talking within 60 seconds), you can send your cash advance to a Dave Debit MasterCard® for use at millions of stores or withdraw cash at an ATM. Otherwise, you can have your advance sent to an existing debit card or bank account. This takes longer, but it means you don't need to move your direct deposit if you don't want to.
Your Dave cash advance is automatically paid back when you receive your next paycheck. That's how easy it can be to borrow $500 in less than 60 seconds.
Get a cash advance up to $500 INSTANTLY >>> Check out Dave for free
| | |
| --- | --- |
| Pros | Cons |
| ✔ No credit check | ✘ Requires bank account access |
| ✔ No interest | |
| ✔ Receive cash in under 60 seconds | |
| ✔ Access up to $500 in cash advances | |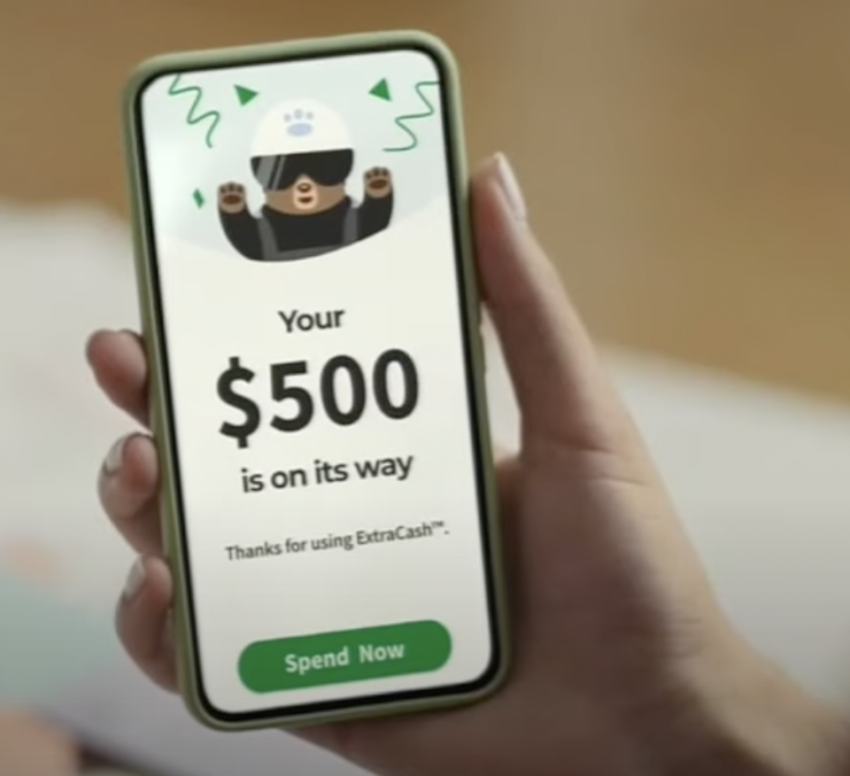 "I need to borrow $500, but my credit score is poor": Get a flexible credit builder loan
Best For: Getting cash upfront with extra cash put aside in savings and for people with little or no credit history.
Frustrated by a poor credit score? A credit builder loan may be able to help with that. Most credit builder loans put aside your borrowed amount while you make payments, then hand you your funds when the total amount is paid off. This helps build your credit history – but isn't so great if you need cash now.
Some credit builder loans are more flexible and can immediately provide you with a portion of your funds. This lets you use cash for immediate purchases, with more cash locked away until your loan is repaid in full (plus any interest or fees).
Since your loan payments are reported to at least one credit bureau (many credit builders report loans to all three major credit bureaus), your reported payments help boost your score – providing you make payments on time. Credit builder loans can help "credit invisible" people improve their credit scores and are generally offered by smaller financial institutions offering lower interest rates and more favorable terms.
We Recommend: MoneyLion Credit Builder Plus
MoneyLion Credit Builder Plus provides loans up to $1,000 with a portion of your funds available immediately. This can be several hundred dollars and beats the small introductory limits available from the best money-borrowing apps.
It's easy to apply online through the MoneyLion app and find out in a few minutes if you qualify, so you can check out your options from the comfort of your couch.
Credit Builder Plus loans are repaid over 12 months, so you won't be locked into a long-term commitment. You can sync up payments to match your paycheck cycle. Or, opt for multiple smaller monthly payments, so you're not feeling any unnecessary financial strain.
Get funds upfront and build credit and savings >>> Check out MoneyLion Credit Builder Plus
Securing a Credit Builder Plus Loan also entitles you to a free Credit Builder Plus Membership (the similar names are confusing, we know). Terminology aside, this unlocks access to MoneyLion Instacash. Instacash provides instant cash advances for up to $300 as you receive direct deposits in your MoneyLion account. This is more than handy for those frustrating emergency expenses. (You'll be capped at $250 per cash advance if you're not a Credit Builder Plus member, so it's worth upgrading.)
Get cash advances up to $250 with no interest >>> Check out MoneyLion
| | |
| --- | --- |
| Pros | Cons |
| ✔ No credit check | ✘ Majority of loan funds are in a reserve account |
| ✔ Competitive APR on loan (5.99%-29.99%) | ✘ Relatively small loan amount |
| ✔ Receive cash upfront | |
| ✔ Access up to $300 in cash advances | |
Bonus Recommendation: Access up to $500 of your own wages with B9
Been logging hours at work but still a few days short of payday?
B9 can help.
Download the B9 app to access up to $500 of your earned wages at a time. You've already worked for them, why not get them when you need them?
B9 stands out as a popular cash advance app to borrow five hundred dollars with no credit check, no interest on your advance, and no late fees to worry about. 
So, what's the catch?
There's just ONE flat fee to consider – and it's super affordable.
Choose between a Basic B9 Plan ($9.99/month for advances up to $100) and a Premium B9 Plan ($19.99/month for advances up to $500). Although other cash advance apps won't charge you a subscription fee (like MoneyLion, Albert or Brigit), B9's single fee ends up ranking it the SECOND-LOWEST-COST APP for borrowing $100!
???? Overdraft Apps Tip: B9 considers income from multiple employers, including side hustles, government benefits, and income from freelancing work like driving Uber. This offers extra flexibility than some other cash advance apps on this list that only consider a paycheck from a single employer.
Since B9 advances are based on your unpaid earnings, not your credit score, the app is helpful for those dealing with a low credit score.
Access up to $500 of your wages early >>> Check out B9
Congrats! Now you have options when you need to quickly borrow $500
If you're short on cash right now, don't let the problem grow.
The $500 instant loan apps in this article can give you the funds you need for an emergency payment on flexible terms that work for you. For many Americans (and you might be one), a $500 loan is a lifesaver – for many, borrowing $50 can be just as helpful. But the truth is, many banks and credit unions won't consider you if you have bad credit.
Comparing your options and shopping online for lenders that understand your needs and won't punish you for your credit score can help you get the money you need, often as soon as the next business day.
Remember, the best personal loans come with affordable rates, flexible repayment terms, and fast funding. The right option will depend on your timeline and credit score. Take what you've learned in this guide and compare your options confidently.
BEFORE YOU GO…
Check out our most popular articles:
WAIT! High overdraft fees aren't the only way your bank is costing you money.
With inflation overheating, you've probably heard that interest rates are climbing sharply. That means that for the first time in years, it's a great time to shop around for a high interest savings account.
The national average interest rate for savings accounts is currently 0.23% APY – that means that if you have $2,500 in a savings account, you'd earn just $5.76 after one year! Move those hard-earned savings to an FDIC-insured bank paying 3.50% APY and you'd earn $81.73 more!
Don't let your hard-earned savings sit there doing nothing. Check out the rates that you can earn at other banks:
Latest posts by Alexander Porter
(see all)