Editor's Note: Overdraft Apps provides detailed product reviews and recommendations based upon extensive research and our own hands-on testing. We may earn a referral fee when you sign up for or purchase products mentioned in this article.
As an Uber driver, it's not always easy to make ends meet.
Whether it's been a slow week and you need to cover unexpected expenses or you'd just like some extra cash to tide you over until your next weekly direct deposit, you're not the only one feeling frustrated at Uber's payment limitations.
The problem is, cashing out your Uber earnings isn't always fast or easy.
You can get paid via a weekly bank transfer which costs nothing… but this can leave you short of cash.
You can transfer your money to an Uber Pro Card which is available immediately… but your cash is tied to your card.
You can cash out up to 5 times a day using Instant Pay… but you'll be charged $0.85 every time you want to access your money.
If you're looking to get paid without having to jump through Uber's hoops, we don't blame you. That's where cash advance apps can be a lifesaver.
In this article, we'll review some of the best cash advance apps for Uber drivers, so you can get access to the funds you need when you need them.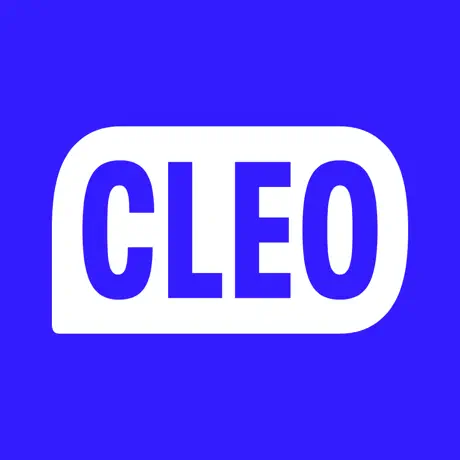 Why is Cleo one of our favorite cash advance apps?
Super speed - You could have up to $250 in your bank account in under 10 minutes!*
No, No, No! - No credit check, no interest, no tips, no late fees
😂 😂 🤣 -

Hilarious

, smart money advice you might finally listen to
*Eligibility requirements apply.
What are cash advance apps and how do they work?
Cash advance apps allow you to borrow money quickly and easily using your smartphone.
These apps are designed to help you bridge the gap between paychecks or unexpected expenses by providing access to small amounts of cash – often without punishing you for being a gig worker or having a poor credit score!
OVERDRAFT TIPS: Got a need for speed? If approved, cash advance funds are deposited directly into your bank account, often within hours or even minutes. And unlike traditional loans, which can take days or even weeks to process, cash advance apps offer near-instant access to your money.
Since repayment terms and fees vary depending on the specific app (more on those below), you can shop around and find a deal that works for you.
Why cash advance apps are perfect for Uber drivers
Cash advance apps can be particularly useful for Uber drivers because they provide access to quick cash that can be used to cover unexpected expenses, such as car repairs.
As an Uber driver, you're considered an independent contractor and are responsible for maintaining your own vehicle, which can be a costly and time-consuming process.
Cash advance apps offer a convenient solution for drivers who may not have the funds to cover these expenses out of pocket. You can get back on the road and earn money quickly, without having to wait for traditional loans or other forms of financing.
In addition, cash advance apps may be more accessible to Uber drivers with poor credit or no credit history. Traditional lenders may be hesitant to provide loans if you've got less-than-perfect credit, but cash advance apps often have more lenient credit requirements.
Overdraft Apps Tip: Since Uber drivers are paid on a weekly basis, it's easy to run into cash flow problems from week to week. Cash advance apps like Dave and Cleo can provide a source of predictable, short-term financing that can be used to cover expenses as they arise, without disrupting the driver's overall cash flow.
5 best cash advance apps for Uber drivers
As an Uber driver, unexpected expenses like car repairs or medical bills can take a toll on your finances and leave you wondering where to get cash if your account is overdrawn.
While there are traditional loan options available, they may not be the most convenient or accessible for everyone and some cash advance apps, such as FloatMe, aren't compatible with Uber. To help you find the best cash advance app for your needs, we've put together a list of some of the top cash advance apps for gig workers:
#1 – Dave: Drive away with up to $500 from the OG cash advance app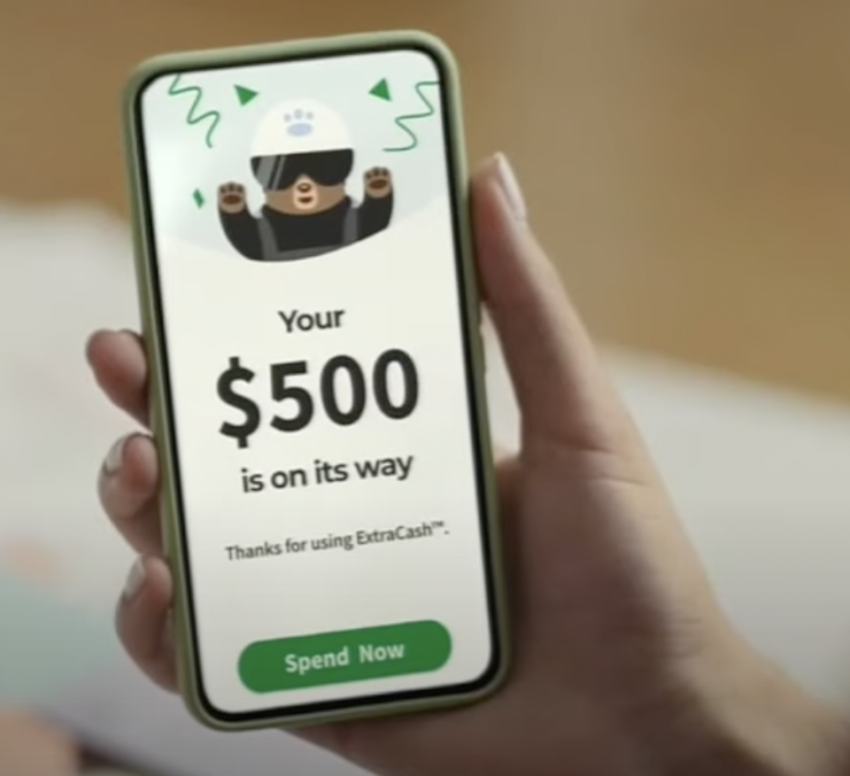 Dave is the original cash advance app – and with a $500 advance available in seconds, it's one of the best.
Like others on this list, Dave works by letting rideshare drivers borrow small amounts of money. Whether you're borrowing as little as $25 or borrowing $200, immediate access to cash can help you skip the headaches (and high fees) that come from overdrafting.
Dave is free to download and easy to use. Best of all, new users can receive a cash advance of up to $500 immediately. With the Dave Debit Mastercard, you can have your money in literally minutes!
You will need to be a paying member to be eligible for advances. However, this will only set you back *drumroll* $1 per month.
With no interest or credit checks, Dave is an affordable option for Uber gig workers.
Get a cash advance for up to $500 instantly >>> Check out Dave
| Pros | Cons |
| --- | --- |
| ✔ Cash advances up to $500 | ✘ 1-3 business days to external checking account |
| ✔ No interest or fees | |
| ✔ No credit check | |
#2 – Brigit: Uber drivers can borrow up to $250 in fee-free overdrafts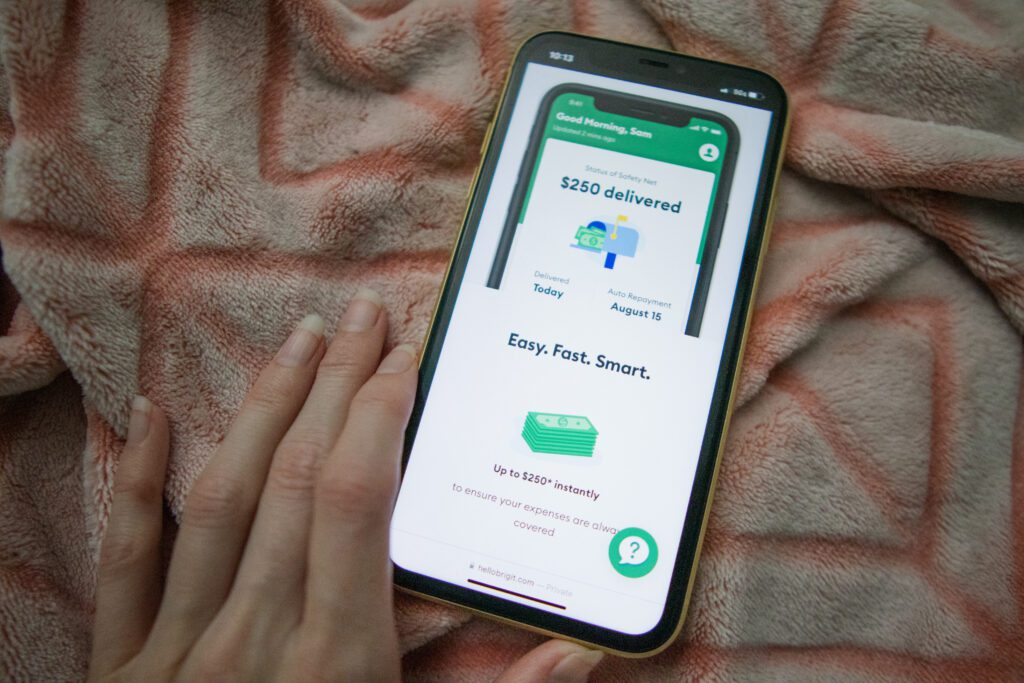 For Uber drivers short on cash, Brigit comes through in the clutch.
Whether you're a long-time Uber driver or you just moonlight on weekends for a little extra cash, Brigit lets you withdraw between $50 and $250 per pay period with no interest.
Your borrowing limit is tailored to your needs and ability to repay, so you're supported to borrow responsibly.
There is a $9.99 monthly fee for using Brigit's cash advance feature BUT think of it this way – how many late fees, dishonor payments, or overdraft fees cost less than $9.99?
That's why a monthly subscription can end up saving you money in the long run as an Uber driver. With the Brigit app on your phone, you don't even need to worry about paperwork or admin. The app will analyze your account, let you know if you qualify for a cash advance, and tell you exactly how much.
Among the list of best cash advance apps for Uber drivers, Brigit's borrowing limit of $250 is one of the highest.
Access up to $250 in fee-free overdrafts >>> Explore Brigit Now
| Pros | Cons |
| --- | --- |
| ✔ Cash advances up to $250 | ✘ $9.99 monthly fee |
| ✔ Zero interest | |
| ✔ High borrowing limit | |
#3 – MoneyLion: Low-cost cash advances for rideshare drivers for up to $250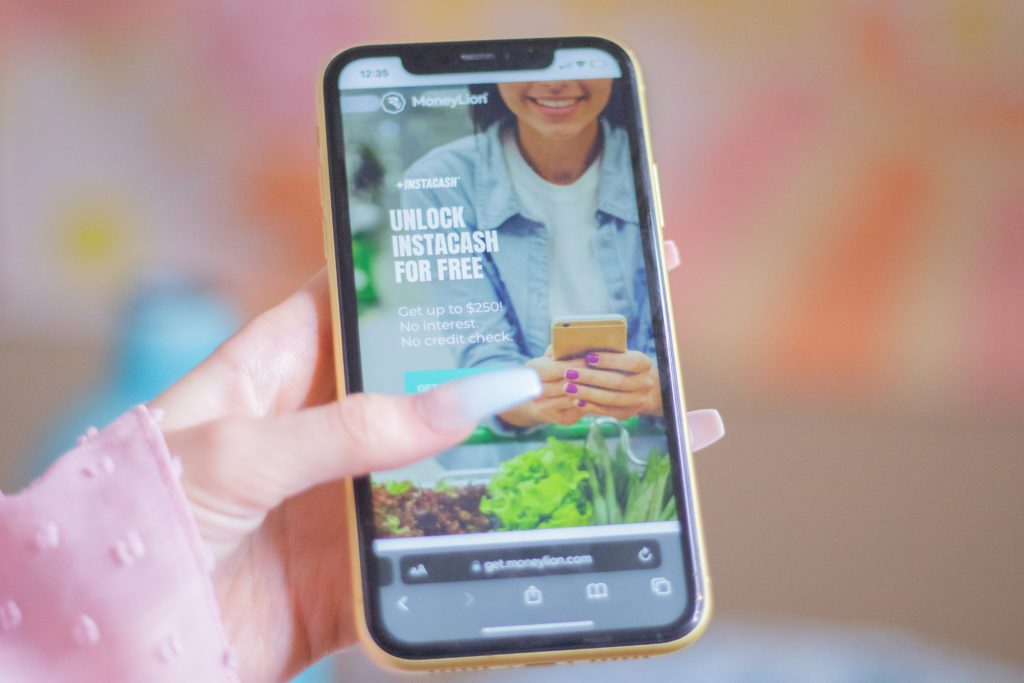 MoneyLion provides comprehensive mobile banking all available from your smartphone.
Among its top features for Uber drivers is Instacash. This feature allows you to receive cash advances of up to $250 with no interest or monthly charges.
To qualify, you must have a recurring direct deposit – but this doesn't need to come from a direct employer. For gig workers or those with fluctuating incomes, this is a huge advantage.
Here's what you'll need as an Uber driver to qualify for MoneyLion Instacash:
A verifiable checking account you own
At least two months' account history
Recurring deposits (doesn't need to be from a full-time employer)
A consistently positive balance
Enough activity to show both deposits and expenses
There's no credit check to apply, and no compulsory fees aside from the optional tip (which works similarly to apps like Earnin and Dave). Your ability to utilize Instacash isn't affected by whether you tip or not.
Get cash advances up to $250 with no interest >>> Check out MoneyLion
| Pros | Cons |
| --- | --- |
| ✔ Fee-free overdrafts up to $250 | ✘ 3-5 business days to external checking account |
| ✔ 0% APR cash advances | ✘ Requires bank account for access |
| ✔ No credit check | |
#4 – Earnin: The free app offering up to $500 in no-fee cash advances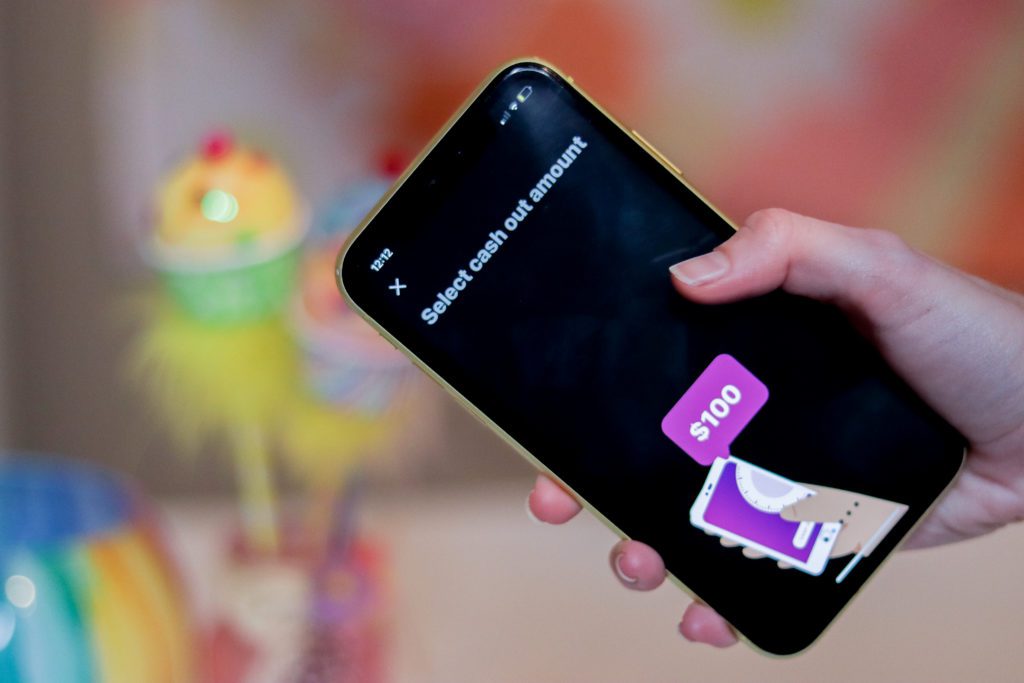 Earnin is a handy tool for gig workers who need access to their earned wages before their scheduled payday.
This is particularly beneficial for Uber drivers, whose basic payment model runs from Monday 4 am to Monday 3:59 am. Payments are transferred directly into your nominated bank account. But, according to Uber's website, payments are usually reflected on Thursday evenings.
That's a long time to navigate without the wages you've earned!!!
With Earnin, you can withdraw up to $100 per day and up to $500 per pay period, without incurring any interest or fees. The app is free to use, and while a tip is encouraged, there's no obligation. When your next paycheck is received, Earnin automatically pays back the outstanding balance.
Simple!
While Earnin does work with Uber, drivers will need to manually input their time and hours, which can be frustrating, but it doesn't stop you from using the app.
Borrow Up To $100 Right Now >>> Get started with Earnin here
| Pros | Cons |
| --- | --- |
| ✔ Access up to $100 per day | ✘ Requires regular pay schedule |
| ✔ Access up to $750 per pay period | ✘ Requires bank account for access |
| ✔ 0% interest | |
#5 – Gerald: No credit check cash advances for up to $215
Gerald is quickly climbing the ranks of the most popular cash advance apps thanks to instant cash advances for up to $215 with no interest and no credit check. While Uber drivers can have trouble getting approved by most cash advance apps, Gerald puts out the welcome mat for them.
It's certainly worth checking out if you've had trouble getting approved elsewhere, but the app can be a bit clunky and expensive as we detailed in our full Gerald app review. Fees can be as high as $29 on a cash advance if you follow Gerald's encouragement to leave a 15% tip, making it one of the most expensive apps we've tested to borrow $100. There is a high volume of customer complaints about slow delivery times – sometimes exceeding one week – and the app can be quite clunky to use.
Are there other lenders worth looking at?
The cash advance apps above lead the way with high borrowing limits, few (and transparent fees), and no restrictions just because you're a gig worker and not clocking in and out of a 9 to 5.
If you're looking for more options, try these Uber-friendly lenders.
Bonus App: Moves
Moves is a first-of-its-kind app offering cash advances for Uber and Lyft drivers.
Acting as an all-in-one hub to manage your gigs, you deposit any rideshare money you earn into your Moves Spending Account. The more you deposit, the more funding you can receive – up to $1,000.
Opening a Moves account is 100% free (and takes less than 10 minutes) with no hidden monthly fees, maintenance fees, or fees of any kind. With no credit check and zero interest on your cash advance, there are plenty of good reasons to move to Moves.
Bonus App: Giggle Finance
Giggle Finance offers personal loans for Uber drivers whether you're facing car repairs or personal expenses.
A funding platform created specifically for gig workers (it's in the name!) you won't be asked to prove your credit score, Instead, Giigle analyzes your bank statements to see how much you can afford – so you're not stretching yourself too thin.
Once approved, you can borrow up to $5,000 with the money available in minutes.
Check out our Giggle Finance review
Which app will you use to help you get paid (so you can focus on driving)?
As an Uber driver, having access to cash when you need it can be critical to your financial stability.
By using a cash advance app, you can get the funds you need quickly and easily.
Remember to consider the factors that matter to you (loan amount, repayment schedule, fees and charges), and you're all set to choose the app that works best for your needs and budget.
---
BEFORE YOU GO…
Check out our most popular articles:
WAIT! High overdraft fees aren't the only way your bank is costing you money.
With inflation overheating, you've probably heard that interest rates are climbing sharply. That means that for the first time in years, it's a great time to shop around for a high interest savings account.
The national average interest rate for savings accounts is currently 0.23% APY – that means that if you have $2,500 in a savings account, you'd earn just $5.76 after one year! Move those hard-earned savings to an FDIC-insured bank paying 3.50% APY and you'd earn $81.73 more!
Don't let your hard-earned savings sit there doing nothing. Check out the rates that you can earn at other banks:
Latest posts by Alexander Porter
(see all)