Editor's Note: Overdraft Apps provides detailed product reviews and recommendations based upon extensive research and our own hands-on testing. We may earn a referral fee when you sign up for or purchase products mentioned in this article.
Dave is the original cash advance app, giving millions of users access to cash advances for up to $250 with no interest. If you open Dave Spending Account, you can also use popular banking features like check cashing, ATM withdrawals and debit card purchases, plus exciting extras like early access to your paycheck.
It sure sounds like a great deal, but Dave also wants some very sensitive information, such as personal information, access to your bank account and to receive your direct deposit. It's smart to to wonder what's the catch with the Dave app
Scratch that, we've done the research for you. Read on for a rundown of the Dave Money app.
Is the Dave app legit?
Yes, Dave is legit and you can feel comfortable trusting it with your money.
Dave became a public company in early 2022, worth about $1 billion when it debuted on the NASDAQ stock exchange.
Dave is not a bank, though it does offer a bank account through a partnership with Evolve Bank & Trust, which is a member of the FDIC, meaning your deposits are insured by the federal government for up to $250,000.
The Dave Mastercard debit card includes Zero Liability Protection, which means you won't be held responsible for "unauthorized transactions." As a Mastercard cardholder, Zero Liability applies to your purchases made in the store, over the telephone, online, or via a mobile device and ATM transactions. As a cardholder, you will not be held responsible for unauthorized transactions if you promptly report through Dave that your card was lost or stolen or that there are suspicious transactions on your account statement.
Get a cash advance for up to $500 instantly >>> Check out Dave
Does Dave have hidden fees?
Visit Dave's website or app and you'll quickly notice lots of footnotes, disclaimers and fine print at the bottom of the page. You may also note that, unlike many of its competitors, Dave doesn't boast about 'No hidden fees' on screen after screen.
Dave's fees aren't necessarily hidden, but they aren't crystal clear, either. While Dave advertises that you can get a $250 cash advance with no interest and no fees, it's not exactly free.
First, you'll need to be a Dave subscriber to obtain a cash advance, which costs $1/month. (Note that deleting the Dave app doesn't put an end to this recurring fee, which is a mistake quite a few users have complained about online. You'll need to cancel your account for Dave to stop charging you.
While some other apps (like one of Dave's largest competitors, Earnin) will put cash into your account in minutes, Dave's cash advances take three days. Need your money fast? You'll need to pay Dave an Express Fee to get your money within 8 hours. Based on how much you're borrowing, the Express Fee starts at $1.99 and climbs to $5.99 for advances of $100 or more.
Once you get your cash advance, Dave will also encourage you to leave an optional tip, to help make its service available to other users. However, Dave is a for-profit company (and one that is now traded on the stock exchange!) so that tip is mostly going to help Dave's financial picture. (Dave does make an undisclosed donation to Feeding America for every tip it receives).
As we discussed in our Dave app review, these costs can add up quickly. Choose the same day option and leave a 10% tip on a $100 advance, and you're looking at $17 in fees. If you pay that money bank in one week, it works out to a sky-high 885% APR for borrowing that $100 – more than you'd pay to many payday lenders!
Need Fast Cash?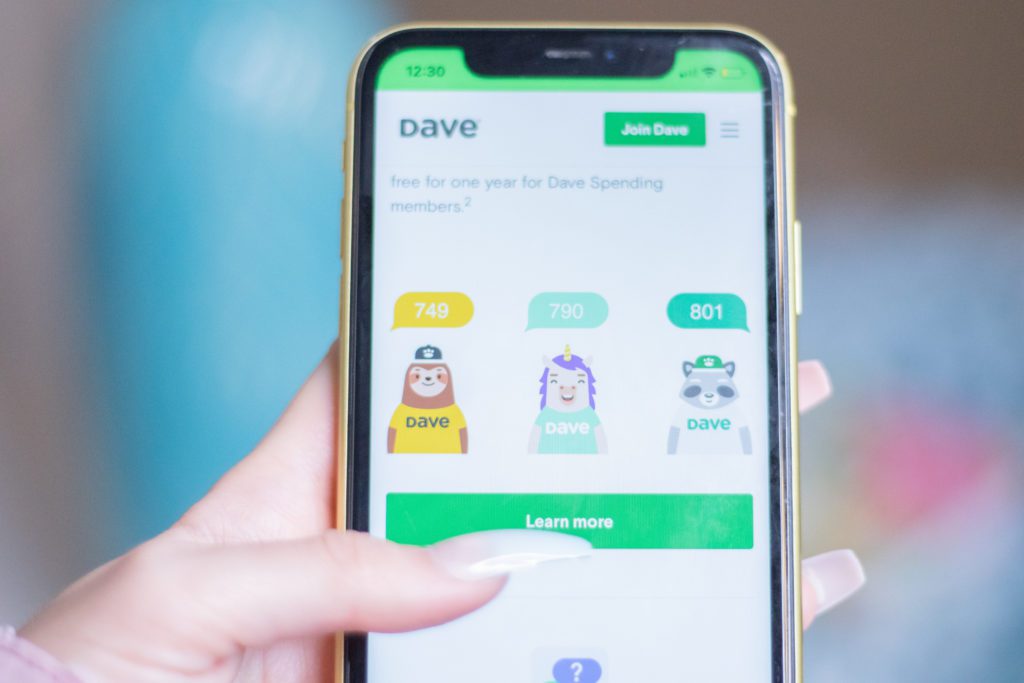 So, is the Dave App safe (and worth downloading)?
The Dave app is offered by a well-established public company and used by millions of customers. Banking products are offered by a regulated partner bank that is backed by the FDIC, meaning that your money is as safe with Dave as it is with any other U.S. bank (in other words, very safe).
There's no doubt that Dave could help you avoid hundreds of dollars per year in fees, from costly overdrafts, late payment fees, ATM fees, check cashing fees, and other costs. It's a full-featured financial app that makes it convenient to manage your money right from your phone, and easily access some extra cash when you're a little short.
However, while Dave may help you save significantly when compared to a high-priced traditional bank, it charges more than many competing apps that offer similar features. Dave's fees are also not presented as clearly and straightforward as they could be, which can lead to some unpleasant surprises. Dave also presents some perhaps inflated values of its features, such as claiming a free one year subscription to LevelCredit is worth $100, though it costs on only $84 on the LevelCredit website.
Dave is a better alternative to being gouged by bank fees, especially when you are low on cash, but there are other apps like Dave out there, such as Chime Spotme, Albert, Cleo, Go2Bank, and Earnin. Some have lower or completely optional fees, so it's worth comparing to see which cash advance app can save you the most.
Get a cash advance for up to $500 instantly >>> Check out Dave
Watch our Dave cash advance app review
WAIT! High overdraft fees aren't the only way your bank is costing you money.
With inflation overheating, you've probably heard that interest rates are climbing sharply. That means that for the first time in years, it's a great time to shop around for a high interest savings account.
The national average interest rate for savings accounts is currently 0.23% APY – that means that if you have $2,500 in a savings account, you'd earn just $5.76 after one year! Move those hard-earned savings to an FDIC-insured bank paying 3.50% APY and you'd earn $81.73 more!
Don't let your hard-earned savings sit there doing nothing. Check out the rates that you can earn at other banks:
Latest posts by Mitchel Harad
(see all)