Editor's Note: Overdraft Apps provides detailed product reviews and recommendations based upon extensive research and our own hands-on testing. We may earn a referral fee when you sign up for or purchase products mentioned in this article.
"What are the best cash advance apps of 2023?"
Let's be honest, this isn't an easy question to answer. You'll need to consider a range of factors such as:
Is there a credit check to qualify?
How fast will you have the money in your bank account?
How quickly and how often can you access a cash advance?
Do you need to set up a new bank account or move your direct deposit?
What is the interest rate and how much are the fees? (And are you supposed to tip?)
And perhaps most importantly of all, how much can you borrow? It's not enough to give you a $40 cash advance, $50 cash advance, or even a $100 cash advance.
You'll also need to weigh up monthly costs, eligibility requirements, and hidden obstacles buried deep in an app's terms and conditions. Scratch that. You don't need to weigh up those things… because we've done it for you.
With low fees (or even NO fees in a few cases!) it's never been easier to secure short-term funding and avoid the headaches that come from a lack of cash.
Read on for a closer look at our top 9 picks.

9 best cash advance apps for 2023
When it comes to a list of cash advance apps, you've got plenty to choose from. At the same time, it's easy to feel overwhelmed comparing dozens of apps – so we've made things simple.
Each app on this list offers its own pros and cons whether you need a $20, $50 or $100 cash advance (or something a little higher). Some will let you borrow up to $100 against your future wages, and others will let you borrow money as soon as you sign up (with no fees or interest).
According to Ivan Novikov, CEO and founder of app security company Wallarm, the research phase is critical.
"Make sure to compare the features, fees, and interest rates of different apps to find the one that best meets your needs. It's also important to look into the security features of any cash advance app you are considering. Be sure to check that the app is encrypted and has measures in place to protect your information."
Read on for the top 9 best cash advance apps we recommend you download in 2023.
🤓 Overdraft Apps Tip: Paycheck advance apps can be a flexible alternative to personal loans or swiping your credit card. However, remember that borrowing money before payday can lead to a cycle of debt or represent deeper financial issues. Many of the apps on this list offer tools to help you manage your money, like Cleo and Albert, so take advantage of resources to ensure you don't regularly spend more than you earn.
#1. Albert – Fee-free cash advances up to $250 (plus a $150 sign-up bonus)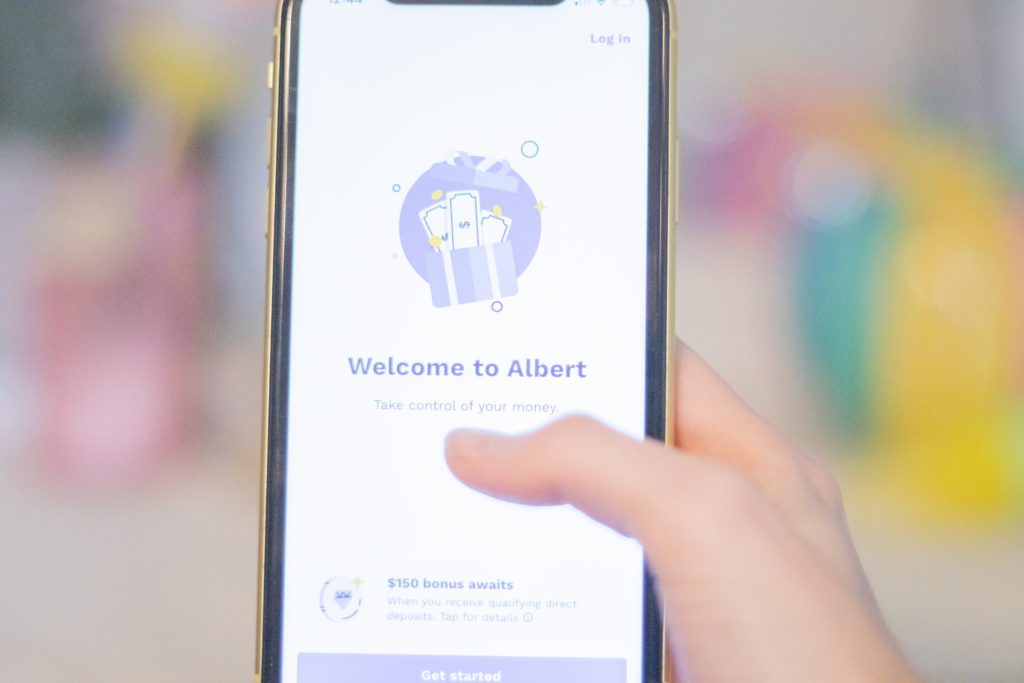 The Albert app offers interest-free and fee-free cash advances for up to $2501 (this is among the highest borrowing amounts of any cash advance app).
You can access an Albert cash advance up to three times per pay period with no credit check so Albert is handy if you're struggling with poor credit. There's no subscription needed to use Albert, but there are advantages to creating an Albert account. Doing so means you'll get your cash faster (in minutes) vs. sending it to your bank account (three days). If you've got a need for speed, you can still get the funds sent to your bank account instantly with a $6.99 express fee.
Albert offers valuable tools to help you track your spending, create a budget and achieve your savings goals. Where most cash advance apps help you upskill with in-app resources, Albert has a team of Geniuses – literally. For a monthly fee that can be as low as $6, a team of real life Albert Geniuses can answer your financial questions 7 days a week so you're not just getting a cash advance but an personalized financial advice from a real human, too.
And if you need another reason to let Albert into your life, new users receive a $150 sign-up bonus!2
| Pros | Cons |
| --- | --- |
| ✔ Borrow up to $250 | ✘ Funds take 2 – 3 days to reach your account* |
| ✔ No credit check | ✘ Requires access to financial information |
| ✔ No fees or interest |  |
| ✔ $150 sign-up bonus |  |
*Funds available immediately with a $6.99 express fee, or with no fee if you set up an Albert Cash account.
No interest cash advances and a $150 new account bonus >>> Downlaod the Albert app free
#2. MoneyLion – Low-cost cash advances up to $250 from a feature-packed financial app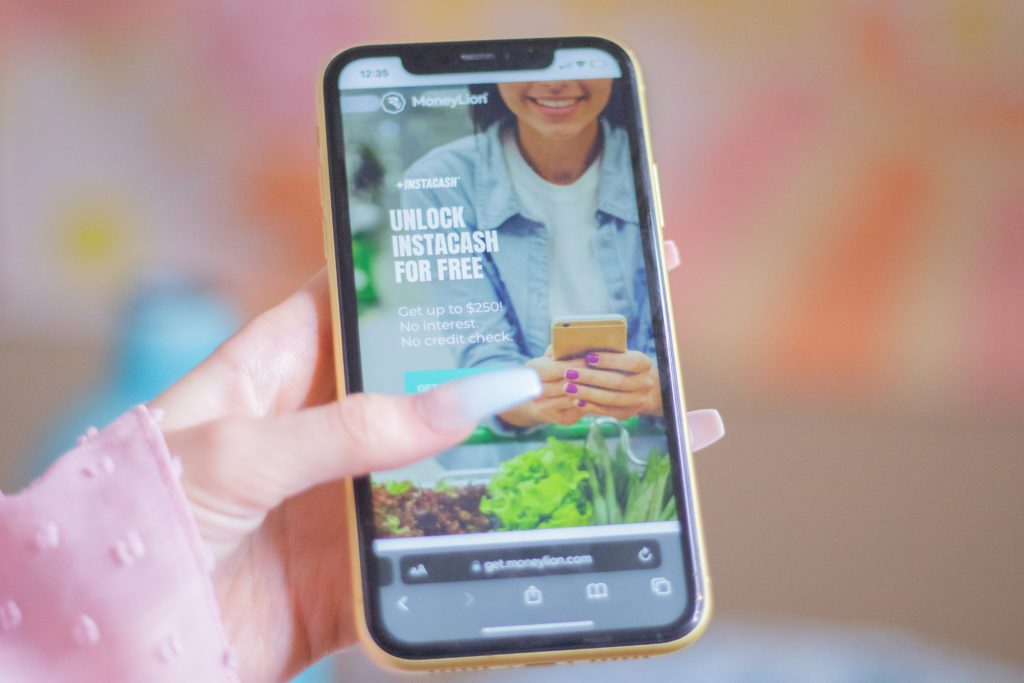 MoneyLion's Instacash feature lets you borrow up to $250.3 And with no credit check, no interest and no monthly fees. There's a reason 3.3 million customers use MoneyLion!
To access this feature, download the MoneyLion app and tap 'Instacash'. Link your checking account to qualify for 0% APR cash advances. You can borrow $25 to start and your limit will be determined by your income or recurring deposits or moving your direct deposit to a MoneyLion RoarMoney account. Once set up, you can use Instacash for advances as often as you like until you hit your eligible amount.
MoneyLion isn't the quickest cash advance app on our list. You will need to wait 48 hours to receive your funds. But if you've got a car service coming up or forgot your anniversary and need a nice gift ASAP then you can access your funds almost instantly with a $3.99 fee (deposited in your MoneyLion RoarMoney account) or $4.99 (deposited in your bank account).
Where MoneyLion also stands out is customer service. With a 4.7 star rating on Trust Pilot (28,130 reviews), many users comment on the quick and accessible customer service team.
This can be a major factor when choosing a cash advance app, explains financial planner Michael Ryan. 
He says, "I always recommend finding an app that offers a good customer service experience, as this can make a big difference when navigating the complexities of personal finance. By looking for apps with a quick and easy sign-up process, and competitive interest rates, you can get the most value while avoiding the potential pitfalls of high overdraft fees."
Looking for a higher borrowing amount?
MoneyLion's Credit Builder Plus might be right for you. For a $19.99/month fee, you'll have access to credit building tools including:
Loans up to $1,000 with competitive APRs
0% interest cash advances
Weekly credit score updates
Lion's Share Rewards (members-only cashback program)
Credit builder loans can give you the cash you need now, with a little extra in a Credit Reserve Account that you'll get when you pay back your loan in full.
How easy is that!
| Pros | Cons |
| --- | --- |
| ✔ No credit check | ✘ Majority of loan funds are in a reserve account |
| ✔ Competitive APR on loan (5.99%-29.99%) | ✘ Relatively small loan amount |
| ✔ Receive cash upfront |  |
| ✔ Access up to $300 in cash advances |  |
Get cash advances up to $250 with no interest >>> Check out MoneyLion
#3. PockBox – Borrow up to $2,500 (even when your credit score is poor)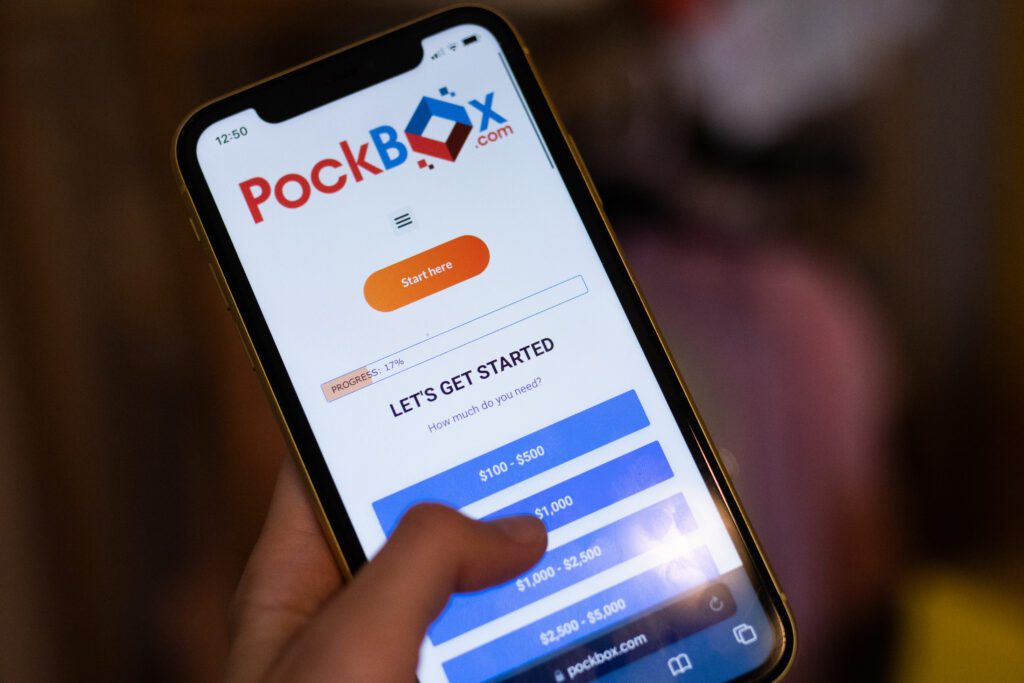 If you need access to more cash than the other cash advance apps on this list, PockBox can help you out.
Offering cash advances of up to $2,500, using PockBox is as simple as filling out a few forms and comparing available lenders in minutes. You can see what you qualify for without committing to a lender. And you can have the funds you need in your bank account as soon as the next day – if not sooner.
Loans start as low as $100 but go up to $2,500 and are ideal if you're dealing with low or no credit. Even if you've been rejected by other lenders, you may still be eligible for a loan through PockBox.
If the borrowing limits of most cash advances isn't suitable for your upcoming expenses, a loan via PockBox might be a better solution.
| Pros | Cons |
| --- | --- |
| ✔ Borrow up to $2,500 | ✘ No credit check loans can carry high rates |
| ✔ 100% free to compare options | |
| ✔ Compare up to 50 lenders |  |
| ✔ Perfect for low credit borrowers |  |
Compare Loan Offers Up to $2,500 >>> Browse Pockbox For Free
#4. Cleo – $100 cash advances with a side of sassy budgeting support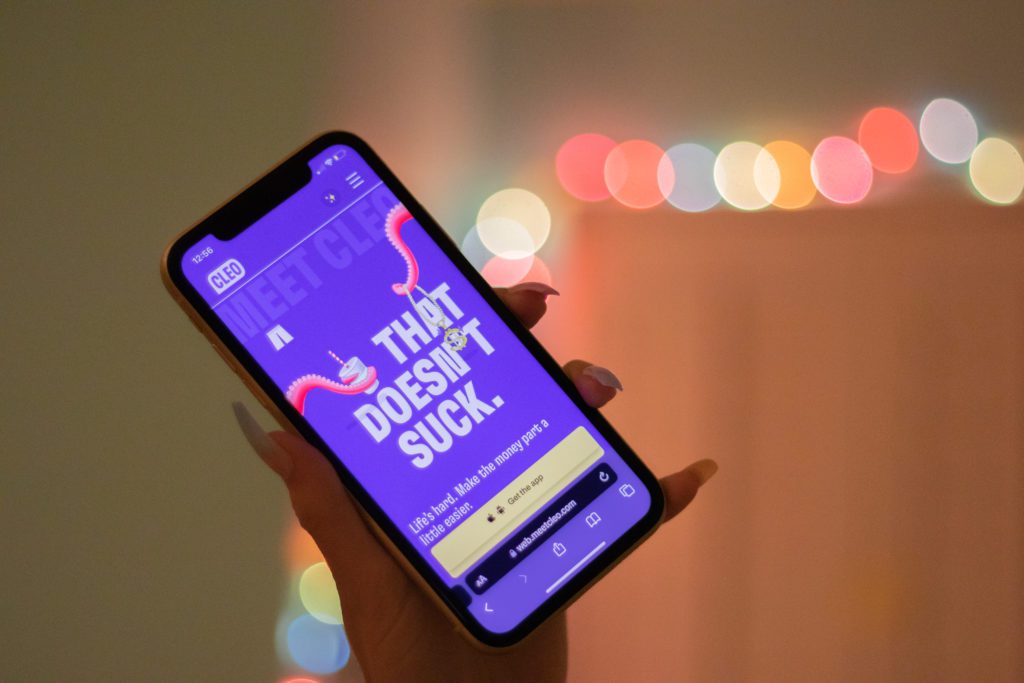 Cleo is an AI-powered financial assistance app. She's also a hilarious wise ass.
Yep, you read that right.
Using artificial intelligence, Cleo helps you manage your finances from your smartphone by tracking your spending, helping you save automatically, and even earning cash-back rewards.
Or, in her own words, she's an "app that doesn't suck".
Download the Cleo app (it's free) and set up an account (also free) and you'll receive powerful insights and advice on your finances. But, prepare to be put in your place while you're at it because if you could be doing better with your money, Cleo will 100% let you know!!!
Cleo's top Features include:
'Roast Mode' if you need a little tough love on your spending habits
'Hype Mode' if you prefer to be complimented on your financial habits
A credit-building card (with no credit checks and no interest; subscription required)
Money-saving tools
And of course, Cleo cash advances of up to $100
When you need a $100 cash advance with no credit check, Cleo will send funds directly to your linked bank account (with no need to change your direct deposit or submit timesheets like apps like Earnin require).
Funds typically take 3 – 4 business days to land in your bank account. However, if you want instant funds, you can simply pay a $3.99 express fee to get your money inside 24 hours.
If you want to see how this AI-powered chatbot can help you manage your finances, set budgeting goals, build your credit and save your money, click below to try it out for yourself.
| Pros | Cons |
| --- | --- |
| ✔ Up to $100 in cash advances | ✘ Requires $5.99/month subscription |
| ✔ Up to $70 initial limit | ✘ Lower limits than other cash advance apps |
| ✔ No credit check |  |
| ✔ No interest |  |
Get Started in 2 Minutes (And Borrow $100) >>> Check Out Cleo's Sass
#5. Dave – Borrow up to $500 from the OG cash advance app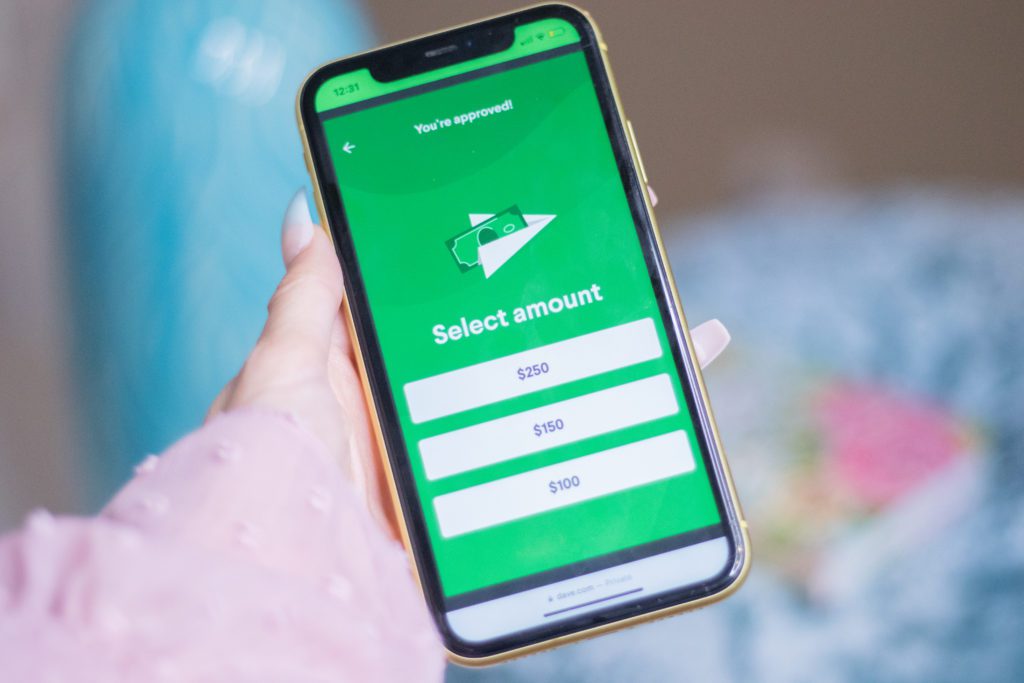 Dave is probably the first app of its kind to directly address the overdraft fees problem. As a pioneer in the cash advance game, roughly 10 million people now use Dave to borrow up to $500 nearly instantly with zero interest and no credit check.4
The app is free to download and fast and easy to set up. While most apps only dole out small amounts to new customers, you may be eligible for a Dave cash advance for as much as $500 as soon as you sign up! There is no credit check. To determine how much you qualify for, Dave will consider a number of factors, including how long until your next payday, your history and spending patterns, and how much is deposited into your bank account each month.
You can receive your funds instantly (seriously, like in under a minute!) via the Dave Debit MasterCard; there is a $1.99 – $9.99 express fee depending upon the size of your advance. You can use your Dave debit card to withdraw cash from an ATM or to pay for purchases at the millions of merchants who accept Mastercard. (You can load some great offers onto your Dave debit card too, such as up to 10% cash-back at popular restaurants and retailers, and some limited special offers like 50% cash-back on your next order from Shake Shack!)
If you want to have your funds sent to your existing debit card in minutes, that's an option too, though fees do apply. If you're not in a rush, you can have Dave transfer your cash advance to your bank account within three business days with no interest and no fees. (You do need to subscribe to Dave for $1 per month to access cash advances plus some additional features.)
Your advance will be automatically repaid when you receive your next paycheck, but if you happen to need some extra time, Dave doesn't charge late fees, either. This is a significant advantage according to Jonathan Merry, CEO and Founder of Moneyzine. 
He explains, "the best feature to look out for is repayment flexibility. Most cash advance apps would withdraw the repayment of your debt from your next paycheck. However, other apps such as the Dave app allows you to ask for extensions. This could be handy if you needed more time to come up with the funds to pay but don't want to incur late payment fees."
| Pros | Cons |
| --- | --- |
| ✔ No credit check | ✘ Requires bank account access |
| ✔ No interest | |
| ✔ Receive cash in under 60 seconds |  |
| ✔ Access up to $500 in cash advances |  |
Get a cash advance for up to $500 instantly >>> Check out Dave
#6. Current – Borrow up to $200 in fee-free overdrafts with Overdrive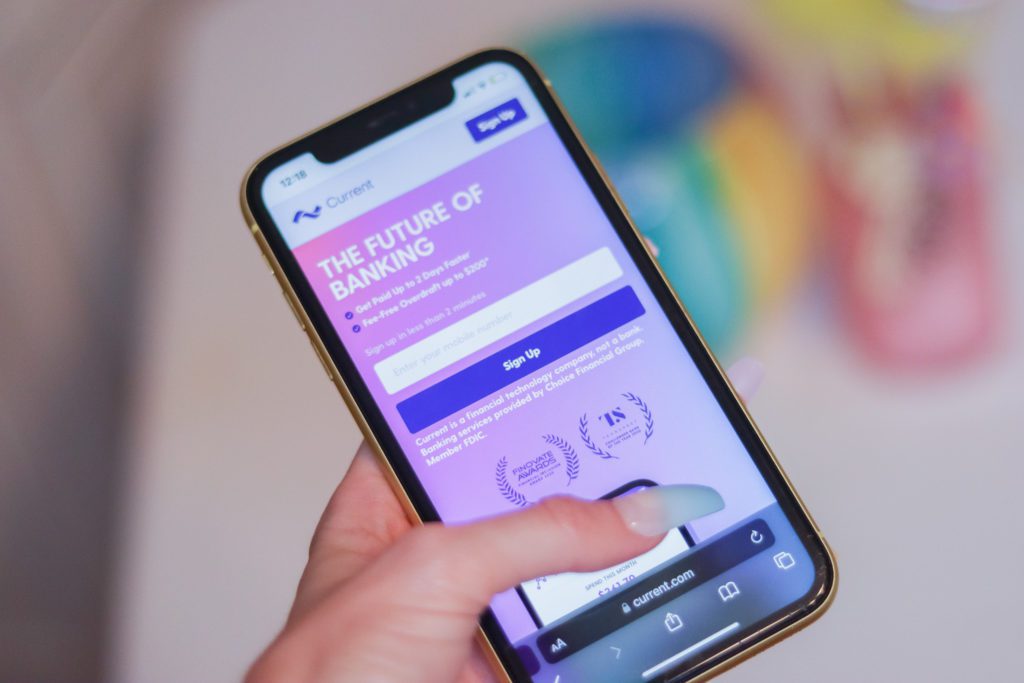 Current's website claims they're "focused on creating better financial outcomes for people" and with a range of features – from fee-free overdrafts to cashback and 4% APY savings accounts – it's hard to argue with them.
One of Current's most popular features is Overdrive which gives you access to up to $200 in overdraft protection on debit card purchases without charging overdraft fees. Your Current overdraft limit depends on your direct deposits and there's no fee for using this helpful service to help you cover expenses when you're between paychecks.
Qualifying for no-fee overdrafts with Current is easy. Just set up a direct deposit of your paycheck of $500 or more each month, and up to $200 in overdrafts on your Current card can be covered, with zero overdraft fees!
Plus, Current can save you on more than just overdraft fees:
Get paid up to 2 days early with faster direct deposits
No ATM fees at over 40,000 in-network ATMs
No minimum balance fees and no hidden fees
4% cash-back at local and national restaurants
2% cash-back at brand-name gas stations
Earn up to 15x points towards cash back rewards at 14,000 participating merchants nationwide
| Pros | Cons |
| --- | --- |
| ✔ Up to $200 in fee-free overdrafts | ✘ Requires bank account for access |
| ✔ Fee-free ATMs |  |
| ✔ No minimum balance or hidden fees |  |
Get up to $200 whenever you need it >>> Get the Current app
#7. Brigit – Borrow up to $250 in fee-free overdrafts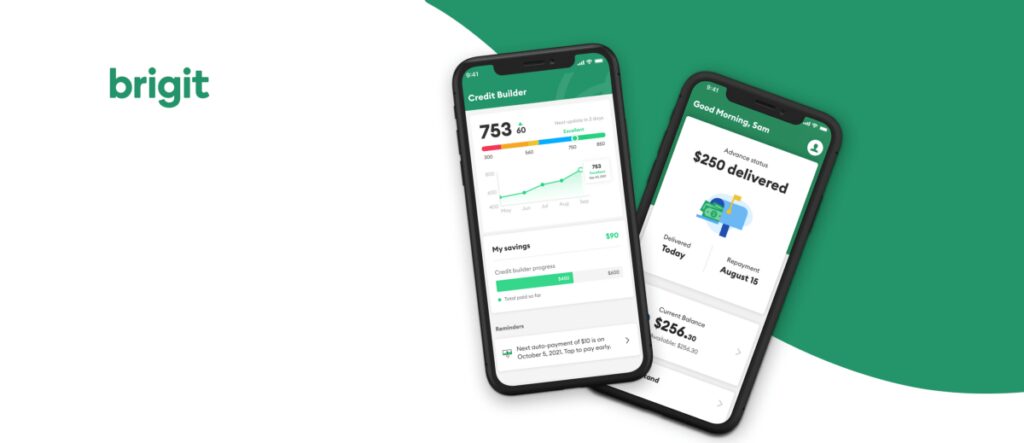 Brigit offers instant cash advances to help you cover bills, make emergency payments, or just access the money you need to live your life.
You can be approved for anywhere between $50 and $250 per pay period with your borrowing limit tailored to your needs and ability to repay comfortably.
Brigit's free plan includes limited features, which doesn't include cash advances. You'll need to opt in for a $9.99 per month subscription that unlocks cash advances up to $250. And look, we get it. Paying for an app subscription may not be on your radar, you'll be hard pressed to go through your bills and find a single late fee that's less than Brigit's $9.99/month fee, which makes Brigit a great deal.
As a bonus, Brigit's algorithm will predict when you're likely to run out of cash before your next paycheck and send you an alert to let you know. As a Brigit Plus user, you'll automatically receive up to $250 when you're facing a shortage. This helps you avoid paying overdraft fees or NSF fees to banks who hope your account falls into a negative (so they can hammer you with more fees).
Let's be honest, financial emergencies are guaranteed to pop up from time to time. But an app like Brigit can help you cover your monthly bills and payments without the sky-high interest that comes with many other cash advance apps.
| Pros | Cons |
| --- | --- |
| ✔ Access up to $250 in cash advances | ✘ Lower withdrawal amount |
| ✔ No credit check | ✘ $9.99 subscription required for cash advances |
| ✔ No interest or tip fees |  |
Access up to $250 in fee-free overdrafts >>> Explore Brigit Now
#8. SeedFi – Borrow up to $9,000 with affordable credit-building plans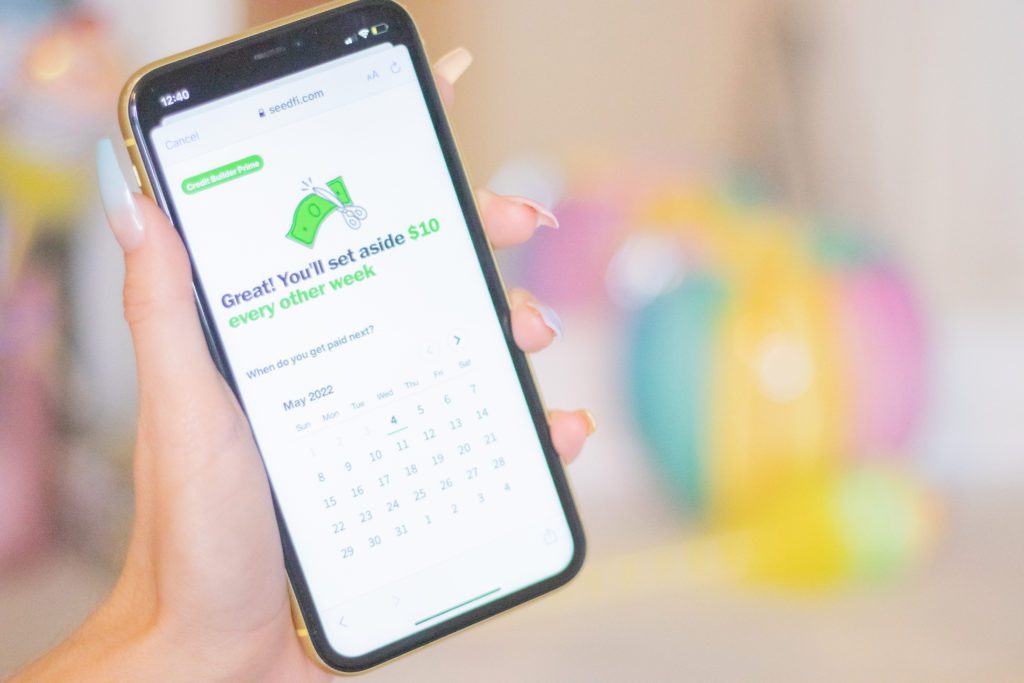 Let's say you need access to a little extra money, but your credit score has taken a few bumps and bruises – SeedFi can help. If you're in the 'poor' to 'fair' range then a credit builder loan like SeedFi's Borrow & Grow Plan may be a great tool to help you access some cash right away. You can also build up savings for later AND build a positive payment history with every on-time payment.
Win-win-win.
With SeedFi's Borrow & Grow Plan, you get some cash right away, while also building up some savings for later. Borrow & Grow Plan loans for first-time borrowers range from $1,500 to $9,000 with $300 to $5,000 accessible immediately and the rest of the loan locked in a savings account until you repay in full.5
Repayment periods range from 10 months to 48 months and APRs range from 11.59% to 29.99%.
Once the loan is paid off, the money in your savings account is all yours. You can spend it, save it, or move it wherever you like. Plus, your payments are reported to the major credit bureaus, so paying back your plan as scheduled could help build your positive payment history.
You can see exactly what you qualify for in just a couple minutes on the SeedFi website, with no impact to your credit score.
| Pros | Cons |
| --- | --- |
| ✔ Borrow up to $5,000 immediately | ✘ Total funds not immediately available |
| ✔ May improve your credit score | ✘ SeedFi Savings Account required |
| ✔ Plans for first-time borrowers |  |
Access up to $9,000 >>> Our SeedFi Review
#9. Earnin – The free app offering up to $500 in no-fee cash advances
Available for both iOS and Android, Earnin helps you avoid overdraft charges and expensive payday loan fees by letting you access your earned wages early.
If you've worked but haven't been paid yet, Earnin can give you instant access to up to $100 of your paycheck per day and up to a total of $500 per pay period.
Getting started is fast and easy. Just download the app, quickly link your bank account, and answer a few questions about your employer. Then, when you need a little extra cash, it's yours with just a few taps on the Cash Out feature. Earnin then balances your borrowed amount automatically when you receive your next paycheck.
Simple!
Best of all, there are no mandatory fees and no interest charges to get paid early via Earnin. The app is truly free (Earnin will encourage you to leave an optional tip) which is hard to beat. And it's certainly a better deal than paying $35 or more for each overdraft transaction or a payday loan with interest and fees that can well exceed a 100% APR!
| Pros | Cons |
| --- | --- |
| ✔ Access up to $100 per day | ✘ Requires regular pay schedule |
| ✔ Access up to $750 per pay period | ✘ Requires bank account for access |
| ✔ 0% interest |  |
Borrow Up To $100 Right Now >>> Get started with Earnin here
How to choose the best cash advance app
The best apps to get a cash advance won't be the one with the flashiest interface, the lowest fees, or the highest cash advance limits.
Each app on this list has its own pros and cons. What can look like an easy way to top up your checking account might also come with hidden costs or strict eligibility requirements. To get started, consider how much money you need to borrow. If you need more than $250, you'll be able to rule out apps like MoneyLion, Cleo and Dave which have lower cash advance limits.
Don't be discouraged if your credit score has taken some lumps. Many of the cash advance apps on this list are designed for people with poor credit and don't require a credit check, so you're not without options. Finally, don't be swayed by what other users are saying online. Your financial situation is unique to you. Consider downloading a handful of the apps on this list and testing them out before making any commitment.
Should you download and use cash advance apps?
This will be a personal decision, but if the alternative is a payday loan with sky-high fees and eye-watering interest rates, then the answer might be 'yes'.
There are going to be times when you need a little extra to tide you over until payday. Although borrowing from a friend and putting your purchase on a credit card are popular options, cash advance apps make things simpler and easier.
You get a portion of your next paycheck early, so there's no stress about whether you'll be able to pay back the debt. And with many of 2023's best instant cash advance apps landing with low or no fees, you're not at the whim of your bank's overdraft fees or greedy payday lenders.
How fast can I get a cash advance?
This depends on the app you choose.
As long as you meet the eligibility requirements, you can get your cash in as little as a few minutes – or as long as a few days – depending on whether you pay an express fee or wait for your fee-free cash advance.
We've put together the table below to help you compare possible wait times.
App
Express Fee
Get Your $$$ Instantly
Free Cash
No Fees, But Not Instant
Albert
$6.99
2 – 3 business days
MoneyLion (external account)
$4.99
3 – 5 business days
MoneyLion (RoarMoney account)
$3.99
24 – 48 hours
PockBox
N/A
As little as 1 business day
Cleo
$3.99
3 – 4 business days
Dave Spending Account
N/A
Instantly
Dave (external account)
$1.99 – $5.99
Up to 3 business days
Brigit
N/A
1 – 3 business days
SeedFi
N/A
1 – 2 business days
Earnin
$0.99 – $3.99
1 – 2 business days
Empower
$1 – $3
1 business day
Want to get your money? You may need to meet these criteria
While not all of the apps on this list require a credit check, most lenders will still have certain eligibility criteria or thresholds before letting you borrow funds.
Depending on the app you choose you may need to meet some or all of the following conditions:
➢ Electronic Timesheet: Earnin is an example of an app that requires you to be enrolled in an electronic payroll system. This is because Earnin needs to know that you are actually working before the app will let you borrow against your wages.
➢ App Subscriptions: Certain cash advance apps require you to pay a monthly subscription fee to access money quickly (or at all). For example, Dave requires a small $1/month subscription fee. Cleo requires a $5.99/month subscription fee. And Albert is free – though you'll need to pay an express fee of $6.99 to access your funds immediately vs. waiting three days.
➢ Bank Accounts: Some cash advance apps will require you to have a bank account. This is typically an eligibility criteria for two reasons. First, an app needs the ability to deposit funds into your bank account. Secondly, many apps automatically withdraw repayments from your account.
➢ Direct Deposit: Most of these apps will require you have a direct deposit of your paycheck, retirement income or government benefits to qualify for a cash advance. Some will link to your existing bank account and so they can verify your direct deposit, while others require you to set up a new account and move your direct deposit. Changing your direct deposit can be a hassle. But it may enable you to get nearly-instant cash advances without paying express fees.
Final thoughts and what to do next
77% of Americans are anxious about their financial situation so if you're struggling with your finances, well, you're far from alone.
The options listed in this guide can help you get an advance on your paycheck. However, your specific needs will determine which app is right for you. Alternatively, you can download several of the best cash advance apps on this list so you've always got an option to borrow money in your back pocket (literally).
In case of an emergency, using a cash advance app can be a much better solution than dipping into an overdraft, or overdrawing your bank account without authorization. Paycheck advances can also be better than simply letting bills go unpaid as missed bills can lead to dishonor fees, service cancellations and stiff charges for reinstatement. While cash advance lenders have long had a reputation for charging sky-high rates, many of the lenders on this list charge no interest and provide low or no fee options!
Whichever app ends up on your phone, be careful to review the terms, conditions, and fees of the cash advance app you choose. Stay informed and you'll have the info you need to get the funds you need, when you need them, in a way that works for you. You should always make sure that you understand the costs and terms of any loan before agree to borrow money.
So, there's just one question left to answer… you've read our list of cash advance apps, so which one will you download next???
---
How we picked these cash advance apps
To come up with this list of the best cash advance apps of 2023, we picked a handful of the most popular apps, downloaded them onto our phones, and got to work putting them to the test. We considered a host of features including fees (upfront or hidden), eligibility, borrowing limits, and interest rates. We also looked for additional features that might benefit you when you need to borrow quick cash. These include credit checks, speed of accessing funds and overdraft support. We may receive a referral fee if you purchase or use some of the products described in this article.
WAIT! High overdraft fees aren't the only way your bank is costing you money.
With inflation overheating, you've probably heard that interest rates are climbing sharply. That means that for the first time in years, it's a great time to shop around for a high interest savings account.
The national average interest rate for savings accounts is currently 0.23% APY – that means that if you have $2,500 in a savings account, you'd earn just $5.76 after one year! Move those hard-earned savings to an FDIC-insured bank paying 3.50% APY and you'd earn $81.73 more!
Don't let your hard-earned savings sit there doing nothing. Check out the rates that you can earn at other banks:
Latest posts by Mitchel Harad
(see all)
Download the Albert app to see if you qualify. Repay the advance with your next paycheck. Fees may apply. Advance amounts based on qualification and may vary. Albert is not a bank. Banking services provided by Sutton Bank, Member FDIC.

Here are the criteria to earn the $150 bonus:

Set up direct deposit with Albert Cash,
Receive a qualifying direct deposit of $500 or more within 45 days of joining Albert;
Receive a qualifying deposit of $500 or more every 30 days for 90 consecutive days,
Use your Cash card to spend $200 or more on qualifying goods or services every 30 days during the same 90-day period, And
Meet all of the above requirements within 150 days of joining Albert
Be sure to see the full terms and conditions and eligibility conditions.
Instacash is an optional service offered by MoneyLion. Your available Instacash Advance limit will be displayed to you in the MoneyLion mobile app and may change from time to time. Your limit will be based on your direct deposits, account transaction history, and other factors as determined by MoneyLion. See Membership Agreement and help.moneylion.com for additional terms, conditions and eligibility requirements.
ExtraCash™ is a DDA account with overdraft utility that is subject to eligibility requirements. Taking an ExtraCash™ advance will make your account balance negative. Express delivery fees apply to instant transfers. See the Extra Cash Account Agreement for more details.

Sample Borrow & Grow Plan: Amount Financed: $7,000 ($3,500 accessed up front and $3,500 locked in savings), APR: 24.99%, Finance Charge: $3,318, Total of Payments: $10,318, Payment Schedule: 85 biweekly payments of $120 and one final payment of $118. The payment schedule spans 40 months.

Advertised rates and terms will be subject to change without notice. Your actual APR and other loan terms will be shown to you as part of the online application process.

If you check your offers, SeedFi issues a soft credit inquiry, which does not impact your credit score and is not visible to creditors. If you select a SeedFi loan offer and continue with your application, SeedFi will issue a hard credit inquiry, which may affect your credit score.

Personal loans and banking services provided by SeedFi's bank partner, Cross River Bank, Member FDIC.