We've all been there.
The best-laid plans never go to plan and, well, an unexpected expense has left you short at the end of the month.
Suddenly, you're in danger of dipping into an expensive overdraft and just need some cash to help you out until you get paid. That's where a cash advance app can be the perfect solution. You can even find apps to loan you some cash free of charge, but the challenge is finding the right advice.
To help you out, we've rounded up the best apps you should consider downloading.
Let's dive into your cash advance options.
What we'll cover:
How to get paid early
Many of us know the familiar tale of just being a *few* dollars short while the next payday is still a few days away. Payday loans or bank overdrafts have been tried and true methods to stretch your budget until your paycheck arrives, but both come with plenty of stigma and sky-high fees attached to them. (No wonder payday loans and overdrafts are both multi-billion industries!)
The good news is that a new breed of cash advance apps has created some alternatives that are easy to access and can cost you nothing. How? Because they don't lend you someone else's money. Instead, they give you early access to your own paycheck, right from your phone.
It's your money. You earned it. So you deserve it.
One of the original and best known of these apps is Earnin, which gives you instant access to up to $100 PER DAY, up to a total of $500 advanced against your next paycheck. Earnin's Boost feature also gives you occasional access to borrow $50 extra, for when you're really in a bind.
Getting started with Earnin is fast and easy. Just download the app, link your bank account, and answer a few questions about your employer. When you need a little extra cash, you can get it instantly with just a few taps on the Cash Out feature. Earnin then gets paid back automatically when you receive your next paycheck. Simple!
Best of all, there are no mandatory fees and no interest charges to get paid early via Earnin. It's hard to beat 'free' and it's a much better deal than potentially paying $35 or more for each overdraft transaction. Or a payday loan with interest and fees that can well exceed a 100% APR! Earnin will invite you to pay a tip for their services, but that is completely optional, and whether you tip or not will not impact your access to future cash advances.
Our top 3 recommended cash advance apps
#1. Current App – borrow up to $200 in fee-free overdrafts
Current is one of a growing number of fintech companies that offers all of the top features of a traditional bank straight from your phone – often with no fees.
One of Current's top features is Overdrive which gives you access to up to $200 in overdraft in debit card purchases without charging overdraft fees. Qualifying for no-fee overdrafts with Current is easy. Just set up a direct deposit of your paycheck of $500 or more each month, and up to $200 in overdrafts on your Current card can be covered, with zero overdraft fees!
Plus, Current can save you on more than just overdraft fees:
Get paid up to 2 days early with faster direct deposits
No ATM fees at over 40,000 in-network ATMs
No minimum balance fees and no hidden fees.
Earn up to 15x points towards cash back rewards at 14,000 participating merchants nationwide.
>>> Sign up for Current in less than two minutes
#2. PockBox – when you need up to $2,500 fast
If you need access to more cash, PockBox is the perfect app to get cash advances of up to $2,500 in minutes. Just answer a few short and easy online questions and PockBox will shop your loan request around to dozens of potential lenders. You'll see what you qualify for in just a few moments, and can often have the cash in your bank account the very next day – and sometimes even sooner.
>>> Try Pockbox now
#3. SeedFi – a fast loan that boosts your credit score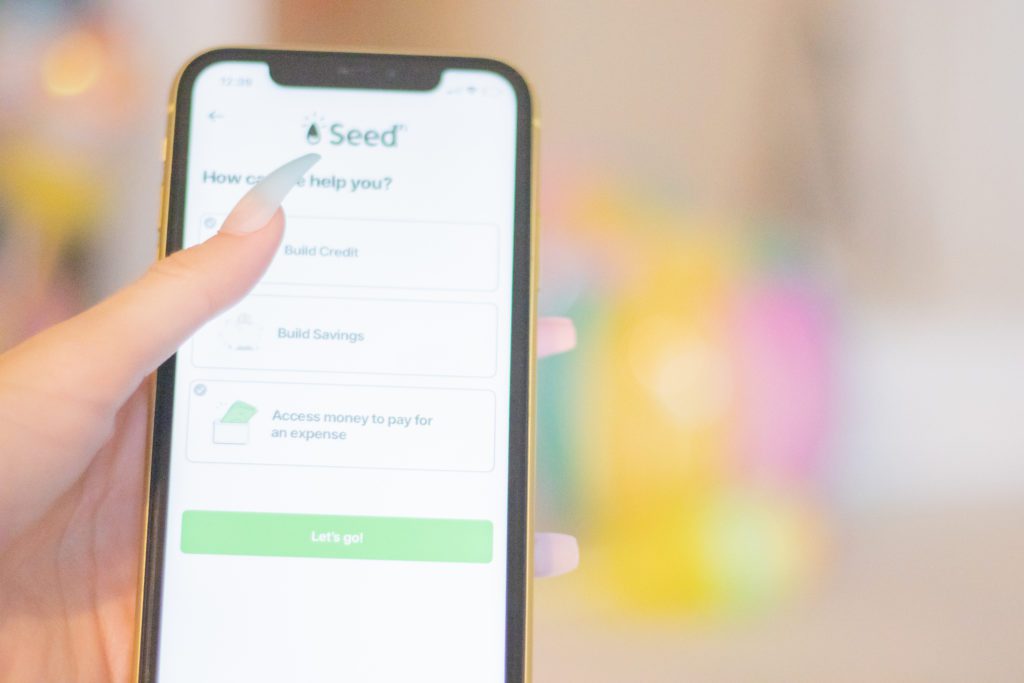 SeedFi loans are designed for people with poor credit (or no credit). Instead of accepting a high-interest loan, SeedFi offers term loans with a savings component. When you finish paying off your loan, you'll have an account with cash savings to help deal with life's expenses.
A SeedFi 'Borrow & Grow' plan loans you between $300 to $4,000 with the majority of your money available NOW and the rest locked in a savings account. Your plan payments are actually loan repayments, and each repayment is reported to the credit bureaus, so you're improving your credit score as you go. Once your loan is repaid, SeedFi unlocks your savings account and you're set up for a better future.
>>> Get a loan and improve your credit score
The 'best of the rest' cash advance apps
Plenty of apps allow you to get an advance on your paycheck. Each of these pay advance apps offers something different, with some offering small loans completely free of charge while other apps charge interest.
Let's look at some of your options:
MoneyLion Plus app: After downloading this payday advance app and signing up for the Plus service, you'll get unlimited access to $500 loans with a 6% APR. This is a very (very) low APR. The only thing you need to do to enjoy the Plus version of MoneyLion for free is to log into their app every day.
Dave app: Dave is probably the first app of its kind to directly address the overdraft fees problem. Only after it came out did other apps like Dave started to show up. With Dave,

you can borrow up to $75 at a time. The app will automatically warn you as you get close to going into an overdraft

. This

is great because it helps you to avoid overdraft charges. As a bonus, Dave loans are free and you won't be charged interest. However, The app charges a $1/month subscription fee to get access to it's features.

DailyPay app: This app logs your working hours and offers you an advance on your paycheck based on the amount of money you have earned. The app shows you an up-to-the-minute display of your earnings so far, great for staying on top of how your hard work is paying off. Advances can be as small as $20 and up to the amount you have earned before payday.
PayActiv app: PayActiv is similar to DailyPay, also offering you a way to instantly get your earned but unpaid wages. It offers a couple of other features too including savings tools, financial advice and discounts on prescriptions. You don't need a bank account to use PayActiv, the app can load funds onto a debit card for you.
So, what's the best cash advance app?
We have outlined a couple of apps that can get you your paycheck early, but we think the Earnin app (that you can download here) is a top option. Earnin is truly free: tipping is optional, so you can get your paycheck in advance without paying anything at all.
Another advantage: you can borrow up to $500 with Earnin, which is a lot more than Dave. Dave restricts you to a choice of $25, $50 or $75. Note that $500 loans are only available to long-standing Earnin customers. New customers can borrow a maximum of $100 per day.
With Earnin you can easily avoid overdraft charges and expensive payday loan fees. The fact that Earnin is available for both iOS and Android is also great. Put simply, Earnin is a very convenient way to get a portion of your paycheck early.
Smaller payday advance apps to consider
The apps we discussed in the previous section are great for smaller loans. But sometimes you need a larger loan before your payday, especially if you are getting paid monthly. Note that these apps will often charge very stiff interest rates as large loans will never be free. Let's look at some of your options for a payday advance.
MoneyLion app (iOS, Android). A good choice for larger loans of up to $500, MoneyLion Plus will lend to you even if you have bad credit. The amazing part? Extremely low APR of 6%. The only thing you have to do is download the app (links above), and sign up for MoneyLion Plus which is free if you log into the app everyday.
PockBox.com app. You don't need a bank account to borrow from PockBox, and you can get loans of up to $2,500. Again, note that you will be charged interest on your loan. The RainyDay app loans are not free. As with other lenders in the space, PockBox.com will consider you even if you have bad credit.
WARNING: Apps we don't recommend
Borrowing to get you through to payday typically implies short-term loans. You are not borrowing a large amount to pay for a large purchase, you just need a small amount of cash for a short period of time.
However, some lenders simply don't offer a product for payday requirements, and we suggest you avoid the following apps if you are looking for a payday advance:
LendingClub app. You can get big loans from LendingClub, up to $40,000 in fact. Yet the smallest amount you can borrow from LendingClub is $1,000 which is much more cash than you typically need to get you through to payday. LendingClub loans are for extended terms of one year to several years, you cannot borrow from LendingClub only to repay your loan in a few days time.
Prosper app. Another solid lender, Prosper is great for larger loans over longer terms of several years. Prosper is not a good option if you need a small amount of cash for a short period of time. You will also find that Prosper loans take a few days to be approved and for cleared funds to land in your account.
Stay on top of these criteria to get paid sooner
Lenders will never allow you to borrow without first evaluating your credit application against a set of criteria. Next, many apps will only work if the ways you work and get paid meet certain conditions. Depending on the app you choose you may need to meet some or all of the following conditions:
Credit scoring. Some apps will evaluate your credit file and make a lending decision based on your repayment history. This does not mean you need to have a perfect credit file. FasterFunds and Avant for example will consider you even if you have bad credit, but you will be declined if you have severely adverse credit history such as a recent bankruptcy.
Electronic payroll. Earnin is an example of an app that requires you to be enrolled in an electronic payroll system. This is because Earnin needs to know that you are actually working before the app will issue a loan to you.
App subscriptions. Other apps require you to pay a monthly subscription fee to get access to loans. Dave requires a small $1/month subscription fee. MoneyLion Plus lets you borrow at low-interest rates, but you need to subscribe to a $79/month plan that includes a savings component.
Bank accounts. Note that many apps will require you to have a bank account. This requirement stands for two reasons: first, an app needs the ability to deposit funds into your bank account. Next, many apps automatically withdraw repayments from your account.
Final thoughts and what to do next…
Struggling with finances is a common problem.
Getting an advance on your paycheck can be the solution, but continuously relying on loans to get through the month is not the answer.
Even though many lenders will offer you small loans for free, you should really only take an early advance on your paycheck when it is an absolute emergency.
In case of an emergency, using a cash advance app can be a much better solution than dipping into an overdraft, or overdrawing your bank account without authorization. Payday advances can also be better than simply letting bills go unpaid: unpaid bills can lead to service cancellation and stiff charges for reinstatement.
Many apps include a built-in protection mechanism where you cannot borrow more than you have actually earned. Earnin is one example – you can only borrow what you have already earned. At the same time the app does not charge interest on your loans, avoiding an interest trap. Yet even with this built-in protection mechanism you should not get into the habit of continuously taking out loans to make ends meet at the end of the month.
So, which cash advance app will you be downloading next???