Editor's Note: Overdraft Apps provides detailed product reviews and recommendations based upon extensive research and our own hands-on testing. We may earn a referral fee when you sign up for or purchase products mentioned in this article.
Online shopping offers unrivaled convenience – you can buy electronics, clothes, groceries, or practically anything from your phone or computer and have it delivered to your door as fast as the same day! However, if you don't have a credit or debit card, it can be tough to access the variety and savings that online shopping offers. The good news is that some of the largest online stores – including Amazon – let you pay with your checking account number. Here's how it works.
Shop at Amazon >>> Click here to pay with your checking account number
Why pay with your checking account number?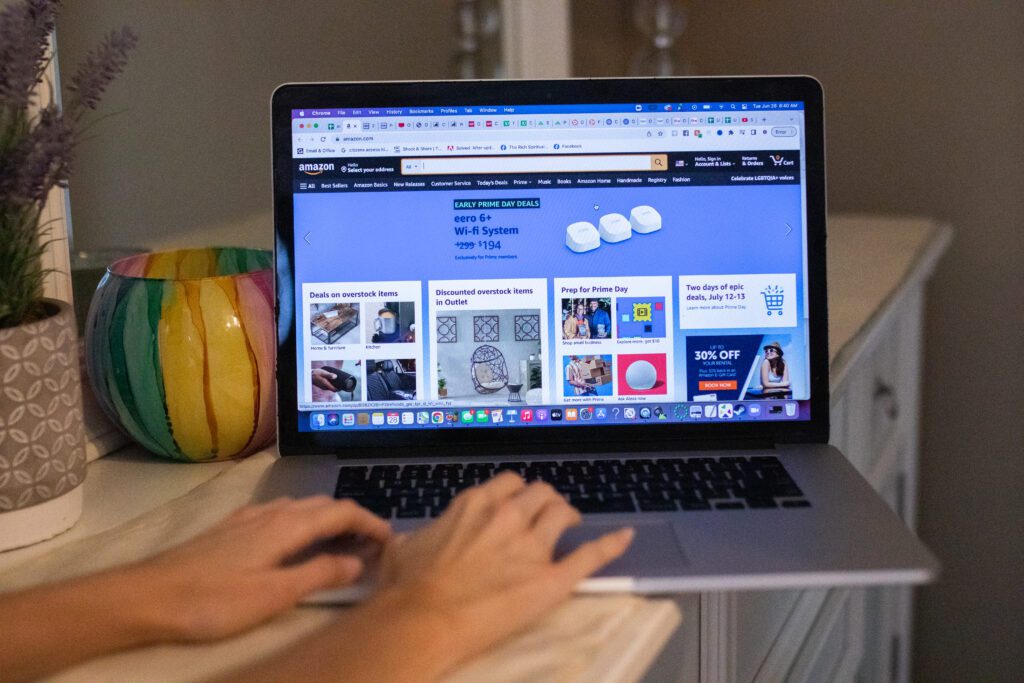 Before online shopping came along, paying by check was very common at local merchants. While you'll still see the occasional customer at the supermarket writing out a check to the cashier, payment via plastic or phone-based services like Apple Pay have made it far less common. Though they don't always make it obvious, a number of major retailers do allow you to pay online with your checking account number, too.
If you don't have a credit card, shopping with your checking account number is much more convenient and affordable than alternatives like buying prepaid debit cards. You can skip the trip to buy the card, avoid the high fees that are tacked on, and don't need to worry about how to access those annoying leftover balances. Most retailers don't charge any additional fees when you pay with your bank account number.
Additionally, if you need to make an urgent purchase but don't have quite enough cash in the bank, you can sometimes also shop online and pay with your checking account number even if your balance is a bit below zero – though beware of potentially steep overdraft fees.
You should note, though, that using your debit card to shop is generally a better option than paying with your bank account card number. Your Visa or MasterCard branded debit card will provide you with some dispute resolution services in case there are any problems with the transaction. It also provides better security in case your card number is lost or stolen. If someone obtains your checking account and routing numbers, they will have full access to your bank account and your bank is unlikely to reimburse you for fraudulent charges or withdrawals!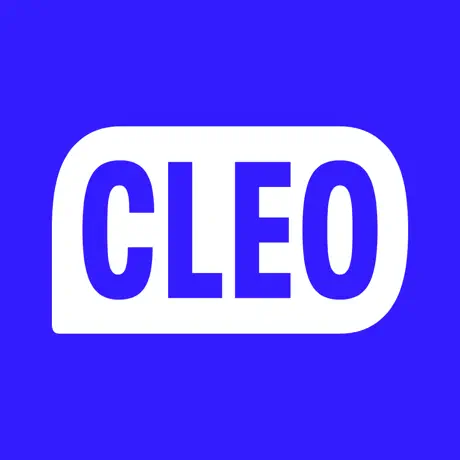 Why is Cleo one of our favorite cash advance apps?
Super speed - You could have up to $250 in your bank account in under 10 minutes!*
No, No, No! - No credit check, no interest, no tips, no late fees
😂 😂 🤣 -

Hilarious

, smart money advice you might finally listen to
*Eligibility requirements apply.
How to shop online and pay with your checking account number
Before you shop online, you'll need to pieces of information to pay with your checking account – your account number and your bank's routing number, which is a unique code that identifies your bank. Routing numbers are always nine digits long, while account numbers may be up to 17 digits long.
You can find your bank account number on your statement, online banking portal or on the bottom of your checks. Your bank's routing number is also printed on the bottom of your checks and can generally be found with a quick Google search for '[bank name] routing number', though note that some banks have multiple routing numbers so be sure to confirm that you are using the correct one if you search for it online.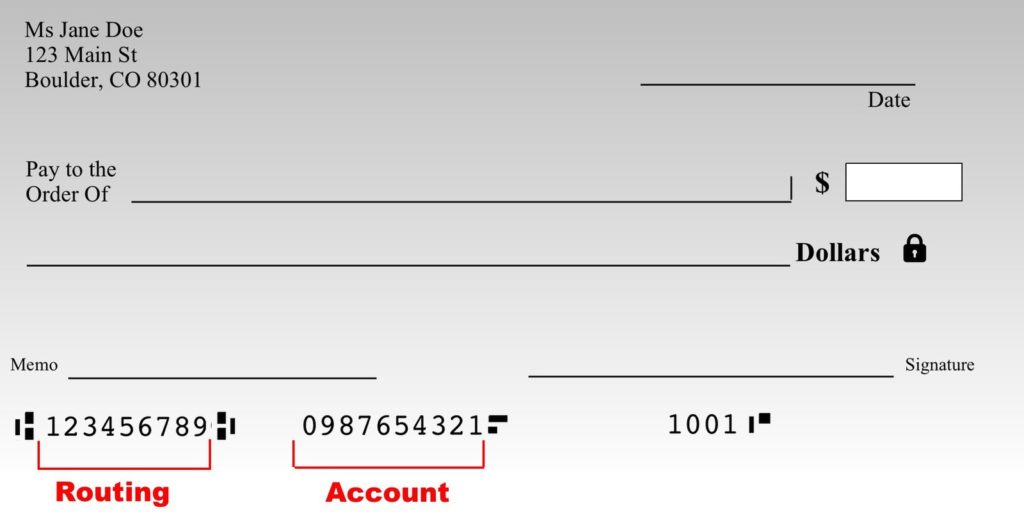 If you don't have a checkbook you can look at your monthly statement which should also contain both your routing and account numbers. Alternatively, log in to your online banking site which will display all your account info including the routing number. You can often find the routing number for your bank via Google, though use be careful – some banks have multiple routing numbers and using the wrong one can cause your transaction to fail.
Depending on the retailer you are shopping at making the actual payment can be as simple as entering your routing number and your account number. Most retailers will also need the name of the account holder and the address. You could also be asked for a driving license number.
Other retailers might require that you first fund your purchase by linking your checking account to a wallet. Either way, paying with your bank account number can be as easy as using a credit card or a debit card. You should note that many stores that accept payment via a bank account and routing account number often apply more robust fraud protection to these transactions, so you may sometimes face delays of up to several delays until your purchase is finalized and shipped to you.
Remember, anyone with your bank account and routing numbers could potentially access your bank account, so be sure to keep these numbers safe!
Where can you shop online and pay with your checking account?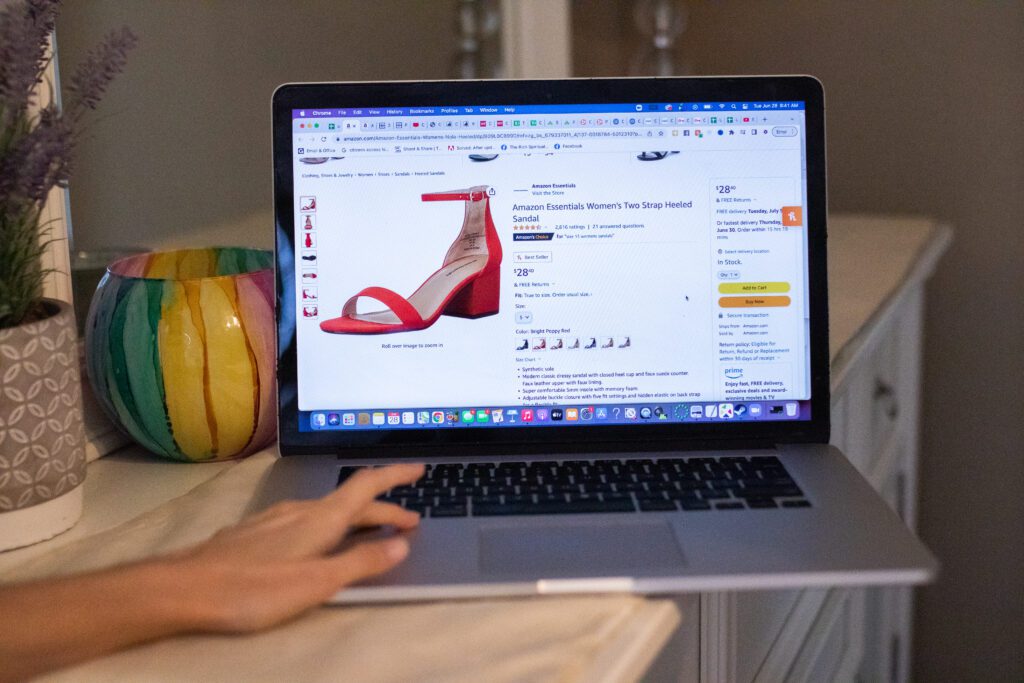 Paying with your checking account often isn't hard, but knowing what online stores accept a routing and account number can be.
You can buy electronics, clothes, jewelry, shoes, groceries, gift cards, or practically anything else online with your checking account number if you know where to shop. While many retailers don't directly accept checks for online payments, the great news is that biggest names in online shopping does! Amazon makes it easy to pay with your checking account number, giving you access to virtually anything with just a few clicks.
But what if you want to shop at the thousands of other merchants who don't accept checks online? Well notice how we said most of them don't accept checks directly? That doesn't mean you can't pay by check. One of the biggest names in tech – PayPal – offer solutions to help you shop online practically anywhere while paying with your checking account. These services are easy to set up, offer enhanced security and make it convenient to shop online and pay with your checking account number at most of your favorite online stores.
Here's how they work:
Pay with your checking account number at Amazon
Pay with your checking account number >>> Start shopping at Amazon
Everyone knows that Amazon offers one of the widest catalogs on the internet. You can buy almost anything from Amazon's huge online store. Amazon also offers a wide selection of goods for purchase from Marketplace members, giving you access to an even wider range of stuff to buy.
To use your checking account as a payment option, select Add a personal checking account at the bottom of the Shipping & Payment page during the checkout process.

Enter the bank routing number, also known as the ABA code.
Enter the checking account number. The account must be an ACH-enabled checking account at a bank branch located in the U.S.
Enter the name and the address of the principal account holder.
Enter the principal account holder's valid U.S. driver's license number or state-issued ID number, and the issuing state.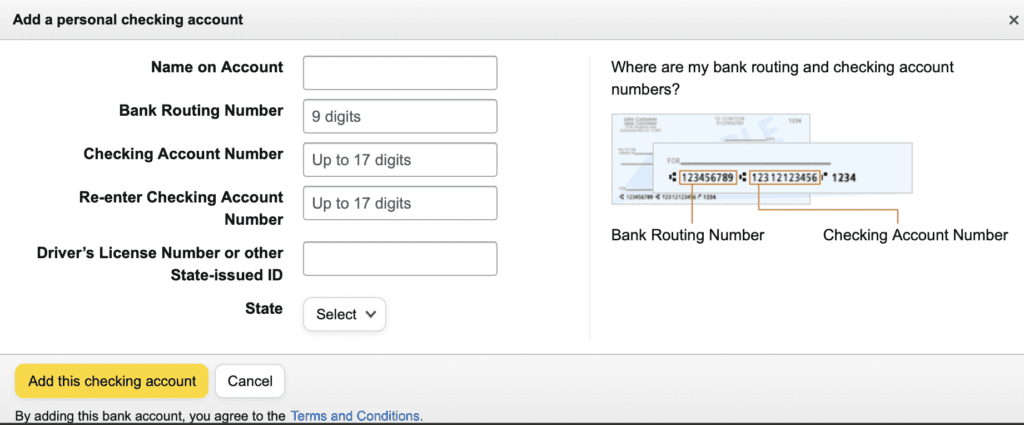 A few notes:
You can use any checking account provided your account is a personal account located at a branch in the U.S.
Your checking account must be ACH-enabled. Sorry, no savings accounts are accepted.
Corporate and business bank accounts can only be used with Amazon Business Accounts.
Shop at Amazon >>> Click here to pay with your checking account number
Get a $1,000 spending limit with Perpay
Wondering where you can get the latest Apple AirPods, or perhaps the buzzed-about PlayStation 5 without needing a credit card? Perpay is a popular way to shop online for the latest electronics, home appliances and fashion, from Mark Jacobs tote bags to trendy sunglasses and elegant jewelry.
Perpay is designed to help customers with bad credit shop top brands without busting their budget. Most people will instantly qualify for a $1,000 spending limit – even if you have bad credit. And you'll buy now and pay over time through your checking account in smaller, budget-friendly installments with no interest! Yes, prices are higher than you'll find at leading retailers, but when you compare the payments to what making them through high interest credit card may cost, you'll find they are often roughly the same. Plus, Perpay offers tools that can help you build your credit and even quickly qualify for an unsecured MasterCard that you can use anywhere.1
Now, how do you pay for all these cool things? It's pretty easy. When you buy something, the money comes right out of the paycheck that goes into your bank account. It's like buying stuff online and paying with your checking account number. No fuss, no complex steps, just straightforward shopping.
Get an instant $1,000 spending limit >>> Start shopping at Perpay
Using PayPal for online transactions
PayPal is a really versatile way to pay for goods online. You can fund PayPal purchases using a lot of methods, including a credit and debit card or your PayPal balance. You can also fund PayPal purchases directly from your bank account.
To do so, you need to link your checking account number to PayPal as one of your payment methods. When you make a purchase, PayPal will initiate an ACH transfer from your account to the merchant. PayPal is a great way to pay using your bank account because so many retailers accept PayPal for payment.
Buying a gift card with a checking account
The last point we'll cover is gift cards. Gift cards is an incredibly popular online purchase, and not only for handing out as a gift to someone you care for. You can use a gift card to buy from a retailer that does not support purchases from online checking accounts.
For starters, eBay is a great source for gift cards. And because you can pay for eBay transactions with PayPal, you can buy gift cards from eBay using your checking account number. So, if you can't buy from a store using your checking account, see whether you can buy gift cards instead.
What online stores accept routing and account number?
You don't need a card for online shopping. It should be clear by now that you do not need a credit or debit card to shop online or even order food. Simply choose one of the many merchants that offer online payment by checking account. If that's not possible, you have two alternatives: watch out for merchants that accept PayPal or Google Pay, alternatively see if you can find a gift card on, for example, eBay. Either way, with a little bit of effort, you should be able to buy from your favorite retailer without using a debit card.
Great tools to help You Pay with Your Checking Account Number
Use PockBox to top up your checking account by up to $2,500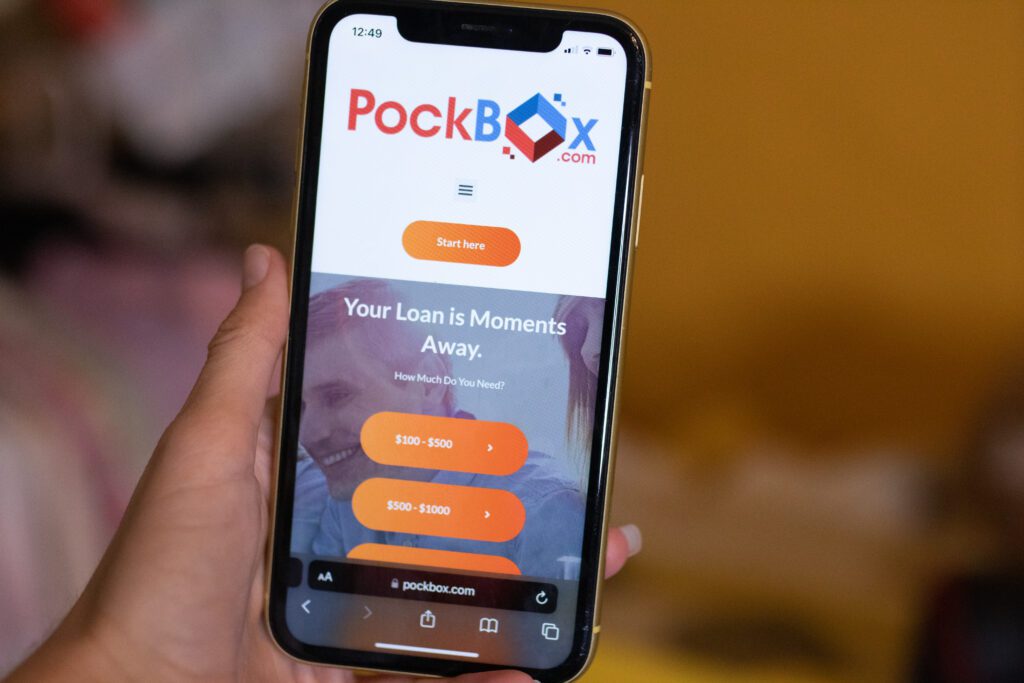 PockBox is the perfect app to top up your checking account (with up to $2,500) and use the money to buy stuff online. The process is sleek and straightforward and you can borrow as little as one hundred dollars, which makes PockBox handy if you need to grab something smaller online. All you'll need to do is provide some information about yourself and the PockBox app will connect you to up to 50 of the best lenders possible (and you can be approved in a matter of minutes!) PockBox can also connect you with cash advance apps that can help you quickly borrow $100 with no interest and no credit check!
Looking for a cash boost? >>> Explore PockBox here
Use SpotMe for fee-free cash advances up to $200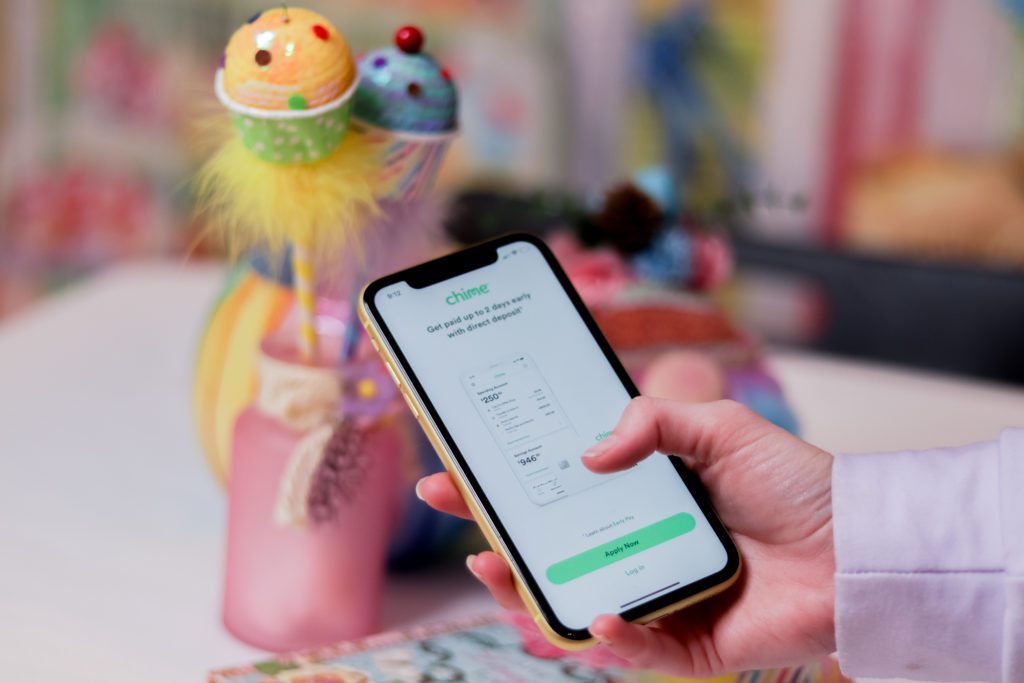 Chime SpotMe® can provide you up $200* in fee-free overdrafts.
Chime is an easy and convenient financial app that helps you manage and access your money. SpotMe lets you shop online via a debit card, and you can even overdraft your account with no overdraft fees. Limits start at $20 and can be increased up to $200.2
There is no cost to enroll in SpotMe, and once you set up your account to receive a qualifying direct deposit of $200 or more a month, Chime will cover up to $200 in overdrafts on your account – without charging you overdraft fees!
Here's an example of how SpotMe can help you shop online while avoiding costly overdraft fees:
You need to buy a $65 book for school, but only have $50 in your bank account. If you try to buy the book with your bank's debit card or checking account numbers, your transaction will either be declined or approved…with an additional $35 overdraft fee! Neither is an ideal situation.
But if you've set up SpotMe (and have your paycheck regularly deposited into your account) and use your Chime debit card to buy that book, the purchase will be covered with no fee to you. The $15 negative balance will be cleared the next time you deposit to your Chime account,
While SpotMe doesn't have high overdraft limits – and it doesn't cover checks, Venmo or some other payment methods – it does show you how much you can spend right in the app to help you avoid fees, as well as those embarrassing moments when your transactions are declined. You can access $20 in overdrafts right away (which can help you avoid those frustrating fees banks charge you for being overdrawn by just a few dollars) and you can grow your limit overtime.
The best part is that the sign up process is really quick and easy (less than 2 minutes). Click here to check it out.
BEFORE YOU GO… Check out our most popular articles:
WAIT! High overdraft fees aren't the only way your bank is costing you money.
With inflation overheating, you've probably heard that interest rates are climbing sharply. That means that for the first time in years, it's a great time to shop around for a high interest savings account.
The national average interest rate for savings accounts is currently 0.23% APY – that means that if you have $2,500 in a savings account, you'd earn just $5.76 after one year! Move those hard-earned savings to an FDIC-insured bank paying 3.50% APY and you'd earn $81.73 more!
Don't let your hard-earned savings sit there doing nothing. Check out the rates that you can earn at other banks:
Latest posts by Mitchel Harad
(see all)
Subject to credit approval. Not available to residents of California or New Hampshire. The Perpay Credit Card is powered by Deserve, Inc. and issued by Celtic Bank, a Utah-chartered industrial bank, Member FDIC.
Chime SpotMe eligibility requirements and overdraft limits: Chime SpotMe is an optional, no fee service that requires a single deposit of $200 or more in qualifying direct deposits to the Chime Spending Account each month. All qualifying members will be allowed to overdraw their account up to $20 on debit card purchases and cash withdrawals initially, but may be later eligible for a higher limit of up to $200 or more based on member's Chime Account history, direct deposit frequency and amount, spending activity and other risk-based factors. Your limit will be displayed to you within the Chime mobile app. You will receive notice of any changes to your limit. Your limit may change at any time, at Chime's discretion. Although there are no overdraft fees, there may be out-of-network or third party fees associated with ATM transactions. SpotMe won't cover non-debit card transactions, including ACH transfers, Pay Friends transfers, or Chime Checkbook transactions. See Terms and Conditions.

Chime is a financial technology company, not a bank. Banking services provided by, and debit card issued by, The Bancorp Bank or Stride Bank, N.A.; Members FDIC.