Editor's Note: Overdraft Apps provides detailed product reviews and recommendations based upon extensive research and our own hands-on testing. We may earn a referral fee when you sign up for or purchase products mentioned in this article.
Teens deserve a bit more financial independence compared to younger kids. Plus, just like adults, teens are switching away from cash payments and prefer paying with a card. Debit cards are a safe and easy to control alternative to cash.
But which is the best debit card for teens?
Read on to find out.
Best debit cards for under 18
Getting a debit card for your teenager isn't difficult, you have two main options. First, you can open a checking account for your teenager. Checking accounts are usually available for kids aged 13 to 18 but note that these are effectively joint accounts, as parent or guardian you must co-sign the application with your child.
Your other option is to get a prepaid debit card for kids and teens. Prepaid cards for teens typically come alongside very smart apps which let you manage your teen's allowances and spending from the comfort of your smartphone. That said prepaid cards are not bank accounts so don't quite carry the financial education benefits that a full-service checking account does.
On the flipside, traditional checking accounts for teenagers don't always allow the same control over spending while also exposing you to fees and charges if your teen handles the account badly. Once you've picked between checking accounts and prepaid cards you need to pick an institution that you think meets the needs of you and your kids best. We've taken a look around for you and found five of the best choices.
GoHenry Card
GoHenry is helping a generation of kids start building money confidence and provides an entry point for financial education. It's a fantastic tool to conveniently provide your kids with spending money, track where they're using it and teach them easy-to-understand lessons about managing money.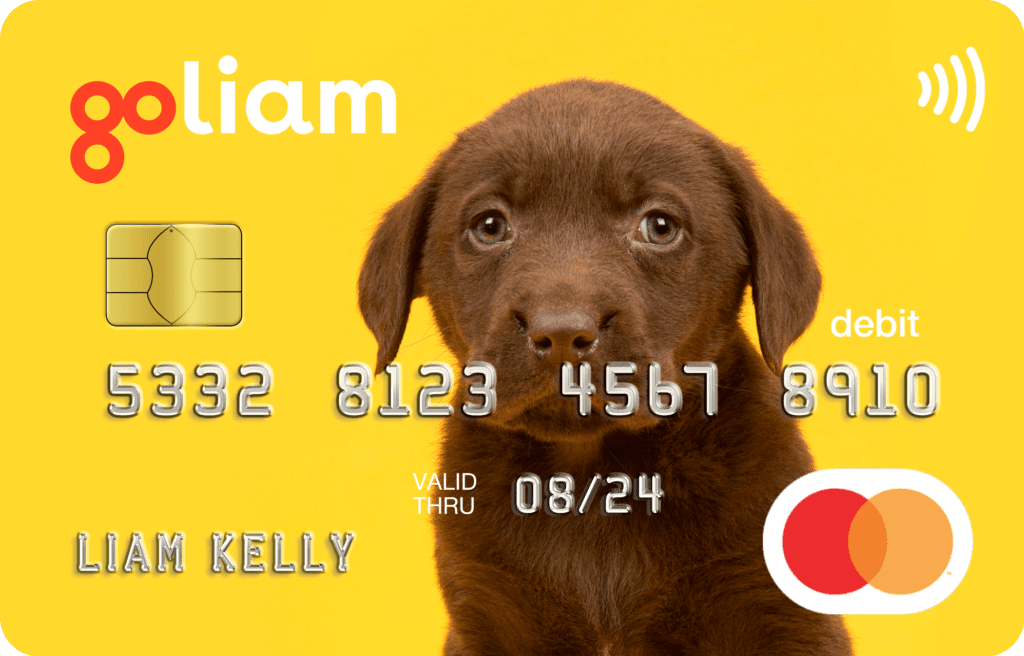 Over one million families are using GoHenry to help teach lifelong money skills. With a linked pre-paid debit card and app, kids can learn the basics of budgeting and spending without racking up huge bills. Plus, with plenty of features for parents like an allowance manager, real-time notifications, and customizable spending controls, there's peace of mind for the whole family.
Not sure if it's right for you? Well you can start using GoHenry with a 30-day trial to see how it goes. You're likely to quickly find that GoHenry makes sending money to your child faster and more convenient, and the ability to spend and track their spending is invaluable for teaching them lessons about money, nutrition (stay on top of al of those fast food purchases) and responsibility.
Perfect for kids aged 6 to 18, the addition of videos and interactive quizzes in the GoHenry app, along with a physical debit card for purchases, nurtures money confidence and builds real-world financial habits – with zero risk of overdrafts.
Here's are some of the features GoHenry offers to help instill money confidence:
Pre-paid MasterCard debit card: This means no overdrafts. Ever.
Mobile app: With a companion app for Moms and Dads to supervise
Regular payments: Set up pocket money payments and teach about savings
Plus, since the card is linked to the app on the parent's phone, you can do more than just dole out money to your kids. The app gives you powerful features to help you make stay on top of how and where your kinds are spending money, including:
Set chores: Pay kids for chores completed to show the value of money
Instant notifications: Know what your child is spending and where
Parental control: Choose where and how much your child can spend
GoHenry is the popular choice to help your kids learn about money and manage spending, with 1.5 million members and counting! You can order your GoHenry card in minutes and cancel at any time.
Capital One 360 Money Account
Great for older teens who can be trusted with a full-service checking account, the Capital One 360 Money Account doesn't charge any fees and does not have an account minimum. It offers a basic level of account tracking where parents can opt to get text messages or emails whenever a transaction is made. Just like any checking account today the Money Account comes with a debit card.
Remember, this account is just the same as a Capital One 360 checking account, with the distinction that it can be opened jointly by you and your teen. As a checking account, you should watch out for overdraft fees, for example. Nonetheless, it's a good option, particularly where your kid may be working part time as their employer can deposit their salary directly into your kid's Money Account.
Capital One offers an app for both mobile platforms that gives teens closer control over their checking account. The Capital One Mobile app for Android scores 4.7 / 5 with most users pretty happy with the functionality. Over at iOS the Capital One Mobile app scores 4.7 / 5 too, few complaints arise though one user had problems with automatic transfers.
Wells Fargo Teen Checking Account
Another good option for parents that want their older teens to experience what it's like to manage finances as an adult, the Wells Fargo Teen Checking Account is available to teens aged 13 to 17, but their parents or guardians must sign as a co-owner of the account. There is a minimum deposit to open the account of $25, but no ongoing services fees.
Just like the Capital One Money Account, Wells Fargo's Teen Checking Account also comes with a debit card, but Wells Fargo brings extra control by letting parents set spending and withdrawal limits. Teens will like the included money management tools, such as My Spending Report and Budget Watch.
Wells Fargo also does a good job with their mobile app, scoring 4.8 / 5 in the App Store with iOS users calling it simply the best banking app out there. Android users are mostly happy too, with an average score of 4.4 / 5, but a couple of Android glitches surface, including one user complaining about problems with fingerprint authentication.
Greenlight Debit Card for teens
Greenlight is perhaps the most popular option if you want a bit more control over how younger teens spend their cash. Just like FamZoo, Greenlight is a prepaid debit card so it doesn't have either the pros or the cons of a standard checking account. Costs are similar to FamZoo at $4.99/month for the whole family but there is no advance-payment option so FamZoo can be less expensive.
You also get a solid app which allows you to control spending for each individual child. Greenlight goes a bit further than FamZoo by offering the ability to set a budget down to the level of an individual retailer. So, you can specify how much your kid can spend at Starbucks, Walmart, etc.
Another unique Greenlight feature is the ability to set a custom interest rate for your kid's funds. This can help teach your kids the value of savings and investing.
>>> Get Started with Greenlight
FamZoo prepaid debit card for teens
If you have younger teens, say 15 and under, you might want to check out FamZoo. A prepaid debit card, FamZoo comes with stacks of money management options that help you control how your teen manages money. It comes with a handy app that gives you full visibility into how each of your kids spend their money.
Because it's not a checking account FamZoo takes away the risks of hidden fees such as overdraft charges. However, that does mean that it's not a great option for older kids who are in part-time employment and who need an account that can accept payments.
FamZoo is free to try for a month and free to top up. Ongoing use is charged at $5.99 or $30 a year if you pay in advance. The fee covers the whole family. Any US family can apply for a card and unlike a checking account, you can just order it online, instantly, with no credit checks or anything like that.
According to iOS users Famzoo's app is rather good, with an average review of 4.6 / 5 but for the moment the review pool is small, with only 93 ratings in total. Android users are enthusiastic too, giving FamZoo 4.4 / 5, however one user complained that the FamZoo app lacks features, suggesting that it is better to use the FamZoo website.
Chase Liquid Card for teens
Parents leading busy lives might not have the time or the inclination to set up apps like FamZoo and Greenlight. If that's you consider the Chase Liquid Card, particularly if you have just one teen you want to give a card to. Chase's Liquid Card is a straight forward option, but you don't get a sophisticated app with detailed spending control settings, for example.
Instead, you get a single debit card in exchange for a service fee of $4.95/month. Chase doesn't charge you a fee to open the account and you won't pay to top up the card either. If your teen is under 18 you'll need to apply for the account on their behalf, but because this is a prepaid card and not a checking account you're not on the line for overdraft charges or other hidden costs.
Just like Capital One and Wells Fargo, you access your Chase Liquid account via the all-purpose Chase Mobile app for iOS and Android. Chase Mobile is popular on iOS, with 1.6m reviews averaging to 4.8 / 5. Android users also have few complaints about Chase, reviews average to 4.6 / 5.
How to choose a teen debit card
We've given you plenty of good options, but how do you go about choosing a card? First, consider the age of your teens. If they're 15 and under the GoHenry app is tough to beat!
For older teens, we suggest a checking account as it is a great way for older children to learn what managing finances is really about. Both Capital One and Wells Fargo's teen checking accounts include notifications and alerts so you can keep an eye on your kid's spending. However, Wells Fargo does have an advantage thanks to its bundled budgeting tools.
WAIT! High overdraft fees aren't the only way your bank is costing you money.
With inflation overheating, you've probably heard that interest rates are climbing sharply. That means that for the first time in years, it's a great time to shop around for a high interest savings account.
The national average interest rate for savings accounts is currently 0.23% APY – that means that if you have $2,500 in a savings account, you'd earn just $5.76 after one year! Move those hard-earned savings to an FDIC-insured bank paying 3.50% APY and you'd earn $81.73 more!
Don't let your hard-earned savings sit there doing nothing. Check out the rates that you can earn at other banks:
Latest posts by Mitchel Harad
(see all)