Editor's Note: Overdraft Apps provides detailed product reviews and recommendations based upon extensive research and our own hands-on testing. We may earn a referral fee when you sign up for or purchase products mentioned in this article.
| | | | |
| --- | --- | --- | --- |
| Fee | Cost | Maximum Overdrafts Per Day | Maximum Daily Cost |
| Woodforest Overdraft Fee | $32 | 3 | $96 |
| Woodforest Insufficient Funds Fee | $32 | 3 | $96 |
| Woodforest Linked Account Transfer Fee | $5 | 1 | $5 |
Woodforest Bank is a mid-sized bank, yet it earns more revenue from overdraft fees than nearly every other bank in America! In fact, a recent study showed that Woodforest makes an average of $135 per account in overdraft fees each year. And that money, of course, is coming from accountholders like you.
If you're a Woodforest customer, it's important for you to understand the bank's overdraft policies, how to avoid overdraft fees, and alternatives to access the cash you need.


Why have 14 million people ditched their high-fee bank for Chime?
Chime is a financial technology company, not a bank. Banking services and checking account provided by The Bancorp Bank, N.A. or Stride Bank N.A.; Members FDIC.
What We'll Cover:
What Is Woodforest Bank's Overdraft Limit and Policy?
Woodforest Bank, like most banks, allows overdrafts on some transactions, but only at their discretion, including checks and transactions made with your account number and any automatic payments (known as an ACH item).
Woodforest does not allow you to overdraft at an ATM or complete debit card transactions for essentials like gas and groceries unless you opt-in, although you can opt into the bank's Standard Overdraft Practices. You will incur overdraft fees for most of these transactions. As of August 1, 2022, Woodforest Bank will no longer charge NSF fees.
The payment of each item will be decided by the bank and is done at their discretion, based on whether your account is in good standing and how many overdraft fees you may have incurred.
Just because the bank agrees to pay for an overdraft one day does not mean they will keep paying for future ones. Your best bet would be to settle the balance in your account as soon as possible.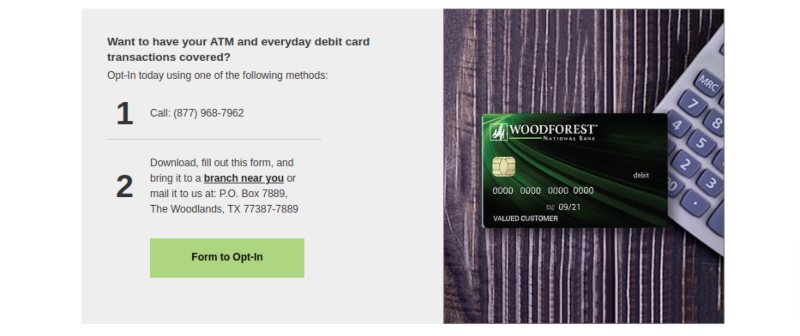 How Much are Woodforest Bank Overdraft Fees?
Woodforest Bank will charge you a $32 overdraft fee for every item paid. You will be limited to only three overdraft fees per day. That means you could face up to $96 in overdraft fees each day.
If your account has not been settled or is still overdrawn after 35 days, it may no longer remain in good standing with the bank, affecting how many more times the bank will cover your overdrafts.
It could also affect your long-term relationship with the bank, making it harder for your other loans to be approved.
One important note: the bank will not charge you for an overdraft on transactions of $1 or less. You can also opt-out of the bank's overdraft practices at any time you wish to avoid overdraft fees, though this may limit your ability to use an ATM or make debit card purchases when your balance is low. Checks and bill payments may also be declined, leading to potential fees from both Woodforest and the intended payee.
Until July 31, 2022, the following fees apply:

WAIT! High overdraft fees aren't the only way is costing you money.
With inflation overheating, you've probably heard that interest rates are climbing sharply. That means that for the first time in years, it's a great time to shop around for a high interest savings account.
savings accounts currently pay just APY1 as of . That means that if you have $2,500 in a savings account, you'd earn just after one year! Move those hard-earned savings to an FDIC-insured bank paying 3.50% APY and you'd earn $87.49 after one year, and some banks now pay even higher rates!
Don't let your hard-earned savings sit there doing next to nothing. Check out the rates that you can earn at other banks:
What is Woodforest Bank's Overdraft Limit at an ATM?
Emergencies happen to everyone, and while expected, they're often costly. ATMs provide a quick and easy way to get the cash you need, but what happens if you don't have enough money in your account? If you've opted into ATM overdraft coverage, you'll worry less about being able to access cash.
Your ATM withdrawal limit is set at Woodforest's discretion and is based on your account history. It may change over time and, unfortunately, is not communicated to you by the bank.
If Woodforest Bank does permit you to overdraft at an ATM, it will charge you $32 for every overdraft transaction, regardless of the amount – overdraft fees may exceed the amount of your ATM withdrawal. Since you can be charged up to three $32 overdraft fees per day, just a few small transactions like buying a cup of coffee with your debit card, taking a few twenties out of the ATM, and picking up a few items at the grocery store can quickly lead to a whopping $96 in overdraft fees.
There are several ways you can opt into ATM overdraft coverage with Woodforest Bank:
Visit your local Woodforest Bank
Edit your overdraft settings in your mobile app (easiest option)
Call your local Woodforest Bank at 1(866) 226-5724
You can also cancel your ATM overdraft protection by following the above steps to begin the coverage.
Does Woodforest Bank Charge NSF Fees?
An NSF fee (also known as an insufficient funds fee) occurs when you do not have enough funds to finalize a transaction, and the bank decides to send the item back instead of covering it. Woodforest Bank charges a $32 NSF fee every time an item is returned unpaid.
Say that you only have $500 in your account, but write a check for $600. You have overdrawn quite a few times this year, so your account is no longer in good standing with the bank, and they decide they won't cover this transaction.
Not only will your check bounce (not be paid to the recipient), Woodforest will charge you a $32 NSF fee. Though your $500 balance will remain in your account, you may also be subject to additional fees (and hassle and embarrassment) from the intended recipient of the check.
Can You Get an Overdraft Fee Waived?
Despite common opinions, it could be possible to have your overdraft fee refunded by the bank. If your account is in good standing with the bank and you have the credit history to prove it, the bank may consider refunding or waiving your overdraft fee.
Even so, your bank may not do this every time for you. If you make overdrawing a habit, they won't consider a refund.
How To Avoid Overdraft Fees With Woodforest Bank
Overdraft fees can seriously harm the financial stability of some families, especially those with low-wage jobs. But how can you avoid overdraft fees if you simply don't have enough money? Thankfully, some tools were created to help people better face this issue of overdrawing from accounts.
Use Woodforest Banking Tools
The leading cause of overdrafts comes from not knowing your bank balance. Take advantage of ATMs to continually check your balance, or download the app to see your account balance anytime, anywhere.
You can set up alerts to help you stay informed. Linking accounts is another option, as Woodforest Bank allows you to link accounts to stay in the green.
Use No-Fee Overdraft Apps
Using the tools of Woodforest Bank can be helpful, but it also keeps you within the bank's sphere of influence. Instead, try a third-party option like Chime's SpotMe. SpotMe is free, and once you've set your account up to receive a maximum of $200 from your paycheck, you can begin receiving between $20 to $200 with no overdraft fees.
Suppose you need to fill up your car with gas which usually costs about $50, but you only have $40 in your account. With the standard Woodforest overdraft fee, this will cost you $82.
With SpotMe, you'll only pay the $50 with no extra overdraft fees attached, so long as you deposit part of your next paycheck into your SpotMe account to pay it off.
SpotMe can help you avoid all those nasty overdraft fees, but it was created to be a long-term tool and won't be able to provide you with fast cash. If you need money, consider the third and final option below.
Sick of overdraft fees? Explore SpotMe here.
Need a little pocket money?
Get Cash Using a Cash Advance App like PockBox to borrow up to $2,500
Cash advance apps like PockBox allow you to get cash fast until your payday finally comes. Unlike most lenders, PockBox allows its users to borrow up to $2,500. That's up to 10x more than other companies. So even if your credit score is poor, you can still get approved and get the funds you need.
As easy as it may seem to get cash fast from companies like PockBox, remember that this short-term solution cannot solve your financial troubles. Use this money to pay off any debts or missing payments you might have instead of trivial purchases for things you don't need.
CLICK HERE FOR UP TO $2,500 IN MINUTES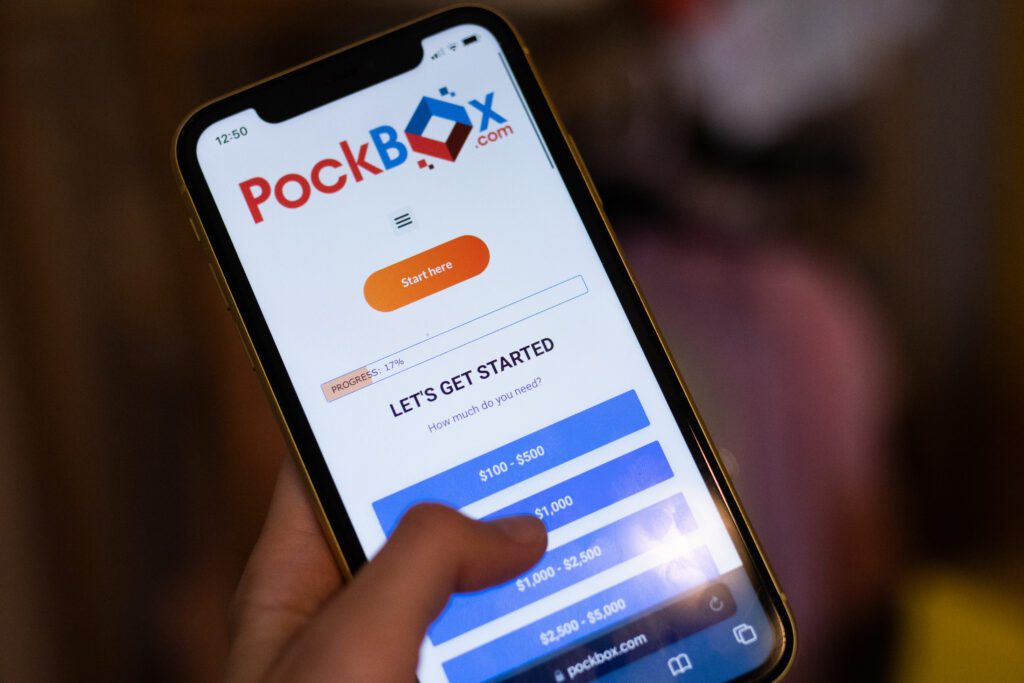 Final Thoughts and What To Do Next…
If you want to avoid missing bills, and skip the annoying overdraft fees, remember the tools you have at your disposal. Use the alerts and mobile banking Woodforest Bank offers and third-party tools like SpotMe and PockBox.
These tools can help you stay on top of your account balance by allowing you to keep track of your money and help you should you accidentally overdraft.
Banking no longer has to be scary now that you have the tools that Woodforest Bank and others have created for you. Consistently avoiding overdraft and NSF fees will keep your budget on track and give you confidence and peace of mind regarding your finances.
Latest posts by Mitchel Harad
(see all)
Chime SpotMe is an optional, no fee service that requires a single deposit of $200 or more in qualifying direct deposits to the Chime Checking Account each month and Visa debit card activation. All qualifying members will be allowed to overdraw their account up to $20 on debit card purchases and cash withdrawals initially, but may be later eligible for a higher limit of up to $200 or more based on member's Chime Account history, direct deposit frequency and amount, spending activity and other risk-based factors. Your limit will be displayed to you within the Chime mobile app. You will receive notice of any changes to your limit. Your limit may change at any time, at Chime's discretion. Although there are no overdraft fees, there may be out-of-network or third party fees associated with ATM transactions. SpotMe won't cover non-debit card transactions, including ACH transfers, Pay Anyone transfers, or Chime Checkbook transactions. See terms and conditions.