Editor's Note: Overdraft Apps provides detailed product reviews and recommendations based upon extensive research and our own hands-on testing. We may earn a referral fee when you sign up for or purchase products mentioned in this article.
Strapped for cash and need a little extra to keep you going until your next paycheck arrives?
You're not alone.
If you're one of the 77% of Americans who feel anxious about their financial situation, having a way to top up your checking account can be a lifesaver.
Enter money lending apps.
The best emergency cash apps that will loan you money can help provide fast funds with lower fees than payday loans – or no fees at all. Even better, with the right loan app, cash is only a few taps away on your phone.
8 apps for when you need emergency cash immediately
Smoothing out bumps in your finances can be a little more manageable (and less stressful) with your pick of apps that loan you money
Each lending app on this list is slightly different in how they work, qualification requirements, maximum loan options, and the speed funds land in your bank account. Some will let you immediately borrow $25 and increase your limit through usage history. While $25 may not be much, it can be a lifesaver if you're out of cash and need necessities like gas or groceries. Others apps can help you borrow $200 and up from the start. Many of these money borrowing apps charge no interest. Many have no credit check. And you can even enjoy zero late fees if you need some extra time to repay your loan.
What they all have in common is that they can help you avoid the cycle of crushing debt and high-interest rates that come with many personal loans. Here are some of the best money lending apps that can help you out of a jam when you need emergency cash immediately.
🤓 Overdraft Apps Tip: Do your homework and compare multiple apps before making your choice. Apps that charge monthly fees or tips can look affordable but may translate into high total costs. The best money loan app for you will be convenient and flexible without unnecessary fees.
#1. Albert: Best for no-interest cash advances up to $250 (and a sign-up bonus you won't believe…)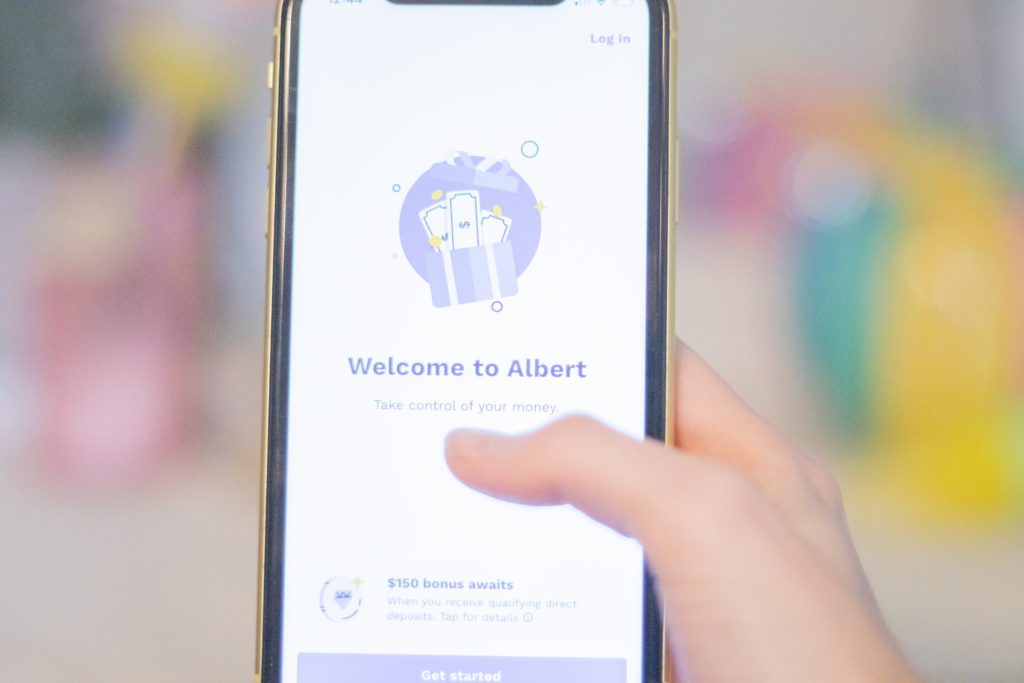 Albert offers up to $250 in cash advances known as 'Albert Instant'.1
There's no interest, fees, or credit check, so you won't miss out just because your credit score has taken a hit. And, with zero late fees, you won't be stung with frustrating charges if you need a little extra time to pay back your cash advance.
You can borrow up to three Albert cash advances per pay period. So if you need a little more than apps like Go2Bank can provide (starting at just $10), Albert might be your new favorite app.
You have a couple of options for using Albert and accessing cash advances.
A). You can create an Albert Cash bank account with no account fees or minimum balance requirements – including near-instant access to cash advances and access to your paycheck up to two days early. You'll also get an Albert debit Mastercard, which can be used for purchases or to withdraw cash at 55,000 ATMs.
B). You can get your cash advance instantly via an Albert debit card with no express fee, but if need cash immediately for an emergency, you'll need to pay up to $6.99 to have it sent to your bank account.
Whatever option you choose, getting a $250 money loan with a few taps on your smartphone is easy. Oh, and new users are also eligible for a $150 account bonus2
just for signing up – all you have to do is give the app a try!
Get instant cash from Albert >>> Claim your Albert signup bonus
#2. PockBox: Best for larger loans up to $2,500 even if you have bad credit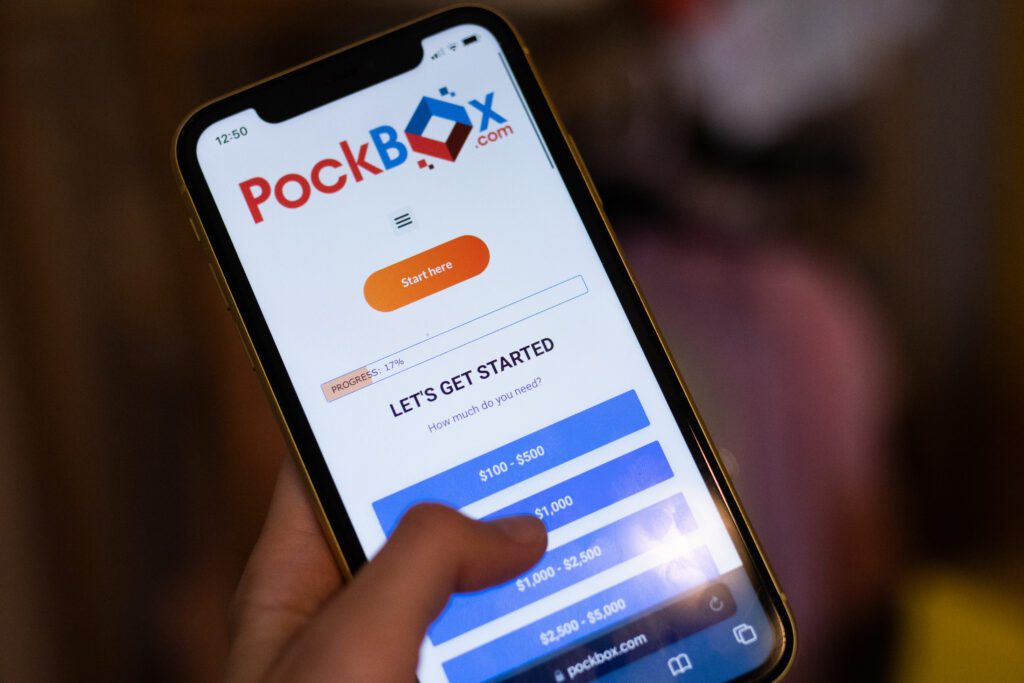 PockBox compares lenders for loans up to $2,500 – which is great if you need more than the other money loan apps on this list.
Loans start as low as $100 for smaller expenses. If you need more, simply enter some basic information about yourself and PockBox will compare lenders and outline your options in a few minutes. There's no obligation to accept any offer so you can see what you qualify for with zero commitment. And since many PockBox lenders offer loans for borrowers with low or no credit scores, you may still be eligible even if you've been rejected elsewhere.
If borrowing a few hundred bucks isn't enough to cover your emergency expenses, the $2,500 cash advances through PockBox may be an ideal solution.
Compare Loan Offers Up to $2,500 >>> Browse Pockbox For Free
🤓 Overdraft Apps Tip: If your credit score is poor but you don't want to commit to a long-term or expensive credit builder loan, apps like Kikoff can provide a credit solution for just $5 per month. With a one-year commitment, many customers have seen their credit score jump by 58 points, making it a quick, cost-effective, and credit-boosting option to consider.
#3. MoneyLion: Best for low-cost cash advances up to $250 and credit builder loans up to $1,000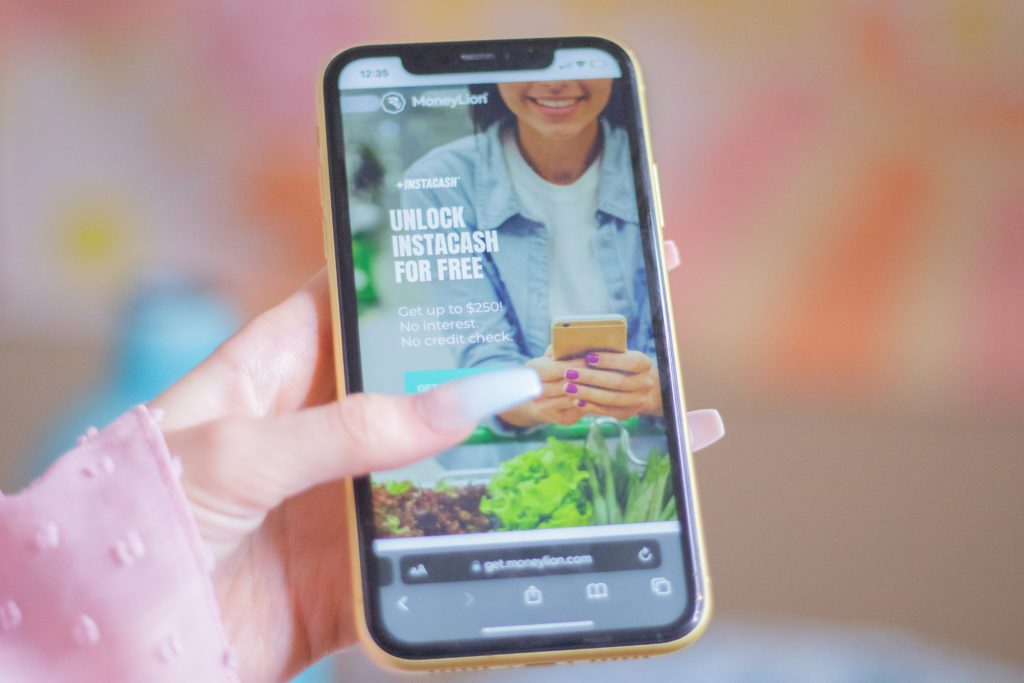 MoneyLion earns its spot on the list of best money loan apps with Instacash advances up to $250 – and no credit checks!3
If you send cash to an external account, your funds will be available between 1 – 3 business days. Or, if you opt for a MoneyLion checking account (known as RoarMoney), you can access cash in 12 to 48 hours and increase your borrowing limit to $300.
If you're in a jam and need your money immediately to pay for emergency expenses, you can choose to pay an Instacash Turbo fee of $5.99 (to your RoarMoney account), or $8.99 (to your external bank account).
Your cash advance limit depends on a recurring direct deposit from an employer or benefits payment, but there is no interest or fees which is a huge bonus when money is tight. And since tipping is optional (and won't affect your ability to access quick money loans), you can request money quickly without unnecessary costs and fees.
As a bonus, you can apply for a MoneyLion Credit Builder Plus membership to unlock credit builder loans for up to $,1000 – with some of your funds available right away!
Get cash advances up to $250 with no interest >>> Check out MoneyLion
#4. Dave: Best for small cash advances from a full-featured financial app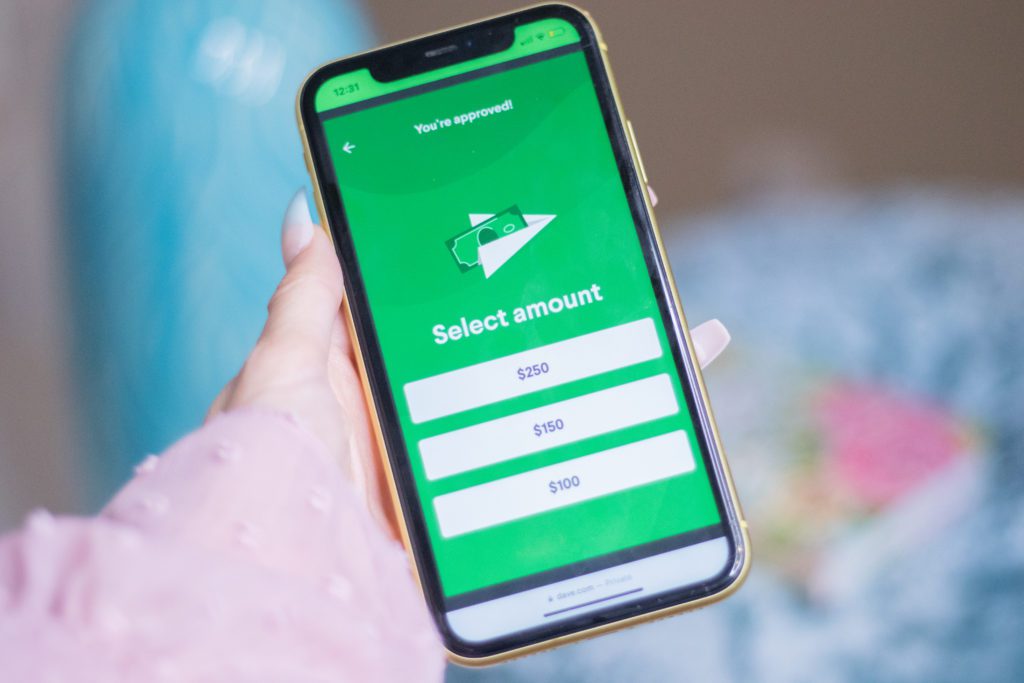 Of all the apps that lend money, Dave is tough to beat thanks to its $500 cash advances with no interest and no credit checks.4
There are three ways to access your funds through this popular money lending app:
Dave Spending Account: Get your money in seconds (literally!). Express fees range from $1.99 to $9.99 depending on the size of your advance.
External Debit Card: Money is sent to your debit card of choice and is available within 1 hour. Fees range from $2.99 to $13.99.
External Bank Account: Funds are sent as a bank transfer with money available within 3 business days. There is no fee.
You won't have to pay interest on your cash advance. Instead, there's a $1/month membership fee. You're encouraged to tip but there's no obligation, and your ability to access cash advances won't be impacted either way.
On top of putting $500 cash in your pocket, Dave also comes with automated budgeting tools and cash-back offers available through select stores and restaurants.
Get a cash advance for up to $500 instantly >>> Check out Dave for free
#5. Chime SpotMe: Best for fee-free overdrafts up to $200 with $20 available today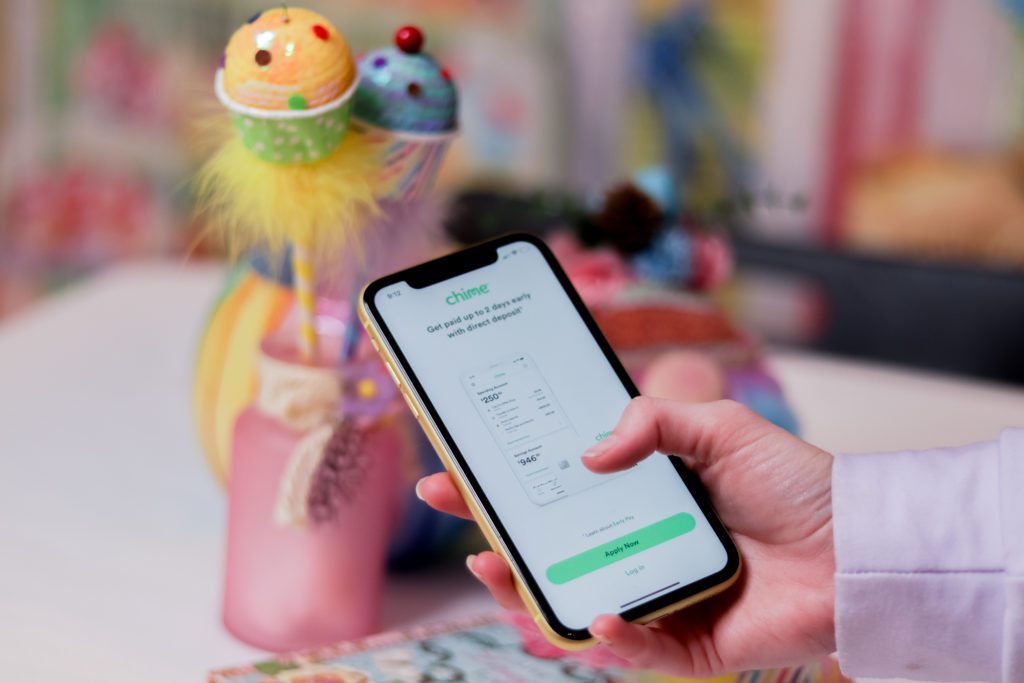 Chime makes it easy to manage your money through your phone and a Chime debit card.
With a host of features, the best is undoubtedly Chime SpotMe®. This lets you access up to $200 in fee-free overdrafts by withdrawing cash at an ATM or via your debit card. You'll need at least $200 in qualifying direct deposits to your Chime account each month to qualify. But with no fees (tipping is optional but don't feel obligated), you can set up SpotMe before you need to overdraw and then use the feature going forward so you can confidently access some extra spending power immediately in case of an emergency.
On top of a handy $200 in fee-free overdrafts,5you can access your paycheck up to two days early through direct deposits as well as access banking services via the loan app including secured credit cards, high-yield savings, and fee-free ATMs.
Get up to $200 in no-fee overdrafts >>> Sign up with Chime in less than 2 minutes
#6. Current: Best for up to $200 in overdrafts on debit card purchases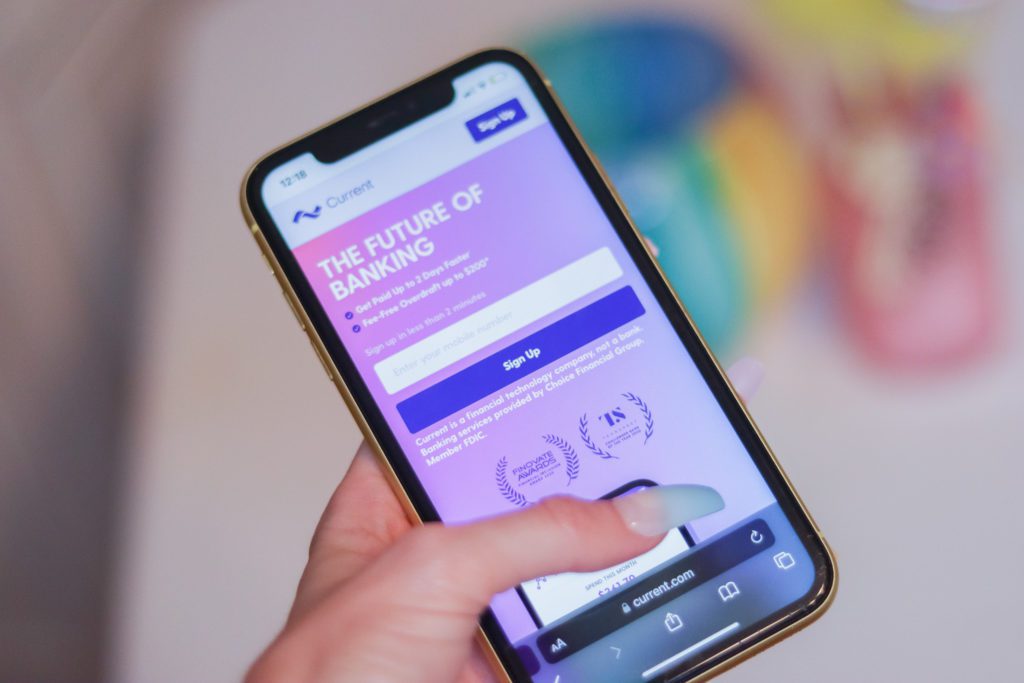 Current offers a range of handy features to help you manage your money and avoid contributing to the estimated $8 billion in overdraft fees collected by banks this year.
Current lets you get paid up to two days early with direct deposits. And you can also overdraft your checking account by up to $200 without any fees6. This feature – known as Overdrive – is available via a Current debit card and hugely popular.
To qualify for Overdrive, you'll need an active Current account, at least $500 in qualifying direct deposits over each 30-day period, and be 18 years or older. As long as you tick these boxes, you'll be eligible for $25 in fee-free overdrafts immediately. This can be increased to $200 over time so when you're short on funds, you don't need to dip into overdrafts and cop the $39 fee (or more!) to cover emergency expenses or bills.
Say Goodbye to Overdraft Fees >>> Sign up for Overdrive in less than 2 minutes
#7. SeedFi: Best for larger loans designed to improve your credit score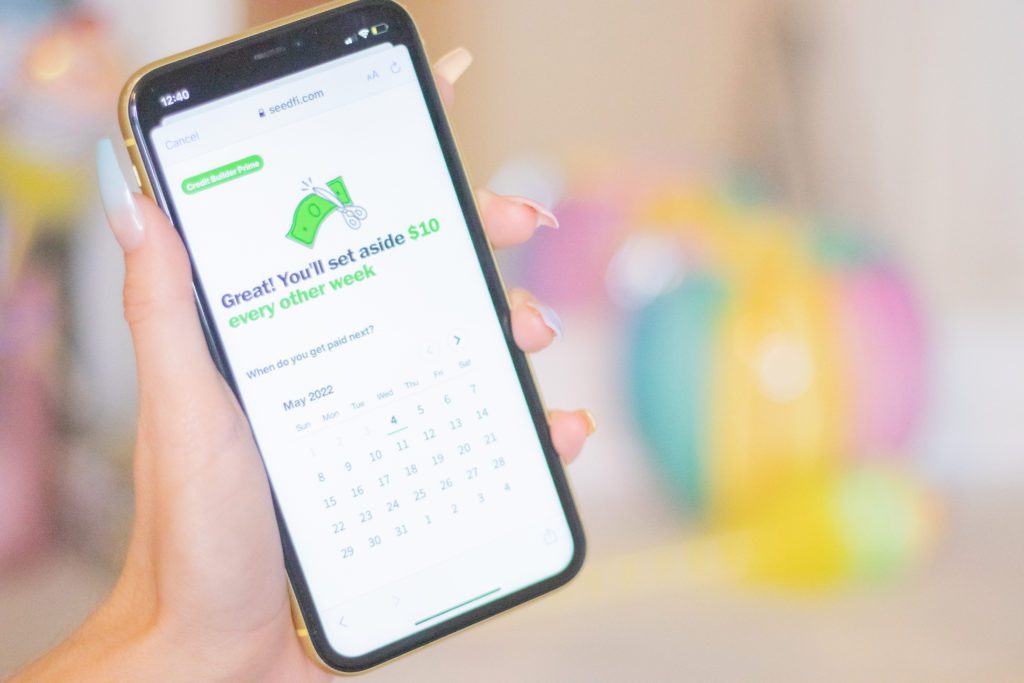 Most apps that lend money do just that – they lend you money! SeedFi earns its spot on the list with handy credit builder loans that can deliver cash immediately AND improve your credit history by reporting on-time payments to the major credit bureaus.
Win-Win.
SeedFi provides a couple of options to choose from including a Borrow & Grow plan or a Credit Builder Prime plan. Here's how each option stacks up:
Borrow & Grow: You get a little cash upfront with the rest of your loan kept in a locked savings account. Loans for first-time borrowers range from $1,500 to $9,000 with $300 to $5,000 cash available immediately
Repayment periods range from 10 months to 48 months and APRs range from 11.59% to 29.99%. You keep all the money in your savings account once you pay off your loan. Spend, invest, save – whatever you want!
Credit Builder Prime: SeedFi opens a $1,000 line of credit in your name and you decide how much you want to draw (from $10-$40) each pay period. SeedFi deposits this amount into a locked savings account in your name as a small, interest-free loan. When you get your paycheck, you simply pay SeedFi back – no fees, no interest.
SeedFi reports your payments to the three credit bureaus. W,ith each payment you are boosting your savings and your ability to build better credit. Once you save $500, SeedFi gives you access to it in full.
Access up to $9,000 >>> Check Out Our SeedFi Review
#8. Earnin: Best for accessing your paycheck early (up to $500 per pay period)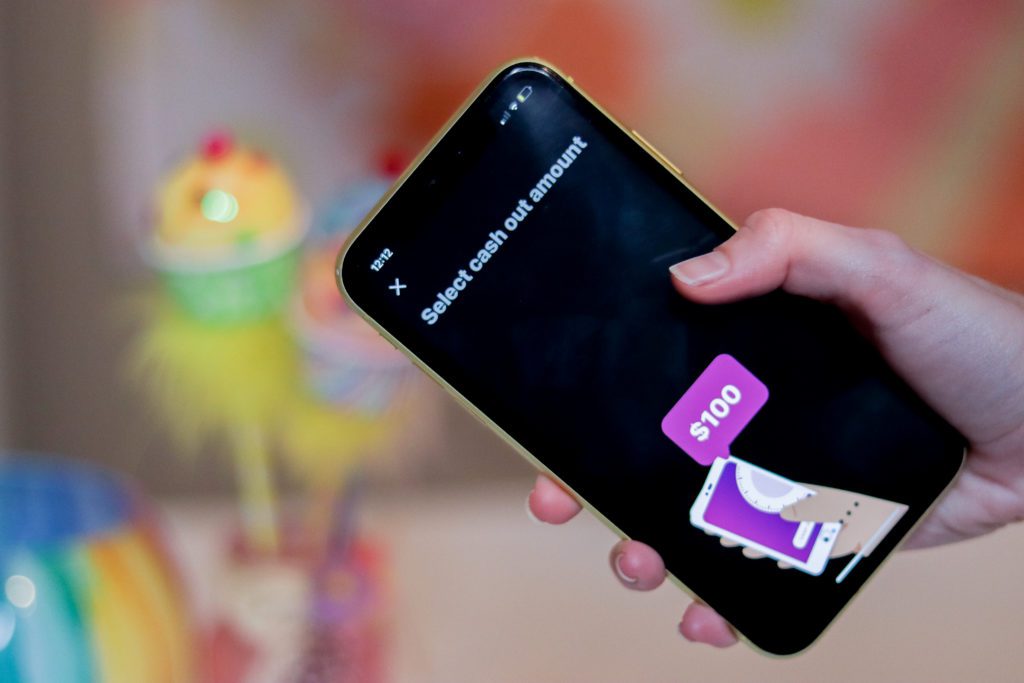 We love Earnin for its "Cash Out" feature which makes any day payday.
As an app that lends you money, Earnin promises no hidden fees, no penalties, and no waiting around when you've earned money but your next paycheck is still around the corner. You can advance up to $750 of your earnings per pay period. When you're short on cash, you can immediately access the cash that you've already worked hard to earn.
As a new user, you can access up to $100 immediately. This is significantly more than the $10 to $25 cash advance limits of other borrowing apps.
We also love that the Earnin app is 100% free to use – including the "Cash Out" feature, with extra features included to help protect you from unwanted overdrafts including low balance alerts and 'Balance Shield' which automatically sends money to your bank account to help avoid costly overdraft fees.
Read our full Earnin review to learn more
---
Check out our most read articles to help you better manage your money:
WAIT! High overdraft fees aren't the only way your bank is costing you money.
With inflation overheating, you've probably heard that interest rates are climbing sharply. That means that for the first time in years, it's a great time to shop around for a high interest savings account.
The national average interest rate for savings accounts is currently 0.18% APY – that means that if you have $2,500 in a savings account, you'd earn just $4.50 after one year! Move those hard-earned savings to an FDIC-insured bank paying 3.00% APY and you'd earn $71.63 more!
Don't let your hard-earned savings sit there doing nothing. Check out the rates that you can earn at other banks:
Latest posts by Alexander Porter
(see all)
Download to see if you qualify. Repay the advance with your next paycheck. Fees may apply. Advance amounts based on qualification and may vary. Albert is not a bank. Banking services provided by Sutton Bank, Member FDIC.

Here are the criteria to earn the $150 bonus:

Set up direct deposit with Albert Cash,
Receive a qualifying direct deposit of $500 or more within 45 days of joining Albert;
Receive a qualifying deposit of $500 or more every 30 days for 90 consecutive days,
Use your Cash card to spend $200 or more on qualifying goods or services every 30 days during the same 90-day period, And
Meet all of the above requirements within 150 days of joining Albert
Be sure to see the full terms and conditions and eligibility conditions.
Instacash is an optional service offered by MoneyLion. Your available Instacash Advance limit will be displayed to you in the MoneyLion mobile app and may change from time to time. Your limit will be based on your direct deposits, account transaction history, and other factors as determined by MoneyLion. See Membership Agreement and help.moneylion.com for additional terms, conditions and eligibility requirements.
ExtraCash™ is a DDA account with overdraft utility that is subject to eligibility requirements. Taking an ExtraCash™ advance will make your account balance negative. Express delivery fees apply to instant transfers. See the Extra Cash Account Agreement for more details.
Chime SpotMe is an optional, no fee service that requires a single deposit of $200 or more in qualifying direct deposits to the Chime Spending Account each month. All qualifying members will be allowed to overdraw their account up to $20 on debit card purchases and cash withdrawals initially, but may be later eligible for a higher limit of up to $200 or more based on member's Chime Account history, direct deposit frequency and amount, spending activity and other risk-based factors. Your limit will be displayed to you within the Chime mobile app. You will receive notice of any changes to your limit. Your limit may change at any time, at Chime's discretion. Although there are no overdraft fees, there may be out-of-network or third party fees associated with ATM transactions. SpotMe won't cover non-debit card transactions, including ACH transfers, Pay Friends transfers, or Chime Checkbook transactions. See Terms and Conditions.

Banking services provided by The Bancorp Bank or Stride Bank, N.A., Members FDIC. The Chime Visa® Debit Card is issued by The Bancorp Bank or Stride Bank pursuant to a license from Visa U.S.A. Inc. and may be used everywhere Visa debit cards are accepted. Please see back of your Card for its issuing bank.

Overdrive™ is available only on Current Individual Accounts and requires $500 in qualifying direct deposits on Current each month. Members will be notified by Current when they are eligible and must opt-in to Overdrive™. The Overdrive™ limit starts at $25, allowing members to overdraft their accounts up to $25 on debit card purchases without any fees, and accounts are reviewed periodically for increases up to $200 at Current's discretion. Your limit may change based on your account history, spending activity, or other risk-based factors. You will receive a notification of any changes to your limit and your limit may change at any time at Current's discretion. Your limit and remaining balance will be displayed to you in the Current app. When you receive your next deposit, Current then will apply funds towards your negative balance. Overdrive™ will not cover any non-debit card purchases, including ATM withdrawals, ACH transfers, P2P services (PayPal, Venmo, Cash App, or similar services), Current Pay transfers and checks. See terms and conditions.