Editor's Note: Overdraft Apps provides detailed product reviews and recommendations based upon extensive research and our own hands-on testing. We may earn a referral fee when you sign up for or purchase products mentioned in this article.
It's no surprise that Earnin is one of the most popular paycheck advance apps – it can help you get up to $500 before your next paycheck with no interest or fees. Plus, there's no credit check, and you don't have change your direct deposit. These are some pretty incredible features that make Earnin a must-have in your financial toolkit…if you qualify to use it. Read our full Earnin review for more.
How does Earnin work?
If you've worked (including gig work) but haven't yet been paid, Earnin gives you early access to part of your paycheck. You can get up to $100 per day sent instantly to your bank account, and up to $500 per pay period. (And with the new Earnin Express feature, you can even access up to $1,000!) New users can access up to $100 right away after creating and verifying your Earnin account.
Earnin links to your existing bank account, so you can use your money for whatever you want – debit card purchases, ATM withdrawals, or to cover upcoming checks or bill payments. You don't need to move your direct deposit and there is no credit check. These are big advantages over most other cash advance apps, which usually have much lower advance limits, require you to set up a new direct deposit, and only allow you to access funds through debit card purchases.
You can request a Cash Out from the app with just a few taps, and Earnin boasts about moving your money at Lightening Speed, which usually sends funds to your bank account in the same day, often within minutes. You can also use the Balance Shield feature to have Cash Outs automatically sent to your bank account if the balance drops below a certain level, which can help you avoid costly overdraft fees.
Your Earnin Cash Out advance is paid back automatically when your next paycheck arrives, so you don't need to remember to make any payments or risk a late fee. Best of all, with your advance paid back you can once again get early access to your next paycheck!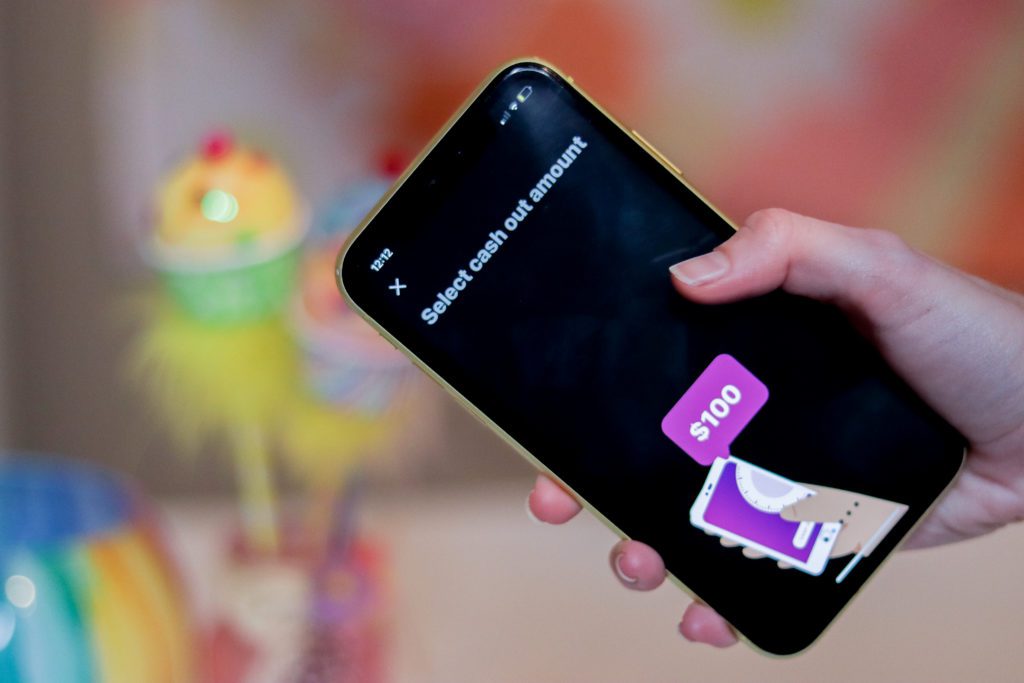 How much can you borrow from Earnin?
Earnin gives you access to borrow up to $100 instantly per day and up to $500 per pay period. When your advance is repaid through your next paycheck, your limits are reset, so you can access cash through Earnin whenever you need to.
You can't cash out more from Earnin than you are due from your next paycheck. Additionally, the pay period limit that Earnin sets for you is based on your overall financial health, including if you generally maintain a positive bank balance and your typical spending level. If you don't have sufficient funds in your bank account on your scheduled Cash Out repayment date, your pay period limit will also decrease. While many users qualify for the maximum $500 limit, these factors could reduce your limit to as low as $50 at times. Earnin re-evaluates your limit after each pay cycle. (If you don't qualify for a Cash Out, check out these other $500 instant loan apps.)
If you haven't reached the $500 limit but need a little extra cash, you can sometimes use Earnin's Max Boost feature to access an additional $50. Max Boost sends a request to a few of your friends to 'vouch' for you by tapping a button in the app. Your friends are not on the hook for the repayment of your Cash Out, and there is no fee for this service.
Earnin has also debuted a new feature called Earnin Express, which offers the ability to access up to $1,000 per pay period (up to a max of 80% of your next paycheck) if you route your paycheck directly through Earnin. This feature has not yet been widely released, but you can sign up on the wait list after creating an account.
If you're a new Earnin user, you can access up to $100 right away! Download the Earnin app and you can create an account in just minutes. You'll need to link Earnin to your bank account and verify it. With that, you're ready to go and can immediately access up to $100 through Earnin, provided you've accumulated enough in unpaid wages with your employer or gig work.
Your initial advance limit won't exceed $100, but this is considerably higher than the $10 – $25 limits of most other money borrowing apps, and you may qualify to get cash the same day that you create your Earnin account. See how up to $100 from Earnin compares to other apps:
| | Initial Overdraft Limit | Key Requirements for First Overdraft | Maximum Overdraft |
| --- | --- | --- | --- |
| Chime | $20 | $200 in qualifying direct deposits | $200 |
| Cleo | $70 | $5.99/month subscription and linked bank account | $100 |
| Current | $25 | $500 in qualifying direct deposits | $200 |
| Go2Bank | $10 | Complete one direct deposit | $200 |
| MoneyLion | $25 | Link to an established checking account | $200 |
| Varo | $100 | $1,000 in direct deposits after 30 days | $100 |
How much does Earnin cost?
You can use Earnin – including Cash Outs – absolutely free. The app is free to download, and there is no monthly fee. There is no interest and no fees on Cash Outs.
Earnin will ask you to leave an optional tip whenever you Cash Out. The amount of your tip doesn't impact how much you can access through future cash out transactions. So, if you are short on cash or don't think the value is there for you, you can access cash absolutely free without leaving a tip.
However, the app can save you from declined debit card transactions, expensive overdraft fees (banks make $35 billions per year on these fees) or costly payday loans, so a small tip does help Earnin offer its services to you and others. Unlike apps like Dave, Earnin derives most of its revenue from optional tips.
When deciding how much to tip, don't think of it like a restaurant meal, as you'll spend way too much. If you get a $100 cash out advance for one week and tip $10, that may seem like a straightforward 10% tip. However, if you look at this on an annual percentage rate basis (such as how your credit card presents interest costs), this $10 tip turns into a sky-high 521% APR!
Thus, tipping just a few dollars is perfectly fine if you choose to tip at all. A 2% – 5% tip is more than sufficient. Earnin caps tips at $14.
If you're looking for a cash advance app with no confusing tipping, check out our Albert app review!
How do you qualify for Earnin?
To use Earnin, you need to be a U.S. resident, at least 18 years old, have a checking account, and a verified source of income. There is no credit check, and you sometimes Cash Out even if your checking account balance is negative.
Earnin gives you access to the money you've earned this pay period but haven't yet been paid. It is most compatible with people have regular employment and consistent earnings (such as a fixed salary that you are paid every two weeks), though if you have more variable earnings you can often still use Earnin, though you may need to jump through a couple extra hoops.
To get early access to your paycheck, you'll need to provide some information on your employer and next paycheck, which is often a fast and simple process. If you're a full or part time employee, you can often provide this information via Earnin's "automagically" feature, which will automatically track your hours at a physical work address and calculate how much cash you can access.
If you don't have a regular physical work address, perhaps because you work remotely, drive for work, or work at various locations, you can still use Earnin by providing a electronic, paper printout, or PDF style timesheet. It takes just a moment to upload your timesheet via the app, and your timesheet is usually verified (and earnings made available) in about ten minutes. You may also be able to verify your earnings automatically by verifying your work email address.
Earnin no longer works with government benefit programs, such as unemployment, disability pay or Social Security. A couple dozen digital banking apps are also not compatible with Earnin, including Albert, Current, Dave, Go2Bank, and Varo.
If you're looking for other ways to get cash when you need it, but don't meet these qualifications, check out these apps like Earnin.
Does Earnin work with DoorDash, Uber of Lyft?
Whether you have a full time or part time job, or do gig work with Uber, Instacart, or others, Earnin makes it easy to get paid early.
If you're a gig worker for Uber, GrubHub, DoorDash, Instacart, Shyp, Handy, Doorman, Wag!, Caviar, Shipt, Delivery Dudes, or Waitr then the automagically feature for tracking your earnings isn't available. However, it's still quite easy to provide your work information to Earnin by uploading your timesheet.
You cannot use Earnin if you are also using another early pay service, such as Daily Pay, Clearance, Go Bank, Uber Instant Pay, Uber Visa Direct, or DoorDash Dasher Direct. Lyft drivers are not eligible for Earnin.
???? Check out which apps offer cash advances for Uber drivers and DoorDashers ????
Is Earnin safe?
Through our review of the Earnin app, it's clear that Earnin is a legitimate company. It raised $190 million from Silicon Valley investors and provided over $10 billion in earned wage access through more than 125 million(!) Cash Out transactions to over 2.5 million users.
Earnin does not perform credit checks or require you to move your direct deposit to be a user (it may be required to access the higher limits of the Earnin Express product.)
Earnin's banking products, including Earnin Express, are provided via Evolve Bank & Trust, an FDIC insured bank with nearly $1 billion in assets.
If you are unable to make your scheduled repayment to Earnin, you can change the date by contacting Earnin's customer service at least two days before the due date. If Earnin is unable to process your repayment because your checking account does not have sufficient funds, customer service will contact you to make alternative payment arrangements. You will not be able to access Cash Outs until your outstanding balance has been repaid. If you do not repay your Cash Out, Earnin will not engage in any debt collection activities nor report you to credit bureaus.
BEFORE YOU GO…
Put $200 in your pocket (go on, you deserve it) ????
Watch our Earnin cash advance app review
WAIT! High overdraft fees aren't the only way your bank is costing you money.
With inflation overheating, you've probably heard that interest rates are climbing sharply. That means that for the first time in years, it's a great time to shop around for a high interest savings account.
The national average interest rate for savings accounts is currently 0.23% APY – that means that if you have $2,500 in a savings account, you'd earn just $5.76 after one year! Move those hard-earned savings to an FDIC-insured bank paying 3.50% APY and you'd earn $81.73 more!
Don't let your hard-earned savings sit there doing nothing. Check out the rates that you can earn at other banks:
Latest posts by Mitchel Harad
(see all)