Editor's Note: Overdraft Apps provides detailed product reviews and recommendations based upon extensive research and our own hands-on testing. We may earn a referral fee when you sign up for or purchase products mentioned in this article.
30-SECOND SUMMARY: Bank of America removed its linked account transfer fees and NSF fees in May 2022, lowered the overdraft fee from $35 to $10 and limited overdraft fees to two per day, so you may incur up to $20 in overdraft fees per day.
Read on for a full breakdown of Bank of America's overdraft fees. If you'd prefer to avoid paying overdraft fees entirely (we don't blame you), consider an app like Dave for an instant cash advance of up to $500 (even if you're a new user).
Need $500? Check out Dave for yourself 👈
| Bank of America Fees | Cost | Maximum Overdrafts Per Day | Maximum Daily Cost |
| --- | --- | --- | --- |
| Overdraft Fee | $10 | 2 | $20 |
| Insufficient Funds Fee | $0 | 0 | $0 |
| Linked Account Transfer Fee | $0 | 0 | $0 |
NOTE: Beginning in May 2022, Bank of America removed its linked account transfer fees and NSF fees and lowered the overdraft fee from $35 to $10.
Bank of America Overdraft Policy: The Short Version
As a Bank of America customer, You'll need to opt-in to Bank of America's overdraft protection.
Once you authorize overdrafts from Bank of America and opt into Bank of America overdraft protection, you can access cash via an ATM or debit card transaction or make a check or bill payment even when your account is negative by $1 or more. Without opting into overdraft protection, your transaction will be declined.
Bank of America recently reduced overdraft fees from $35 to $10 and limits overdraft fees to two per day, so you may incur up to $20 in overdraft fees per day.
Bank of America allows overdrafts on the following transactions four times a day at their discretion:
Checks
Scheduled Payments
Emergency Bank of America ATM Withdrawal
Bank of America allows two overdraft options for your checking account:
Standard – This allows Bank of America to pay checks, schedule payments, and charge you an overdraft fee.
Decline All – This automatically declines anything that attempts to charge your account more than there is in it.
It's worth noting most checking accounts carry a monthly fee. The most popular account costs $12 per month, though it can be waived with a qualifying direct deposit or an average balance above $1,500.
🤓 Overdraft Apps Tip: Some Bank of America accounts, such as SafeBalance, have lower monthly fees but do not permit overdrafts.
Bank of America has also eliminated its extended overdraft fee. However, if your overdrawn account is not promptly returned to a positive balance, your overdraft privileges and account access may be suspended.
You may also be subject to collection costs and account closure if your balance remains negative for several months.
RECOMMENDED: Banks that let you overdraft right away
WAIT! High overdraft fees aren't the only way Bank of America is costing you money.
With inflation overheating, you've probably heard that interest rates are climbing sharply. That means that for the first time in years, it's a great time to shop around for a high interest savings account.
Bank of America savings accounts currently pay just 0.04% APY1 as of 11/22/2022. That means that if you have $2,500 in a savings account, you'd earn just $1.01 after one year! Move those hard-earned savings to an FDIC-insured bank paying 3.50% APY and you'd earn $87.49 after one year, and some banks now pay even higher rates!
Don't let your hard-earned savings sit there doing next to nothing. Check out the rates that you can earn at other banks:
How Much Are Bank of America's Overdraft Fees?
Bank of America's overdraft fees are $10 per transaction. You may be charged a maximum of two overdraft fees per day, for a total of $20 (even if you have more than two overdraft transactions processed).
This includes every time a check or scheduled payment attempts to go through. However, in the event that you need emergency cash from an ATM and must overdraw your account, you may avoid a fee by depositing the money before the end of the same business day.
Need to borrow quick cash? Try these proven apps and offers:
What is my Bank of America overdraft limit at an ATM?
Each day, you can withdraw up to $1,500 from a Bank of America ATM. This limit is unaffected by whether you are overdrawing or not.
So, does Bank of America let you overdraw at ATMs? Yes, but only up to your overdraft limit and each time you do, the bank will charge the $10 fee.
If you need to opt into these settings, you can overdraw at a Bank of America ATM by:
Visiting your local bank branch
Editing your overdraft settings in your mobile app
Editing your overdraft settings through online banking
Calling Bank of America
To cancel these optional ATM overdrafts, you'll use the same process.
Can I Overdraft $500 from Bank of America?
According to Bank of America's official 'Overdrafts and Overdraft Policy, your overdrafting limit comes down to your account history and the proposed transaction amount.
In their words:
"We'll either pay it for you, overdraw your account, or we'll decline it or return it unpaid. We make this decision at our discretion based on several factors, such as the transaction amount and your account history."
You may be able to overdraft $500 from Bank of America, but if not, consider borrowing money from a cash advance app instead.
RECOMMENDED: Try These Apps to Borrow $500
Does Bank of America charge NSF Fees?
Great news – Bank of America no longer charges NSF fees on most consumer checking accounts!
The fee was $35 per returned check until May 2022. Now, most consumer accounts can enjoy a Bank of America NSF fee of $0 with a fee cut that could give you significant savings if you bounce a handful of checks in a year.
Can You Get a Bank of America Overdraft Fee Waived?
Wondering if Bank of America will forgive overdraft fees?
There are circumstances when an overdraft fee is simply not your fault. If a Bank of America account holder overdraws for the first time in 30 years, they're more likely to get the fee waived. It is standard practice to allow for one overdraft fee per year to be waived, but this is not always the case.
If you've overdrawn, the rules are not set in stone.
Give Bank of America a call and see what they can do to help.
How to Avoid Bank of America Overdraft Fees
There's nothing more frustrating than getting stuck in an overdraft loop with your bank. If you've ever overdrawn your account and then not had the money to pay the original bill because of the overdraft fee, then you know what we mean.
That's why it's better to just avoid overdraft fees altogether!
Here are a few ways to avoid incurring steep overdraft fees on your account with Bank of America:
Option #1: Use PockBox to borrow up to $2,500 and make overdraft fees a thing of the past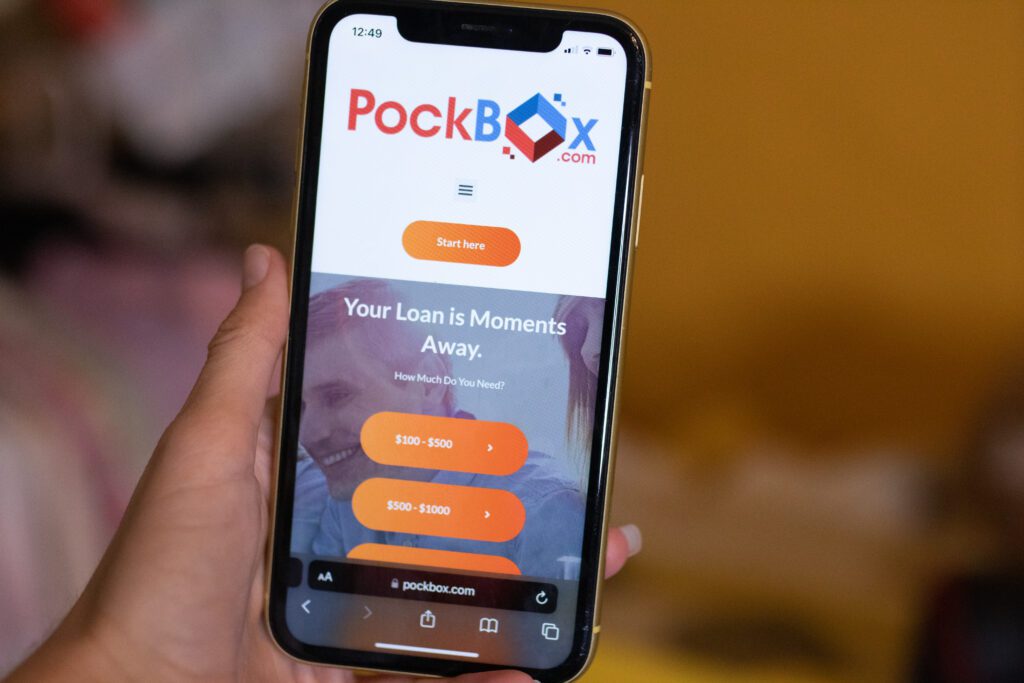 If you need quick cash but want to avoid overdraft fees, PockBox can help!
With just a few questions, PockBox simplifies the complex (and often head-scratching) process of figuring out where to apply.
You'll get loan quotes from up to 50 lenders so it's easy to compare your options from the comfort of your own home. PockBox has a goal to help 1,000,000 Americans to access the credit they need. Specializing in loans for individuals with bad credit, you can check out your options no matter what your credit score is.
There's no obligation to choose a lender so you can browse without cost or impacting your credit score.
Browse PockBox with no obligation (and no pressure) >>> See if you qualify for up to $2,500 in fast funds
Option #2: Take advantage of fee-free Overdraft Apps to borrow up to $200

Why have 14 million people ditched their high-fee bank for Chime?
Chime is a financial technology company, not a bank. Banking services and checking account provided by The Bancorp Bank, N.A. or Stride Bank N.A.; Members FDIC.
Though Bank of America has reduced its overdraft fees to just $10 for most transactions, there are plenty of no-fee overdraft apps available, such as Chime SpotMe.
As long as you have $200 or more deposited to your account each month, you're able to overdraw your account for free!
However, Chime SpotMe doesn't allow for a fast solution, since you have to have a history with Chime before you can overdraw. If you need cash now, keep reading for the ideal solution for your case.
You've got your eye on a new pair of $150 shoes that you know will look great on you, but there's only $50 in your account. Where most banks would approve the transaction and sting you with a $35 overdraft fee (turning your purchase into a $185 transaction), SpotMe approves the transaction with no fees attached. The negative amount will be balanced by your next deposit as long as your paycheck is regularly deposited in your account.
Sick of overdraft fees? Explore SpotMe for $200 in fee-free overdrafts.
Option #3: Use Bank of America Balance Assist
Bank of America's Balance Assist provides an affordable way to borrow up to $500 whenever you need it. There is a flat $5 fee for the loan, no matter how much you borrow.
Repayments are made in three equal installments over the next 90 days. For example, if you borrow $100 through a Balance Assist loan, you will have a payment of $35 due in 30 days, $35 due in 60 days and $35 in 90 days. Your repayments will total $105, which includes the $5 fee.
If you use Balance Assist, your account will be ineligible for overdraft protection, so make sure you carefully track your balance; all transactions that would take your account negative will be declined.
Not all bank customers will qualify for Balance Assist, either. Your account needs to have been open for at least a year, have a positive balance, and you'll need to pass a credit check. If you don't meet these criteria, several money borrowing apps may be a better alternative for you.
Bank of America Overdraft Fees: The Final Word
So, now that you've learned the ins and outs of Bank of America's $35 overdraft and NSF fees, you should feel more confident about keeping your account in the green.
And while it might not seem like a lot of money, it can add up faster than you think.
So remember, when you need to avoid overdraft fees and stay under your overdraft limit with Bank of America, you can:
Nobody wants to pay overdraft fees, but luckily Bank of America has various options to help you. Keep our tips in mind, and you can rest easy knowing overdraft fees won't get the better of you.
BONUS: Put $200 in your pocket FAST
Watch: Bank of America slashes overdraft fees
Latest posts by Mitchel Harad
(see all)
Chime SpotMe is an optional, no fee service that requires a single deposit of $200 or more in qualifying direct deposits to the Chime Checking Account each month and Visa debit card activation. All qualifying members will be allowed to overdraw their account up to $20 on debit card purchases and cash withdrawals initially, but may be later eligible for a higher limit of up to $200 or more based on member's Chime Account history, direct deposit frequency and amount, spending activity and other risk-based factors. Your limit will be displayed to you within the Chime mobile app. You will receive notice of any changes to your limit. Your limit may change at any time, at Chime's discretion. Although there are no overdraft fees, there may be out-of-network or third party fees associated with ATM transactions. SpotMe won't cover non-debit card transactions, including ACH transfers, Pay Anyone transfers, or Chime Checkbook transactions. See terms and conditions.