Editor's Note: Overdraft Apps provides detailed product reviews and recommendations based upon extensive research and our own hands-on testing. We may earn a referral fee when you sign up for or purchase products mentioned in this article.
Are you struggling to make ends meet as a Lyft driver?
If you're one of the 2 million Lyft drivers in the United States, there are plenty of variables that can put pressure on your finances. Between inflation, inflexible Lyft policies, and unavoidable life expenses, it makes sense you might need a little extra cash to get you through.
That's where cash advance apps tailored to ride-hail drivers can help.
Although some cash advance apps require you to be employed (in a traditional sense) and earn a stable income, the apps on our list offer flexible lending for gig workers who don't always have the same money coming in week to week.
Like a financial seatbelt while you focus on your job, read on for hassle-free ways to borrow money until you can access your Lyft earnings.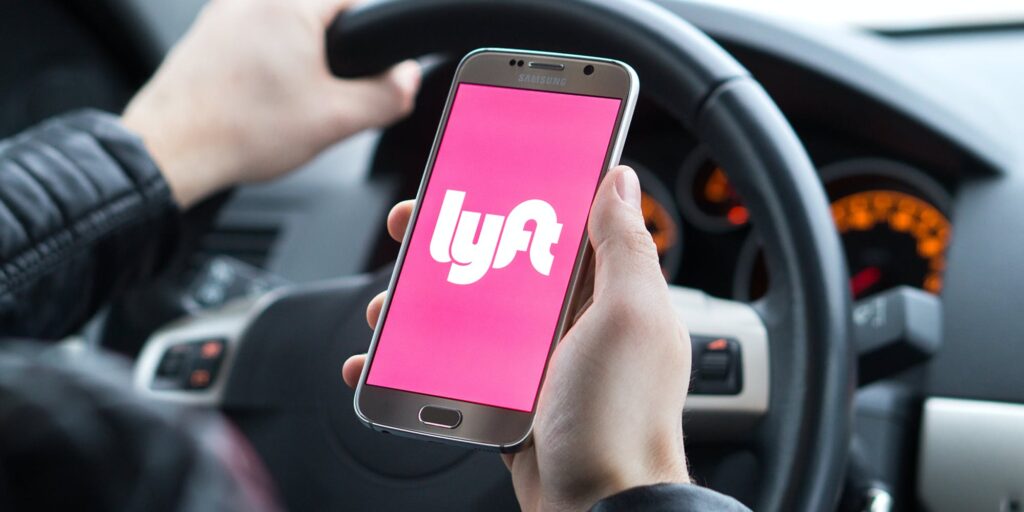 How do Lyft drivers get paid?
Lyft drivers get paid through the Lyft app. The biggest part of your earnings comes from Upfront Pay – which is the money you earn from each ride.
Your Upfront Pay is based on a few moving parts, including:
Estimated Time to Complete the Ride
Estimated Distance to Complete the Ride
Demand for Rides in Your Area
How Far You Travel to Pick up Your Rider
Your Lyft app also calculates the fare based on the type of ride requested (e.g., standard Lyft ride, Lyft XL, or Lux) and other market factors. For a little extra cash, you can also make money from tips (you keep 100% of the tips you earn) and bonuses (offered by Lyft during busy periods).
Learn more about Lyft's payment policies ????
How can I cash out my Lyft earnings?
As a driver, you can choose to cash out your earnings in one of three ways.
Direct Pay: Apply for a Lyft Direct Debit Card to get paid instantly after every trip… which means your money is tied to your card.
Express Pay: Pay $0.85 to have your earnings transferred to your account in a short time… which means you pay for the convenience.
Weekly Pay: Your weekly earnings are transferred into your account on Tuesday morning and take up to two business days to arrive… which means you're left waiting for money you're owed.
As the options above show, there's a downside to every choice.
We don't blame you if you don't want to trap your money on a debit card, pay daily to access your earnings, or wait days to get your cash.
So we've rounded up the best apps tailored to independent rideshare contractors that offer you greater flexibility and freedom to borrow cash until payday.
Why are cash advance apps perfect for Lyft drivers?
As Lyft drivers are considered gig workers, you might not have the same financial stability as traditional employees. This can make it difficult to obtain traditional loans or credit products. And earnings from Lyft aren't eligible for cash advances from every app, such as FloatMe, either.
Cash advance apps can be a useful alternative as many don't require a credit check or proof of income. And since funds can be deposited directly into your bank account within a few hours, you don't have to struggle through the two business days between Lyft "paying" you and the funds landing in your account.
Driving Uber on the side? You'll need these cash advance apps ????
#1 – Dave: Roll off with up to $500 (in minutes)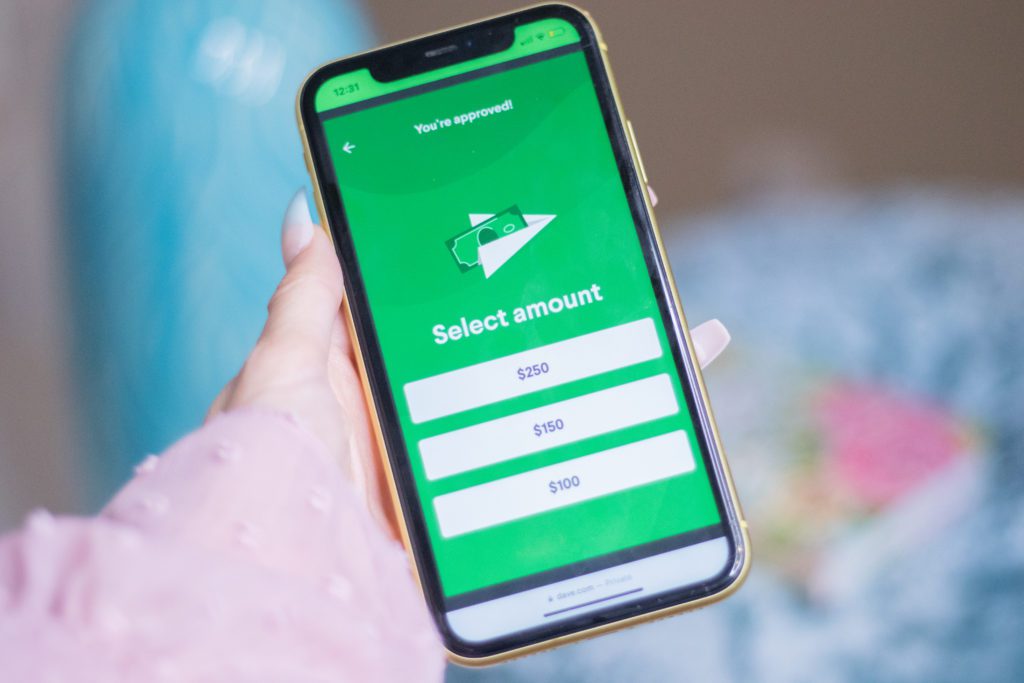 The Good Stuff:
Dave stands out as an OG (and top-performing) cash advance app, offering a lightning-fast $500 advance1.
Unlike many other cash advance apps in the market that cap your first advance at $20 (like Chime), Dave offers the full $500 immediately – as long as you qualify. With a higher borrowing limit you've got a quick and efficient solution to avoid the frustration and sky-high fees of overdrawing your bank account.
What Lyft Drivers Need to Know:
Downloading Dave is free and super user-friendly. To qualify for an advance, your linked bank account must be at least 60 days old, have a positive balance, and show at least two recurring deposits. But these don't need to be from an employer, so there's no frustrating hoops for rideshare drivers.
You'll also need a paid Dave subscription to qualify for an advance. But at just $1 a month, we've got a feeling you can pull together the subscription fee. With no interest rates or credit checks, Dave is one of the most popular cash advance apps for Lyft drivers – and for good reason!
Get a cash advance for up to $500 instantly >>> Check out Dave ????
#2 – Brigit: Easily borrow up to $250 in fee-free overdrafts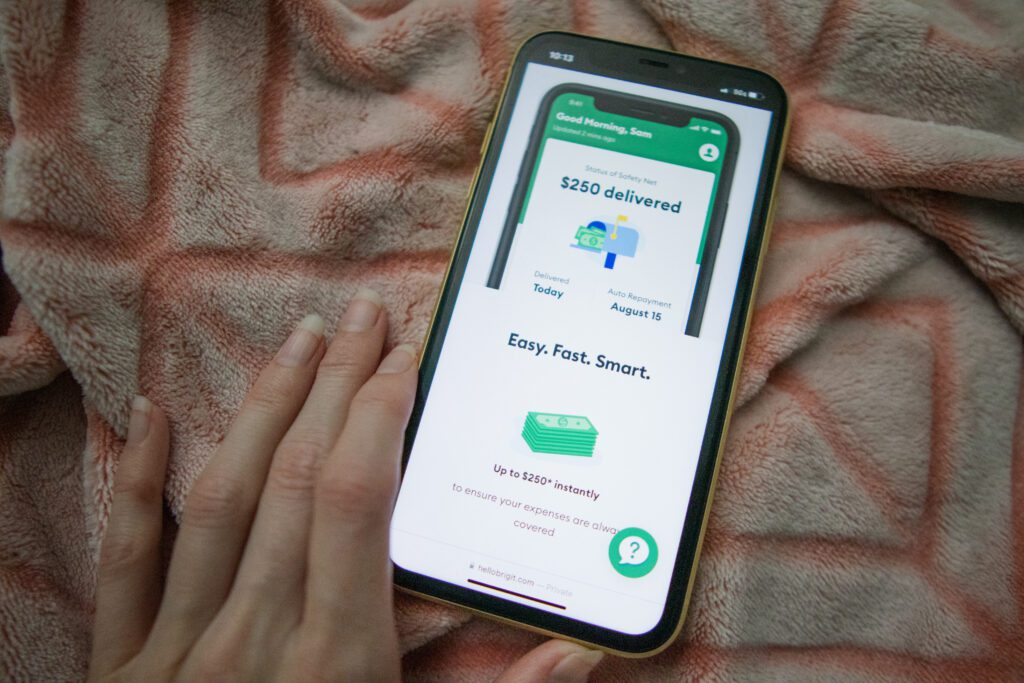 The Good Stuff:
For Lyft drivers in need of cash, Brigit can be a lifesaver.
This popular cash advance app allows long-term or part-time drivers to withdraw between $50 and $250 per pay period without interest. And since your borrowing limit is tailored to your specific needs and ability to repay, the Brigit app helps promote responsible borrowing habits.
What Lyft Drivers Need to Know:
Brigit's $9.99 monthly fee can scare drivers off – but we think there's value to be had here.
Why?
Think about the potential savings in late fees, overdraft charges, or dishonored payments. In the long run, a monthly subscription can be cost-effective if it helps you save hundreds in late fees or dishonor charges.
Plus, with one of the highest borrowing limits available of $250, this app is a must-have on any Lyft driver's phone.
Access up to $250 in fee-free overdrafts >>> Explore Brigit Now ????
#3 – MoneyLion: Low-cost cash advances for rideshare drivers for up to $250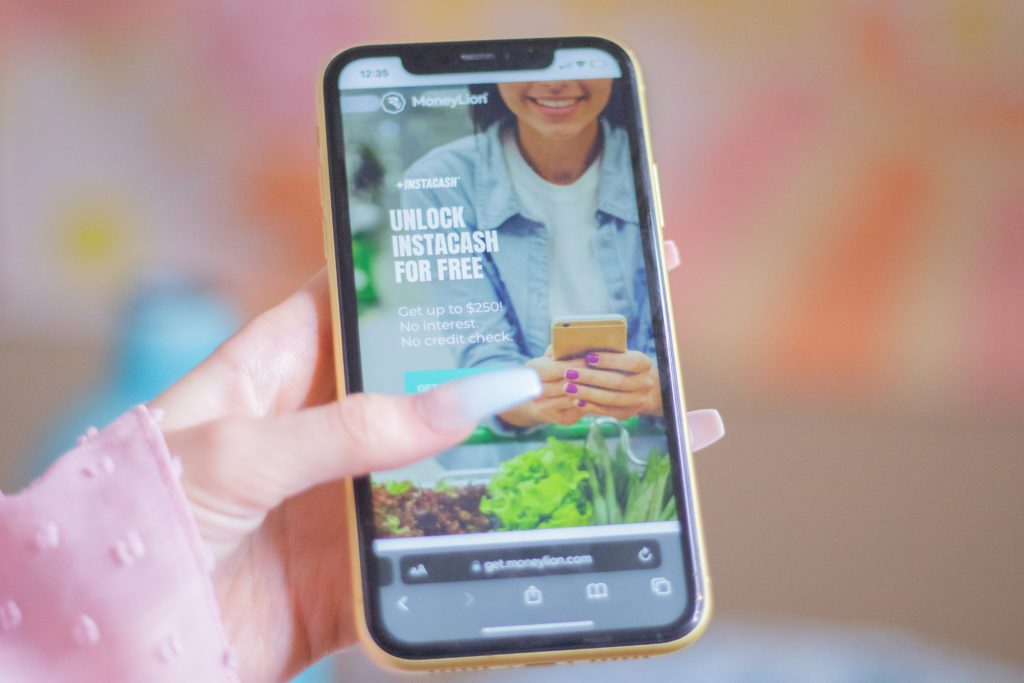 The Good Stuff:
MoneyLion offers an all-inclusive mobile banking service accessible from your smartphone so you can get the cash you need in between picking up riders.2
One of its prime features is Instacash, providing cash advances of up to $250 with no monthly fees or interest. Or, You can increase your Instacash limit to up to $300 by adding a MoneyLion Credit Builder Plus membership or RoarMoney account (more on those options in our full MoneyLion review).
What Lyft Drivers Need to Know:
To qualify for Instacash, a recurring direct deposit is necessary. However, the source of that deposit doesn't need to be an employer, which is great for gig workers or those with fluctuating incomes.
As a Lyft driver, you'll need to hit the following prerequisites to be eligible for a cash advance:
A verified checking account
At least two months' account history
Recurring deposits ( full-time employer not required)
A consistently positive balance
Enough activity to show both deposits and expenses
There's no credit check required to apply for Instacash, and no mandatory fees – except for a voluntary tip which is similar to Earnin and Dave. Your eligibility to use Instacash isn't impacted by whether you choose to tip or not.
Get cash advances up to $250 with no interest >>> Check out MoneyLion ????
#4 – Earnin: The free app offering up to $500 in no-fee cash advances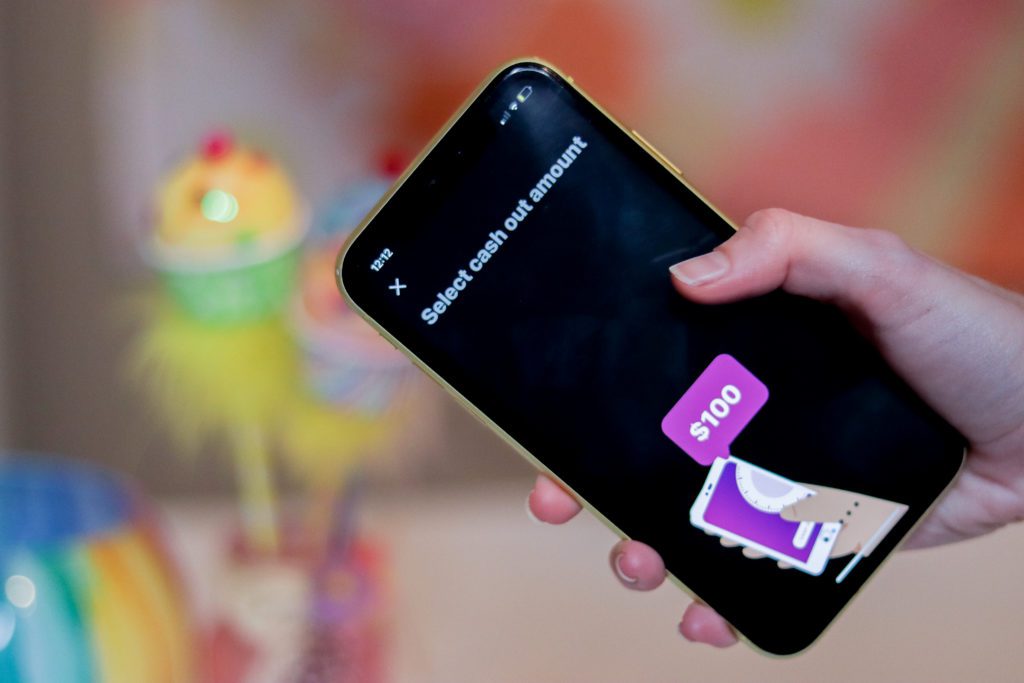 The Good Stuff:
Earnin is a useful tool for gig workers and Lyft drivers who want to access their earned wages before payday. This is especially handy for Lyft drivers who are forced to wait up to two business days to get money they've already earned!
Earnin can advance you up to $100 per day and up to $500 per pay period. Their logic goes, you've already earned the money, so you deserve to access it.
Your Earnin Cash Out amount is automatically paid back when you get paid too. And since you're only borrowing your own money, there's less risk of unnecessary financial pressure.
What Lyft Drivers Need to Know:
The Earnin app is free to use, and tipping is recommended but not required. Although Earnin collaborates with Lyft, you'll have to manually input your driving time and hours, which can be annoying, but it doesn't stop you from using the app.
As a big plus, the $100 and $500 max amounts (with the new Earnin Express feature this amount can go as high as $1,000) are much higher than the borrow limit of most cash advance apps. Plus, you don't need to set up a new direct deposit.
Borrow Up To $100 Right Now >>> Get started with Earnin here ????
#5: PockBox: Borrow up to $2,500 if you haven't been approved for a cash advance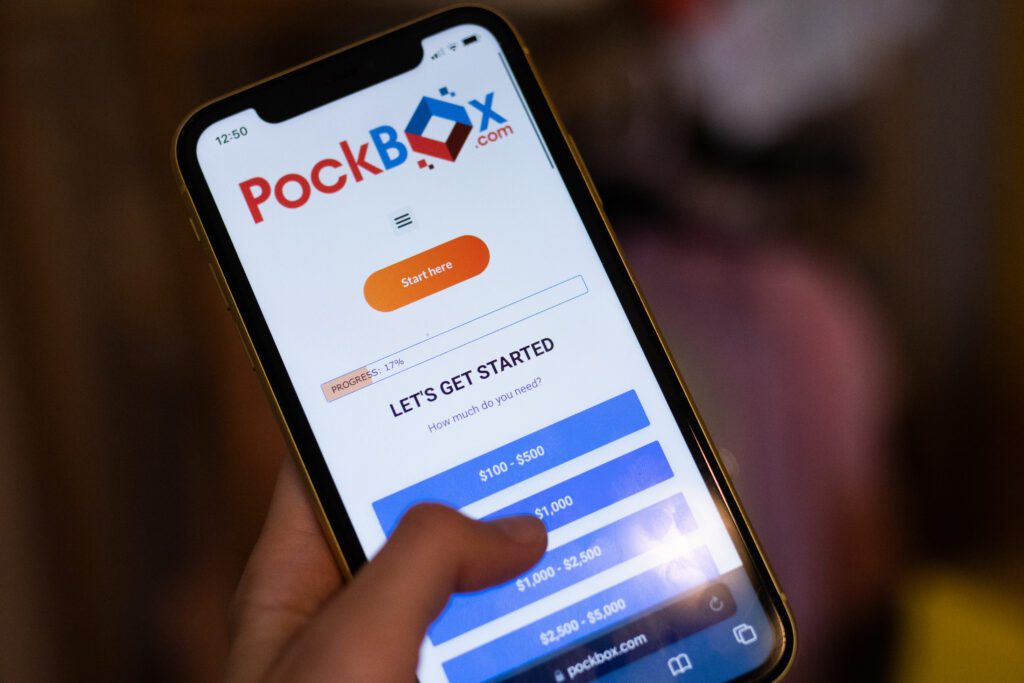 The Good Stuff:
Need a little more than the other cash advance apps on this list?
PockBox can help.
PockBox provides cash advances of up to $2,500 with a quick and straightforward process. Just fill out a few forms and PockBox will compare up to 50 lenders in minutes.
You can determine your eligibility without committing to a lender. And funds can be deposited in your bank account the next day or sooner.
What Lyft Drivers Need to Know:
The loans offered through PockBox start at $100 and go up to $2,500. This makes them an excellent option for Lyft drivers who need more than borrowing $50 to get them until payday.
Even better, many of the lenders collected via PockBox specialize in rideshare drivers with low or no credit. So even if other lenders have rejected you, PockBox may still approve your loan application.
If the borrowing limits of most cash advances don't meet your needs, PockBox can open up a new playing field and connect you with a lender that's right for you.
Compare Loan Offers Up to $2,500 >>> Browse Pockbox For FREE ????
???? Overdraft Apps Tip: Dealing with a poor credit score but not looking to make a major change right now? Credit building options like Kikoff can help you improve your credit score for as little as $5 per month. Or, look into Grow Credit which can help a flagging score increase while you watch Netflix and order UberEats (seriously!).
Which cash advance app are you adding next to your Lyft app?
As a Lyft driver, you have flexibility over when and where you work. That shouldn't (and doesn't have to) come at the cost of being under financial pressure leading up to payday.
By using one of the cash advance options in this list, you can get the money you need whether it's drawing on your earned wages or requesting a larger amount to get you by.
Before choosing an app, remember to weigh up the things that matter most to you. For example, loan amount, repayment schedule, fees and charges. Do that, and you'll be hitting the road with the peace of mind that comes from knowing you'll have the cash you need when you need it.
---
BEFORE YOU GO…
Check out our most popular articles:
WAIT! High overdraft fees aren't the only way your bank is costing you money.
With inflation overheating, you've probably heard that interest rates are climbing sharply. That means that for the first time in years, it's a great time to shop around for a high interest savings account.
The national average interest rate for savings accounts is currently 0.23% APY – that means that if you have $2,500 in a savings account, you'd earn just $5.76 after one year! Move those hard-earned savings to an FDIC-insured bank paying 3.50% APY and you'd earn $81.73 more!
Don't let your hard-earned savings sit there doing nothing. Check out the rates that you can earn at other banks:
Latest posts by Alexander Porter
(see all)
Designed by Dave, not a bank. Evolve Bank & Trust, Member FDIC, holds all deposits and issues the Dave Debit Card, pursuant to a license from Mastercard®.ExtraCash™ is a DDA account with overdraft utility that is subject to eligibility requirements. Taking an ExtraCash™ advance will make your account balance negative. Express delivery fees apply to instant transfers. See the ExtraCash™ Account Agreement for more details.
MoneyLion is a financial technology company, not a bank. RoarMoney℠ demand deposit account provided by, and MoneyLion Debit Mastercard® issued by, Pathward, National Association, Member FDIC. Instacash is an optional service offered by MoneyLion. Your available Instacash Advance limit will be displayed to you in the MoneyLion mobile app and may change from time to time. Your limit will be based on your direct deposits, account transaction history, and other factors as determined by MoneyLion. See Membership Agreement and help.moneylion.com for additional terms, conditions and eligibility requirements.