Editor's Note: Overdraft Apps provides detailed product reviews and recommendations based upon extensive research and our own hands-on testing. We may earn a referral fee when you sign up for or purchase products mentioned in this article.
If you need extra cash to help pay for a larger purchase, keep your car on the road, or just stretch out your paycheck, there are now dozens of instant cash advance apps that have reasonable fees and no credit check. However, most are designed for employees collecting a regular paycheck, leaving gig workers, freelancers and the self-employed with few choices.
Moves Financial is one of the only cash advance apps designed specifically for gig workers and independent contractors, like Uber drivers, Door Dashers and Instacart shoppers. You can borrow up to $2,000 from Moves, with no credit check, but the cost can be quite high and it's not easy to understand the rates and fees.
If you're a gig worker or self-employed, this Moves Financial review will help you determine whether it's worth using for you.
What is Moves Financial?
Moves Financial aims to be the financial one-stop shop for gig workers, freelancers and independent contractors, giving them access to all the banking services they need to manage their money as seamlessly as the average employee. While you may have a solid income, the lack of a consistent paycheck and W2 form can stand in the way of access to credit from both banks and borrowing apps.
While many lenders won't approve people who don't receive a regular paycheck, Moves specializes in them, and even offers up to $2,000 cash advances for gig workers, which is substantially higher than the $250 – $500 cap you'll find with most other apps.
The Moves Financial app has four primary features:
Business Cash Advance: You can borrow up to $2,000 with a Moves Financial cash advance. There's no credit check to apply, no interest on your balances, and no late fees. However, your cash advance is actually a business loan, so the fees can be substantial and some places and they are not spelled out as clearly as they are on a typical consumer loan, so tread carefully. Your advance gets automatically repaid through percentage-based deductions from the income you earn in the gig economy.
Moves Spending Account: To access its cash advance feature, Moves Financial requires that you sign up for a Moves Spending Account. It's a standard checking account and comes with a debit card called the Moves Visa Debit Card. There's no minimum balance and no recurring maintenance fee.
Stock Rewards: When you make purchases with your Moves debit card, you can earn rewards, like most credit cards. However, the Moves debit card offers stock rewards rather than cash back. You'll earn 0.25% on all qualified purchases, which you can redeem for shares of stock in the gig companies you work for.
Income Verification: Employees can use their pay stubs and W-2 forms to prove their earning power to third parties. However, self-employed people rarely have the same level of documentation and often struggle with prospective landlords and lenders as a result. Moves Financial's verification service can summarize and verify your gig earnings to help you overcome that hurdle.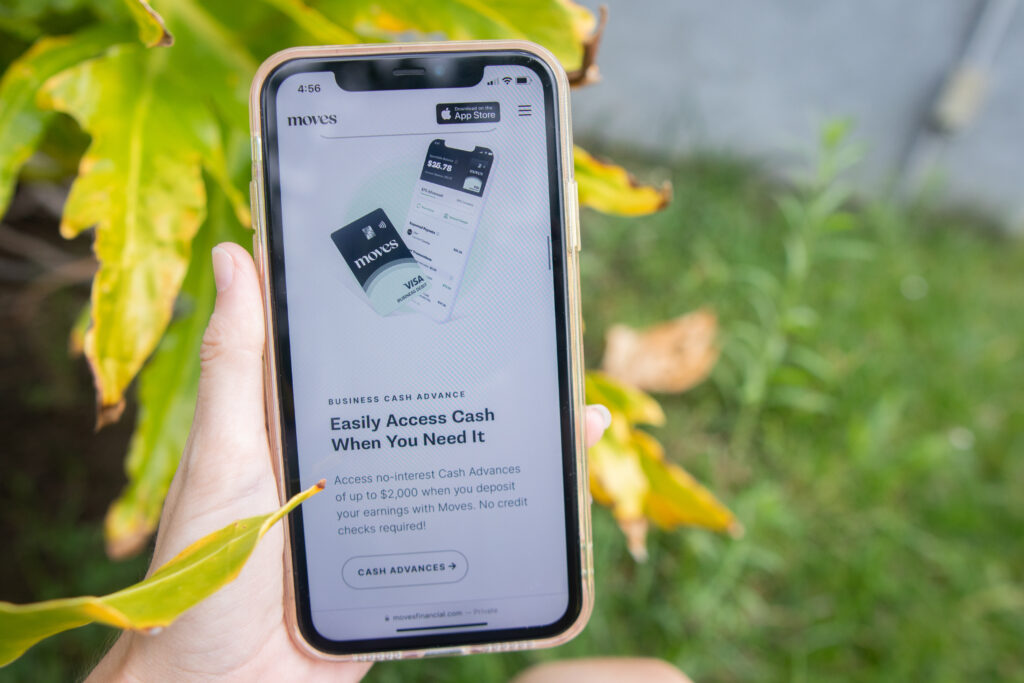 How Do Moves Financial Cash Advances Work?
To get a Moves Financial cash advance, download the mobile app from the App Store or Google Play. Make an account by providing your email and setting a password, and then Moves will email you a code to verify your identity.
From there, you'll need to complete your Moves profile. That involves linking the gig accounts you make money with to the platform. Fortunately, Moves supports the most popular gig work platforms, including:
Uber/Uber Eats
Amazon Flex
Lyft
Instacart
GoPuff
Doordash
Shipt
Grubhub
Rover
Once that's done, you'll be eligible to open a Spending Account. Moves should process your request for one within a business day. If approved, you'll get a virtual debit card immediately, but you'll have to wait up to 11 days for the physical copy.
Whatever income hits your Spending Account will become the basis for your initial cash advance limit. You must show at least $100 of deposits to be eligible for the lowest advance tier, which is $25.
Of course, the more gig income you deposit into your Spending Account, the higher your borrowing limit will be. Fortunately, Moves Financial never checks your credit score, so you don't have to worry about your history undermining your efforts.
Whenever you exercise your right to an advance, Moves Financial will collect your payments by automatically deducting a percentage of each gig deposit you make. You can choose the percentage, but the options start at 10%.
For example, if you choose the 10% option and receive a $200 deposit from Uber Eats, Moves will automatically take $20 out of your funds and apply it to your outstanding balance.
Moves expects you to make deposits weekly and pay them back in full by a specific due date disclosed in the contract. Doing so and keeping a healthy account balance may increase your borrowing limit, which can be as high as $2,000.
Interestingly, you can only have one cash advance from Moves at a time, even if you borrow less than your upper credit limit. However, you'll be able to request a new advance immediately after paying off your balance.
How Much Does a Moves Financial Cash Advances Cost?
Moves Financial doesn't impose any interest on your outstanding cash advances. There are no membership, express, or late fees either, and no option to tip. However, you will incur a service fee each time you take an advance.
The service fee gets rolled into your repayment balance, so you don't have to worry about paying it upfront. Unfortunately, though, Moves isn't as transparent as it should be about the amount.
In fact, the only information it shares about the fee is in the sample cash advance contract on the website. In that example, a hypothetical borrower qualifies for a $1,000 advance and must pay a $150 service fee, repaying Moves $1,150 total.
In addition to the service fee, there's a 1.75% charge to transfer funds from your Moves Spending Account to any other bank account. As a result, you're generally better off spending your advance proceeds directly from the Moves debit card.
If you go that route, Moves Financial's cash advance costs are on par with its peers. Assuming a 15% service fee, it would cost $15 to borrow $100 from the platform, and the average cost of a $100 cash advance is $19.08 among the top competitors.
Since Moves Financial makes business loans and not consumer loans, it is not bound by the same regulations and consumer protections laws that banks and other lenders are bound by. This means that Moves Financial may charge you much higher rates and it can be less straightforward in detailing the cost of your loan. Even more so than with other financial products, it's critical that you read all documentation carefully and make sure you understand what you're agreeing to pay before you take out a loan from Moves.
Is Moves Financial Legit?
Moves Financial isn't as well known as some of the more mainstream cash advance apps, but it's definitely a legitimate business. Founded in 2020 by Matthew Spoke, it has grown rapidly, acquiring over 10,000 members in its first two years.
The company has also impressed multiple well-established investors and raised millions of dollars in funding. Most recently, it received an investment of roughly $5 million in a seed round led by OMERS Ventures.
In addition, Moves Financial has partnered with a federally insured financial institution, Blue Ridge Bank, Member FDIC, to provide the banking services offered on the platform. They both use 256-bit encryption to keep your data secure.
Though there are relatively few due to the company's newness, Moves Financial has received generally positive customer reviews. It holds a 4.1 out of 5 star rating on Google Play and a 4.4 out of 5 star rating on the App Store.
Customers consistently praise the cash advance feature, noting that the funds become available quickly. Based on their comments, you should see them hit your Spending Account within one business day, though they can show up in as little as a few seconds.
Of course, no platform is perfect, and Moves Financial is no exception. As is often the case with cash advance apps, customers occasionally encounter technical glitches that limit their ability to use certain features. Keep in mind as well that Moves Financial cash advances are actually business loans, so the costs and fees are calculated very differently from a typical consumer loan and they don't need to be disclosed to you in a clear way. Moves is not required to (and doesn't provide) annual percentage rates, which you can use to compare the cost of different loans on an apples-to-apples basis.
Some of these issues seem to get fixed after updates to the mobile app, which they're still improving. However, others don't get resolved quite so easily. For example, while you can use Moves Financial to get a cash advance for Uber drivers or Door Dashers, not all platforms are supported.
In addition, while the customer service team is pretty responsive, you can only communicate with them online. Not having a phone number means it takes longer to get help with any issues you encounter.
Apps Like Moves Financial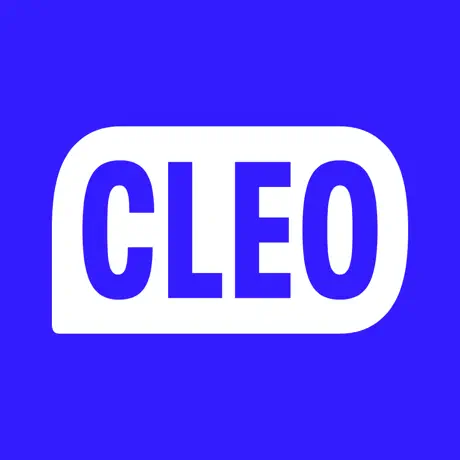 Why is Cleo one of our favorite cash advance apps?
Super speed - Get up to $250 in your bank account today!1
No, No, No! - No credit check, no interest, no tips, no late fees
😂 😂 🤣 -

Hilarious

, smart money advice you might finally listen to
Moves Financial is one of the few cash advance apps designed specifically for independent contractors working in the gig economy. However, it's not the only option available for the self-employed.
Fortunately, multiple cash advance apps don't require you to be collecting a paycheck from a 9-to-5 job. Here are some options to consider:
PockBox: Moves Financial offers a much higher cash advance amount than most. However, it still can't compete with Pockbox, which can connect you with loan offers up to $20,000. In addition, you can qualify with a regular source of income other than wages. Just be aware that some of its accounts are more costly than traditional cash advances.
Dave: Moves Financial is only a couple of years old, and there can be drawbacks to working with a younger company. In contrast, Dave was one of the first cash advance apps ever, and you can use it to borrow up to $500. You must have a direct deposit, but it doesn't have to come from an employer. Direct deposits from the gig economy apps are also acceptable.
Cleo: Because Moves Financial's mobile app is relatively new, it still has some aspects that can make it less user-friendly and may glitch occasionally. In contrast, Cleo's user interface is one of its primary selling points. It has a sassy AI assistant that can either shame or encourage you to help improve your financial habits. It also offers cash advances of up to $250 to gig workers.
If you're still unsure which cash advance app to choose, consider downloading a few and playing around with them. The user interface might make the decision for you. If not, you can always try one out and switch later if necessary.
Watch: Best Cash Advance Apps for Gig Workers
WAIT! High overdraft fees aren't the only way your bank is costing you money.
With inflation overheating, you've probably heard that interest rates are climbing sharply. That means that for the first time in years, it's a great time to shop around for a high interest savings account.
The national average interest rate for savings accounts is currently 0.23% APY – that means that if you have $2,500 in a savings account, you'd earn just $5.76 after one year! Move those hard-earned savings to an FDIC-insured bank paying 3.50% APY and you'd earn $81.73 more!
Don't let your hard-earned savings sit there doing nothing. Check out the rates that you can earn at other banks: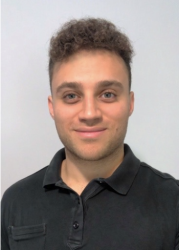 Latest posts by Nick Gallo, CPA
(see all)
Eligibility requirements apply. Not all users will qualify. Advance amounts range from $20 to $250. Instant transfers subject to express fees. Visit meetcleo.com/terms for more information.