Editor's Note: Overdraft Apps provides detailed product reviews and recommendations based upon extensive research and our own hands-on testing. We may earn a referral fee when you sign up for or purchase products mentioned in this article.
You're enjoying a nice Sunday afternoon when you decide to run some errands. You stop by the grocery store, the bakery, and the ice cream parlor buying nothing too expensive. Little did you know that your account had already overdrawn more than $100, causing each transaction to incur a $35 overdraft fee. The next morning, you were shocked to learn your weekend shopping trip cost an extra $105 in overdraft fees!
An overdraft occurs when you spend more money than your account has, causing a negative balance. If you're a customer of Santander Bank in the United States, it's important to know its overdraft policies and what you can do to avoid these costly fees.
Santander Bank has just announced that it will soon reduce or eliminate some overdraft fees — though these changes have not yet gone into effect.
Overdraft fees from Santander Bank cost $35 but can be avoided through overdraft protection and monitoring your balance on a mobile banking app. You can also access the cash you need by linking your Santander checking and savings accounts. It's not hard to avoid Santander Banks' overdraft limits and fees if you understand the bank's overdraft policies and are aware of when your checking account balance is approaching zero.
| | Fee | Maximum Overdrafts per Day | Maximum Daily Cost |
| --- | --- | --- | --- |
| Santander Bank Overdraft Fee | $15 | 3 | $45 |
| Santander Bank Insufficient Funds Fee | $15 | 3 | $45 |
| Santander Bank Linked Account Transfer Fee | No fee | 6 transfers per month | No cost |
These fees will take effect by end of 2022. Santander currently charges a $35 overdraft fee and up to $105 in fees per day.

Why have 14 million people ditched their high-fee bank for Chime?
Chime is a financial technology company, not a bank. Banking services and checking account provided by The Bancorp Bank, N.A. or Stride Bank N.A.; Members FDIC.
What is Santander Bank's overdraft policy?
Santander Bank has a unique overdraft policy. They have a $100 overdraft threshold, meaning that if a transaction causes your account's balance to be overdrawn $100 or less, they won't charge overdraft fees; the threshold used to be only $5.
Santander gives customers a choice on how they want overdrafts handled in each of their accounts: the bank can either pay some overdrafts, at their discretion based on customer and account history, or all overdrafts. It is entirely up to you as to which way to orient your account. If you don't elect to have all overdrafts paid, you won't incur overdraft fees, but you also won't be able to make debit card purchases or ATM withdrawals that would push your account balance below $0.
Santander's Overdraft Protection is an optional service that can help you manage your money and avoid overdraft fees by linking your savings and/or credit card accounts to your check account. Your savings can then act as a back-up account; if you overdraw your checking by less than your savings balance, Santander Bank can automatically transfer the negative amount for you, covering the transaction and avoiding an overdraft.
There is no fee to participate in Overdraft Protection, and no transfer fees if money is automatically moved between your linked accounts to cover shortfalls. Note that heavy usage could still cost you, though. Santander Bank will consider closing or converting your savings account if you withdraw or transfer from it more than six times a month.
How much are Santander Bank's overdraft fees?
Santander announced that it will reduce its overdraft fee from $35 to $15 per transaction at the end of 2022. Customers do not need to take any action to be participate in this fee reduction. You are subject to up to three overdraft fees per day, for a maximum charge of $45 under the reduced fee.
Santander Bank provides a generous $100 cushion before you are subject to overdraft fees. For example, if your balance is negative $45, and you buy a sandwich for $10 dollars bringing your total balance to negative $55, Santander Bank won't charge a fee. However, if your balance is negative $145 and buy that same $10 sandwich, Santander Bank will charge a $15 overdraft fee causing your account to reach negative $160.
If your account remains negative for five consecutive business days, Santander will also charge you an extended overdraft fee of $35.
Santander Bank currently charges a $35 non-sufficient funds (NSF) fee on returned items that are unpaid, on up to three transactions per day. However, the bank has also announced that it will be eliminating NSF fees shortly.
WAIT! High overdraft fees aren't the only way Santander Bank is costing you money.
With inflation overheating, you've probably heard that interest rates are climbing sharply. That means that for the first time in years, it's a great time to shop around for a high interest savings account.
Santander Bank savings accounts currently pay just 0.03% APY1 as of 11/22/2022. That means that if you have $2,500 in a savings account, you'd earn just $0.75 after one year! Move those hard-earned savings to an FDIC-insured bank paying 3.50% APY and you'd earn $87.49 after one year, and some banks now pay even higher rates!
Don't let your hard-earned savings sit there doing next to nothing. Check out the rates that you can earn at other banks:
What is Santander Bank's overdraft limit?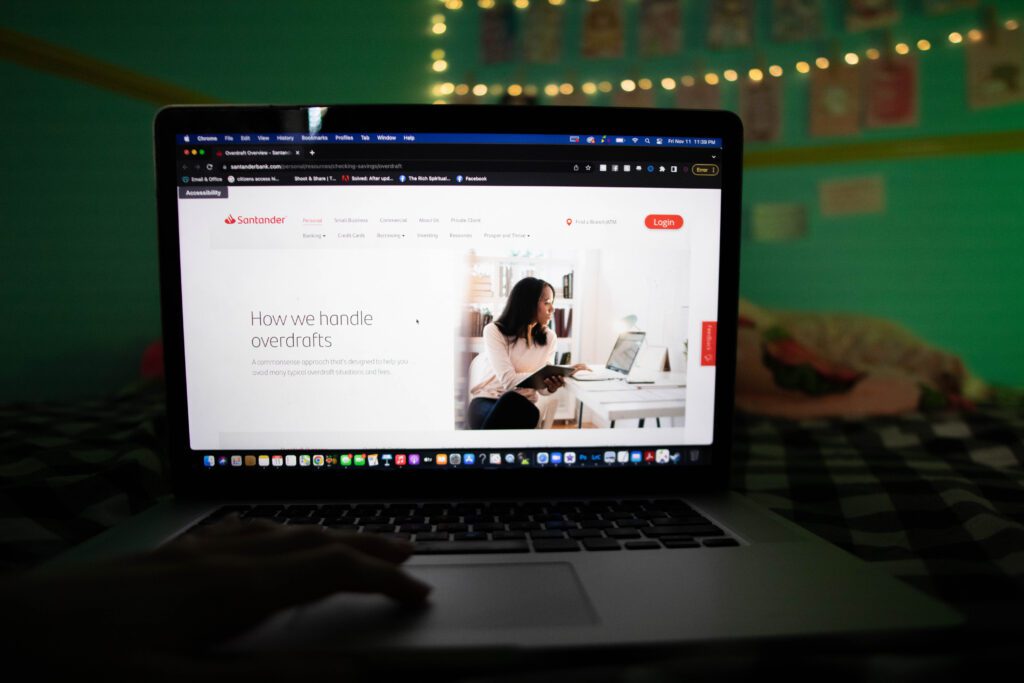 Like most banks, Santander Bank approves overdraft transactions on a case by case basis, and your overdraft limit may vary on a daily basis. Unfortunately, Santander does disclose overdraft limits to customers, so it can be a guessing game as to whether a transaction will be processed or declined.
Your overdraft limit is based on a number of factors, including your account history, average balance, recurring deposits, and other factors. The bank will also look at the size and type of the transaction. The lower the amount is the more likely they may be to approve it.
Can you get a Santander Bank overdraft fee waived?
While most banks will tell you they won't waive fees, customers have found ways to get an occasional overdraft fee refunded.
Banks used to be stuffy institutions that had all the power, being merciless in their fee scheduling. Public opinion is beginning to shift on overdraft fees, causing banks to become a little more lenient. While banks are more willing to reverse overdraft fees, they will only do it for the right customer. If you're in good standing with the bank, having no outstanding debts and a strong history, they may be willing to refund up to one overdraft fee a year.
Refunds are a gesture of goodwill and banks are by no means obligated to give them out. Santander Bank does not explicitly say if they're willing to refund those fees, but customers can try by contacting their customer service representatives here.
How to avoid overdraft fees with Santander Bank
Overdraft fees can be completely avoided if you don't let yourself get surprised by them. There are a couple key recommendations you should pay attention to if you're hoping to keep your account out of the red:
Enroll in Santander Bank's overdraft protection: By linking a separate deposit account, customers can ensure that their negative balances are always covered. Santander Bank doesn't charge a fee for this service either, but if you're linking a savings account, they will only allow you to pull from it six times in one monthly cycle before they close it.
Consider declining Santander Bank's overdraft election: Your debit card purchases and ATM withdrawals approved while your account balance is negative, Santander Bank won't charge you an overdraft fee.
Set up low balance alerts: Santander Bank's mobile app is key to stopping negative balances. Not only can customers check their balance whenever and wherever they are, they can also set up low balance alerts notifying them when their balance is beneath a certain amount.
If you're tired of getting stung by high overdraft fees and being in the dark about how much you can spend, consider switching banks. Chime offers no-fee overdrafts for up to $200 and you can view your overdraft limit at any time in the Chime app.
Watch: How to choose your Santander overdraft election
Latest posts by Mitchel Harad
(see all)
Chime SpotMe is an optional, no fee service that requires a single deposit of $200 or more in qualifying direct deposits to the Chime Checking Account each month and Visa debit card activation. All qualifying members will be allowed to overdraw their account up to $20 on debit card purchases and cash withdrawals initially, but may be later eligible for a higher limit of up to $200 or more based on member's Chime Account history, direct deposit frequency and amount, spending activity and other risk-based factors. Your limit will be displayed to you within the Chime mobile app. You will receive notice of any changes to your limit. Your limit may change at any time, at Chime's discretion. Although there are no overdraft fees, there may be out-of-network or third party fees associated with ATM transactions. SpotMe won't cover non-debit card transactions, including ACH transfers, Pay Anyone transfers, or Chime Checkbook transactions. See terms and conditions.