Editor's Note: Overdraft Apps provides detailed product reviews and recommendations based upon extensive research and our own hands-on testing. We may earn a referral fee when you sign up for or purchase products mentioned in this article.
In short, NO.
You can't access more funds from your savings account than you have.
Oh, you're still here? Good.
Because your savings account balance can still go below zero – especially if your bank charges you outrageous fees when your balance is already next to nothing. To stay on top of your money, it's important to understand how that can happen, what the implications are and what better alternatives exist – since you shouldn't have to pay your bank to save money!!!
So, what can you do to access the money you need without having to overdraw your savings account?
We'll be answering that question in this article so you can move forward in confidence whether that means entering into overdraft protection or accessing an emergency fund to help you cover unexpected purchases
Let's get right into it.
What we'll cover:
What is overdraft protection?
Overdraft protection enables you to keep using your checking account when the balance goes below zero. Each bank has its own overdraft protection program (which you can choose to enroll in). But most banks will encourage you to link your savings account and checking accounts together, so that money can be automatically transferred from savings to checking when your checking balance is about to go negative. This enables you to keep using your checking account and limit or avoid costly overdraft fees.
You should be aware that overdraft protection is an optional service. The stinger is that if you DON'T have overdraft protection, the bank will reject your check, charge you an insufficient funds fee (typically $35), and the vendor from whom you made a purchase may also charge you a returned check fee!
It also helps to know that any transfer fee will be much lower than an overdraft fee.
Linking your accounts acts as a line of credit in a way. So if your checking account runs out of money, your savings account is automatically raided.
One of the first banks to offer this service was TD Bank. TD Bank's Savings Overdraft Protection is a type of overdraft service that will link to your savings account. If your TD checking account runs dry, you can automatically have your savings provide the funds (as long as there is enough money in the linked accounts to cover the difference). Fees for this service vary. TD Bank charges nothing, while Wells Fargo has a $12.50 fee for overdraft protection transfers, which is taken from your checking account.
FIND OUT>>> How much your bank charges you for overdraft fees
Can you overdraw a savings account using a linked account?
No. Banks do not offer overdraft privileges for savings accounts. Your bank won't let you withdraw more than your savings account balance, nor will it automatically transfer more out of your savings account than you have, so overdrafting your checking account won't push your savings account below zero.
However, your savings account can go to a negative balance, which is usually either going to happen from pending transactions getting processed or (more likely) getting hit with savings account fees while your account balance is quite low.
Common fees for savings accounts to watch out for…
What does a savings account cost?
Well, this depends on who you bank with. And if you're shopping for a better deal, make sure you don't get blinded by interest rates. One of the key factors in a savings account is the amount you'll pay in fees (which can quickly eat into that high interest that caught your eye), so read on to make sure your savings aren't withering away month after month.
Interest rate: 0.02% (yep… your mental math is correct. You'll earn just 20 cents a year in interest on a $1,000 deposit)
Monthly fee: $12 if your balance falls below $3,500
Interest rate: 0.01% or 0.02% depending on which TD Savings account choice you make (both offering terrible interest rates).
Monthly fee: $5 monthly maintenance fee (no fee for the first year with a $25 recurring transfer)
Interest rate: 0.01% (bet you didn't see that coming)
Monthly fee: $10 fee if you make more than six withdrawals in a month. $8 monthly maintenance fee if your daily balance falls below $500
Interest rate: 0.01%
Monthly fee: $5 (waived if you maintain a minimum balance over $300, have a qualifying linked account, or set up autosave)
Savings Withdrawal Limit Fee: $5 fee if you make more than six withdrawals in a month, including automatic transfers for overdrafts
That means, if you have an overdraft in your checking account that brings your savings account balance down to zero, you could then also be hit with a monthly fee and savings withdrawal limit fee at Chase which will bring your savings account balance negative.
You could also be subject to savings account fees for some uncommon situations. For example, maybe funds are tight. So you decide to finally deposit an old $100 check that grandma gave you for your birthday (thanks grandma!). But granny's account doesn't have enough to cover it. You think you're in the clear with this $100. But instead, Chase takes the money out of your savings account when the check bounces and charges you a $12 returned item fee pushing your account further into the red.
At some banks, your savings account could also be subject to an overdraft fee. Which would be ANOTHER $35 or so,so you could find yourself up to $147 in the hole!
Looking for a better deal? Check out these high yielding savings account alternatives…
The dangers of carrying a negative balance in your savings account
Even if you regularly peek at your account balance (or have notifications set up through your banking app), it's possible for your account to fall into a negative balance.
You might not think the odd -$50 or -$35 is a major problem. But there are a few reasons you'll want to keep your accounts in the black.
These include:
✘ You don't have any cushion available to help with unexpected expenses
✘ You don't have any coverage for overdrafts in your check account. This means you can incur more costly overdraft fees or not have access to money!
✘ Some banks will charge you an extended overdraft fee if your account stays negative for more than a few days. For example, US Bank charges a $36 extended overdraft fee if your account is negative for more than one week
✘ The bank may close your account if your account stays negative for a longer period (usually several months). This is really bad because they may report you to ChexSystems – a credit bureau for banks. This will make it difficult for you to open an account with another bank for years to come.
A bank isn't going to go ballistic on you for a savings account with a -$10 balance. But if your checking account is also sitting in negative territory by a few hundred bucks (i.e. you abandoned your negative checking account balance too) the bank may pursue you to collect your negative balance, including the steep costs of collections.
Can I withdraw money from my savings if my checking is negative?
Yes. There are a few scenarios where you can withdraw money from savings with a negative checking balance. These include:
You made a deposit to savings while your checking was negative
You don't have your savings and checking account linked/don't have overdraft protection
Your bank wasn't able to fully cover a checking overdraft with your savings, so it didn't transfer the full balance over
Let's unpack each option a little more.
You made a deposit to savings while your checking was negative: Maybe you did this intentionally by moving money from another account like Venmo to savings while your checking account was negative. Of course, it may make better sense to deposit these funds into your overdrawn checking account to bring the balance back into positive territory (or at least closer to it). This may help you reduce or eliminate overdraft fees and avoid the risk of your bank suspending transactions in your account.
You don't have your savings and checking accounts linked/don't have overdraft protection: This is a good strategy if you want to make sure you don't spend more than you have/avoid overdraft fees. For example, Chase's debit card coverage will cover overdrafts on essentials like gas and groceries without linking to your savings account. Though you may still incur $34 fees on each overdraft which can push your checking account into the red despite a positive balance in your savings account.
Your bank wasn't able to fully cover a checking overdraft with your savings, so it didn't transfer the balance over: Or, it may have transferred money in increments (for example, $25 at a time) so there's a small remainder sitting in your account that you can withdraw via an ATM.
How to keep your savings account from being overdrawn
The best solution is to maintain a good emergency fund and set up alerts to be aware of your balances.
But, let's be honest, those can be challenging to do when money is tight or you're living a busy lifestyle. If you'd rather avoid getting trapped in a cycle of debt and fees by your bank, an alternative is to ditch the banks that charge high fees and pay no interest and find a better solution instead.
Below you'll find our top recommendations for cash advance apps to help you avoid overdrawing your savings account. Let's be honest, what type of assh*le bank charges fees on a savings account?! Many of the apps below will waive fees as long as you keep a minimum balance, so you can move your money elsewhere and enjoy better interest rates and less fees.
Top Tips:
If you want extra convenience and funding options, try one of the many overdraft protection apps on the market. Some of them are free, and most have very reasonable fees and low interest to help you stay on top of your finances.
Depending on your personal situation, we recommend the following cash advance apps to top up your savings and avoid overdraft fees.
Pockbox – Compare loan offers for up to $2,500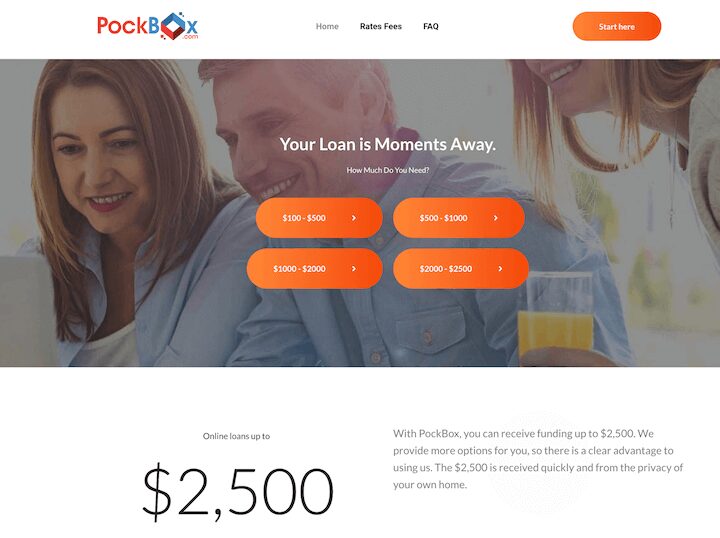 Most cash advance apps offer small to medium amounts for new users. Depending on your expenses, you may need more and that's where PockBox can help.
Free to use, you'll only have to answer a few quick questions. Then, PockBox will connect you with loan quotes from up to 50 lenders. You're in control so you can choose the offer that works for you.
Loans start at $100 and go up to $2,500. Best of all, with most lenders, you can get your loan by the next business day (and sometimes faster).
Many lenders on PockBox specialize in supporting borrowers with bad credit. So even if you've been turned down elsewhere, you can still find options to help you avoid overdrawing your savings account through PockBox.
Compare loan offers for up to $2,500 >>> Check out the free PockBox app
Cleo: $100 cash advances with sassy financial advice you might actually pay attention to.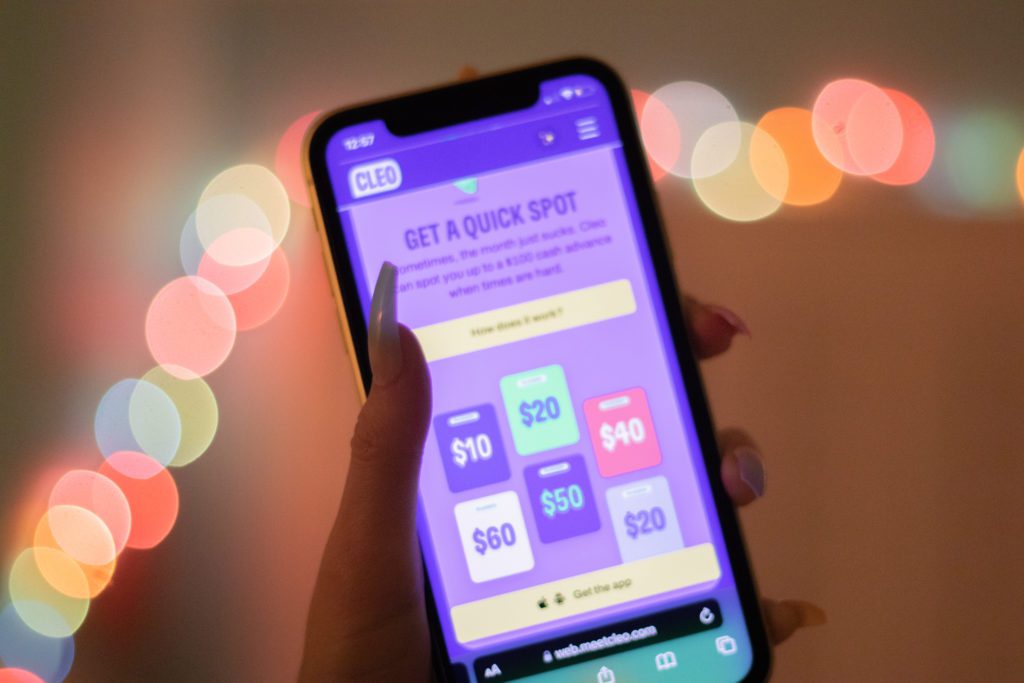 Cleo is a "money app that doesn't suck" (her words!).
An AI-driven financial app, Cleo organizes your money in a way that shows how small changes can have a big impact on your life. Once downloaded, Cleo will analyze your recent spending and ask a few questions to learn more about your financial situation. From there, the sassy (code for wiseass) AI will offer practical suggestions to help you spend less and stay on top of your money.
As a new Cleo user, you're entitled to $70 in cash advances upfront, though this can be increased to $100 based on the transaction history of your linked account.
With no credit check and no proof of regular income needed to apply, Cleo's $100 cash advance is helping it quickly climb the ranks of popular money borrowing apps.
No-interest cash advances for up to $100 >>> Create a Cleo account in two minutes
Earnin – Borrow up to $500 (and pay zero fees)
You've worked hard for your money, so why shouldn't you access it when you need it? Earnin lets you get paid early any time you have earnings. Other apps give you access to cash 1 or 2 days before payday. Earnin gives you your wages when you need them (it's possible to access your wages within minutes).
In a few minutes, you can create an account and provide your job information. Once Earnin verifies your account you can access and cash out up to $100 instantly and up to $500 per pay period.
Unlike many other cash advance apps that only allow debit card purchases, Earnin puts your money directly into your bank account so you can use it for anything – debit card purchases, ATM withdrawals, bill payments. Not only does this provide ultimate convenience, but you avoid overdraft fees too.
Current – 4.00% APY on Savings, Plus Borrow up to $200 without Paying Overdraft Fees
Current is a new breed of financial app that helps you get access to cash when you need it, with fees that are a lot lower than banks or other cash advance apps charge – $0 for most transactions.
Current also offers a no-fee savings account with an amazing rate! You'll earn 4.00% APY on up to $6,000 in your Current savings account (based on rates established January 1, 2022). That means you'd get $40 in interest after one year on a $1,000 savings deposit, compared to just 10 cents in a standard Chase or Bank of America savings account (which may also charge you a low balance fee). And no, this is not a typo. Current's savings account pays an interest rate that is 400x more than many major banks offer!
The most popular feature is Current Overdrive. With Current Overdrive, you can access up to $200 in no-fee overdrafts right through your debit card. Unlike many other apps, you don't need to plan ahead for when you'll need extra cash. Just make qualifying direct deposits to your Current account, and Overdrive will kick in whenever you need it.
Sign up for Current and you'll also get a Current debit card. You can use this at the millions of merchants that accept Mastercard or withdraw cash from nearly 40,000 ATMs with no fee.
Cash advance apps like Current can provide no-fee overdrafts as soon as you make a qualifying direct deposit. This is faster than opening an account with a traditional bank and meeting the (often many) eligibility requirements.
Final thoughts and what to do next…
Paying an overdraft fee is a costly and unnecessary expense.
Although you can link a checking account to your savings or enter into an overdraft protection program, you'll still be paying fees and charges to your bank just to cover life's unavoidable expenses.
Some of the best ways to avoid overdrawing your savings account comes down to knowing your options. Cash advance apps can help you access fast funds – whether you're accessing your paycheck a few days early, getting a loan that's suitable for your credit situation, or using an app that offers fee-free overdrafts.
Taking advantage of the alternatives to overdrawing your savings can help you prevent unnecessary fees AND stay in control of your money.
WAIT! High overdraft fees aren't the only way your bank is costing you money.
With inflation overheating, you've probably heard that interest rates are climbing sharply. That means that for the first time in years, it's a great time to shop around for a high interest savings account.
The national average interest rate for savings accounts is currently 0.23% APY – that means that if you have $2,500 in a savings account, you'd earn just $5.76 after one year! Move those hard-earned savings to an FDIC-insured bank paying 3.50% APY and you'd earn $81.73 more!
Don't let your hard-earned savings sit there doing nothing. Check out the rates that you can earn at other banks:
Latest posts by Mitchel Harad
(see all)