Editor's Note: Overdraft Apps provides detailed product reviews and recommendations based upon extensive research and our own hands-on testing. We may earn a referral fee when you sign up for or purchase products mentioned in this article.
The Even app helps employees access up to 50% of their wages before payday with its Instapay feature. More than a simple cash advance app, Even also comes with features to help you save your cash on autopilot (and earn interest at 2x the national interest rate), budget easily, and project your future earnings, so you're not caught by "gotcha" fees and overdraft fees. Does that make it the right cash advance app for you? Read on for our full Even app review.
Access your wages early with the Even app
Even helps you manage your finances, and can help you avoid overdraft fees with a range of features that put you in control of your money.
Founded in 2014, the Even app (offered by Even Responsible Finance Inc.) lets you access up to 50% of your earned wages early through a feature called Instapay (though the frequency of this access will depend on your employer). If eligible, Even can send your funds in one of two ways:
Direct deposit (one business day)
Cash advance at Walmart (instantly but only available at a Walmart Money Center)
It's worth noting that the Even app doesn't connect to all bank accounts and smaller banks may not be compatible. For more information on your direct deposit options, you can check out Even's FAQs here.
Using the Instapay feature to get your wages early will depend on whether your employer has partnered with Even. However, unlike many other cash advance apps that require you to tip or pay interest on the money you borrow, Even offers interest-free cash advances. An Even Plus membership is required to access your wages early and will set you back $8 per month – though you may receive a discount on your membership depending on your employer.
More than just an easy way to get a cash advance alone, Even also provides a user-friendly hub to keep track of all your finances. This includes a specialized savings account to send money each paycheck (and create a "rainy day" backup fund) plus bill prediction to stay on top of upcoming bills and recurring payments.
Overall, the Even app utilizes some pretty high tech machine-learning to analyze your financial history and activities to help you save automatically and budget by analyzing your spending and providing a personalized snapshot of how much you can spend within budget.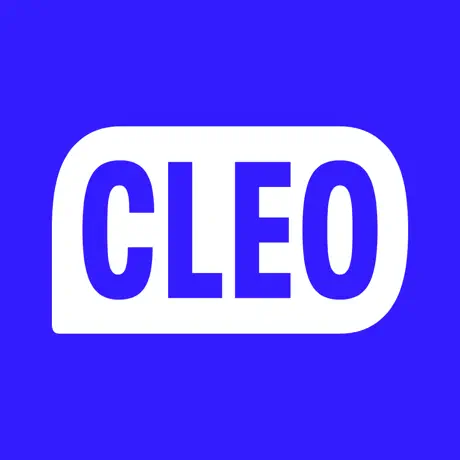 Why is Cleo one of our favorite cash advance apps?
Super speed - Get up to $250 in your bank account today!1
No, No, No! - No credit check, no interest, no tips, no late fees
😂 😂 🤣 -

Hilarious

, smart money advice you might finally listen to
How much can you borrow with the Even app?
Assuming your employer has partnered with Even, you'll be able to download the app (iOS or Android) and create an account. Then, all you have to do is enter your banking credentials and you're all set.
Once you're up and running, you're able to request up to 50% of your earnings during any one pay period. Even will access your payroll information to see how much you've earned and calculate a cash advance based on your earnings.
It's up to your employer how many times you can use the Instapay service to access your wages. For example, Walmart employees can use the service up to 8 times annually without paying any fees. You'll need to check in with your employer for specific usage details. On the positive side, as a third-party provider, the financial info you share with Even (bills, expenses, etc) will never be shared with your employer.
To be eligible for Even's Instapay feature, you'll need to meet the following criteria:
Work for an eligible employer that partners with Even
Have a bank account with a US-based bank or credit union
Have debit card access to your bank account
Have a regular source of income that's directly deposited into your account
While we think Even is a great app, most of you will most likely be better served by Earnin, which works with more employers and provides greater flexibility to access your wages early. Since your hours worked will impact your borrowing limits, we've rounded up the top cash advance app borrowing limits to compare:
| | Initial Overdraft Limit | Key Requirements for First Overdraft | Maximum Overdraft |
| --- | --- | --- | --- |
| Chime | $20 | $200 in qualifying direct deposits | $200 |
| Cleo | $70 | $5.99/month subscription and linked bank account | $100 |
| Current | $25 | $500 in qualifying direct deposits | $200 |
| Go2Bank | $10 | Complete one direct deposit | $200 |
| MoneyLion | $25 | Link to an established checking account | $200 |
| Varo | $100 | $1,000 in direct deposits after 30 days | $100 |
Looking to get up to $500 before your next paycheck? >>> Check out our full Earnin review
How much does the Even app charge you for Instapay?
You can use the Even app for free and access most features. Even does have an upgraded subscription package for $8/month. The Even Plus subscription package includes both the financial planning feature and the Instapay service.
$8/month (or $96/year), is likely less than you will spend on overdraft fees which earned banks an estimated $15.5 billion in 2019 – so there's plenty of value to be found in a cash advance app that can keep you away from unnecessary overdrafts.
However, it's worth noting that other cash advance apps offer similar overdraft protection for free. If you are less interested in the financial planning feature and want to explore alternate cash advance apps that can give you many of the same features, plus overdraft protection, we recommend you check out our Earnin review.
Keen to explore more options? We've got you covered:
Is the Even App even worth your time?
Based on our Even app review, we think this is a well-designed and cutting-edge financial management solution – but it's not suitable for everyone.
Although it may prove handy for people working paycheck to paycheck, there are a few downsides to be aware of. For a start, your employer must have partnered with Even. Secondly, there's an $8 monthly membership fee to consider (and there's no guarantee your boss will subsidize the cost for you).
Keep in mind, the Even app isn't just focused on overdrafts and since it's quite pricey compared to other apps like Dave, Albert or MoneyLion, which offer instant loans for $100 or more with no interest and low fees.  Until Even's overdraft feature becomes available to all, we think other apps are better suited to those of you specifically looking for an overdraft solution. 
Watch: How does the Even app work?
WAIT! High overdraft fees aren't the only way your bank is costing you money.
With inflation overheating, you've probably heard that interest rates are climbing sharply. That means that for the first time in years, it's a great time to shop around for a high interest savings account.
The national average interest rate for savings accounts is currently 0.23% APY – that means that if you have $2,500 in a savings account, you'd earn just $5.76 after one year! Move those hard-earned savings to an FDIC-insured bank paying 3.50% APY and you'd earn $81.73 more!
Don't let your hard-earned savings sit there doing nothing. Check out the rates that you can earn at other banks:
Latest posts by Alexander Porter
(see all)
Eligibility requirements apply. Not all users will qualify. Advance amounts range from $20 to $250. Instant transfers subject to express fees. Visit meetcleo.com/terms for more information.