Editor's Note: Overdraft Apps provides detailed product reviews and recommendations based upon extensive research and our own hands-on testing. We may earn a referral fee when you sign up for or purchase products mentioned in this article.
Have you ever wished you could access your paycheck as soon as you've earned it? That's where Payactiv comes in. This financial wellness platform has been a game-changer for over a decade, helping over two million people get paid for the hours they've worked without waiting for their paycheck to arrive.
How Does Payactiv Work?
Payactiv allows you to access your earned wages before payday. It's not a loan, so there's no interest to worry about. It's simply your money, available when you need it.
Payactiv is a financial wellness platform that lets you access your earned wages before payday. But it's not just for early wage access. Anyone can download the free Payactiv app and use it to get smart budgeting insights, save on Rx prescriptions, compare car insurance rates, and more.
Here's how it works: If your employer is a Payactiv partner, such as Macy's, once you've clocked in those hours at work, your employer uploads your earnings to Payactiv. You can then access a portion of your earned wages before your official payday. This portion is known as your Accessible Balance, and it resets after each pay period. The money you access is deducted from your next paycheck.
If you don't work for a participating employer, you can still use the Payactiv app for its other features. Plus, anyone over 18 in the United States can apply for the Payactiv Visa® Card and take advantage of perks like 10 cents off per gallon at Murphy USA gas stations, discounted AMC tickets, and more!
Does Payactiv Let You Borrow Money?
No, Payactiv isn't a loan service. It's more like a bridge between you and your paycheck. You're not borrowing money; you're simply accessing your own money a bit earlier. This is known as Earned Wage Access, an employer-offered benefit that gives you access to a portion of your paycheck before payday.
The Payactiv® Visa Card is a reloadable, prepaid debit card, not a credit card. Applying for one will not affect your credit score or help you build credit. The only way to use it is by loading money you already have access to. These funds can come from another bank account, checks, cash, government benefits, friends, or earned wage access with select employers. The easiest way to load money on the card automatically on payday with paycheck Direct Deposit.
The amount you can access through earned wage access depends on your employer's settings. Most employers allow up to 50% of your paycheck to be made available at any given time. However, this may vary based on your employer's policies.
By default, the maximum amount you can withdraw from your Accessible Balance is $500. But here's the kicker: if you set up paycheck Direct Deposit to the Payactiv®Visa Card, you can access up to $1,000 of your earned wages.
Remember, your Accessible Balance is not a loan, and you won't accrue any interest or fees when you withdraw from it. Plus, with paycheck direct deposit, you can avoid costly check-cashing fees and have access to your funds even faster.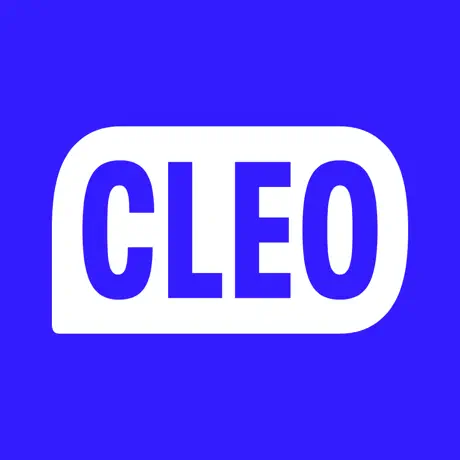 Why is Cleo one of our favorite cash advance apps?
Super speed - Get up to $250 in your bank account today!1
No, No, No! - No credit check, no interest, no tips, no late fees
😂 😂 🤣 -

Hilarious

, smart money advice you might finally listen to
How Much Does It Cost to Use Payactiv?
Here's the best part: Payactiv is free to use for employees! You can access your wages, transfer them to your bank account, debit card, prepaid or payroll card, or even pick them up as cash at Walmart, all without any fees.
However, if you want your money instantly, there's an express fee. Here's a breakdown of the EWA fees:
Same-day transfers to the Payactiv Visa Card are free with paycheck Direct Deposit
Same-day transfers to the Payactiv Visa Card are $1.99 without paycheck Direct Deposit
Same-day transfers to a non-Payactiv account cost $2.99
Transfer in 1-3 business days to a non-Payactiv account for free
How to Get Your Payactiv Visa Prepaid Card
Ready to start saving with Payactiv? First, download the Payactiv app and create an account. Then open the card dashboard and fill out an application! You'll need your name, phone number, a physical mailing address (not a p.o. box), and social security number. You can choose between blue, white, or pink as card color options. Approval takes about 5 minutes and is subject to ID verification.
If you are approved, you can load funds to your Payactiv account and use your digital card immediately. Your physical card will ship in 5-7 business days. Remember to sign up for paycheck Direct Deposit for the best card experience!
What Are Some Alternatives to Payactiv?
While Payactiv is a great service, it's not the only player in the game. Apps like Earnin, Albert, Klover, and Dave also offer early wage access. The advantage of these apps is that they're open to anyone, regardless of employer. (The Even app, a popular competitor to Payactiv, is also only available through participating employers.)
However, none of these alternatives can match Payactiv's $1,000 access limit or its variety of cash access options. Plus, with Payactiv's low express fee, you're getting a great deal.
The Bottom Line
Payactiv is a game-changer for anyone who's ever found themselves waiting impatiently for payday. With its easy-to-use platform, low fees, and high access limit, it's no wonder so many people are asking, "How does Payactiv work?"
Remember, though, that your employer needs to be a Payactiv partner for you to use the service. But if they are, you're all set to start enjoying the benefits of early wage access.
So, why wait for payday when you can have your paycheck your way with Payactiv?
Watch: How the Payactiv App works
WAIT! High overdraft fees aren't the only way your bank is costing you money.
With inflation overheating, you've probably heard that interest rates are climbing sharply. That means that for the first time in years, it's a great time to shop around for a high interest savings account.
The national average interest rate for savings accounts is currently 0.23% APY – that means that if you have $2,500 in a savings account, you'd earn just $5.76 after one year! Move those hard-earned savings to an FDIC-insured bank paying 3.50% APY and you'd earn $81.73 more!
Don't let your hard-earned savings sit there doing nothing. Check out the rates that you can earn at other banks:
Latest posts by Mitchel Harad
(see all)
Eligibility requirements apply. Not all users will qualify. Advance amounts range from $20 to $250. Instant transfers subject to express fees. Visit meetcleo.com/terms for more information.