Editor's Note: Overdraft Apps provides detailed product reviews and recommendations based upon extensive research and our own hands-on testing. We may earn a referral fee when you sign up for or purchase products mentioned in this article.
If you've ever experienced the frustration of trying to split a bill after a meal, there's a good chance you know how valuable Venmo can be.
Venmo allows you to send and receive money whether it's for your half of dinner, a taxi fare, or the rent. But while Venmo has made it easy to send money and avoid the hassle of splitting bills, new Venmo products are also making it easier than ever to go cashless and stay on top of your expenses.
How?
The Venmo Debit Card.
In this guide, we'll spill all the details on the Venmo Debit Card, plus show you to overdraft your Venmo Card, and help you take control of your finances with fee-free ways to get the money you need when your Venmo balance is maxed out.

Why have 14 million people ditched their high-fee bank for Chime?
Chime is a financial technology company, not a bank. Banking services and checking account provided by The Bancorp Bank, N.A. or Stride Bank N.A.; Members FDIC.
What we'll cover:
What is a Venmo Debit Card?
The Venmo Card is a debit card that operates on the Mastercard network. It is linked to your Venmo account the same way a traditional debit card is linked to your checking account.
You can spend your Venmo balance using your card which makes it easy to make purchases anywhere Mastercard is accepted (in the US and US territories only). By the way, the minimum age to use Venmo is 18, so if you're looking away to help you kid manage their spending, check out thee debit cards for kids under 18.
Trivia Time: Since Venmo is not a bank, Bancorp Bank issues the Venmo Mastercard.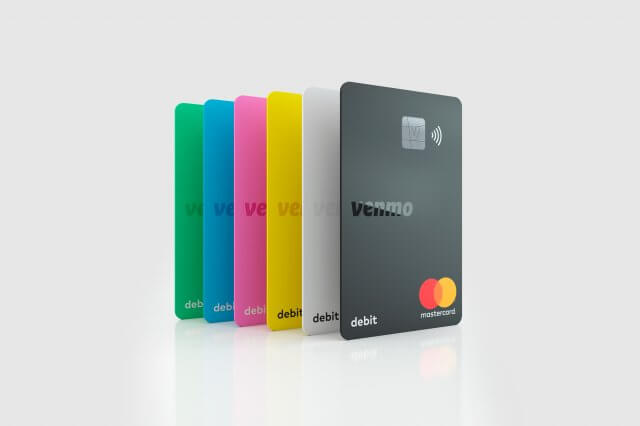 Can you overdraft Venmo?
No… and yes.
You can't overdraft a Venmo card.
However, you can enable an optional reload feature that transfers money from a linked bank account to your Venmo account. By spending more than you have on your Venmo card, you can pull money from a separate account and this can trigger an overdraft in your linked bank account.
To sum up, you can't overdraft a Venmo card directly. But you can overdraft a debit card or bank account (either accidentally or on purpose) via Venmo's reload feature. That's why it always pays to know where your money is, and whether you need to top up your checking account to avoid unwanted overdrafts (more on that below).
See What You Qualify For - Compare Loan Offers in Minutes
We've partnered with Fiona to provide instant comparison quotes from leading personal loan providers, including Lending Club, PenFed, Prosper, SoFi, Upgrade, Upstart, and more!
See what you qualify for in just minutes, with no obligation and no impact to your credit score.
Does Venmo have an overdraft fee?
No.
There is no Venmo overdraft fee, since Venmo doesn't offer overdraft spending.
If you have insufficient funds in your Venmo account, your transaction will be declined with no returned item fee or charge. However, as mentioned, you can opt into a reload feature from a linked bank account of your choice.
While your Venmo card doesn't have an overdraft limit, your linked bank account certainly does. As mentioned, if your linked account doesn't have the funds to cover your transaction (Venmo deducts a fixed $10 amount per reload), you may end up causing Venmo to overdraft your bank account. For example, if you wanted to pay for a hotel room, buy shoes from Amazon, or grab your weekly groceries, your Venmo Card can make the purchase using funds from your linked checking account.
If you don't have sufficient funds in this account, you'll face an average overdraft fee of $35 (though fees vary across each financial institution).
One small piece of good news is that while your transaction will be declined if you don't enough money in your account to cover it, Venmo does not charge insufficient funds fees (also known as NSF fees).
How to use your Venmo Card with insufficient funds (two examples)
If you want to make a purchase but don't have the funds in your Venmo account, you can use reloads to cover the difference.
During sign-up, you'll be prompted to choose a bank account as your reload funding source. With this feature enabled, it won't matter if you have insufficient funds in your Venmo account. You can still complete purchases as long as you've opted in.
Here are two examples of how you can Venmo with insufficient funds and how your Venmo Card will deduct funds – either an exact amount or the fixed minimum of $10 – in real-time.
| | |
| --- | --- |
| Deducting The Requested Amount | Deducting More Than Requested |
| You want to buy a pair of $250 headphones | You want to buy a $25 meal at lunch |
| But there's $0 in your Venmo account!!! | But there's only $20 in your Venmo account!!! |
| $250 is deducted from your linked account | $10 is deducted from your linked account |
| You go home with your shiny new headphones | You enjoy your $25 lunch |
| This leaves $0 in your Venmo account | This leaves $5 in your Venmo account |
Remember, you'll only pay an overdraft fee on your Venmo purchase if the amount deducted from your linked account is more than your available funds.
Venmo's overdraft agreement explained
We know you've probably got better things to do than reading through Venmo's fine print, legal terms, and t's & c's… so we did it for you.
Here's what Venmo's User Agreement has to say about incurring overdrafts on a Venmo Debit Card:
"If you use your Venmo account to make a purchase that exceeds the balance in your linked bank account, you could incur overdraft fees, even if you chose not to allow overdrafts with your bank. Similarly, the liability limits applicable to your Venmo account may differ from those applicable to your bank account."
If you'd rather avoid the pain of an unwanted overdraft fee (we don't blame you), it helps to keep your checking account topped up. Read on for simple strategies to keep your account balance healthy and avoid unwanted overdrafts.
How to avoid Venmo Card overdrafts
Whether you use your Venmo debit card to cover meals, work supplies, groceries, or anything in between, avoiding Venmo-triggered overdrafts comes down to having the cash you need *before* you need it.
Using cash advance apps, you can borrow the funds you need before your next paycheck rolls around. We've written the definitive guide on cash advance apps (click below to check it out). But there are clear standouts to consider.
Find Out More >>> Best Cash Advance Apps of 2023
PockBox – Borrow up to $2,500 even if you've got bad credit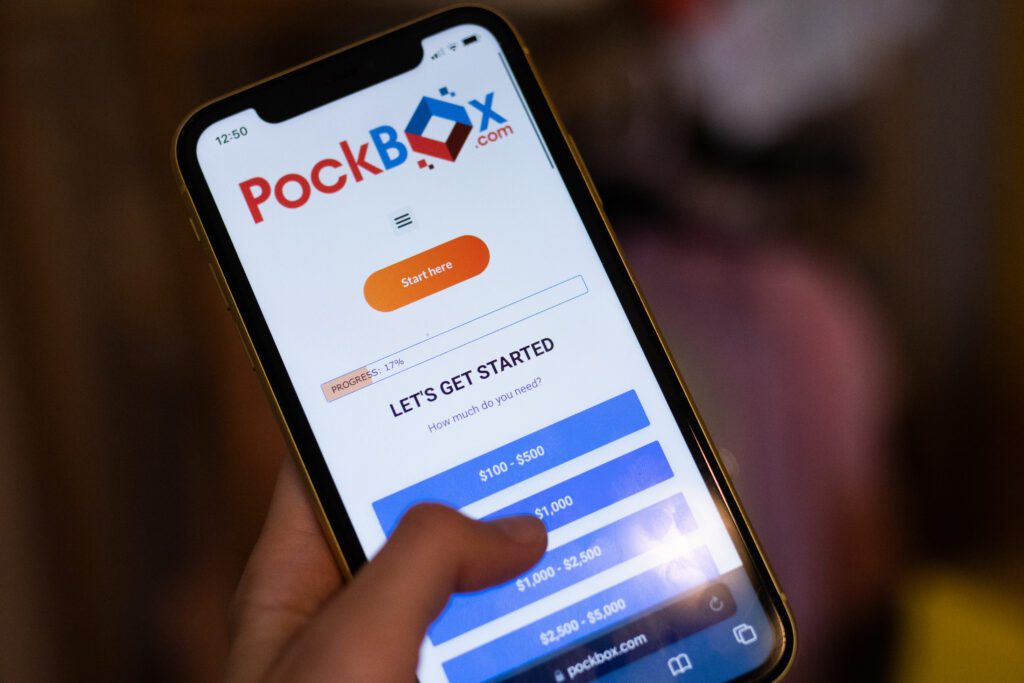 PockBox is the perfect cash advance app to get up to $2,500.
As one of the most popular cash advance apps on the market, the approval process is simple and straightforward, so you can top up your checking account fast and avoid the stress of "oh, am I taking my checking account into a negative with this Venmo purchase?!"
All you'll need to do is provide some basic information about yourself and the PockBox app will connect you to the best lender possible then approve you in a matter of minutes.
Simple!
Borrow up to $2,500 >>> Check Out PockBox Now
Albert – $250 cash advances and expert financial advice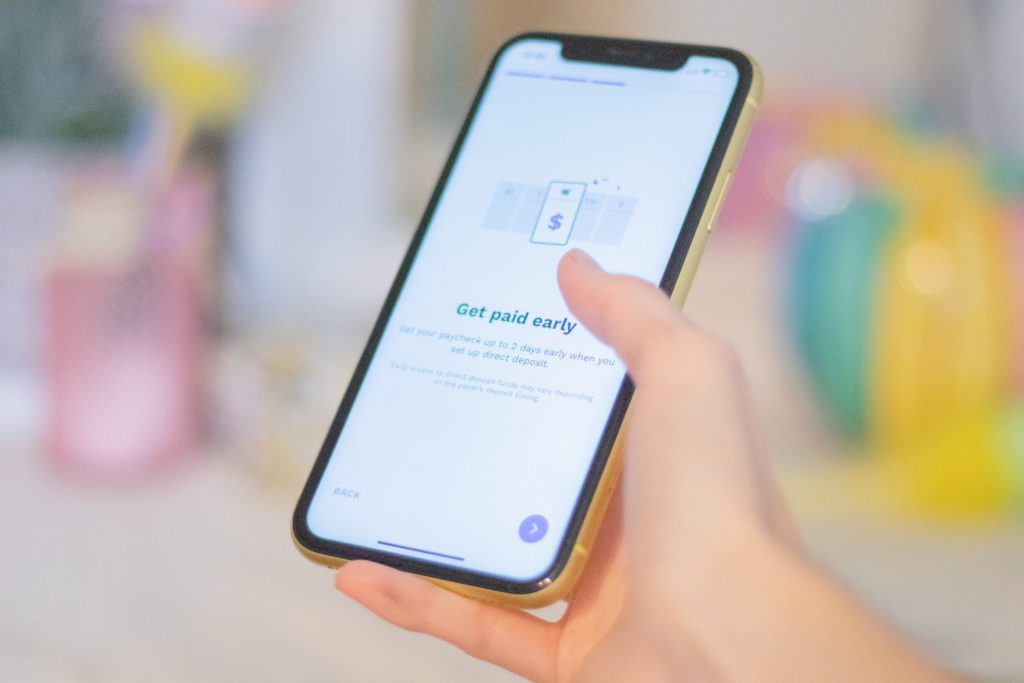 The Albert App provides up to $250 in no-interest and no-fee cash advances3.
A true Swiss army knife of an app, Albert is free to download and so are many of its best features. There's no credit check to take advantage of Albert's cash advances and you don't have to move your direct deposit if you don't want to.
If you do choose to create a bank account through Albert (called an Albert Cash account) you'll get nearly instant access to cash advances. Otherwise, you can wait for 3 days to a linked bank account or pay an express fee of $6.99.
Plus, you can get personalized advice from real human financial experts. They can be a lifesaver if you're trying to figure out how to pay off your credit cards, build up an emergency fund, start investing, and more!
No-interest, No-fee cash advances for up to $250 >>> Create an Albert account in two minutes
Chime – Enjoy up to $200 in fee-free overdrafts
Chime's SpotMe® allows you to make debit card purchases or ATM withdrawals that overdraw your account with no overdraft fees. 
If you're out and about with your Venmo Card and know a purchase will overdraw your linked account, SpotMe® gives you the funds you need without the fees and charges applied by banks
Here's an example of how SpotMe® can help you avoid sky-high fees:
It's your nephew's 1st-grade graduation so you head out to buy a $20 Xbox gift card. If you've got $0 in your bank account, that gift card will trigger an overdraft (and an overdraft fee). But if you've set up SpotMe® (and have your paycheck regularly deposited into your account) and use your Chime debit card to pay for the gift card, the $20 overdraft will be covered with no fee to you. Best of all, the $20 negative balance will be cleared when you next make a deposit into your Chime account.
Perks of SpotMe® include:
Limits start at $20 and can be increased up to $200 over time*
App shows you how much you can spend
Access overdrafts right away
Once you set up your account to receive a qualifying direct deposit of $200 or more a month, Chime will cover up to $200 in overdrafts on your account – without charging you overdraft fees!
Click here to sign up with SpotMe for fee-free overdrafts – it's fast and easy!
Can you overdraw a Venmo Card at an ATM?
No.
Cash withdrawals using your Venmo debit card come directly from your Venmo account. You cannot use your Venmo card to overdraft at an ATM (even if you've turned on the reload feature).
As long as you have the money in your Venmo account, the daily withdrawal limit for a Venmo debit card is $400.
Each ATM withdrawal will also incur a $2.50 surcharge. Keep in mind, each bank or ATM can also charge a fee on top. To avoid ATM fees entirely, look for a MoneyPass ATM as these incur $0 in withdrawal fees.
Final thoughts and what to do next…
If you need to make purchases on the go, it's comforting to know you can't overdraft a Venmo Card.
But you *can* overdraft a bank account that's linked to your Venmo Card. If you've enabled the optional reload feature, every purchase made using your Venmo account balance can lead you closer to sky-high overdraft fees and charges.
While the reload feature is a convenient service, it's important you don't get trapped in recurring overdrafts. Naturally, you can spend less to reduce overdrafts. But that's not always realistic when you need to pay for gas, groceries, or urgent expenses.
To help you stay on top of your funds, we recommend reading up on your options to keep your checking account topped up. Apps like PockBox or services like SpotMe mean it's easy to get the cash you need with fee-free alternatives.
So whether you need to 'Venmo' your meal, or use your Venmo Card to cover an urgent expense, you'll be able to stay on top of your finances.
Watch: Avoid overdraft fees by understanding how Venmo bank transfers work
WAIT! High overdraft fees aren't the only way your bank is costing you money.
With inflation overheating, you've probably heard that interest rates are climbing sharply. That means that for the first time in years, it's a great time to shop around for a high interest savings account.
The national average interest rate for savings accounts is currently 0.23% APY – that means that if you have $2,500 in a savings account, you'd earn just $5.76 after one year! Move those hard-earned savings to an FDIC-insured bank paying 3.50% APY and you'd earn $81.73 more!
Don't let your hard-earned savings sit there doing nothing. Check out the rates that you can earn at other banks:
Latest posts by Mitchel Harad
(see all)
Chime SpotMe is an optional, no fee service that requires a single deposit of $200 or more in qualifying direct deposits to the Chime Checking Account each month and Visa debit card activation. All qualifying members will be allowed to overdraw their account up to $20 on debit card purchases and cash withdrawals initially, but may be later eligible for a higher limit of up to $200 or more based on member's Chime Account history, direct deposit frequency and amount, spending activity and other risk-based factors. Your limit will be displayed to you within the Chime mobile app. You will receive notice of any changes to your limit. Your limit may change at any time, at Chime's discretion. Although there are no overdraft fees, there may be out-of-network or third party fees associated with ATM transactions. SpotMe won't cover non-debit card transactions, including ACH transfers, Pay Anyone transfers, or Chime Checkbook transactions. See terms and conditions.
Early access to direct deposit funds depends on the timing of the submission of the payment file from the payer. We generally make these funds available on the day the payment file is received, which may be up to 2 days earlier than the scheduled payment date.