Editor's Note: Overdraft Apps provides detailed product reviews and recommendations based upon extensive research and our own hands-on testing. We may earn a referral fee when you sign up for or purchase products mentioned in this article.
When you think of a child and a plastic card, what image comes to mind?
For many parents, it's an unsupervised child charging hundreds (or thousands) of dollars through the family iPad or phone.
But while this image might seem like a nightmare scenario, it's also very rare. In reality, there are many upsides to teaching your child how to use a plastic card. In fact, studies show that teenage financial literacy correlates with asset accumulation and net worth by age 25.
Some of the benefits of getting a kids debit card and letting them learn about money by swiping include:
Start financial education early
Understand the value of money
An emergency fund for unexpected expenses
Cards are safer than carrying cash
You can monitor your child's spending
The simple truth is, children learn through action.
Whether it's learning to ride a bike and scraping a few knees, or learning to manage money by using a debit card, you can build your young one's financial skills and develop the peace of mind that comes with a hands-on experience.
In a world where paper money is becoming less common, read on to find out how to set up a debit card for kids under 18, encourage healthy spending habits, and provide an invaluable learning experience.
Eager to get to it? Here's the most popular debit card for kids under 18.
What we'll cover:
Can kids under 18 have a credit card?
No.
By law, children under the age of 18 cannot open a credit card account on their own. The only way kids can get access to a credit card is for an adult credit card holder to add an underage individual as an authorized user to the adult's credit card account.
There is solid reasoning behind the law, of course. Financial education is a life-long journey. Children don't have the skills to understand the consequences of building up debt on a credit card. As another barrier, financial institutions can't enforce repayment from minors.
So if a credit card for kids is out, what about a debit card?
Find Out More >>> Credit Card Alternatives For Kids 👈
Can a 12-year-old have a debit card?
Yes.
Although there are many kids debit card options to choose from.
While a credit card allows for transactions without funds available, debit cards are more like a digital wallet. Kids can spend money that is in their accounts, so there's no spending money that isn't available.
You can start your child on their financial journey at 12 or 13 and teach the financial skills that come with plastic card purchases – but it helps to know your options.
To arrange a debit card for your child, you'll need to speak to your bank. Many banks offer debit card options for juveniles. Although you'll need to check your bank's requirements, whether those are age restrictions or specific youth/junior transaction accounts. You can also choose to use a pre-paid debit card rather than a card linked to your own checking account. Put simply, there are many options for an inquisitive 12 or 13-year old wanting a debit card.
Once your child is over the age of 18 they will get a wider range of options. This includes the choice to open their own checking account, and use stepping stones as your 18 year old establishes credit, including secured credit cards and student credit cards.
But let's focus on the here and now and look at a few good options on debit cards for kids and teens.
Benefits of opening a youth savings account with an attached debit card
Though children are unable to open checking accounts or credit cards on their own, many banks offer products that are focused on kids – even if opening the account requires an adult to co-sign.
For children around the age of 12 and up, these are typically savings products, rather than checking accounts.
There are a few reasons why savings accounts are more appropriate for children around the age of 12.
First, because younger can benefit from learning about the advantages of saving money. Secondly, savings accounts offer more basic features compared to checking accounts. Most noticeably, youth savings accounts come with NO OVERDRAFT FEES, which the co-signer would be responsible for.
As an account designed to meet the modest needs of kids and teens, you can expect:
Lower minimum balances
Inexpensive account fees
Joint ownership
These youth-friendly accounts may come with a range of extra features. These include parental control, custom spending limits, or feature-rich mobile apps. Keep in mind, such an account will typically be in your name, as the law prevents minors from opening bank accounts.
Let's take a closer look at three popular savings accounts for children aged 12 to 13 and up:
Debit Cards for Kids
Option #1: GoHenry
GoHenry is helping a generation of kids start building money confidence and provides an entry point for financial education.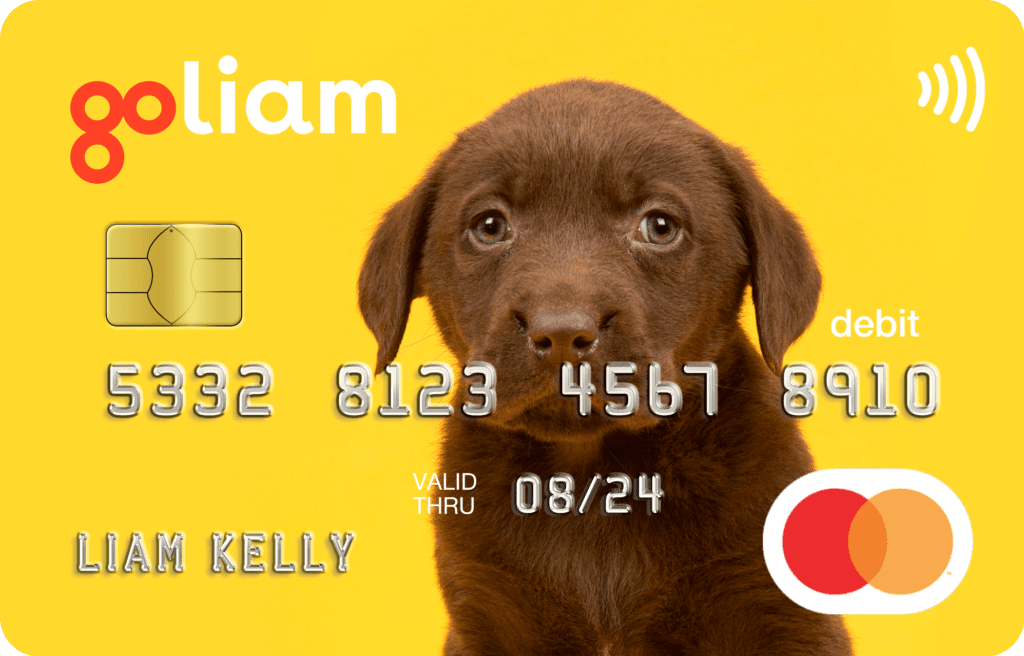 Millions of parents are downloading GoHenry to help teach lifelong money skills. With a linked pre-paid debit card and app, kids can learn the basics of budgeting and spending without racking up huge bills. Plus, with plenty of features for parents like an allowance manager, real-time notifications, and customizable spending controls, there's peace of mind for the whole family.
Even better, it's free to start using GoHenry with a 30-day trial. Perfect debit card for kids aged 6 to 18, the addition of videos and interactive quizzes in the GoHenry app, along with a physical debit card for purchases, nurtures money confidence and builds real-world financial habits – with zero risk of overdrafts.
Here's are some of the features GoHenry offers to help instill money confidence:
Via pre-paid debit card: This means no overdrafts. Ever.
Mobile app: With a companion app for Moms and Dads to supervise
Regular payments: Set up pocket money payments and teach about savings
Set chores: Pay kids for chores completed to show the value of money
Instant notifications: Know what your child is spending and where
Parental control: Choose where and how much your child can spend
GoHenry is the popular choice to help your kids learn about money and manage spending, with 1.5 million members and counting! You can order your GoHenry card in minutes and cancel at any time.
Option #2: Bank of America kids debit card
Like all accounts for children, the Bank of America Minor Savings Account must be jointly owned by an adult parent or guardian. The minimum opening deposit is $25 and Bank of America supplies a fully functional debit card with a savings account.
Your child can make up to six withdrawals a month free of charge. And since Bank of America is FDIC insured, your child's money stays safe. The bank supplies both fully-featured online banking and a mobile banking app with the Minor Savings Account. This way your kids can learn how a real bank account works.
A Bank of America kids debit card is a valuable way for a pre-teen or teenager to learn about financial responsibility, establish good money habits early, and provide the confidence needed to make strong financial decisions in the future.
According to the Council for Economic Education, young adults who receive financial education are less likely to carry credit card debt, so it pays to start teaching your kids about debits cards early (literally!).
Option #3: Capital One Kids Savings Account
Just like the Bank of America savings account for kids, Capital One lets adults open joint savings account for a nominated minor.
Capital One's Kids Savings Account pays 1.00% annual percentage yield (APY) on any savings balance, which is a great way to show kids the benefits of savings and teach them about a core financial concept – how interest accumulates.
The Capital One Kids Savings Account also comes with a debit card, the option to make up to six withdrawals per month at no charge, and is fully FDIC insured. Capital One's online banking and mobile app offers a bit more on top: the bank promises strict parental controls. For example, kids are unable to transfer money out of their account without the consent of the adult, or joint account holder.
Alternative debit cards for kids under 18
Studies show that most children understand the value of money by age 7, so there are clear benefits to starting financial education at home and early.
But does opening a joint bank account for your child simply sound like too much hassle? Maybe you don't like the idea of adding your young child as an authorized user to your credit card? Or you'd prefer greater parental control and would like a product to match your needs.
Well, there's an app for all of that.
In fact, there are several apps that tick those boxes (and plenty more). Here are two of our favorites.
#1 – Greenlight debit card and app
For tech-savvy adults, Greenlight offers a terrific way to manage kids' finances while obtaining a debit card that your kids can pay with.
The product is appropriate for young children (e.g. aged 12 or 13) because it's not a checking account or credit card: Greenlight is in effect a prepaid debit card with a fancy app.
The app gives parents a lot of control over kids spending down to individual stores, all for $4.99/month for the whole family. An example of the educational-driven tools for kids and pre-teens, Greenlight contains an in-app chore list to tie work to perks. You can also deposit money into your child's, receive real-time transaction updates, and enjoy flexible spending controls.
As kids and parents log into the same Greenlight app, but with two different experiences, this debit card for 12 and 13-year-olds helps kids learn to manage their money, with Mom and Dad still in control.
Checkout the highly rated Greenlight App 👈
#2 – American Express Serve prepaid debit card
Looking for a fuss-free prepaid card from a provider that you're familiar with?
There's no Greenlight-like flexibility with the Serve product from American Express, but the card offers all the essential functionality.
Each card is $4.95 per month and you can reload it free of charge. Note that American Express Serve cards are only accepted where American Express is accepted, but for most major stores this is no problem.
Serve comes alongside an app that lets you view transactions, transfer money, and more.
Final thoughts and what to do next…
New technology always presents challenges for parents. Weighing the pros and cons of a debit card for a 12 or 13-year-old is a balancing act that will be personal to you.
As covered in this guide, there are options that provide greater parental control than authorizing your child to use a debit card connected to your account. Pre-paid debit cards and modern apps allow you a greater degree of privacy, spending control, and purchase protection.
If you still have questions about debit cards for kids and teenagers, the best thing to do is ask your bank for more information!
It's never too early to start teaching your kids about money – and the best way to teach is by action. So use the information in this guide to find the best debit card for kids.
LOOKING FOR MORE WAYS TO TAKE CONTROL OF YOUR FINANCIAL HEALTH?
WAIT! High overdraft fees aren't the only way your bank is costing you money.
With inflation overheating, you've probably heard that interest rates are climbing sharply. That means that for the first time in years, it's a great time to shop around for a high interest savings account.
The national average interest rate for savings accounts is currently 0.23% APY – that means that if you have $2,500 in a savings account, you'd earn just $5.76 after one year! Move those hard-earned savings to an FDIC-insured bank paying 3.50% APY and you'd earn $81.73 more!
Don't let your hard-earned savings sit there doing nothing. Check out the rates that you can earn at other banks:
Latest posts by Mitchel Harad
(see all)