Editor's Note: Overdraft Apps provides detailed product reviews and recommendations based upon extensive research and our own hands-on testing. We may earn a referral fee when you sign up for or purchase products mentioned in this article.
30-SECOND SUMMARY: Looking to get a better grip on your finances but can't find a way to stick with it? Cleo organizes your money habits in a way that makes it easy to see how just a few small changes can make a big impact, and her sassy (ok, WISEASS) way of explaining things to you will truly make you LOL. With cash advances for up to $250 (no interest, no tips and no credit check) Cleo makes finances fun.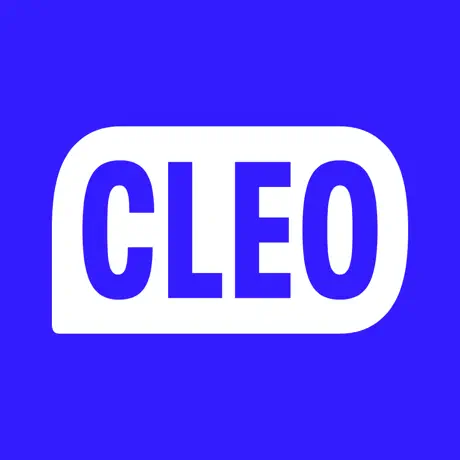 Why is Cleo one of our favorite cash advance apps?
Super speed - You could have up to $250 in your bank account in under 10 minutes!*
No, No, No! - No credit check, no interest, no tips, no late fees
😂 😂 🤣 -

Hilarious

, smart money advice you might finally listen to
*Eligibility requirements apply.
Watch: Cleo video review
What is the Cleo app for?
Cleo is the no B.S. app that's helped millions of Americans budget better, improve their credit score, and avoid overdraft fees with cash advances up up to $250.
As an AI-driven app, Cleo will share powerful insights and advice on your finances and is powered by a smart assistant that will have you cracking up (multiple times).
After downloading Cleo you can set up your free account which includes a secure link to your bank account in under two minutes. Cleo instantly imports and analyzes your recent transactions, and the chatbot will ask you some quick questions about your goals and to better understand your earning and spending patterns. Then she'll start helping you manage your money!
Cleo flips between two modes:
Toast Me (for when you need a pick me up)
Roast Me (for those times when you want to be ripped to shreds) 
Both are hilarious and full of your (new) favorite memes and GIFs while giving you some useful financial advice you may actually pay attention to.
✔ YOU WILL GET
✘ YOU WON'T GET
Jaw-dropping insights on how much you're spending and where you're spending money most often. Postmates, DoorDash and Uber addicts be prepared to get a good talking to!
A boring, dull financial app that's nothing more than a digital spreadsheet tracking your spending.
If you doze off using most money management apps, Cleo is for you.
Cleo breaks down your earnings, spending and bills in a way that may finally make it click for you. Then, you'll receive practical recommendations on how you can easily spend less, save more and start making progress towards your financial goals.
🤓 Overdraft Apps Tip: Cleo does all of this with language you may not want to repeat in front of your mother (with a strong meme game). In its own words, Cleo is an app that "doesn't suck".
Cleo cash advance: What are the requirements?
You can borrow up to $250 with a Cleo cash advance.
Here's what you'll need to know before you get started:
New users can borrow as much as $70 right away, which is a higher initial limit than most other cash advance apps.
The transaction history of your linked bank account is Cleo's primary assessment tool.
There is no credit check to borrow from Cleo, and no regular income is required, making Cleo a good option for freelancers and gig workers.
Cleo is one of the few apps that provides cash advances to Uber drivers and DoorDashers.
You don't need to change your direct deposit, or submit timesheets like apps like Earnin require.
Funds are sent to your linked bank account, so you can use them for ATM withdrawals, debit card purchases, or however you like.
🤓 Overdraft Apps Tip: Setting up Cleo is fast and easy, and the app can get you cash with pretty amazing speed. In our testing, we had cash in our bank account less than eight minutes after downloading the app!
How much does a Cleo cash advance cost?
There are no interest or direct fees for Cleo cash advances, however, they may not necessarily be free.
You'll need to be a Cleo Plus (or Cleo Builder subscriber) for $5.99/month to access cash advances.
The cost to borrow a $100 cash advance from Cleo is $9.99 in fees. This is more than five dollars below the average cost of a $100 cash advance.
Since the subscription fee is monthly, if you borrow more than once per month your effective cost of borrowing is even lower.
You can set your repayment date for up to 14 days after you take out your advance. You can also extend your repayment date for an additional 14 days with no interest or fees.
If you're unable to repay your cash advance, you won't be able to borrow any additional money, however Cleo does not utilize debt collectors or report unpaid loans to credit bureaus.
What Other Features Does Cleo Offer?
Analyze your spending: Cleo automagically categorizes your spending and gives you the punchy highlights. The monthly earning vs. spending charts can be very eye-opening and Cleo is particularly good at identifying those small, frequent charges that add up to much more than you realize, such as food delivery or Amazon purchases.
Set monthly goals and spending targets: You may not want a rigid budget, and Cleo is a great tool if you do have a sense of where you could shop smart and shave a little spending. For example, maybe Cleo helped you identify that you spent way more than you would have liked at restaurants last month so you want to cut back by $200. 
Automate your savings: You can set up multiple savings goals, like save for a trip or build a reserve fund, and create an (optional) free Cleo Wallet account to use Cleo to move money and track your progress. Cleo offers easy set-it-and-forget-it savings hacks like rounding up purchases to the next dollar or allocating a few bucks from each paycheck.
All of these services are available on the free version of Cleo, with no subscription required.
Spend, save, laugh >>> Try Cleo for FREE 👈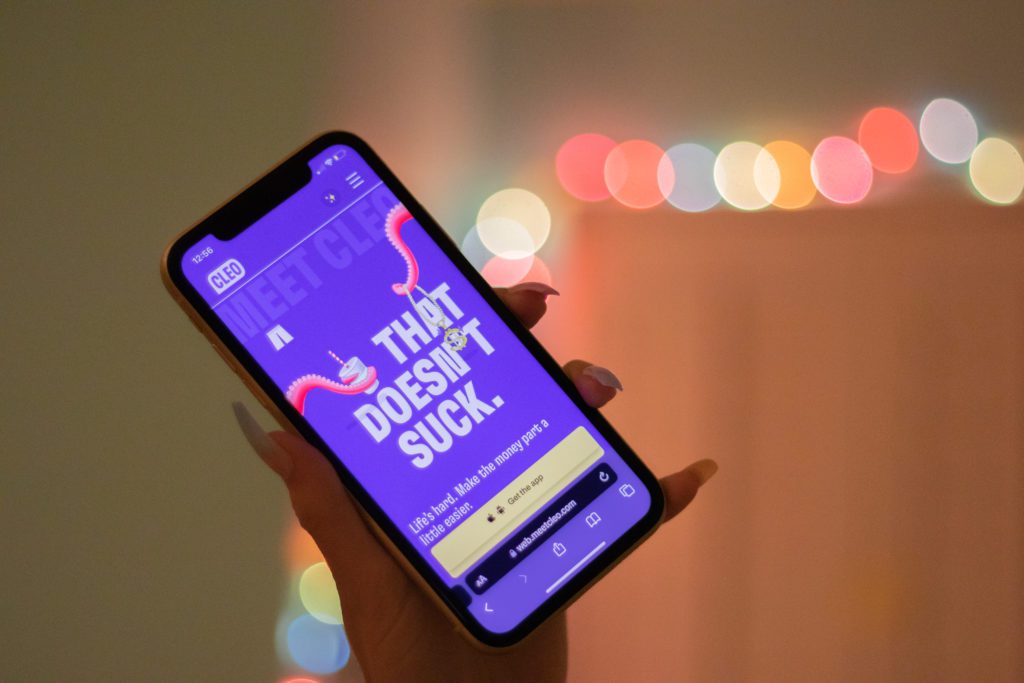 Before You Go: Get a Cleo Plus FREE Trial
Cleo is free to download and you can use most of its best features without paying for a subscription. Free features include:
Building a budget you might actually pay attention to
Effortless bill and spending tracking
Savings goals and monthly targets
Cleo Chat to help you stay on track, whether that's through roastin' or toastin'
If you're ready to take it to the next level (and want to be able to borrow an extra $100 when you need it), you can bump up your subscription to Cleo Plus for $5.99 per month to get all of the free features, as well as:
Up to $250 in no interest, no credit check cash advances
Credit score coaching and analysis
Cashback offers on restaurants, retail, travel, and even gas and groceries!
Cleo Plus coupons or promo codes are usually not available (so don't waste too much time copying and pasting invalid codes from coupon sites), but it's easy to cancel Cleo directly from the app (no annoying phone calls to customer service) whenever you want to go back to a free account or just call it quits.
Cleo does offer a $5/month discount for the first three months on its Credit Builder Secured Credit Card (regular price is $14.99/month); the discount is permanent for students.
There is currently no offer for a Cleo Plus free trial – but we found that doesn't necessarily mean you'll miss out on using Cleo's best feature for free.
Do THIS for a Cleo Plus free trial…
We found a loophole in Cleo's terms and conditions when putting together this 'Meet Cleo' app review.
You can apply to borrow from Cleo without subscribing by emailing [email protected] and stating that you would like to receive a Salary Advance without subscribing to the Cleo Plus services.
Create a Cleo account in two minutes 👈
---
Frequently Asked Questions About Cleo
Is the Cleo App Safe?
Yes. The Cleo app is safe. Sharing all your financial information – and access to your bank account – with a foul-mouthed app can be a scary proposition, but behind the scenes things are all business.
Cleo connects to your bank account via Plaid, the premier company in building 'pipes' for financial technology apps. Plaid not only makes it super-simple for you to link your bank account to Cleo, it also ensures that you've only granted read-only access, meaning that Cleo can see what's happening in your bank account to give you spending and saving summaries and recommendations, but it can't touch your money.
Plus, Cleo protects data with bank-grade data encryption and doesn't store your bank login information anywhere, so you don't need to worry about hackers stealing it in a data breach.
Does Cleo give money instantly?
Funds usually take 3 – 4 business days to reach your bank account. If this is too long, you can pay a $3.99 express fee to get your funds in your account within 24 hours. Paying an express fee might not be top of your list, but it helps to know you can get your money instantly for a small fee.
Does Cleo give $100?
Yes. You can borrow up to $250 although new Cleo users are more likely to be capped around $70 – which is still much higher than many of the other money borrowing apps which are only willing to put $20 to $50 in your pocket as a new user.
---
You got this far, but decided this isn't your jam? Check out these apps like Cleo instead.
WAIT! High overdraft fees aren't the only way your bank is costing you money.
With inflation overheating, you've probably heard that interest rates are climbing sharply. That means that for the first time in years, it's a great time to shop around for a high interest savings account.
The national average interest rate for savings accounts is currently 0.23% APY – that means that if you have $2,500 in a savings account, you'd earn just $5.76 after one year! Move those hard-earned savings to an FDIC-insured bank paying 3.50% APY and you'd earn $81.73 more!
Don't let your hard-earned savings sit there doing nothing. Check out the rates that you can earn at other banks:
Latest posts by Mitchel Harad
(see all)