Editor's Note: Overdraft Apps provides detailed product reviews and recommendations based upon extensive research and our own hands-on testing. We may earn a referral fee when you sign up for or purchase products mentioned in this article.
Earnin is hugely popular among in-demand and hourly workers by offering up to $100 of their earned wages per day and up to $500 per pay period. Even better, optional tipping on each withdrawal is an absolute steal compared to the fees and interest, you'll be charged on a traditional payday loan. However, with low cash advance limits and strict eligibility criteria, Earnin may not be suitable for all users. So we've rounded up several cash advance apps like Earnin that provide additional ways to get the cash you need when your account is running low.
How long does it take to get money from Earnin?
Earnin can often give you access to your unpaid wages in under 30 minutes. Funds are sent directly to your existing bank account via Earnin's Lightening Speed feature. And unlike some other apps there is no fee for getting nearly instant access to your money.
In fact, Earnin won't charge you any interest or fees. That's right, nothing. Instead, users can "tip" any amount. Tipping is completely optional, and the amount of your tip won't impact your Cash Out limit, though note that regular tipping can add up (for example, a $2 tip on a $20 withdrawal due in two weeks works out to be an APR of 260%!!!).
Used by millions of American workers – we're talking salaried, hourly, or gig workers – Earnin's Cash Out feature lets you access up to $100 per day based on the hours you've already worked, up to a $500 advance per pay period, or up to $1,000 per pay period if you're invited to participate in the new Earnin Express feature.
Earnin works by linking to your existing bank account so you can turn any day into payday and use your money in any way you want – debit card swipes, ATM withdrawals, 'tap and go' transactions on your smartphone, bill payments, paying friends through Venmo… you get the idea.
There's no credit check and no need to move your direct deposit. That's partly why Earnin offers some pretty clear advantages over other cash advance apps that have longer wait times to access funds. New Earnin users can access up to $100 right away after creating and verifying their account.
For those who want to spend less time tracking notifications, Earnin's Balance Shield has funds automatically transferred to your bank account if your balance falls below a certain level. Yep, that means dodging overdraft fees before your bank can ever fire them off at you.
And since you're busy, you know, living life and not checking your bank account every 5 seconds, your Earnin Cash Out advance is automatically paid back when your next paycheck arrives. With your account balanced, you'll be able to access your NEXT paycheck early too!
(The fine print: Cash outs are subject to your available earnings and daily pay period max. Restrictions and/or third party fees may apply, see Earnin.com/TOS for details.)
Is Earnin a good cash advance app for you?
For some people, the Earnin app is a lifesaver. But not everyone can use it, so it pays to know if you're a good fit. There are eligibility criteria that won't suit everyone. For example, the Earnin app is for US customers only (sorry international readers!). You'll also need a steady paycheck (weekly, bi-weekly, semi-monthly or monthly), a checking account, and a smartphone.
Since Earnin needs to advance your wages, you'll need proof of employment and hours worked, which can be done by submitting an electronic timesheet, signing up your employer-provided email address, or addings your earnings manually.
Earnin can be helpful if
✔ Over 50% of your direct deposit is sent to a checking account
✔ You have a job or gig work with regular pay
✔ You need a small amount of cash before payday
Earnin might not be right for you if…
✘ You don't have a regular paycheck
✘ You're freelance, remote or work multiple jobs (Many gig workers aren't eligible for an advance)
✘ You need more than $100 a day (or more than $500 per pay period)
✘ You don't have enough unpaid earnings to Cash Out 
✘ You have an outstanding Cash Out from Earnin that you are late in paying back
✘ You use one of the several dozen banking apps that Earnin doesn't support, including Albert, Current, Dave, Go2Bank, and Varo.
Even if Earnin ticks all of your boxes, it can be helpful to have another cash advance app on your phone to make sure you've got access to cash when you need it (especially if you don't qualify for Earnin's paycheck advance feature).
Cash Advance Apps like Earnin
We share lots of love in our Earnin review. But if you don't qualify for Cash Outs, need to access more than the $100 daily limit, or don't want to have to plan ahead for when you might be short on cash, Earnin might not be the best (or only) cash advance app for you. A number of apps like Earnin offer features that make it easier to get money when you need it, without limits based on your paycheck or job description. (Note that some wage advance programs, such as Payactiv and the Even app are only available via participating employers.)
Here are three cash advance apps that can make up for Earnin's shortcomings:
Access up to $250 of your unpaid earnings anytime, with no interest – MoneyLion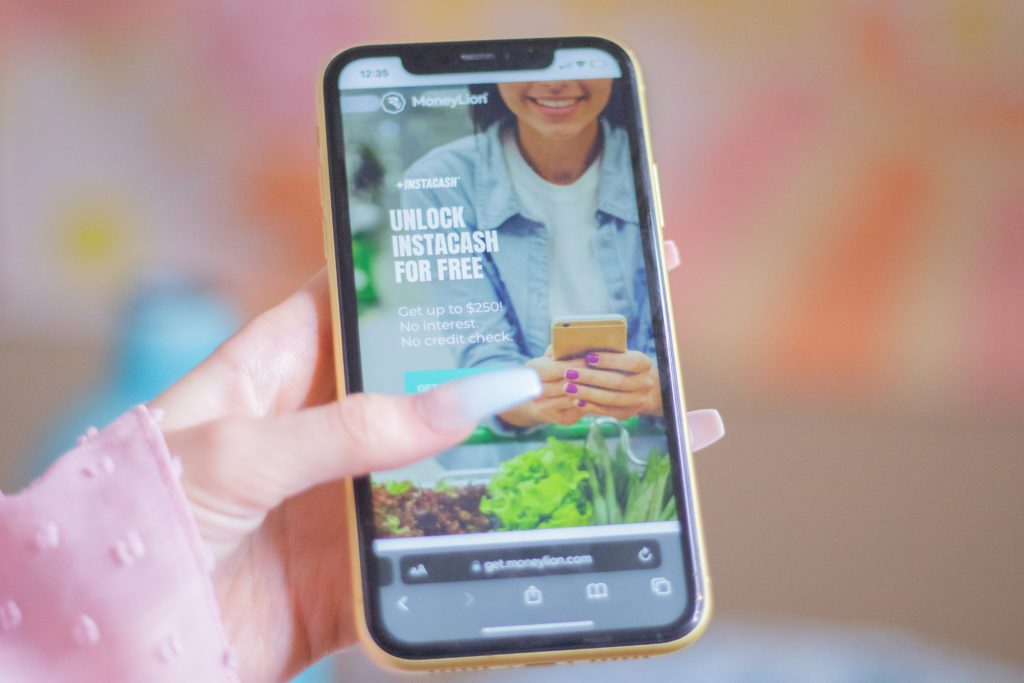 With MoneyLion's Instacash feature, you can borrow up to $250 with no interest, no monthly fee, and no background credit check.
To access this feature, you'll need to set up your MoneyLion account. With that done, you're constantly eligible for a $25 cash advance. This figure can rise as high as $250 over time for those larger expenses.
MoneyLion knows that some financial emergencies can't wait. You can have your cash in 48 hours for free, though you'll need to pay a $3.99 fee to have it instantly deposited into your MoneyLion RoarMoney account or $4.99 for it to be sent to your bank account.
Since cash advances are just one part of the full-featured MoneyLion app, you can also access a bunch of handy tools for digital banking, automated investing, credit building loans, budgeting and financial tracking, and rewards.
Get cash advances up to $250 with no interest >>> Check out MoneyLion
Comparison shop cash advance loans for up to $2,500 when you need more cash – Pockbox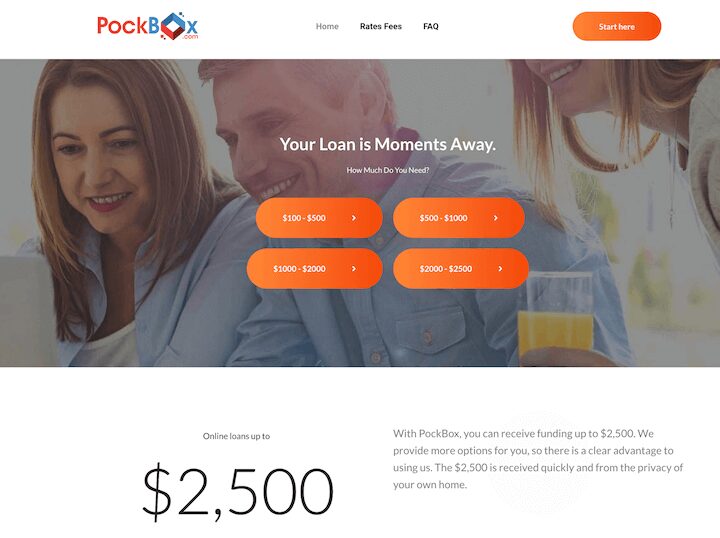 Most cash advance apps offer the convenience of fast funds, but often have limitations on how much you can borrow.
Want more than most cash advance apps are willing to spot you? PockBox is an easy way to compare your options and see how much you can borrow. All you'll need to do is answer a few questions about yourself. From there, PoxBox will instantly fetch loan quotes from up to 50 lenders.
You compare your options, weigh up your choices, and move forward with the lender that offers the best deal for you. Loans start as low as $100 for those smaller emergencies. But you can borrow up to $2,500 if you need more than apps like Earnin can provide.
And since no one wants to wait when they need fast cash, most PockBox lenders you can get your loan into your bank account by the next business day (though it's possible to get your money in a matter of hours too).
As for the cost, PockBox is free to use. There's no obligation to proceed with any of the loan quotes put forward to you. If you like the look of a loan, you can move forward and learn more. If not, you haven't committed a thing.
Don't stress if you're dealing with bad credit either (34% of Americans have average to poor credit). Many lenders on PockBox specialize in borrowers with bad credit. You won't be left out of the conversation if you want to chat with a lender through PockBox.
Compare loan offers for up to $2,500 >>> Check out the free PockBox app

Get paid two days early and access up to $200 whenever you need it – Chime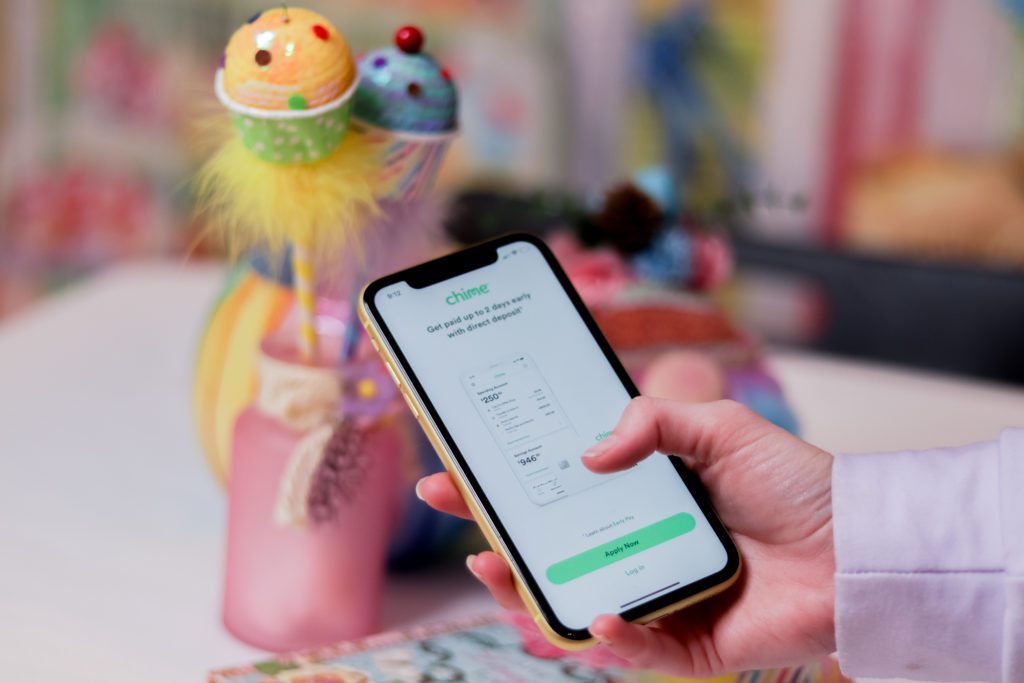 Chime SpotMe® can also provide you with up to $200* in fee-free overdrafts.
This is possible with Chime's SpotMe feature which lets you overdraft your account via debit card purchases or ATM withdrawals – all with zero overdraft fees. Your limit starts at $20, but you may be able to overdraft up to $200 as your account history grows.
And since you're already running low on cash, you'll be happy to know that enrolling in SpotMe is free. Once you've signed up your account and receive a qualifying direct deposit of $200 or more a month, Chime will cover up to $200 in overdrafts on your account.
Let's say you're out for a $40 brunch with your friends but your bank account only has twenty bucks in it. Instead of using your bank's debit card to pay for your expensive sourdough toast and copping a $35 overdraft fee (which means you end up paying $75 for brunch!!!), you can use SpotMe. Using your Chime debit card means the $20 overdraft is covered with zero fees. The next time you make a deposit to your Chime account, the $20 negative balance is wiped clean.
Get fast access to fee-free overdrafts >>> Sign up for Chime in less than 2 minutes
---
How we picked these apps
To come up with this list of cash advance apps, we picked 4 apps like Earnin, downloaded them onto our phones, and got to work testing them out. We considered features including fees (upfront or hidden), eligibility, borrowing limits, and interest rates. We also looked for additional features that might benefit workers running short before payday. These include credit checks, speed of accessing funds and overdraft support.  We may receive a referral fee if you purchase or use some of the products described in this article.
*Chime SpotMe eligibility requirements and overdraft limits
: Chime SpotMe is an optional, no fee service that requires a single deposit of $200 or more in qualifying direct deposits to the Chime Spending Account each month. All qualifying members will be allowed to overdraw their account up to $20 on debit card purchases and cash withdrawals initially, but may be later eligible for a higher limit of up to $200 or more based on member's Chime Account history, direct deposit frequency and amount, spending activity and other risk-based factors. Your limit will be displayed to you within the Chime mobile app. You will receive notice of any changes to your limit. Your limit may change at any time, at Chime's discretion. Although there are no overdraft fees, there may be out-of-network or third party fees associated with ATM transactions. SpotMe won't cover non-debit card transactions, including ACH transfers, Pay Friends transfers, or Chime Checkbook transactions.
See Terms and Conditions .
Chime is a financial technology company, not a bank. Banking services provided by, and debit card issued by, The Bancorp Bank or Stride Bank, N.A.; Members FDIC.
WAIT! High overdraft fees aren't the only way your bank is costing you money.
With inflation overheating, you've probably heard that interest rates are climbing sharply. That means that for the first time in years, it's a great time to shop around for a high interest savings account.
The national average interest rate for savings accounts is currently 0.23% APY – that means that if you have $2,500 in a savings account, you'd earn just $5.76 after one year! Move those hard-earned savings to an FDIC-insured bank paying 3.50% APY and you'd earn $81.73 more!
Don't let your hard-earned savings sit there doing nothing. Check out the rates that you can earn at other banks:
Latest posts by Mitchel Harad
(see all)