Editor's Note: Overdraft Apps provides detailed product reviews and recommendations based upon extensive research and our own hands-on testing. We may earn a referral fee when you sign up for or purchase products mentioned in this article.
The record-breaking inflation surge over the last few years has significantly reduced the average American's purchasing power. In 2022, roughly one in five consumers couldn't afford a $100 emergency!
If you're one of the many people feeling the pinch, Credit Genie says it has your back. It's a cash advance app that can offer just enough cash to make ends meet until your next payday.
But with so many other cash advance alternatives, does it make sense to give them your business? Our in-depth Credit Genie review will help you decide.
What is Credit Genie?
Credit Genie is a pretty straightforward cash advance app. Its most practical aspect is its cash advance feature, which lets you borrow up to $100 with no credit check or interest charges. However, it also includes a few other token bells and whistles:
Alerts: Credit Genie can monitor your bank account balance and automatically notify you when your funds drop below a certain threshold. Ideally, it should help you avoid returned transactions and overdraft fees.
Insights: Credit Genie analyzes your spending habits and looks for patterns to help you better understand your tendencies with money. It can also suggest ways you might be able to save money and improve your financial situation.
Debt Relief: Credit Genie partners with other credit-related product and service providers and can recommend ones that might help you get out of debt more quickly or lower your monthly payments. Of course, it gets a commission whenever you make a purchase, so take its recommendations with a grain of salt.
How Do Credit Genie Cash Advances Work?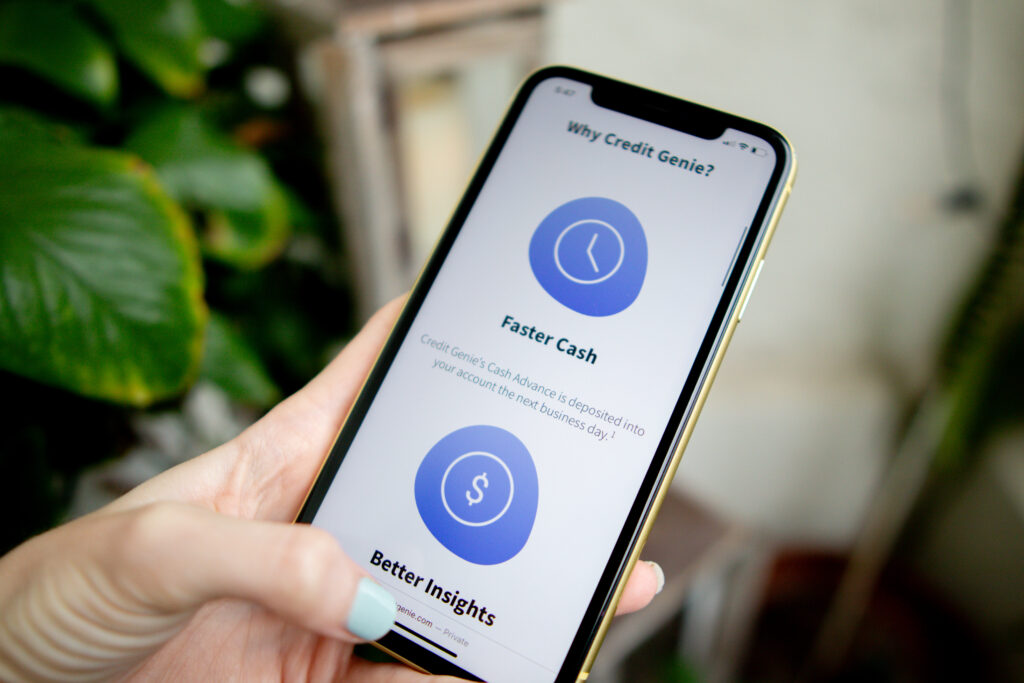 To get a cash advance from Credit Genie, you must download its mobile app, which is available on the App Store and Google Play. Once you create a profile by providing your name, phone number, and email address, it'll ask you to link a bank account.
A linked bank account is required to access Credit Genie's features, including its cash advances and Personal Financial Management Services. Like most of its competitors, Credit Genie uses Plaid to keep your banking information secure.
To qualify for a cash advance, your account must meet the following requirements:
Not a joint account
Open for at least 90 days
Contain $750 in monthly direct deposits over the last 90 days
Receive two monthly direct deposits no more than 16 days apart
Once you link your bank account, Credit Genie will analyze your income, balance history, and spending patterns, then assign an amount for your first advance. It can range anywhere from $5 to $100.
Once you use the app, Credit Genie will factor your repayment activities into the amount. If you use your credit line responsibly and pay it back on time, Credit Genie promises to increase your limit.
Unfortunately, customer reviews don't support that claim. Many users report they qualified for $80 to $100 when they first downloaded the app. But after completing their first advance, their offers inexplicably decreased, dropping to between $5 and $20.


Whatever the size of your cash advances, you can request that Credit Genie transfer your funds in three different ways, depending on how urgently you need the money.
However, it doesn't guarantee its delivery times, and customer reviews indicate that it's not the most reliable when it comes to timing. Here are the options:
Standard ACH: It usually takes these transfers one to three business days to reach your account.
Express ACH: This should get you your funds within one business day. If your request occurs during business hours (before 2:00 PM ET, Monday through Friday), it should arrive by 9:00 PM ET the same day. If it goes through after hours, it should arrive the following business day by 9:00 PM ET.
Instant Debit Card: With this method, your funds should appear on your linked debit card within 30 minutes.
Finally, Credit Genie will assign a due date for your payment when you request your cash advance. Using its insight into your bank account activity, it'll try to schedule it on your next payday.
If you don't like your due date, you can request that Credit Genie push back your repayment by emailing the customer service team. There's no penalty for delaying, but you won't be able to borrow money again until you pay back what you owe and late payments may reduce your cash advance limit.
How Much Does a Credit Genie Cash Advance Cost?
One of the first things most of us want to know when considering a product or service is how much it costs. Well, we've got some bad news – Credit Genie is actually on the more expensive side.
Once you link your bank account to its software, it'll charge you a $4.99 monthly connection fee. There's no fee or interest for individual cash advances, so this is the only unavoidable cost of using the app to borrow money.
You'll need to agree to the $4.99 monthly fee before you even apply for a cash advance, which is pretty unusual amongst cash advance apps. There is a 3-day free trial, though, so be sure to cancel within that time frame if you don't qualify for an advance. (Note that you need to cancel by selecting 'Disconnect Bank Account' in the app's settings. simply deleting the app won't cancel your subscription.)
However, you may incur other costs depending on how you use the app. Most notably, there are express fees for requesting the Express ACH and Instant Debit Card delivery options.
Credit Genie isn't as transparent as it should be about the size of those fees (and didn't respond to our request for clarification), but customer reviews show that it's $5.99 for the Express option and $11.99 for Instant Debit delivery. These amounts are due when you repay your advance.
In addition, Credit Genie will ask if you want to leave a tip for its services, just like you would with Dave or Earnin. However, tips aren't required and don't affect your ability to receive an advance. They're also capped at $150 per calendar year.
Ultimately, that all makes Credit Genie one of the most expensive cash advance apps on the market. Assuming you pay $11.99 for instant delivery and leave a 15% (optional) tip on top of the $4.99 monthly fee, the total cost for a $100 cash advance is a whopping $31.98. For context, the average cost of a $100 cash advance is $15.35.
Is Credit Genie Legit?
Credit Genie is a legitimate FinTech company. It was founded in 2019 by Ed Harycki, the founder of Swift Capital, which was eventually acquired by Paypal. Since then, it's received $4 million in funding from three institutional investors: Khosla Ventures, Tippet Venture Partners, and Gabriel Investments.
Credit Genie also gets mostly positive scores on the App Store and Google Play. As of the time of writing, it has an average of 4.5 out of 5 stars on both platforms based on 8.5K and 4.6K ratings, respectively.
However, this stands in pretty stark contrast with the sentiments in most actual reviews. Almost everyone who left a comment detailing their experience with Credit Genie had complaints, with the most frequent ones being:
Bank account connectivity issues: The number one issue customers report is that Credit Genie has problems staying linked to bank accounts, especially after you complete your first advance. Users who encounter this issue often try to disconnect and reconnect, but Credit Genie's policies punish you for that, automatically blocking you from reconnecting for 60 days.
Slow loading and processing times: Credit Genie's app tends to load slowly and occasionally gets stuck on perpetual loading screens. In addition, its processes often take longer to complete than they should. That includes sending you advances and updating records to show the collection of your repayment.
Rude and unresponsive customer service: Not having a customer support phone number is often a red flag, and it's a big issue here. Credit Genie promises to answer emails in three days, but it often fails to meet even that low bar. Its team is also quick to blame customers for issues, sometimes coming across as condescending in its public responses to negative reviews.
Based on the trends in customer comments and our first-hand experiences with the app, these issues occur frequently enough to make Credit Genie a risky option. It has potential but is still relatively new, and its systems need further development.
There are more reliable cash advance apps.
Cash Advance Apps Like Credit Genie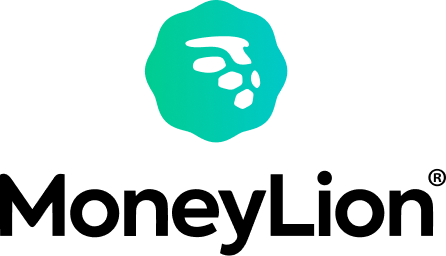 Why is MoneyLion one of our favorite cash advance apps?
Super speed - You could have up to $500 in your bank account in under 10 minutes!
No, No, No! - No credit check, no interest, no tips, no late fees
🏗️ 💳 💵 - Get the only credit builder loan that gives you up to $1,000 right away, with no hard credit check1
Fortunately, there's no shortage of instant cash advance apps like Credit Genie. If you're looking for a better alternative, here are some options that have them beat in at least one significant way:
PockBox: Credit Genie's cash advance limits are lower than most. $100 isn't much, and only the most qualified applicants can borrow that amount. PockBox is on the opposite end of the spectrum. It offers you the chance to borrow as much as $2,500! If you need more than a few hundred bucks, it's one of your best options. PockBox lets you compare multiple loan offers in minutes, but be aware that some are more expensive than traditional cash advances.
Cleo: Unless you're willing to pay an expensive express fee, Credit Genie takes at least one to three business days to deliver your funds. For a faster alternative, consider Cleo. It can get you up to $250 in less than ten minutes! It's also more entertaining than its competitors, with a snarky AI assistant that guilt-trips you into spending less money.
Albert: Credit Genie forces you to link a bank account that shows a paycheck coming in every two weeks, which is a common obstacle for the self-employed. If you're looking for a cash advance app without direct deposit requirements, Albert is a great option. You can use it to borrow up to $250, even as a gig worker.
Cash advance apps are becoming increasingly popular, and more options are hitting the market each year. Make sure you shop around and do your due diligence before you commit to one!
WAIT! High overdraft fees aren't the only way your bank is costing you money.
With inflation overheating, you've probably heard that interest rates are climbing sharply. That means that for the first time in years, it's a great time to shop around for a high interest savings account.
The national average interest rate for savings accounts is currently 0.23% APY – that means that if you have $2,500 in a savings account, you'd earn just $5.76 after one year! Move those hard-earned savings to an FDIC-insured bank paying 3.50% APY and you'd earn $81.73 more!
Don't let your hard-earned savings sit there doing nothing. Check out the rates that you can earn at other banks: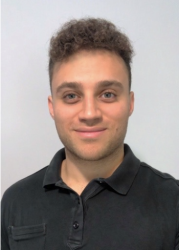 Latest posts by Nick Gallo, CPA
(see all)
When you apply for CreditBuilder Plus, MoneyLion will perform a soft credit pull to review certain financial information. This soft inquiry has no impact to your credit score and may or may not be recorded in your credit reports depending on the bureau. This is unlike a hard credit pull which affects your credit score and can appear on your credit report for two (2) years. Credit score improvement is not guaranteed. A soft credit pull will be conducted that has no impact to your credit score.