Editor's Note: Overdraft Apps provides detailed product reviews and recommendations based upon extensive research and our own hands-on testing. We may earn a referral fee when you sign up for or purchase products mentioned in this article.
Navigating financial waters with bad credit can often feel like being lost at sea. Traditional loans are typically out of reach, and payday loans? They come with their own set of nightmares. Enter: cash advance apps. These apps are tailored for those with not-so-great credit scores and are redefining how we borrow money.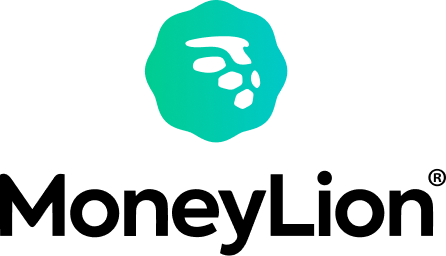 Why is MoneyLion one of our favorite cash advance apps?
Super speed - You could have up to $500 in your bank account in under 10 minutes!
No, No, No! - No credit check, no interest, no tips, no late fees
🏗️ 💳 💵 - Get the only credit builder loan that gives you up to $1,000 right away, with no hard credit check1
There are now dozens of cash advance apps that put cash in your bank account less than ten minutes after you've downloaded them. Many apps can instantly provide you with several hundred dollars (and a few will even lend you up to $500), though your limit will likely be lower to start. They don't charge interest, have fees that are about on par with the cost of a nice sandwich, and they don't care if you have a bad credit score, or even no credit score at all. Let's dive in to the details.
Cash Advance Apps Don't Care About Your Credit Score
A standout feature of cash advance apps? They play nice with your credit. When you apply:
No Credit Check: Cash advance apps don't care about your credit score, so a few mistakes with your finances may not get between you and the money you need.
No Impact on Your Credit Score: Unlike traditional loans, these apps don't perform a hard inquiry on your credit, which can lower your score whether you're approved or declined.
Payments and Credit Reporting: Using these apps won't help you build your credit score, as on-time payments aren't reported to credit bureaus. But, there's also a silver lining: late payments that can damage your credit score aren't reported either, so using (most) cash advances won't hurt your credit.
Consequences of Late or Non-payment: If you're late with a payment or fail to repay, these apps won't send collection agencies after you or take out a court order to seize funds from your bank account. Most apps don't charge any interest or late fees that can really add up with other forms of credit. However, there can be in-app consequences, like a reduced cash advance limit, or potential suspension from future borrowing.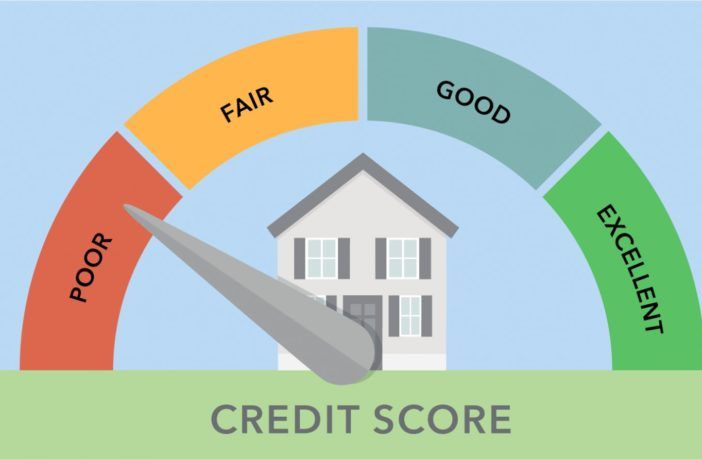 How Can You Get a Cash Advance with Bad Credit?
In the traditional borrowing landscape, a poor credit score—or even no credit score at all—can slam the door shut on credit cards, personal loans, and other low cost loans. Traditional lenders see your low score and quickly say 'no thanks' to your application. However, these cash advance apps have changed the game. Instead of running a credit check, they simply take a peek into your bank account. This way, they aren't reliant on past financial mistakes or limited histories. Instead, they focus on your current financial behaviors and patterns.
Plaid: The Secure Gateway
These apps use a trusted third-party service named Plaid. Plaid is built into most of these apps, and acts as a secure bridge between your bank and the cash advance app. Through Plaid, these apps can view your banking data, ensuring a quick verification process. For users, this means not only convenience but also a guarantee of data security.
Bank Account Details: The First Impression
Your bank account paints a picture of your financial stability. Cash advance apps look at your bank account to understand your financial footing. Why? Well, an account that's been in use for a few months signals a degree of stability. If you've got an account that's brand new or frequently dips into the negatives, it might raise red flags for these apps. Also, while they're flexible, many cash advance apps tend to be wary of newer banking platforms like Chime, Varo or Go2Bank. These apps play best with traditional banks like Chase, Wells Fargo, or even your local credit union.
Deposit Patterns: The Heartbeat of Your Finances
Just as a doctor checks your heartbeat for consistency, cash advance apps monitor the deposit patterns in your bank account. They're hungry for consistent income patterns—like a steady paycheck or regular government benefits, such as Social Security payments. It's all about predictability. If you're receiving a regular paycheck of the same amount every two weeks, it's music to their ears! But if you're a gig worker with erratic deposits, you might strike a sour note. Why? Consistent deposits show the apps that you have a reliable income source so they have a reasonable expectation of when you'll be able to repay your advance, increasing your chances of loan approval and even a higher borrowing limit.
Repayment History: Building Trust, One Payment At a Time
While many cash advance apps boast that they'll lend you several hundred dollars or more, your first advance will likely be for a much smaller amount, often $20 – $100.
Think of it as a trust-building exercise. Regular, on-time repayments suggest that you're a responsible borrower. On the other hand, if you delay or miss repayments, you're not building a solid track record and look riskier to the lender. Even though there aren't any late fees, this might lead to a reduced borrowing limit. Continual delays could even see you suspended from the app. As you build trust through on-time repayments, you can watch your borrowing ceiling rise.
Top Cash Advance Apps for Bad Credit
Cleo: Your AI Financial Sidekick with Sass and Cash Advances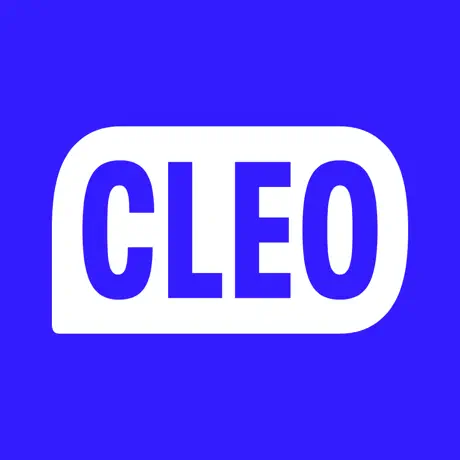 Why is Cleo one of our favorite cash advance apps?
Super speed - You could have up to $250 in your bank account in under 10 minutes!*
No, No, No! - No credit check, no interest, no tips, no late fees
😂 😂 🤣 -

Hilarious

, smart money advice you might finally listen to
*Eligibility requirements apply.
Meet Cleo, the AI-powered financial buddy that pairs wit with wisdom. While she's got a fun and cheeky side, don't be fooled. Cleo's got serious money smarts to help you handle your finances right from your smartphone. Not only does she track your spending and offer cash-back rewards, but she'll also give you real, unfiltered feedback. Want praise? Choose 'Hype Mode'. Need a financial reality check? There's 'Roast Mode' for that.
But here's the kicker: Cleo offers up to $100 in cash advances without a credit check. Say goodbye to the hassles of timesheets or changing your direct deposit. Just request an advance, and in 3-4 business days, the funds are in your bank. If waiting isn't your thing, for a small $3.99 express fee, get your cash within a day. Besides the laughs, Cleo's credit-building card, money-saving tools, and straight-talking advice are why users love her.
Revamp your finances with a dash of humor >>> Give Cleo a spin
Klover: Pocket-Friendly Advances and Daily Cash Drawings

Why is Klover becoming one of the most popular cash advance apps?
Super speed - You could have up to $200 in your bank account in under 10 minutes!
No, No, No! - No credit check, no interest, no subscription fee, no tips, no late fees
🎰🤑💰 - Earn Klover Points that you can use to enter free daily cash drawings or boost the size of your cash advance
Step aside, high fees and tedious processes! Klover is making waves with its affordable cash advances and a unique points program. Need up to $200 without a credit check? Klover's got you covered. The express fee for your loan is all you pay, ranging between $2.99 to $9.99 based on how much you borrow. There's zero monthly fees, interest, or late charges. But if you fancy extra perks, there's Klover+ for $3.99/month, offering credit score monitoring and savvy price comparisons.
Borrowing $100? With just a $9.99 fee, Klover ranks among the most wallet-friendly apps for such loans.
And the fun doesn't stop at borrowing! Earn Klover Points by doing simple tasks, watching ads, or even sharing some spending insights. Feeling lucky? Use your points to enter daily cash drawings. Win up to $100 or snag one of five $20 prizes. Or, boost your borrowing limit with those points. Klover+ members? Enjoy redeeming your points for popular gift cards. Klover blends affordability with a sprinkle of daily excitement!
Dave: Fast funding from the OG cash advance app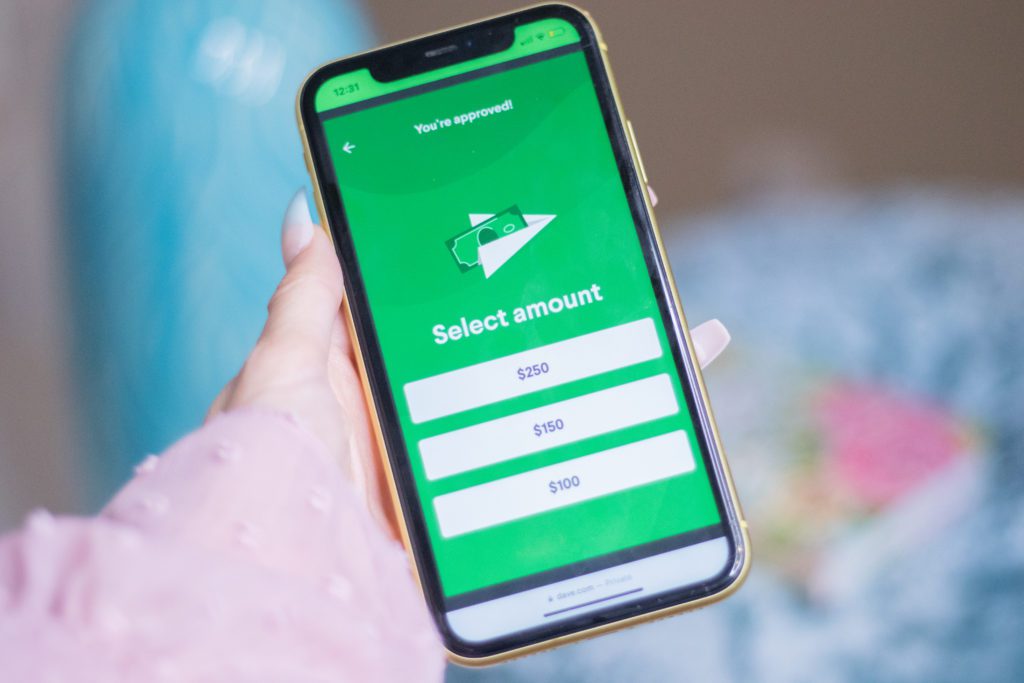 Dave isn't just another app; it's leading the charge against unfair overdraft fees. With a whopping 10 million users, Dave lets you borrow up to $500 in a flash (though likely less to start), no interest or credit checks in sight.2 The setup? It's smooth and quick – we had cash in our bank account less than ten minutes after downloading the Dave app!
Want your money fast? Use the Dave Debit MasterCard and get your funds in a jiffy, with a small express fee ranging from $1.99 to $9.99. This card isn't just for borrowing, though. You can snag deals like 10% cash-back at select places and even some tasty offers, like a discount at Shake Shack. If you're not in a hurry, Dave will transfer your funds to your bank within three days, no fees attached. Just note there's a minimal $1 monthly subscription for using Dave. And if you're running a tad late on paying back? Breathe easy. Dave's lenient – no late fees to stress over.
Instant cash advances, no credit check >>> Check out Dave
Albert: Fee-Free Cash Advances with Financial Expertise at Your Fingertips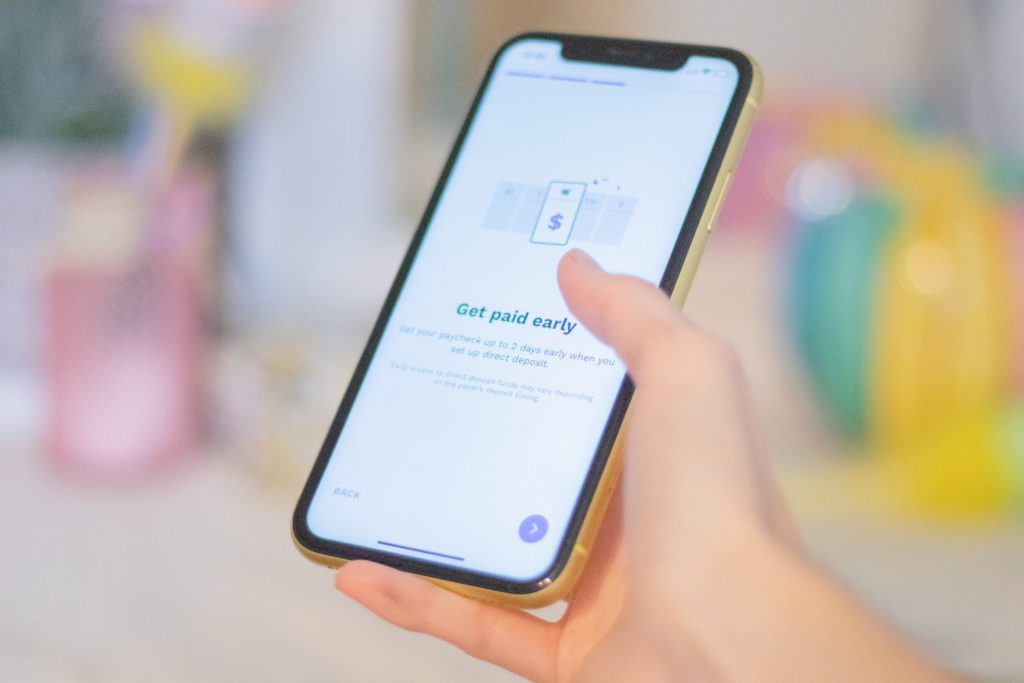 Meet Albert, a savvy app that can grant you up to $250 in cash advances without blinking an eye at credit checks.3 Within ten minutes of downloading the app, you could feel a heavier pocket, all thanks to Albert's quick scan of your bank account's history and activity. Unlike some apps that only let you take out one cash advance at a time, Albert might give you access to a generous sum right from the start, allowing up to three advances per pay cycle.
Want that cash instantly? A tiny express fee of $6.99 gets you a $100 advance right away. But if patience is your virtue, skip the fee and wait just three business days. And that's it. No hidden costs, no mandatory subscriptions, just a straightforward deal.
But Albert doesn't stop at lending. Dive into tools that help you budget, save, and master your finances. And if numbers leave you scratching your head, the Albert Geniuses are here! Real financial pros, ready to guide you on money matters any day of the week. Though Albert Genius comes at $6/month, your journey starts with a 30-day free ride once you team up with Albert. Dive into smarter finance today!
Get up to $250 with no credit check >>> Download the Albert app
Cost of Using Cash Advance Apps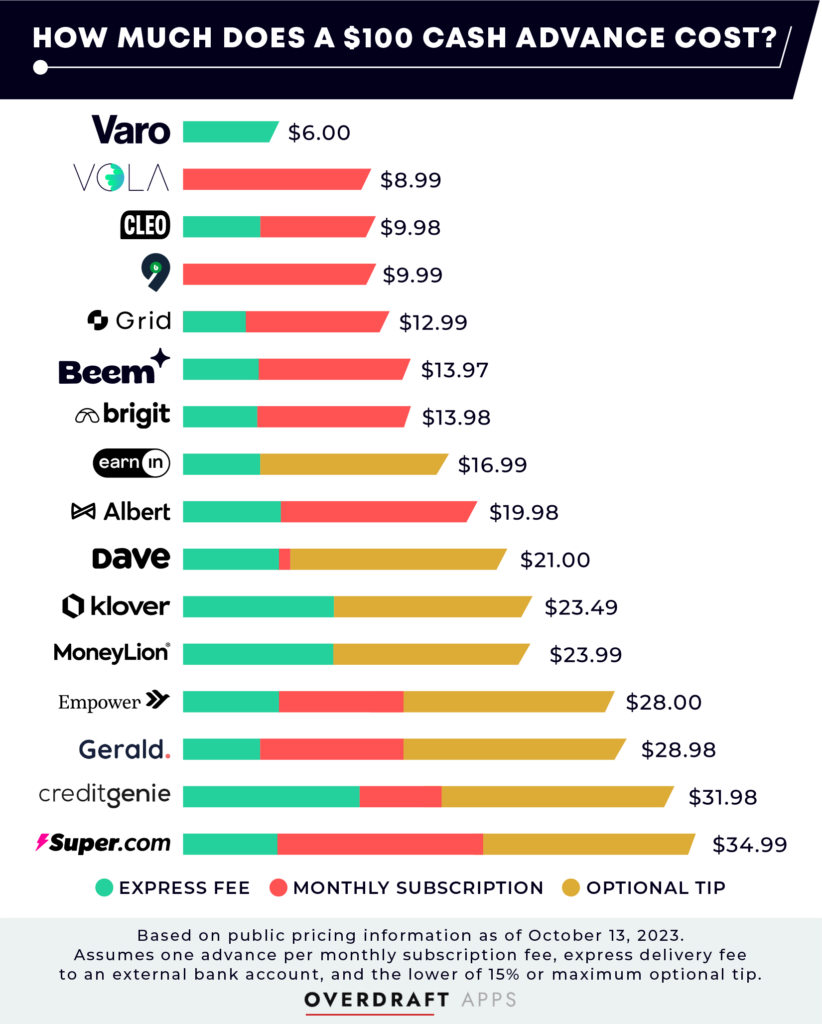 Think of payday loans as those old, costly spectacles, while cash advance apps are the sleek, modern eyewear. After analyzing 15 popular apps, borrowing $100 averages out to about $15.35 in fees. Compare this to the exorbitant overdraft fees or the sky-high interest rates of payday loans. It's a no-brainer (and there are even some totally legit strategies for borrowing a cash advance for free)!
Each app has a different pricing model, but they generally use one or more of these fees:
Interest and Late Fees: These apps typically won't charge you interest or slap you with late fees. You need more time to repay, the cost stays the same.
Monthly Subscription: Some apps might have a monthly subscription fee that you'll need to pay to take out a cash advance. Make sure you cancel via the app or customer service if you don't need to borrow for a while – deleting the apps doesn't stop these recurring fees.
Express Fees: Need your cash immediately? There could be an 'express fee' for that. Most apps do offer a free delivery option to help you avoid this fee, but that can take up to a week in some cases, so you'll really need to plan ahead.
Optional Tips: Tip-flation is in full force with many of these apps. Dropping an extra 15% to 'help support our service' can more than double the cost of borrowing in some cases. However, the size of your tip or skipping it altogether won't impact your cash advance limit.
The Road Ahead
Cash advance apps have carved a niche in the digital finance landscape, and a bad credit score won't stand between you a small instant loan. While there is no interest and more moderate fees that should help you stay out of the payday loan debt trap, these apps won't help you build better credit either. That's the real key to unlocking access to credit cards and loans for larger amounts and with more reasonable rates, so consider exploring another fast crowing category of innovative products – credit builder loans, which can help you boost your credit score with small monthly payments and fees.
And the next time an unexpected expense rears its head, remember: there's an app for that.
Watch: Best Cash Advance Apps for Bad Credit
WAIT! High overdraft fees aren't the only way your bank is costing you money.
With inflation overheating, you've probably heard that interest rates are climbing sharply. That means that for the first time in years, it's a great time to shop around for a high interest savings account.
The national average interest rate for savings accounts is currently 0.23% APY – that means that if you have $2,500 in a savings account, you'd earn just $5.76 after one year! Move those hard-earned savings to an FDIC-insured bank paying 3.50% APY and you'd earn $81.73 more!
Don't let your hard-earned savings sit there doing nothing. Check out the rates that you can earn at other banks:
Latest posts by Mitchel Harad
(see all)
When you apply for CreditBuilder Plus, MoneyLion will perform a soft credit pull to review certain financial information. This soft inquiry has no impact to your credit score and may or may not be recorded in your credit reports depending on the bureau. This is unlike a hard credit pull which affects your credit score and can appear on your credit report for two (2) years. Credit score improvement is not guaranteed. A soft credit pull will be conducted that has no impact to your credit score.
ExtraCash™ is a DDA account with overdraft utility that is subject to eligibility requirements. Taking an ExtraCash™ advance will make your account balance negative. Express delivery fees apply to instant transfers. See the Extra Cash Account Agreement for more details.