Editor's Note: Overdraft Apps provides detailed product reviews and recommendations based upon extensive research and our own hands-on testing. We may earn a referral fee when you sign up for or purchase products mentioned in this article.
Chime offers a variety of financial services, including a checking account, savings account, debit card, and the ability to send and receive money. More popular than any of these features is SpotMe – an optional overdraft protection feature. With SpotMe, you can overdraft your account by up to $200 with no overdraft fees. But are there downsides to be aware of? We answer that question with the top apps like Chime.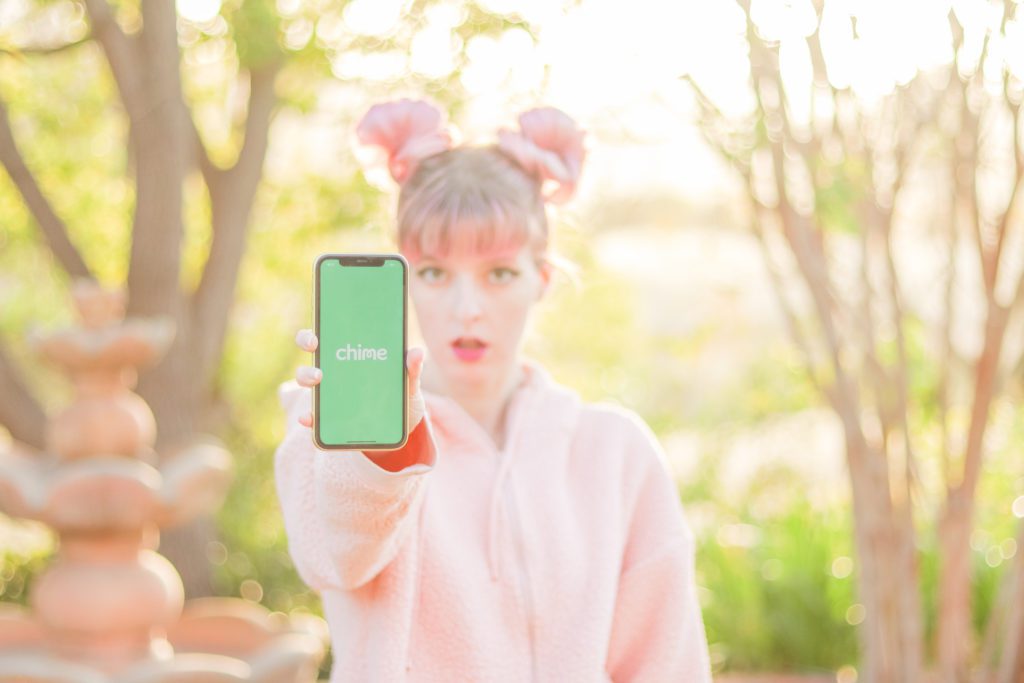 What are the best features of the Chime app?
In a word – SpotMe.
Chime is a mobile-banking app with plenty of features. But it's hard to go past Chime SpotMe which provides up to $200 of overdrafts without any fees.
After setting up SpotMe, you can immediately overdraw up to $20 to cover lunch or any other small purchases. This limit can increase up to $200 based on your account history and activity.
There's no fee to join SpotMe, and if you set up a direct deposit of $200 or more each month, you're able to enjoy SpotMe and overdraw your Chime debit card through ATM withdrawals or debit card purchases without being charged any overdraft fees.
It's worth noting that SpotMe exclusively covers ATM cash withdrawals and debit card purchases. It does not apply to person-to-person transfers, ACH transfers (including other payment apps like Venmo, or Cash App), or Chime Checkbook transactions.

Why have 14 million people ditched their high-fee bank for Chime?
Chime is a financial technology company, not a bank. Banking services and checking account provided by The Bancorp Bank, N.A. or Stride Bank N.A.; Members FDIC.
Is the Chime app right for you?
We break down the pros and cons in our full Chime SpotMe review (as well as our Chime Credit Builder review) – but here's the short version.
SpotMe requires a Chime Checking Account (with minimum qualifying direct deposits of $500 in the previous 31 days).
Chime's $200 borrowing limit can look appealing, but remember you'll have to work your way up to that amount. If Chime's initial overdraft limit of $20 isn't enough, it helps to have options that offer higher cash advance amounts.
Throw in the fact that your overdraft only applies to debit card transactions or ATM withdrawals and you may want to compare your options.
If you want more flexibility with how and where you can use your cash, Chime may not be the best fit for you.
Here are seven money lending apps like SpotMe that can make up for Chime's shortcomings.
7 of the best apps like Chime Spotme
#1 – Dave: New users can borrow up to $500 (in seconds) with zero interest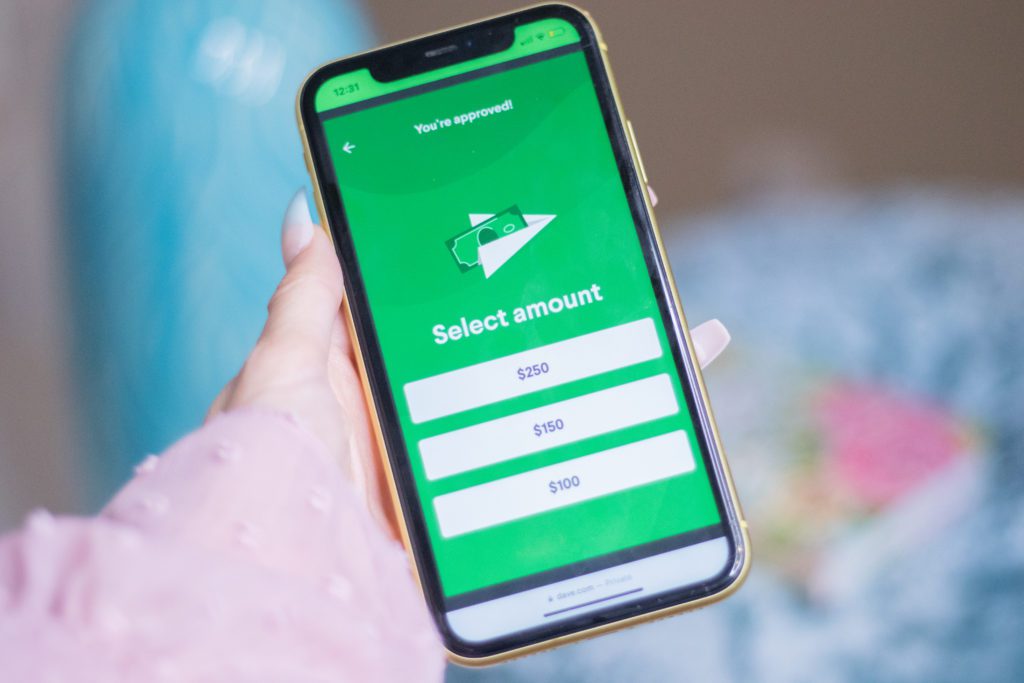 Dave, the O.G cash advance app, offers borrowers the opportunity to borrow up to $500 with no interest and no credit check.3
And, unlike other apps on this list, you can get your money as soon as you sign up and be approved for a cash advance.
With a Dave Debit MasterCard, you can instantly access your funds (we're talking under a minute!), and use it at millions of merchants that accept Mastercard. Plus, with up to 10% cash-back at popular restaurants and retailers, as well as special offers such as 50% cash-back on your next Shake Shack order, Dave's cash advances come with extra perks.
You will need to subscribe to Dave to access cash advances, as well as additional features – but at just $1 per month it's hard to find better value for a cash advance app.
Helping make your life easy, Dave automatically repays your advance when you receive your next paycheck. And, if you need a little extra time to pay, there are no late fees.
Get a cash advance for up to $500 instantly >>> Check out Dave for free
| PROS | CONS |
| --- | --- |
| ✓ Cash advances up to $500 | ✘ 1-3 business days to external checking account |
| ✓ No interest or fees | |
| ✓ $1 monthly membership is affordable | |
| ✓ $1 monthly membership is affordable | |
#2 – Brigit: Borrow up to $250 in fee-free overdrafts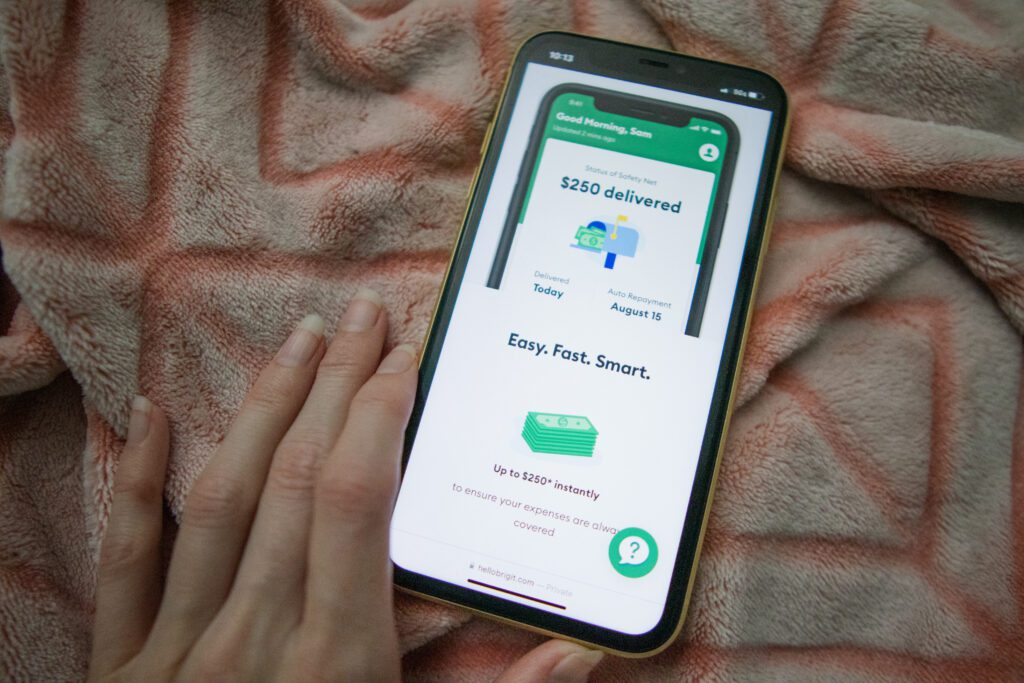 Brigit can be your lifeline during emergencies by providing instant cash advances for paying bills, unexpected expenses, or accessing necessary funds for daily expenses.
The loan amount, ranging from $50 to $250 per pay period, depending on the history of regular deposits in your bank account, your track record in repaying Brigit advances, and other factors.4 There is no credit check.
However, it's important to note that the free plan doesn't include cash advances, which you can unlock by subscribing to the $9.99 per month plan. Although paying for a subscription may seem inconvenient, it's worth considering the benefits Brigit offers. The subscription fee is much lower than the late fees you might incur otherwise, making it a cost-effective solution.
Brigit's algorithm can predict when you might run low on funds before your next paycheck and alert you accordingly. Brigit Plus users can also receive up to $250 automatically to avoid overdraft or NSF fees from banks.
Life is unpredictable, but Brigit can help you tackle unexpected expenses without the high interest rates that other cash advance apps charge.
Access up to $250 in fee-free overdrafts >>> Explore Brigit Now
| PROS | CONS |
| --- | --- |
| ✓ Access up to $250 in cash advances | ✘ Lower withdrawal amount |
| ✓ No credit check | ✘ $9.99 subscription required for cash advances |
| ✓ No interest or tip fees | |
#3 – MoneyLion: Low-cost cash advances for up to $250
If you're looking for a cash advance app that won't weigh you down with interest or fees, MoneyLion Instacash could be just what you need.
With MoneyLion in your arsenal, you can quickly borrow up to $250 with no credit check and no monthly fee, making it an attractive option for those who need some extra cash on hand.5
Getting started is easy – simply set up your MoneyLion account with InstaCash and you'll be instantly eligible for a $25 cash advance. As you receive direct deposits in your existing bank account or switch to a MoneyLion RoarMoney account, your eligible amount can quickly increase up to $250. You can get as many Instacash advances as you like, up to your eligible amount.
In addition to cash advances, the full-featured app includes a range of convenient tools for digital banking, automated investing, credit building loans, budgeting and financial tracking, and rewards.
With MoneyLion, you'll have all the resources you need to take control of your finances and achieve your goals.
Get cash advances up to $250 with no interest >>> Check out MoneyLion
| PROS | CONS |
| --- | --- |
| ✓ Fee-free overdrafts up to $250 | ✘ 3-5 business days to external checking account |
| ✓ 0% APR cash advances | ✘ Requires bank account access |
| ✓ No credit check | |
#4 – Current: Use the Overdrive feature for up to $200 in fee-free overdrafts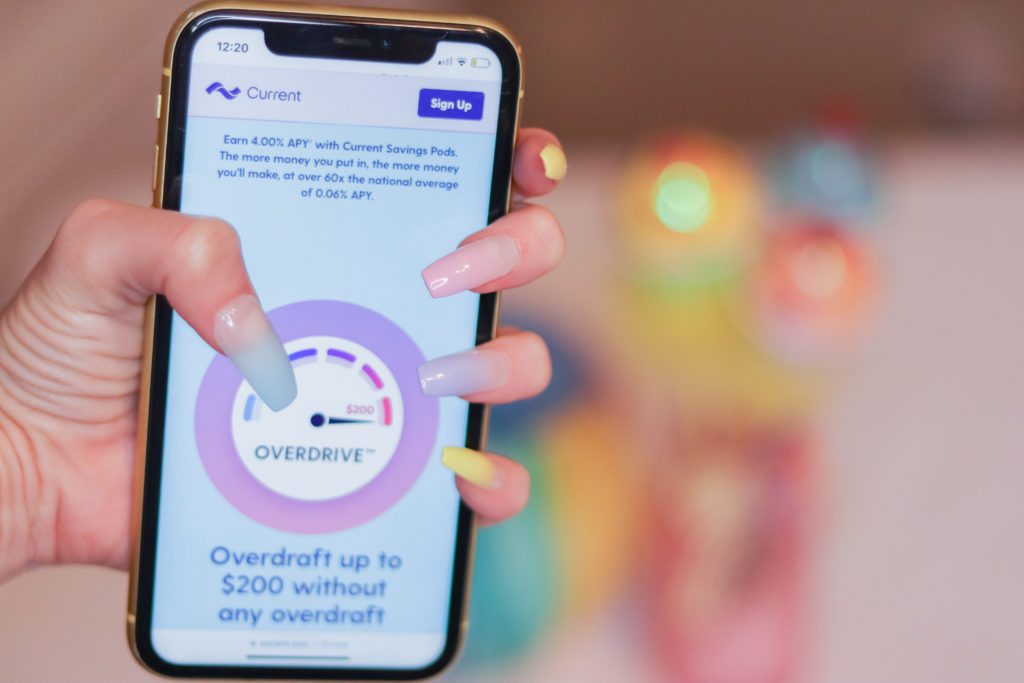 Are you tired of constantly worrying about overdraft fees draining your bank account?
Current can help.
With a range of features designed to help you manage your money better, you can take control of your finances and avoid contributing to the billions of dollars in overdraft fees collected by banks each year.
One of the most popular features of Current is Overdrive, which allows you to overdraft your checking account by up to $200 without incurring any fees. This can be a lifesaver when you're short on funds and need to cover unexpected expenses or bills. Plus, if you qualify for Overdrive by meeting a few simple requirements, you'll get $25 in fee-free overdrafts right away (a $5 increase on SpotMe's initial limit) – with the potential to increase to $200 over time.6
Like Chime, Current allows you to get paid up to two days early with direct deposits, giving you faster access to your hard-earned money. To qualify for these features you'll need:
An active Current account
At least $500 in qualifying direct deposits over each 30-day period
18 years or older.
If you're tired of worrying about overdraft fees and want to take control of your finances, Current can help.
Say Goodbye to Overdraft Fees >>> Sign up for Overdrive in less than 2 minutes
| PROS | CONS |
| --- | --- |
| ✓ Up to $200 in fee-free overdrafts | ✘ Requires bank account for access |
| ✓ Fee-free ATMs | |
| ✓ No minimum balance or hidden fees | |
#5 – PockBox: Borrow up to $2,500 (even if your credit score is poor)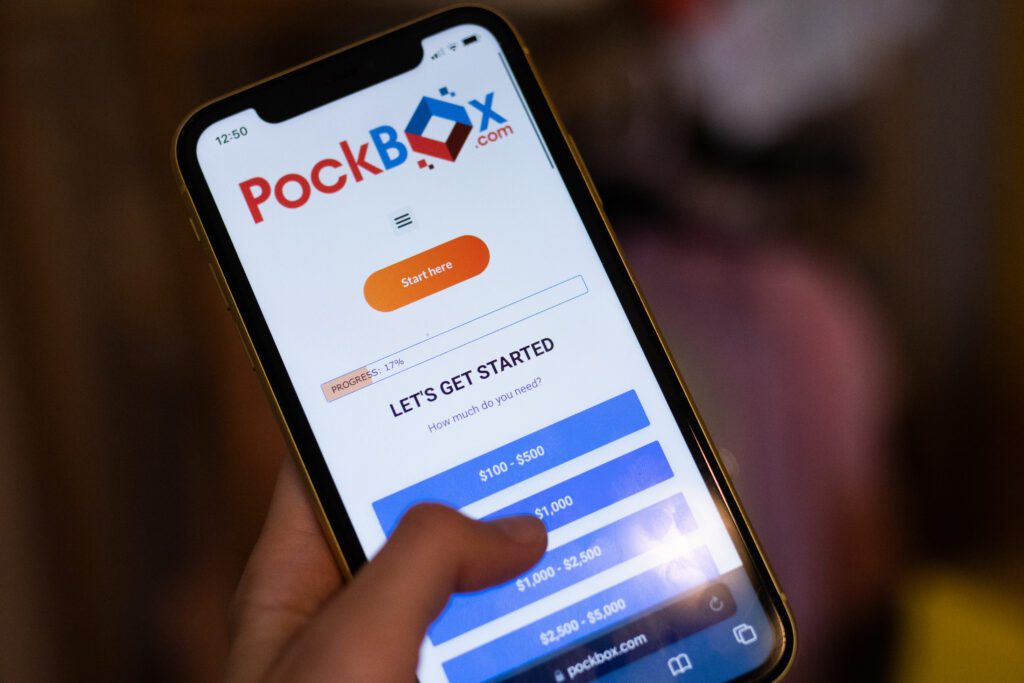 PockBox helps solve the problem of confusing and overwhelming loan searches by providing a platform that allows users to compare loan offers from multiple lenders within minutes.
Enter some basic information and PockBox connects you with up to 50 popular no-interest cash advance apps, short-term installment lenders, and leading personal loan providers that may offer fast, unsecured funding of amounts from $20 to $2,500 (and potentially more).
PockBox removes the burden of navigating the complex world of lending and offers access to dozens of options – enabling anyone to explore their credit options without incurring any costs or obligations.
If you've got excellent credit you may qualify for multiple loan offers at an exceptional rate. Or, if you're dealing with poor credit, you may get fast access to short-term loans or cash advances tailored to your financial situation.
Compare Loan Offers Up to $2,500 >>> Get Instant Offers from Pockbox
| PROS | CONS |
| --- | --- |
| ✓ Borrow up to $2,500 | ✘ No credit check loans can carry high rates |
| ✓ 100% free to compare options | |
| ✓ Compare up to 50 lenders | |
| ✓ Perfect for low credit borrowers | |
#6 – Go2Bank: Overdrafts up to $200 (plus 7% cashback offers)
Are you tired of getting hit with overdraft fees when you're a little short on cash?
Go2Bank has you covered.
With up to $200 in overdraft protection available on debit card purchases, you can avoid those pesky fees and keep your finances in check.
Unlike other banks that keep your overdraft limits a secret, Go2Bank makes it clear and easy to understand. Plus, you can overdraft your account right away as soon as you meet the qualifying criteria, which are tied directly to your direct deposit history.
This means you could get up to $200 in overdraft coverage when you make two direct deposits totaling at least $400 over the past 35 days.7
With Go2Bank, you'll also enjoy peace of mind knowing that you won't be charged an overdraft fee AT ALL if you bring your account back to a positive balance within 24 hours of your first overdraft transaction.
Enrolling in the Go2Bank overdraft protection program is easy and automatic, with overdraft limits set to match your direct deposit history. And with overdraft coverage available on debit card purchases, you can make the most of your money when you need it most.
Access up to $200 in overdraft protection >>> Get started with Go2Bank
| PROS | CONS |
| --- | --- |
| ✓ Fee-free overdrafts up to $200 | ✘ $5 monthly fee without eligible direct deposits |
| ✓ No monthly fees with eligible direct deposit | ✘ Requires bank account access |
#7 – Varo Bank – Cash advances up to $250 (but a few hoops to jump through)
Using the Varo app, you may qualify to receive an instant cash advance for up to $250 with no credit check. You can use your advance for purchases, withdrawals, transfers via Venmo Cash App, or any way you like.
To qualify for an advance, your Varo Bank Account must be active and at least 30 days old. You also need to have at least $1,000 in Qualifying Direct Deposits to either your checking or savings account within the last 31 days, and you must have activated a Varo Bank Debit Card.
While your first advance is limited to $20, it's free of charge! To continue receiving advances, you'll need to make sure your Varo checking or savings account has direct deposits of at least $1,000 over the past 31 days and is not overdrawn, suspended, or closed.
You can view your eligibility for a Varo Advance at any time on the Varo app. Your eligibility for a $20 advance is updated daily, while eligibility for larger amounts is reviewed monthly.
| PROS | CONS |
| --- | --- |
| ✓ Access up to $250 in cash advances | ✘ Lower withdrawal amount |
| ✓ No credit check | ✘ Must have a Varo bank account |
| | ✘ One late payment can impact future cash advance eligibility |
Learn everything you need to know about Varo overdrafts >>> Get to know Varo
---
BEFORE YOU GO…
Check out our most popular articles:
WAIT! High overdraft fees aren't the only way your bank is costing you money.
With inflation overheating, you've probably heard that interest rates are climbing sharply. That means that for the first time in years, it's a great time to shop around for a high interest savings account.
The national average interest rate for savings accounts is currently 0.23% APY – that means that if you have $2,500 in a savings account, you'd earn just $5.76 after one year! Move those hard-earned savings to an FDIC-insured bank paying 3.50% APY and you'd earn $81.73 more!
Don't let your hard-earned savings sit there doing nothing. Check out the rates that you can earn at other banks:
Latest posts by Alexander Porter
(see all)