Editor's Note: Overdraft Apps provides detailed product reviews and recommendations based upon extensive research and our own hands-on testing. We may earn a referral fee when you sign up for or purchase products mentioned in this article.
You need a little extra cash right away, but you don't want to be stung with extra fees and charges.
We get it.
Most people wouldn't write a check or initiate an ATM withdrawal when they don't have enough cash in their account to cover the amount. But bills and expenses don't always wait until payday.
In fact, they often have a way of popping up *just* before you have the funds to settle them. So, when you need cash immediately, you need to find banks that let you overdraft right away.
Most banks have some sort of overdraft coverage so you can spend more money than you have in your account. More than peace of mind, you avoid the embarrassment of a bounced check or a declined debit card transaction. However, the convenience of overdrafts can push your bank account balance negative and cost you $35 in overdraft fees. If you're not paying attention, you can rack up over $100 in daily overdraft fees!
To help you get the money you need, the moment you need it, we've rounded up the best financial apps and online banks that let you overdraw your account. And because we want to see you walk away with more money in your pocket, many of these don't charge overdraft fees!
What we'll cover:
Apps to prevent you from overdrafting
Prevention is better than a cure.
If you've been bitten by high overdraft fees, you know how frustrating and expensive they can be. A few small purchases can quickly cost you an extra $100 or more, driving your bank account even more deeply negative. (It's no wonder that banks love overdraft fees – they make over $15 billion a year off of them!)
There's a very simple and straightforward way to stop incurring overdraft fees. Opt out of the overdraft protection program on your bank account. This revokes your authorization for your bank to charge you overdraft fees. But it also means that you won't be able to use your bank account when your balance is hovering close to zero. The bank will decline your ATM withdrawals, debit card purchases and other transactions.
Not ideal.
Here's the good news. There are a host of new banks and cash advance apps that have launched in recent years that can help you access the cash you need, with a few of them offering a slew of great features and fees that can't be beat: $0.
Depending on your personal circumstances, we recommend the following apps that let you overdraft or get a cash advance right away:
Here's a closer look at each option.
Earnin
Earnin is a free app and is probably the fastest way to access a meaningful amount of extra cash. You can immediately transfer up to $100 to your bank account as soon as your account is set up and verified, without changing your direct deposit.
This gives you early access to your paycheck or gig worker earnings. And since it only takes a few minutes to create an account – it's one of the few that doesn't require you to set up or move your direct deposit – you can get your funds quickly. This is possible because Earnin helps track how much you've earned and haven't yet been paid, either automatically through large employers or gig work providers, or you can manually upload a timesheet.
When you need to access cash, Earnin sends it directly to your bank account, often within minutes. You can access up to $100 right away. And, as your account history grows, your limits can increase to up to $100 per day and up to $500 per pay period. Since the cash is deposited in your bank account, you can use it for whatever you need – debit card purchases, ATM withdrawals, or to cover a bill payment and avoid costly overdraft fees.
Your cash advance is paid back automatically out of your next paycheck and Earnin charges no interest or fees!
Get cash right away (with no fees) >>> Download the free Earnin App
PockBox
PockBox is the perfect app to top up your checking account (with up to $2,500) so you can use the money to buy stuff online, pay your rent, cover bills, and maybe splurge on a new pair of sneakers (you deserve it).
The process of accessing the money is sleek and straightforward. There's no need to even get out of bed to apply! You'll just have to give some information about yourself so the PockBox app can connect you to the best lender possible and approve you in minutes.
That's how easy it is to fill your bank account with an extra $2,500 and skip overdrafts entirely.
Shop multiple loan offers in minutes >>> Check out PockBox
Current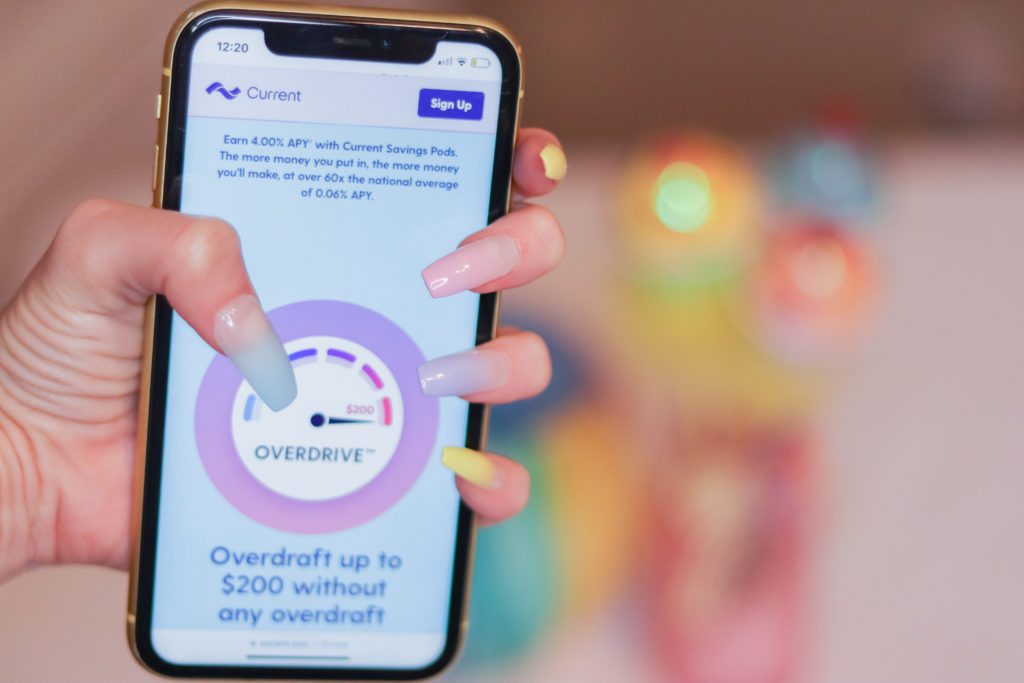 As a new breed of financial app, Current helps you get access to cash when you need it, with fees that are a lot lower than banks or other cash advance apps charge – $0 for most transactions.
Download the Current app on your phone and set up your free account in just minutes. Then, you can access cash from 40,000 fee-free ATMs around the United States. More importantly, you can set up Overdrive.
With Current Overdrive, you can access up to $200 in no-fee overdrafts right through your debit card. Check out how much you have available to spend any time right in the Current app or by setting up convenient app notifications. Plus, you can get paid up to 2 days early when you sign up for direct deposit with your Current Account, also with no fees!
Are there banks that let you overdraft without a direct deposit?
At most traditional banks, your ability to overdraft is based on a number of factors, including:
Your account age
Your average balance
Whether you have a linked savings account
Plus other factors (which may include a direct deposit)
Direct deposit may not be a requirement to access overdraft privileges. But banks view it favorably since it shows a regular, somewhat predictable series of deposits to your account. It also indicates a lower risk that you won't be able to promptly repay your overdraft (and fees) to bring your account back to a positive balance.
Unfortunately, banks tend to keep their overdraft policies vague and opaque. You're never really sure if a debit card purchase or ATM purchase will be authorized or declined, or how much you have to spend.
Fortunately, the new breed of cash advance apps not only tells you how much of the overdraft line you have available, they clearly spell out what criteria you need to fulfill to increase your limit.
For example, Go2Bank clearly shows you how to qualify for larger overdraft privileges**.
For example, Go2Bank offers three levels of overdraft protection (with no overdraft fees) and tells you exactly how to qualify for each. You can access $10 in overdraft coverage after your first direct deposit is received, $100 after two direct deposits totaling $200 are made within a 35-day period, or $200 of overdraft protection if your direct deposits are for at least $400. Go2Bank charges a $15 fee on overdrafts over $5, but you have a 24 hour grace period to avoid the fee by bringing your account balance back to positive territory.
Access up to $200 in overdraft protection >>> Get started with Go2Bank
Traditional banks that allow overdrafts (with overdraft fees)
If you're still banking with a traditional bank, it helps to know who offers overdrafts.
No one wakes up and thinks "I hope I can overdraw my account today". But the reality of life and bills means there comes a time (or multiple times) when a fallback for cash is useful.
Most traditional banks – the kind you've probably grown up with – will typically allow you to overdraft a checking account you hold with them (pending eligibility requirements). However, overdrawing will incur an average overdraft fee of $35, though this varies from bank to bank.
Though approval isn't guaranteed, the following list of banks allows overdraft:
Wells Fargo: A standard overdraft fee of $35 per item will apply; a limit of 3 overdrafts per day.
PNC Bank: A standard overdraft fee of $36 per item will apply; a limit of 4 overdrafts per day. The bank charges a $7 fee for each day an account remains overdrawn for more than five consecutive days, up to $98.
Bank of America: A standard overdraft fee of $35 per item will apply; a limit of 4 overdrafts per day.
Truist Bank: A standard overdraft fee of $36 per item will apply; a limit of 6 overdrafts per day.
Let's dive a little deeper into your overdraft options so you can manage your money with more confidence.
What is the difference between overdraft coverage and overdraft protection?
Great question. We're glad you asked.
If you're looking for an overdraft, you'll want to be sure you understand how overdraft protection differs from overdraft coverage.
Put simply, overdraft coverage involves your bank advancing cash to make a transaction happen when you don't have sufficient funds in your checking account. In turn, you're charged a fee for every overdraft item, which can sometimes (significantly) exceed the cost of the transaction. For example, many banks will charge an overdraft fee of $35 or so, which can create the infamous $39 cup of coffee.
However, overdraft coverage at some banks also gives you the peace of mind that your bank account will keep working even when your balance is below zero. U.S. Bank's Standard Overdraft Coverage let's you overdraft at an ATM so that you can get cash when you may need it most. It will also pay for check and bill payment transactions, which can help you avoid even costlier bounced payment and late fees.
With overdraft protection, the bank allows you to link a savings account or another eligible account to your checking account. If you don't have enough funds in checking to cover a transaction, funds are transferred from your linked account to cover the purchase. Overdraft protection will generally let you make debit card purchases and process bill payments at your bank's discretion. But won't let you overdraft at an ATM or complete some other transactions.
It's worth noting that banks are no longer allowed to automatically sign-up customers for overdraft services when they open an account. You must opt-in for these services to protect your checking account.
How soon can I use my overdraft?
You can sign up for overdraft protection at any time. However, most banks won't let you overdraft immediately. Many banks will subject you to a waiting period of 7 to 30 days before you can access overdrafts to reduce fraud risk, especially on new accounts.
For this reason, it can be worthwhile to shop around at smaller banks and review their overdraft policies before opening an account. For example, Community National Bank in Kansas provides new consumer checking accounts with a $100 Introductory Overdraft Privilege limit at account opening that will be increased to $600 after 30 days in good standing.
There are also ways to get around the overdraft waiting period too. For example, Regions Bank requires customers to wait 14 days before they can start using overdraft privileges. However, if you obtain a new credit card from Regions and link that to your checking account for overdraft protection, you can start overdrafting as soon as you activate your new credit card.
*Boom* You just hacked your way to faster overdrafts.
Ultimately, the fastest way to get overdraft privileges with a new account is often via cash advance apps like Go2Bank, Current, or Chime, which will provide $10 to $25 in no-fee overdrafts as soon as you make a qualifying direct deposit.
| | Initial Overdraft Limit | Key Requirements for First Overdraft | Maximum Overdraft |
| --- | --- | --- | --- |
| Chime | $20 | $200 in qualifying direct deposits | $200 |
| Cleo | $70 | $5.99/month subscription and linked bank account | $100 |
| Current | $25 | $500 in qualifying direct deposits | $200 |
| Go2Bank | $10 | Complete one direct deposit | $200 |
| MoneyLion | $25 | Link to an established checking account | $200 |
| Varo | $100 | $1,000 in direct deposits after 30 days | $100 |
What banks have the highest overdraft limit?
The maximum amount you're allowed to overdraft varies by bank. Your overdraft limit will depend on a handful of factors including:
Account age
Average balance
Linked accounts
Some banks charge $35 per overdraft item and allow up to three overdrafts per day, for a daily limit of $105. Other banks have higher daily overdraft limits and allow customers up to six overdrafts per day. These include BB&T, SunTrust, BBVA Compass, and Regions Bank.
Daily overdraft limits with these financial institutions range from $216 to $228.
According to a representative at Wells Fargo, this bank doesn't have a maximum limit per se. Even if you have a negative account balance, the bank may allow additional overdrafts at its discretion. A representative at SunTrust also couldn't provide a definitive answer, but mentioned that maximum overdraft limits are typically between $300 and $500.
Unfortunately, most banks leave you guessing when it comes to your overdraft limit. So you won't find this information easily (nor will you know if your next transaction will go through when you swipe your debit card).
The good news is that the new brand of banking and cash advance apps will tell you *exactly* what your overdraft limit is, how much you can access at any given time, and what steps you need to take to reach the highest overdraft limit available.
Final thoughts and what to do next…
We don't recommend getting into a routine of overdrawing your account. At the same time, it's easy to feel like an overdraft is the only option when you're cash-strapped. And that's what the big banks want you to think.
We probably don't need to tell you that regular overdrafts can be an expensive solution. Especially when multiple overdrafts occur in a single day.
There are, however, cheaper alternatives for getting your hands on immediate cash. From accessing up to $500 of your pay early for no fees with Earnin to injecting up to $2,500 into your bank account with PockBox or overdrawing without fees using Current, just remember that legacy banks aren't your only option.
So bookmark this guide (we'd like to think it has more reliable information on overdrafts than Reddit!) for the next time you need to overdraw quickly and access the funds you need without paying the fees you hate.
*Chime SpotMe eligibility requirements and overdraft limits
: Chime SpotMe is an optional, no fee service that requires a single deposit of $200 or more in qualifying direct deposits to the Chime Spending Account each month. All qualifying members will be allowed to overdraw their account up to $20 on debit card purchases and cash withdrawals initially, but may be later eligible for a higher limit of up to $200 or more based on member's Chime Account history, direct deposit frequency and amount, spending activity and other risk-based factors. Your limit will be displayed to you within the Chime mobile app. You will receive notice of any changes to your limit. Your limit may change at any time, at Chime's discretion. Although there are no overdraft fees, there may be out-of-network or third party fees associated with ATM transactions. SpotMe won't cover non-debit card transactions, including ACH transfers, Pay Friends transfers, or Chime Checkbook transactions.
See Terms and Conditions .
Chime is a financial technology company, not a bank. Banking services provided by, and debit card issued by, The Bancorp Bank or Stride Bank, N.A.; Members FDIC.
** Activated, chip-enabled debit card and opt-in required. $15 fee may apply to each eligible purchase transaction that brings your account negative. Balance must be brought to at least $0 within 24 hours of authorization of the first transaction that overdraws your account to avoid the fee. Go2Bank requires immediate payment of each overdraft and overdraft fee. Overdrafts paid at Go2Bank's discretion, and Go2Bank does not guarantee that it will authorize and pay any transaction. Learn more about Overdraft Protection (PDF).
Latest posts by Mitchel Harad
(see all)