Editor's Note: Overdraft Apps provides detailed product reviews and recommendations based upon extensive research and our own hands-on testing. We may earn a referral fee when you sign up for or purchase products mentioned in this article.
When your bank balance is low and it's still a couple days until payday, an extra $50 can certainly come in handy. There are dozens of apps that provide you with a quick cash advance, but many of them make you wade through a supermarket of financial services that you don't want or need. FloatMe doesn't try to sell you something every time you turn on your phone, it focuses on getting you an extra fifty bucks when you need it most. Simplicity can be a good thing, but is it too simple to meet your needs? Let's dive into the details in our FloatMe review.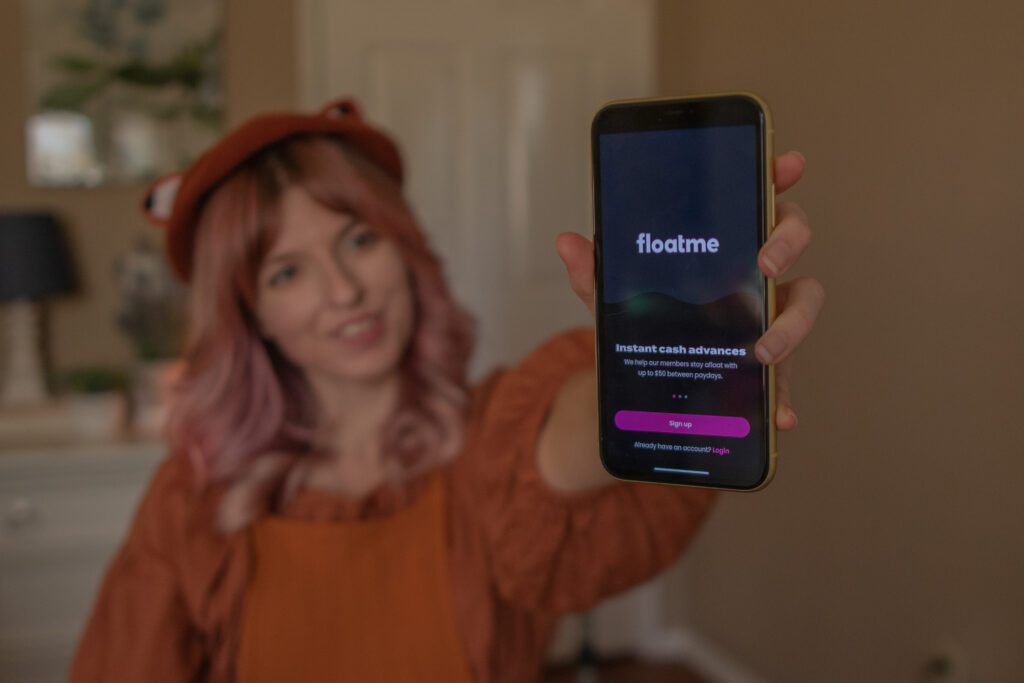 What are FloatMe cash advances?
FloatMe is part of the new generation of cash advance apps that makes it fast, easy and more affordable to borrow a little cash when you need it. With just a few taps in the app, you can get a cash advance for up to $50 (which FloatMe calls Floats) immediately sent to your bank account.
There's no credit check to qualify for FloatMe and you don't need to move your direct deposit, which some other apps require. The FloatMe app is free to download and only takes a few minutes to set up.
To determine your eligibility and cash advance limit, FloatMe securely connects to your bank account via Plaid and analyzes your account balance and history and looks at your regular recurring paycheck deposits. You'll need a positive bank balance to qualify for a cash advance, and at least three paycheck deposits of at least $150. Payments from government benefits or gig work doesn't count towards your FloatMe eligibility, so you may need to consider other cash advance apps for Uber drivers or Door Dashers if gig work is your primary source of income. (Check out our list of cash advance apps for gig workers, too.)
Your FloatMe advance limit will be just $10 – $30 to start. It can increase to $50 as you build up some history with FloatMe. Positive repayment history on your Floats is key towards increasing your Float limit, and factors like your average bank balance and a longer employment deposit history also help.
FloatMe will automatically schedule repayment of your Float on the date of your next paycheck. Your advance is repaid in one lump sum, along with the Instant Float fee if you opted for express delivery (more on that in a moment). FloatMe does not offer flexibility in changing your repayment date, however the app tries to avoid pushing your bank account into overdraft if it is able to detect that you don't have a sufficient balance. There is no late fee, but you won't be able to take out another advance until you've repaid your outstanding one.
How much does a FloatMe cash advance cost?
FloatMe has a straightforward fee structure. There is a $1.99 per month subscription fee (which kicks in after a seven day free trial). There is no interest charged on Floats and FloatMe doesn't ask for a tip.
When you request an advance, you can have it sent to your bank account within three business days for for free. If you need your money faster, you can have it transferred within 8 hours (often much less than that) for a $4 Instant Float fee.
If you take out one cash advance per month and pay the express fee, your total cost will be $5.99. We analyzed the cost of borrowing from the 15 most popular $50 instant loan apps and the average cost is $10.52. FloatMe has the second lowest fees for a quick $50 loan! (Varo is the lowest cost provider, charging just a $3 fee, though Varo has a number of restrictions including no advances until your account is at least one month old.)
Note that you'll pay the $1.99 subscription fee each month, regardless of whether you use the app or take out a cash advance, so be careful about adding another recurring monthly charge if you tend to forget about them. Deleting the app does not cancel your FloatMe subscription. You need to cancel via the app or by contacting FloatMe customer service.
What other features does the FloatMe app offer?
One of the best things about FloatMe is how simple and straightforward it is, though the app does offer a few features in addition to cash advances.
The app tracks and categorizes spending in your bank account. It's not a robust budget and spending tracker, but may come in handy for some folks. You can also set up alerts for when your bank balance is low to help you avoid overdrafts, which is a feature that most banking apps already offer.
FloatMe will also invite you to upgrade FloatMe MVP, which costs $4.99/month and gets you a FloatMe MasterCard debit card (issued by Evolve Bank & Trust, member FDIC). The MVP program has one nifty little feature – every time you spend $10 on your FloatMe card you earn an entry into FloatMe's monthly random drawing for $25 – $5,000 in prizes.
Otherwise, the MVP program isn't terribly compelling. In addition to an extra $3 monthly subscription fee, you'll pay $0.99 for every withdraw you make from an ATM (in addition to any out-of-network ATM fees). FloatMe doesn't currently offer free instant cash advance transfers to its own debit card, a feature that many other apps provide. Transfers between your bank account and the FloatMe card can take up to three business days.
There are better options for a debit card than FloatMe MVP.
Chime is a full service banking app with no monthly fee, no minimum balance, and the ability to access up to $200 in fee-free overdrafts with your Chime card.
1
>>> Learn more in our Chime review
Current also has no monthly fees or minimum account balance.2 You'll earn points for every purchase you make on the Current debit card and get access to your paycheck two days early when you set up direct deposit with Current. There's no fee for overdrafts, and you can get instant access to at least $25 in overdraft privileges, too!
>>> Learn more in our Current review
Is the FloatMe app legit?
FloatMe was founded in 2020 and is based in Austin, Texas. The FloatMe app has been downloaded over 1 million times and boasts over 100,000 ratings on the App Store (4.8 stars) and Google Play (4.5 stars). It ranks amongst the 100 most popular finance apps.
The company is backed by $49 million in investment from venture capital firms. FloatMe keeps your data safe with 256 bit data encryption (the same standard used by banks. Your bank account is linked via the widely-used Plaid platform, which gives you transparency and easy control on what information and permissions are shared wit FloatMe.
If you upgrade to MVP, your money is safe with FloatMe. Your deposits are held by Evolve Bank and Trust, and are insured by the FDIC for up to $250,000.
Is the FloatMe app worth it?
FloatMe makes it easy to get an extra $50 when you need it, even if you have bad credit. It's simple and straightforward, with amongst the lowest fees of any cash advance app.
As you've seen in our FloatMe review, the app isn't for everyone. The $1.99 monthly subscription fee is certainly reasonable, but it's easy to go a few months without using FloatMe or to forget that the fee is being automatically billed to you each month. FloatMe MVP costs an additional $3.00 per month for a debit card that doesn't stack up well against some other popular card like Chime.
Looking for other apps like FloatMe? If you don't receive a regular paycheck, you won't qualify for advances. Your cash advance limit will be $30 or less to start and won't exceed $50 – apps like MoneyLion and Dave will lend as much as $500.
Watch our FloatMe cash advance app review
WAIT! High overdraft fees aren't the only way your bank is costing you money.
With inflation overheating, you've probably heard that interest rates are climbing sharply. That means that for the first time in years, it's a great time to shop around for a high interest savings account.
The national average interest rate for savings accounts is currently 0.23% APY – that means that if you have $2,500 in a savings account, you'd earn just $5.76 after one year! Move those hard-earned savings to an FDIC-insured bank paying 3.50% APY and you'd earn $81.73 more!
Don't let your hard-earned savings sit there doing nothing. Check out the rates that you can earn at other banks:
Latest posts by Mitchel Harad
(see all)
Banking services provided by The Bancorp Bank, N.A. or Stride Bank, N.A., Members FDIC. The Chime Visa® Debit Card is issued by The Bancorp Bank, N.A. or Stride Bank pursuant to a license from Visa U.S.A. Inc. and may be used everywhere Visa debit cards are accepted. The Chime Visa® Credit Builder Card and the Chime Visa® Cash Rewards Card are issued by Stride Bank pursuant to a license from Visa U.S.A. Inc. and may be used everywhere Visa credit cards are accepted. Please see back of your Card for its issuing bank.

Chime SpotMe is an optional, no fee service that requires a single deposit of $200 or more in qualifying direct deposits to the Chime Checking Account each month and Visa debit card activation. All qualifying members will be allowed to overdraw their account up to $20 on debit card purchases and cash withdrawals initially, but may be later eligible for a higher limit of up to $200 or more based on member's Chime Account history, direct deposit frequency and amount, spending activity and other risk-based factors. Your limit will be displayed to you within the Chime mobile app. You will receive notice of any changes to your limit. Your limit may change at any time, at Chime's discretion. Although there are no overdraft fees, there may be out-of-network or third party fees associated with ATM transactions. SpotMe won't cover non-debit card transactions, including ACH transfers, Pay Anyone transfers, or Chime Checkbook transactions. See terms and conditions.

Current is a financial technology company, not a bank. Banking services provided by Choice Financial Group, Member FDIC. The Current Visa Debit Card is issued by Choice Financial Group pursuant to a license from Visa U.S.A. Inc. and may be used everywhere Visa debit cards are accepted.

Please refer to Overdrive™ Features Terms and Conditions . Individual Current Accounts only.

Faster access to funds is based on comparison of traditional banking policies and deposit of paper checks from employers and government agencies versus deposits made electronically. Direct deposit and earlier availability of funds is subject to timing of payer's submission of deposits. Individual Current accounts only.