Need a little extra cash to get you through until payday?
With 64% of Americans living paycheck to paycheck, apps like MoneyLion are growing in popularity by offering interest-free cash advances with a range of extra features including no overdrafts or hidden fees.
While MoneyLion breaks down traditional barriers to financial health and provides urgent cash to hard-working Americans, it's not the only cash advance app available to provide funds.
If you need cash to help you pay for food, bills, gas, or anything else, we've rounded up seven apps similar to MoneyLion Instacash1, plus pros and cons, and any costs to use. 
Get cash advances up to $250 with no interest >>> Check out MoneyLion
What is MoneyLion (and how does it work?)
Founded in 2013, MoneyLion is a mobile banking platform offering interest-free cash advances to help customers make ends meet until payday or to cover unexpected bills. One of the most popular cash advance apps, MoneyLion Instacash provides a cash advance of up to $250 with no interest, no monthly fee, and no credit check.
To access funds, you'll need to download the MoneyLion app then link your checking account before you qualify for cash advances. Using MoneyLion's Instacash feature, you can request a cash advance to fill your tank, grab textbooks for school, or treat yourself to a night out.
Your recurring income or regular deposits raise the amount of cash you can access (from $50 to $250) and the amount you receive is automatically deducted from your account on a due date that's determined by your pay cycle or recurring deposit cycle – all with zero interest.
Get cash advances up to $250 with no interest >>> Check out MoneyLion
Seven apps like MoneyLion Instacash
As we detail in our MoneyLion Instacash review, there's a lot to like about 0% APR cash advances that you can access with just a few clicks in the app. However, there are a few drawbacks to MoneyLion that may make some alternative apps a good addition to your financial toolkit:
If you're looking for alternatives without these drawbacks, check out these other cash advance apps like MoneyLion.
#1 Go2Bank – Full powered banking from your phone
Go2Bank is a mobile bank account with an impressive set of tools to help you manage your money – including up to $200 in overdraft protection. Download the free Go2Bank app and you can open a bank account in minutes, with no credit check and no minimum balance requirement.
Set up a qualifying direct deposit with Go2Bank and you unlock some valuable benefits, including:
The list of Go2Bank's features goes on and on, including the ability to cash a check5 in minutes directly through the app and instant cash back offers6 of up to 7% on eGift Cards to tons of popular stores, restaurants and entertainment brands – you won't find many of these deals anywhere else!
| | |
| --- | --- |
| Pros | Cons |
| ✔ Overdraft up to $200 | ✘ Direct deposits required |
| ✔ Access your paycheck two days early | ✘ $5 monthly fee without direct deposits |
| ✔ Get 7% instant cash back on eGift Cards | |
Access up to $200 in overdraft protection >>> Get started with Go2Bank
#2 PockBox app – Comparison shop loan offers for up to $2,500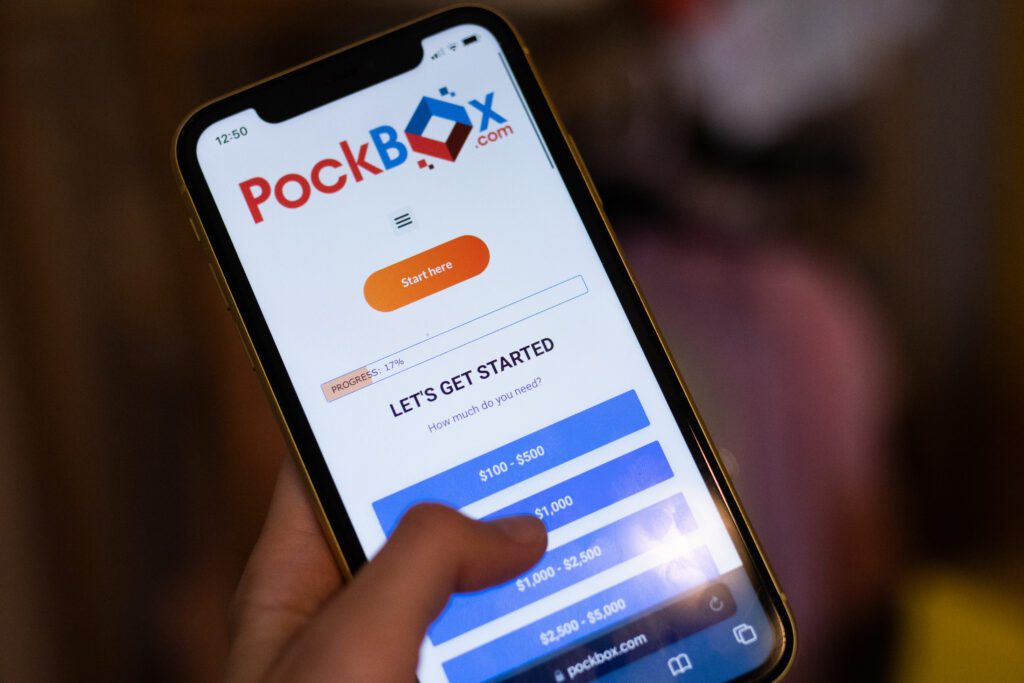 Pockbox is an online lender app that allows you to borrow a relatively high amount compared to MoneyLion but lower than a service like CashUSA.
With PockBox, you can get approved for amounts as low as $100 and up to a $2,500 loan in a few minutes. This app isn't as integrated as other apps (such as MoneyLion), which requires you to connect your bank account. However, there are no monthly subscriptions to use Pockbox, just a loan, and its repayments.
While you can get approved quite fast, always read the APR and the terms. To start the approval process, click here.
Pros
Cons
✔ Receive up to $2,500

✘

Must have regular income to qualify
✔ No fees or charges

✘

Funds take 1 business day
✔ Get approved in minutes
#3 Chime SpotMe – up to $200 in fee-free overdrafts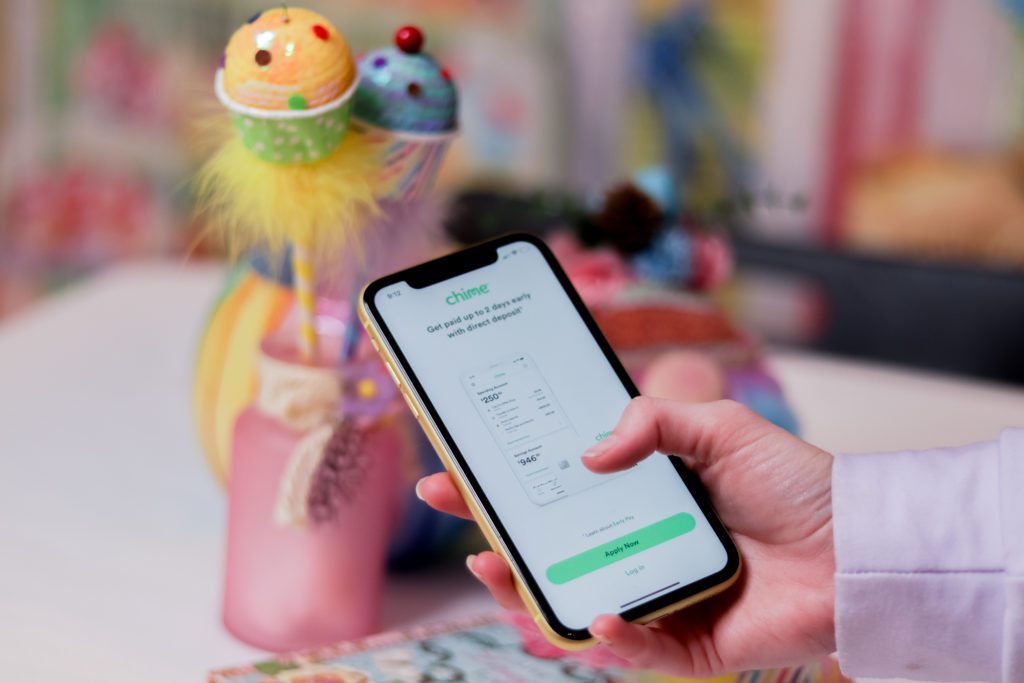 Chime SpotMe® can provide you up to $200* in fee-free overdrafts.
Like MoneyLion, Chime is an easy and convenient financial app that helps you manage and access your money. SpotMe lets you shop online via a debit card and you can even overdraft your account with no overdraft fees. Limits start at $20 and can be increased up to $200.*
There is no cost to enroll in SpotMe. Once you set up your account to receive a qualifying direct deposit of $200 or more a month, Chime will cover up to $200 in overdrafts on your account – without charging you overdraft fees!
Here's an example of how SpotMe can help you access the cash you need without incurring costly overdraft fees:
You want to pay for a $65 dinner (you deserve it), but you've only got $50 in your bank account. With most banks, a debit card transaction would incur a $35 overdraft fee, turning that well-deserved meal into a $100 expense! If you've set up SpotMe (and your paycheck is directly deposited into your account) you can use your Chime debit card to pay for that meal. The $15 overdraft will be covered with no fee to you and the next time you make a deposit to your Chime account, the $15 negative balance is paid off.
SpotMe doesn't have high overdraft limits, but it will show you how much you can spend right in the app to help you avoid fees, as well as those embarrassing moments when your transactions are declined. There's no loan application to fill out and you can instantly access $20 in overdrafts (which can help you avoid those frustrating fees banks charge you for being overdrawn by just a few dollars) and you can grow your limit over time.
The best part? The sign-up process is quick and easy (less than 2 minutes). Click here to check it out.
Pros
Cons
✔ Up to $200 a month in overdrafts

✘

Only for debit card transactions
✔ No overdraft fees

✘

Requires Chime bank account
✔ No account linking required
#4 Albert App – Up to $250 in no-interest, no-fee cash advances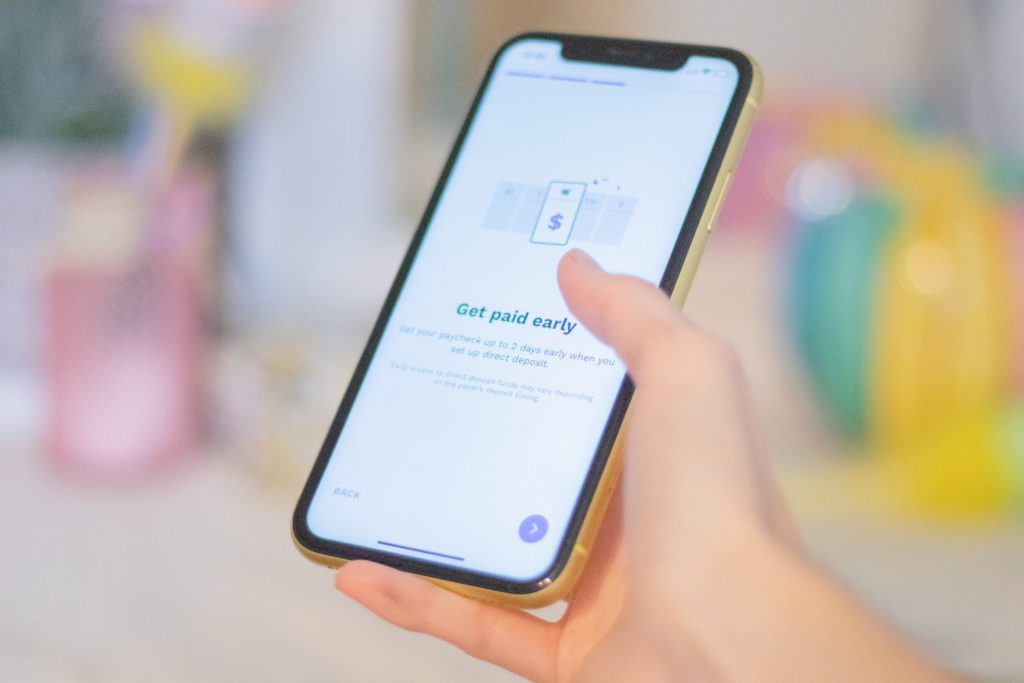 It's no surprise that Albert is one of the most popular paycheck advance apps – you can get up to $250 in cash almost instantly without fees or interest!
Getting started by downloading the Albert app, quickly connect it to your bank account OR keep your bank account separate. Albert cash advances are available whether you move your direct deposit or not – though setting up an Albert Cash account will give you access to near-instant cash advances and access to your paycheck up to two days early.
The advance is automatically repaid through your next paycheck, though you can change this date to be earlier or later.
New Albert users are also eligible for a $150 sign-up bonus, which, along with the many banking, financial planning, and cash advance features, makes this free app a popular one.
| | |
| --- | --- |
| Pros | Cons |
| ✔ Borrow up to $250 | ✘ Customer service via email only |
| ✔ Range of FREE financial tools in-app | ✘ Must link bank account for instant cash advances |
| ✔ No interest on the amount borrowed | |
Get a $150 bonus for trying out Albert! >>> Claim your Albert signup bonus
#5 Avant app
The Avant app will let you borrow up to $35,000 (and as low as $2,000) at a very cheap rate with a maximum annual percentage rate (APR) of 36%.
The application process is sleek and takes only about 5 minutes. However, Avant is a lender and not a cash advance app like MoneyLion. On the plus side, there are no monthly fees to be paid to be able to borrow (like with MoneyLion Plus); you'll only need to pay the monthly payments.
Avant is a highly trusted lender in the U.S. as they have issued more than $3 billion in loans so far and access to fast credit and managing a loan through Avant can be done entirely online.
Pros
Cons
✔ Choice between secured & unsecured loan

✘

Eligibility criteria apply
✔ $2,000 – $35,000 available

✘

Comparatively high APRs
✔ Low minimum credit score requirements

✘

Administration fee up to 4.75%
#6 – Dave App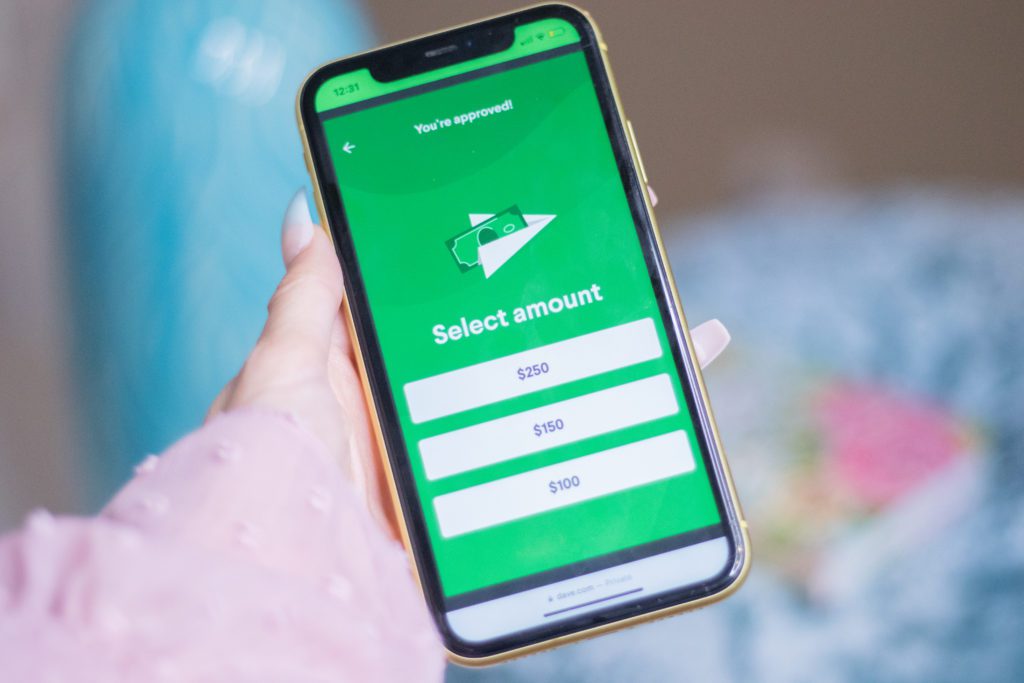 Dave is a popular app that let you borrow up to $100 instantly to hold you over until your next paycheck. Available only on Android and iOS (and not through a web browser), Dave costs $1/month even if you don't borrow anything.
But don't worry, the cash advances are interest-free (kind of… instead of interest, Dave app charges a $1 monthly subscription fee).
If you are looking for a very small amount multiple times a year, Dave is a great solution compared to MoneyLion (as MoneyLion will cost you $29/month in order to borrow $500 at a low-interest rate).
Pros
Cons
✔ Low fee ($1/month)

✘

Relatively low borrowing amounts
✔ Borrow up to $250

✘

Must provide linked bank account
✔ No credit check or interest

✘

Automatic withdrawals for repayments
Find Out More >>> Dave App Review
#7 HonestLoans app
HonestLoans will get you money very quickly (with a 5-minute application process) as an aggregator connected to dozens of lenders. This app similar to MoneyLion will, according to your financial background and request, let you borrow money. You can ask for between $100 and $2,500. Unlike MoneyLion Plus, you don't have to pay any monthly fees in order to get access to money.
However, the HonestLoans app is not a financial planner – just a cash advance app. That said, it is a great solution if you need cash quickly. But, as with any app dealing with money, be aware of the conditions before you request and receive your money.
Pros
Cons
✔ Borrow $100 to $2,500

✘

Fees and interest depend on lender
✔ Apply online in 5 minutes (no lines!)

✘

Loans are not a long-term funding source
✔ Flexible eligibility criteria

✘

Generally high fees and interest rates
Final thoughts and what to do next…
Choosing an app that's similar to MoneyLion means weighing up the pros and cons on offer. From fees to credit checks, loan amounts, and interest, each cash advance app offers different value.
As a recap, the MoneyLion alternatives include:
If you have poor credit or no credit score, you may be better off checking out credit builder loans like Self Lender or SeedFi, too.
These apps allow you to quickly borrow the cash you need, whether as a loan or advance on your next paycheck, and with the seven options listed in this article you've got all the information you need to find the app, and service, that best suits your needs.
CHECK OUT OUR MOST POPULAR ARTICLES BEFORE YOU GO:
Watch: MoneyLion Instacash Cash Advances
---
How we picked these apps
To come up with this list of cash advance apps, we picked a handful of apps like MoneyLion, downloaded them onto our phones, and got to work testing them out. We considered features including fees (upfront or hidden), eligibility, borrowing limits, and interest rates. We also looked for additional features that might benefit Americans living paycheck to paycheck. These include credit checks, speed of accessing funds and overdraft support. We may receive a referral fee if you purchase or use some of the products described in this article.
*Chime SpotMe eligibility requirements and overdraft limits
: Chime SpotMe is an optional, no fee service that requires a single deposit of $200 or more in qualifying direct deposits to the Chime Spending Account each month. All qualifying members will be allowed to overdraw their account up to $20 on debit card purchases and cash withdrawals initially, but may be later eligible for a higher limit of up to $200 or more based on member's Chime Account history, direct deposit frequency and amount, spending activity and other risk-based factors. Your limit will be displayed to you within the Chime mobile app. You will receive notice of any changes to your limit. Your limit may change at any time, at Chime's discretion. Although there are no overdraft fees, there may be out-of-network or third party fees associated with ATM transactions. SpotMe won't cover non-debit card transactions, including ACH transfers, Pay Friends transfers, or Chime Checkbook transactions.
See Terms and Conditions .
Chime is a financial technology company, not a bank. Banking services provided by, and debit card issued by, The Bancorp Bank or Stride Bank, N.A.; Members FDIC.
WAIT! High overdraft fees aren't the only way your bank is costing you money.
With inflation overheating, you've probably heard that interest rates are climbing sharply. That means that for the first time in years, it's a great time to shop around for a high interest savings account.
The national average interest rate for savings accounts is currently 0.18% APY – that means that if you have $2,500 in a savings account, you'd earn just $4.50 after one year! Move those hard-earned savings to an FDIC-insured bank paying 3.00% APY and you'd earn $71.63 more!
Don't let your hard-earned savings sit there doing nothing. Check out the rates that you can earn at other banks:
Latest posts by Mitchel Harad
(see all)