Editor's Note: Overdraft Apps provides detailed product reviews and recommendations based upon extensive research and our own hands-on testing. We may earn a referral fee when you sign up for or purchase products mentioned in this article.
You need to borrow $200. And you need it ASAP.
It could be a $200 loan. Or a $200 cash advance on your wages. Or a successful $200 transaction the next time you swipe your debit card.
On the flipside, you absolutely do NOT need to overdraft your account and get slugged with a thirty-something dollar fee, fall into the cycle of high-interest debt, or go searching for change under the couch.
So we'll show you the quick, easy and proven ways to borrow $200 instantly using the best cash advance apps that we've downloaded and tested ourselves. Oh, and we'll show you how to avoid overdraft fees entirely.
Read on for 3 different strategies to get the two hundred dollars you need so you can get back to enjoying life without the stress that comes from an anemic bank account.
As a bonus, some of these money-borrowing strategies have low or no fees, so you won't need to worry about the $100+ a day in overdraft fees millions of Americans are faced with. And, one will even pay you a $150 bonus when you join!
We'll also show you how to borrow $200 with no credit check so if you're ready to put a couple of crisp Benjamins in your pocket, read on to learn how to borrow $200 from a cash app.
What we'll cover:
OPTION ONE

: "I need to borrow $200 and probably more": Get a quick loan
Best For: Accessing larger amounts of cash or for those without a regular paycheck
We're guessing, if you need a quick two hundred dollars, you could do with a little extra savings for a rainy day, right?
If two hundred dollars would make a difference, but a few thousand would help even more, a short-term loan can give you the money you need. And, with a range of innovative lending options available, there's no need to throw on a suit and head down to your local bank manager to plead your case.
Instant loan apps allow you to compare lenders from home and are perfect for people with low or bad credit. In fact, many of the instant loan apps available are designed for those with credit problems, so you're not punished with high APR loans based on the circumstances of your life.
With the right app, you can be approved in minutes, borrow $200 with bad credit, and top up your checking account with extra funds without stressing over overdraft fees.
We Recommend: PockBox
Pockbox is perfect when the $200 you want to borrow is just the tip of the iceberg. Whether you have a service on your car, your rent is due and you'll be a little short, or you need extra cash to handle an emergency, PockBox can provide up to $2,500.
All you need to do is fill out a few forms with a little information about yourself and you'll be able to compare lenders via PockBox in 5 minutes to borrow 200 with bad credit (and a lot more).
There's no obligation to select a lender, and no harm in browsing, so you can choose the lender that meets your needs and financial situation without pressure and put a quick $200 in your pocket.
In most cases, funds borrowed via PockBox are yours within 1 business day. With the ability to put $200 (and up to $2,500) in your bank account quickly, you can skip overdraft fees which can easily spiral into $100 and more every single day.
>>> Explore PockBox (get up to $2,500 fast)
| | |
| --- | --- |
| Pros | Cons |
| ✔ Access up to $2,500 fast | ✘ Must have regular income to qualify |
| ✔ Get approved for a $50 loan in minutes | ✘ Funds take 1 business day |
| ✔ No fees or charges to apply | |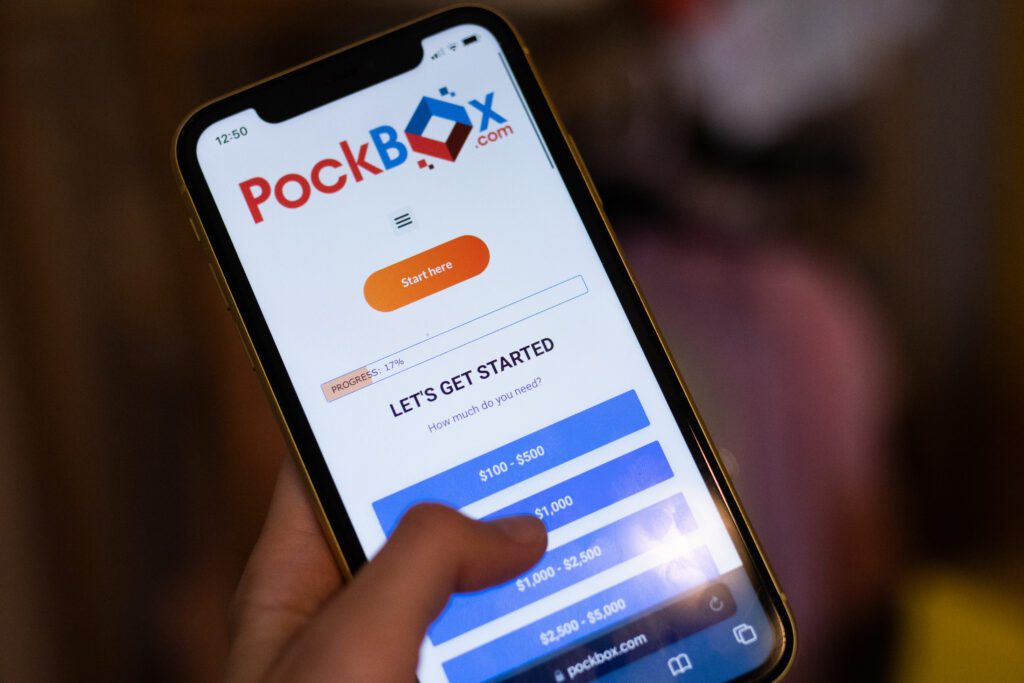 OPTION TWO

: "I need to borrow $200 before payday": Use a fee-free cash advance app
Best For: Getting quick cash without paying annoying app fees
When you work from paycheck to paycheck, sticking to a budget can be next to impossible.
Emergencies pop up. Bills land in your inbox. And a night out with your friends is impossible to resist. Whatever the occasion, sometimes it would be nice to access the wages you've earned even when payday is still around the corner.
That's where you can use a cashapp to borrow 200.
Though each app works differently, the goal is to provide you with a bit of extra money without stinging you with more fees than you can count. Some of these apps may require a direct deposit. Others may only be with a paid subscription (don't worry, we've found a free option).
What these apps do share is that they are a cheaper alternative to payday loans, and with low fees (or no fees), you can remain flexible with your short-term borrowing options without the stress that comes with overdrafts. With a cash advance app on your phone, you can put money in your bank account in a few, simple taps!
We Recommend: MoneyLion
There are plenty of cash advance apps that look great on paper. But when using an app means being hit with monthly fees and account fees and cash advance fees… it's easy to get frustrated. MoneyLion avoids this problem entirely with no monthly fees, no interest on cash advances, and no credit checks.
You'll need a recurring deposit from an employer or benefits program to qualify for MoneyLion Instacash. Once MoneyLion verifies your account, you can access and cash out $50 to $250 right away (though working your way up to the maximum cash-out limit can take up to 8 weeks). MoneyLion will automatically handle the repayment of your Instacash advances, so you don't need to set reminders to balance out your funds. Just borrow, spend, and MoneyLion will balance out your debt on the due date of your next direct deposit!
And if you're worried about hidden fees or charges, MoneyLion has none. At all. Using the service is free, though tips are optional. You can cover expenses with a $200 cash advance without unnecessary fees and account charges.
>>> Explore MoneyLion (it's free to use with no mandatory fees ever)
| | |
| --- | --- |
| Pros | Cons |
| ✔ Get up to $250 with no interest | ✘ "Voluntary" tips can encourage you to overpay |
| ✔ No monthly fees! | ✘ Requires access to financial information |
| ✔ No direct deposit | |
| ✔ No credit check | |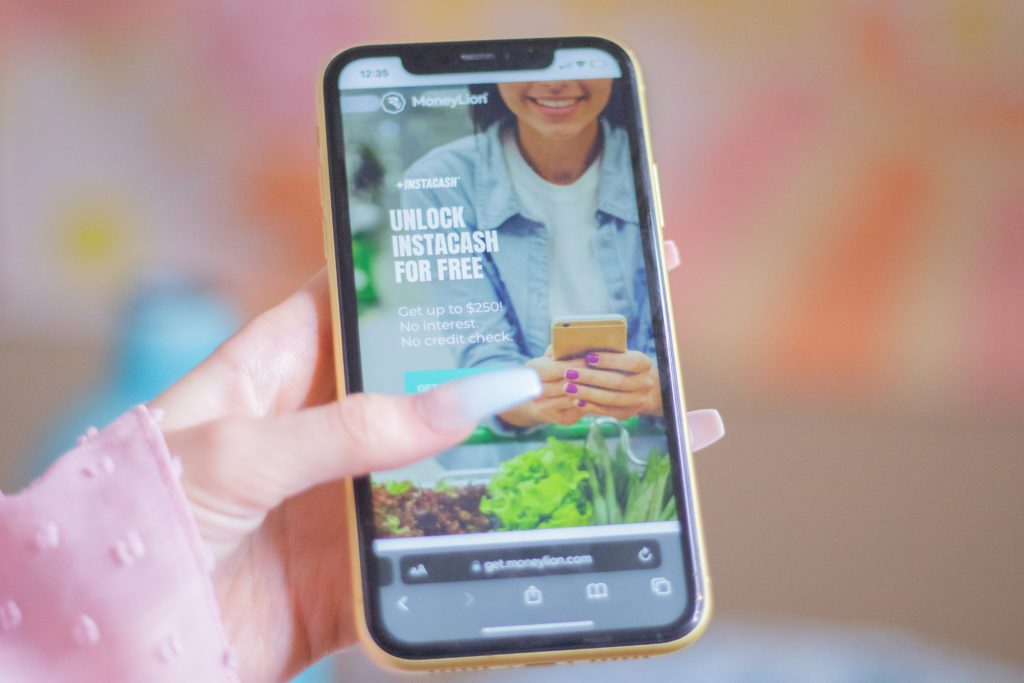 OPTION THREE:

"I need to borrow $200 but my bank balance is nil": Instant loan apps
Best For: Handy banking features with no fees and multiple ways to quickly get extra cash
You need to borrow $200 now but you don't have time to ask friends and family for help. Worse still, if you can't muster up a few hundred bucks then you'll risk dishonor fees on your bills or penalty payments that can put even more financial stress on you.
If this describes you, you can use neobanks (a type of digital bank operating exclusively online) to borrow $200 without hassle.
Although the offerings of modern neobanks may be limited compared to a traditional bank, they typically provide digital and mobile-first services including payments, transfers, money lending and more. So if you'd rather skip the frustration of paying a thirty-something dollar overdraft fee (who wouldn't?!) and grab a $200 loan from the convenience of your smartphone, an instant loan app is ideal.
We Recommend: Albert
Albert is our top pick for a $200 cash advance because it comes with a range of tools to help you track your spending, saving and budgeting – as well as a borrowing limit of $250 so you can top up your checking account with a little wiggle room for a rainy day1.
Plus, Albert can help you borrow 200 dollars instantly with no credit checks, so you're not punished for having poor credit.
At the same time, odds are you've tried an app or two to help you manage your money already. As valuable as instant loan apps can be, you're ultimately left in charge of figuring out your options – which isn't always easy!
Albert helps remedy this with 'Albert Geniuses' available to answer your financial questions 7 days a week via the app or text message (for a small fee).
Oh, and we can't forget Albert's most attractive feature for new customers – a $150 sign-up bonus just for giving Albert a try.2 That's most of the $200 you need to borrow taken care of already!
>>> Explore Albert (and get a $150 signup bonus)
| | |
| --- | --- |
| Pros | Cons |
| ✔ Borrow up to $250 with no interest | ✘ Funds take 2-3 days to reach your bank account |
| ✔ No credit check | ✘ Direct deposit required for no fee instant advances |
| ✔ $150 sign-up bonus | |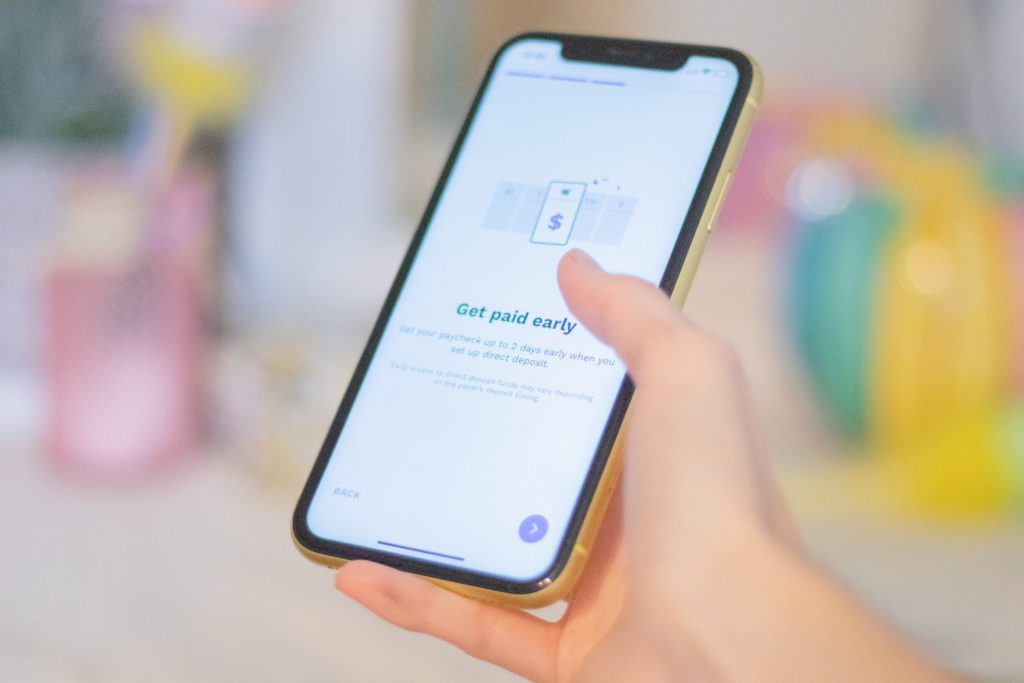 Final thoughts and what to do next…
Recent studies show roughly ⅔ of the American population are living paycheck to paycheck. So, if you're in need of an emergency $200 loan, you're not alone.
Thankfully, the growth of cash advance apps and neobanks means you can borrow $200 instantly without being stuck on the carousel of overdrafts (and the sky-high fees that come with them).
Choosing the right app for you will come down to more than accessing the $200 bucks you need. The right app for you might be one that offers transparency with fees, provides your money quickly, or offers complementary services to better manage your finances. (And if you can get by with a bit less, you may find it cheaper and easier to borrow $40, $50, $100 or $500.)
Consider the apps we downloaded and tested and you'll have the money you need – and the support you need – to stay on top of your finances.
So, which option are you going to use to borrow $200 today?
WAIT! High overdraft fees aren't the only way your bank is costing you money.
With inflation overheating, you've probably heard that interest rates are climbing sharply. That means that for the first time in years, it's a great time to shop around for a high interest savings account.
The national average interest rate for savings accounts is currently 0.18% APY – that means that if you have $2,500 in a savings account, you'd earn just $4.50 after one year! Move those hard-earned savings to an FDIC-insured bank paying 3.00% APY and you'd earn $71.63 more!
Don't let your hard-earned savings sit there doing nothing. Check out the rates that you can earn at other banks:
Latest posts by Alexander Porter
(see all)
Download the Albert app to see if you qualify. Repay the advance with your next paycheck. Fees may apply. Advance amounts based on qualification and may vary. Albert is not a bank. Banking services provided by Sutton Bank, Member FDIC.

Here are the criteria to earn the $150 bonus:

Set up direct deposit with Albert Cash,
Receive a qualifying direct deposit of $500 or more within 45 days of joining Albert;
Receive a qualifying deposit of $500 or more every 30 days for 90 consecutive days,
Use your Cash card to spend $200 or more on qualifying goods or services every 30 days during the same 90-day period, And
Meet all of the above requirements within 150 days of joining Albert
Be sure to see the full terms and conditions and eligibility conditions.