Editor's Note: Overdraft Apps provides detailed product reviews and recommendations based upon extensive research and our own hands-on testing. We may earn a referral fee when you sign up for or purchase products mentioned in this article.
Looking for an app that can help you access a little extra cash before your next payday? Grid Money offers cash advances with low fees and no credit check, but it lacks many of the bells and whistles of other cash advance apps. Does this no frills app get the job done? We dive into the details in our Grid Money app review.
What is the Grid app?
Grid Money is part of the wildly popular set of money borrowing apps that can give you quick access to extra cash with no interest and much lower fees than payday loans or credit card cash advances.
The Grid app's main feature is cash advances for up to $200. There is no credit check to qualify. Instead, Grid Money securely links to your bank account via Plaid to review your account balance, history and deposit activity, which the app uses to determine your eligibility and cash advance limit. Having a bank account that is at least 60 days old and shows at least $1,000 in monthly deposits and spending are key requirements to qualify for a Grid advance. Grid does not currently support a number of popular banks and banking apps, such as Chime, Dave, Varo, PNC, or Capital One.
For most users, your limit will initially start at $50 and gradually increase by $10 increments up to the $200 loan limit as you build up a track record of making on-time repayment of your advances.
You can download the Grid Money app for free. It only takes about five minutes to register, though the process is not as smooth as it is with many other apps. You can be approved for a cash advance right away.
Unlike many cash advance apps, Grid doesn't offer a way to get your money nearly instantly. You can have your funds sent to your debit card in three business days, or have it delivered in up to 8 hours by paying a $2.99 express fee.
The repayment date for your Grid advance is set to when the app expects you will receive your next paycheck. You cannot change your payment date, which is a common feature in most other cash advance apps. You won't be able to take out another Grid advance until your outstanding advance is repaid. Some user reviews complain of needing to wait several days for a repayment to post, delaying their eligibility for another advance.
Tax withholding optimization and income protection
Besides cash advances, Grid Money's offers a service to help you optimize the tax withholding on your paycheck. This can increase the amount of your take home pay and put more money in your pocket sooner, though your annual tax refund will likely shrink. This Payboost feature is included in your subscription to Grid Money.
The Grid app has also recently debuted an income protection plan, which is like insurance against layoffs. If you lose your job, Grid will pay you up to $2,000 a month for two months. There is a $15 monthly fee for this program, as well as a long (though not unreasonable) list of requirements to qualify for benefits, including:
Paying for the program for at least 90 days before filing a claim
You've been employed full time with the same employer for at least six months
No independent contractors, seasonal workers or people over 65 years old
You've been approved for unemployment benefits
You must be a Grid Income Protection Program member for a minimum of ninety (90) days prior to activating Income Protection benefit.
How much does a Grid Money cash advance cost?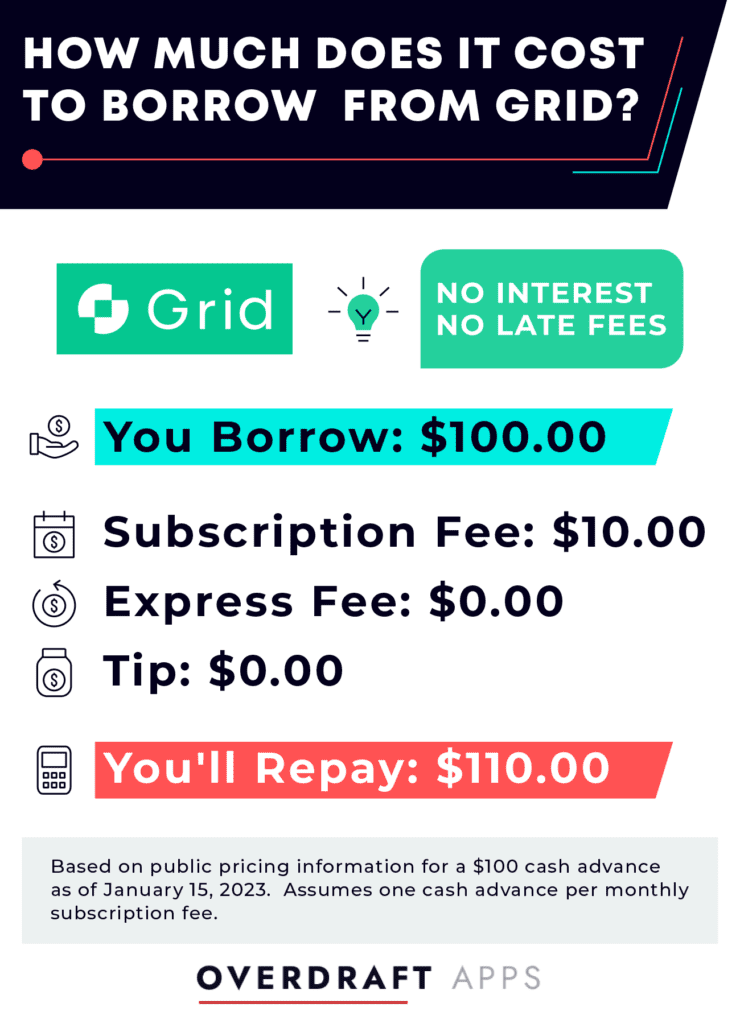 You'll need to subscribe to the app's Grid+ service to take advantage of cash advances and the Payboost tax service. A subscription costs $10 per month, billed to your debit card. You'll see what advance limit you qualify for before you are presented with the option to subscribe. Grid Money does not charge interest or late fees and does not ask for optional tips.
If you take out one $100 cash advance per month, the effective cost of that advance would just be the $10 subscription fee. (You may pay an optional $2.99 express fee to receive your Grid cash advance within eight hours.) This is well below the $16.32 average cost of borrowing $100 instantly from the 15 most popular cash advance apps.
Remember, your initial advance limit will likely be just $50 and you may not be able to borrow $100 until you've borrowed and repaid four loans, pushing the effective cost higher. Of course, you may be able to take out more than one Grid advance per month for the same $10 subscription fee. (You can request a free account by emailing [email protected] and state that you would like an Advance without subscribing to Grid+.)
If you want to cancel your Grid Money subscription, you'll need to so via the customer support chat function in the app or by emailing [email protected]. You won't be able to reinstate your account later, so if you return to Grid your advance limit will reset to just $50. Deleting the app will not cancel your subscription.
Is Grid Money legit?
Grid Money boasts hundreds of thousands of app downloads and more than 20,000 ratings on the App Store (4.7 average) and Google Play (4.6 average). Grid has a B rating with the Better Business Bureau, with most complaints relating to problems cancelling a subscription. The company was founded in 2019 and has raised $22.5 million in funding from venture capital firms. It is based in Oakland, California.
Apps like Grid Money may be a good option for you if you regularly need smaller cash advances. The $10/month Grid+ subscription can lead to low cost access to extra cash that you can qualify for even if you have poor credit or no credit history. The no frills app doesn't offer the personal finance, credit monitoring or investing features that other apps do, but that also makes it straightforward and simple to use.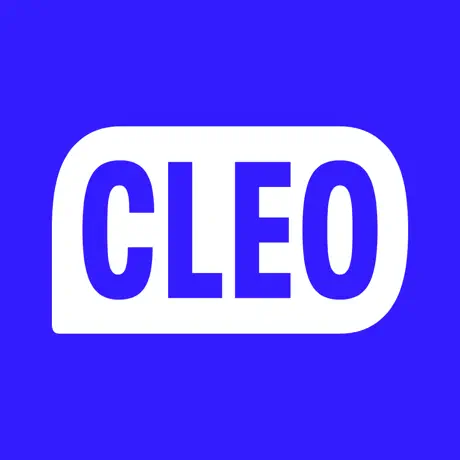 Why is Cleo one of our favorite cash advance apps?
Super speed - Get up to $250 in your bank account today!1
No, No, No! - No credit check, no interest, no tips, no late fees
😂 😂 🤣 -

Hilarious

, smart money advice you might finally listen to
The lack of an instant funding option and the ability to change your repayment date puts Grid a few steps behind most of the competition, though, and we're always wary of paying for another recurring monthly subscription that is easy to forget about. Apps like Albert and MoneyLion are good cash advance app alternatives to consider, with no subscription fee and higher borrowing limits, too.
Watch our Grid Money cash advance app review
WAIT! High overdraft fees aren't the only way your bank is costing you money.
With inflation overheating, you've probably heard that interest rates are climbing sharply. That means that for the first time in years, it's a great time to shop around for a high interest savings account.
The national average interest rate for savings accounts is currently 0.23% APY – that means that if you have $2,500 in a savings account, you'd earn just $5.76 after one year! Move those hard-earned savings to an FDIC-insured bank paying 3.50% APY and you'd earn $81.73 more!
Don't let your hard-earned savings sit there doing nothing. Check out the rates that you can earn at other banks:
Latest posts by Mitchel Harad
(see all)
Eligibility requirements apply. Not all users will qualify. Advance amounts range from $20 to $250. Instant transfers subject to express fees. Visit meetcleo.com/terms for more information.