Editor's Note: Overdraft Apps provides detailed product reviews and recommendations based upon extensive research and our own hands-on testing. We may earn a referral fee when you sign up for or purchase products mentioned in this article.
Sometimes find yourself in a cash crunch? The Klover app can quickly advance you up to $200 with no credit check and with some of the lowest fees of any cash advance app! And if you love collecting points, the app gives you dozens of opportunities to earn Klover points which you can use to increase your cash advance limit, reduce fees or enter a daily drawing for cash prizes. Easy and fun, right…but what's the catch? We've got all of the details and what they mean for you in our Klover app review.

Why is Klover becoming one of the most popular cash advance apps?
Super speed - You could have up to $200 in your bank account in under 10 minutes!
No, No, No! - No credit check, no interest, no subscription fee, no tips, no late fees
🎰🤑💰 - Earn Klover Points that you can use to enter free daily cash drawings or boost the size of your cash advance
How does Klover work?
Klover is one of the more popular money lending apps that have emerged over the past few years to provide lower cost alternatives for small, short term loans. With Klover, you can quickly borrow up to $200 with just a few taps in the app.
There is no credit check. Instead, Klover securely connects to your bank account via Plaid and analyzes your recent transactions to determine if you qualify for a cash advance and to set your borrowing limit. The key criteria to meeting Klover's cash advance requirements is regular recurring deposits – you'll generally need to have at least three recent deposits of at least $250, for the same amount, from the same employer and at a consistent interval (such as every 14 days) to be eligible for a Klover cash advance (which Klover calls a Boost). These criteria can be tough to meet if you don't have a traditional salary job, so Klover isn't usually a great option for cash advances for gig workers. Additionally, Klover doesn't accept self employment income or government benefits.
If you do qualify, the Klover app will instantly let you know your cash advance limit. New users will likely qualify for less than $200, but your limit can increase as you build up a history of successfully repaying your Klover advances. You can also use Klover points to increase your cash advance limit (more on points in a moment). If you link your bank account to the app but meet the criteria for Klover cash advance, you'll still be eligible to borrow $5 from Klover. (Yay?)
Need to borrow more? Here's where you can find a $500 loan.
You can have your cash advance sent to your bank debit card almost instantly by paying a small fee. If you're willing to wait up to three business days, there is no fee. Klover will schedule your automatic repayment for the date of your next paycheck. You cannot change your repayment date, though there is no late fee. You generally need to wait three business days after you've repaid your cash advance to borrow again from Klover.
Get up to $200 with no credit check >>> Check out Klover
What are Klover points?
One of the unique features of Klover is that you can earn rewards points, which you can use to increase your cash advance limit, pay the express fee or enter a daily prize drawing with one $100 award and five $20 awards.
You'll earn points as you sign up, link your bank account and complete other account creation tasks. You can earn daily points by watching short video ads, completing surveys, participating in promotional offers, or sharing information about your spending habits with Klover. You can also win points by spinning a prize wheel, but watch out, you can lose points too!
It's not hard to earn a few hundred Klover points per day, especially with frequent point promotions that Klover will notify you about. If you use your points to increase your cash advance limit, it costs 300 points to increase your limit by $10 up to 1,500 points to borrow an extra $50. (Points are worth less if you use Chime or Varo as your bank account with Klover.) The express fee still applies to these advances. Given the effort it takes to acquire points, you're probably better off using a rewards program like MyPoints or using the to try your luck in the daily cash drawings.
Love collecting points and entering daily sweepstakes? >>> Check out Klover
How much does a Klover cash advance cost?
Klover Boosts have just one fee, for instant delivery of your advance. There is no interest or tips. Express fees start at $2.99 and top out at $9.99 for cash advances of $75 or more. Klover has the highest express fee to borrow $100 of the 15 most popular cash advance apps. You can avoid this fee by choosing ACH delivery, but you'll need to wait three business days to receive your funds.
We compared the cost of borrowing $100 from the most popular cash advance apps and found the average cost to be $15.35. With the express fee, you'll pay just $9.99 for a loan from Klover, which ties the app for the second cheapest way to borrow quick cash!
While there's no subscription required to access cash advances, Klover does offer a subscription-based product called Klover+ that provides tools to monitor your credit score and report, compare prices on popular products and see how your spending compares to others. You can get a one month free trial of Klover+, then there's a $3.99 monthly subscription fee. Some of the Klover Plus features are nifty, such as credit score monitoring tools and realtime price comparisons on popular products, but you can access most of them through other apps and websites at no cost. Note that you need to cancel your subscription via the app or by calling Klover customer support at 888-293-8767. Deleting the app will not cancel your monthly subscription payments.
Get a low-fee cash advance for up to $200 >>> Check out Klover
Is the Klover app legit?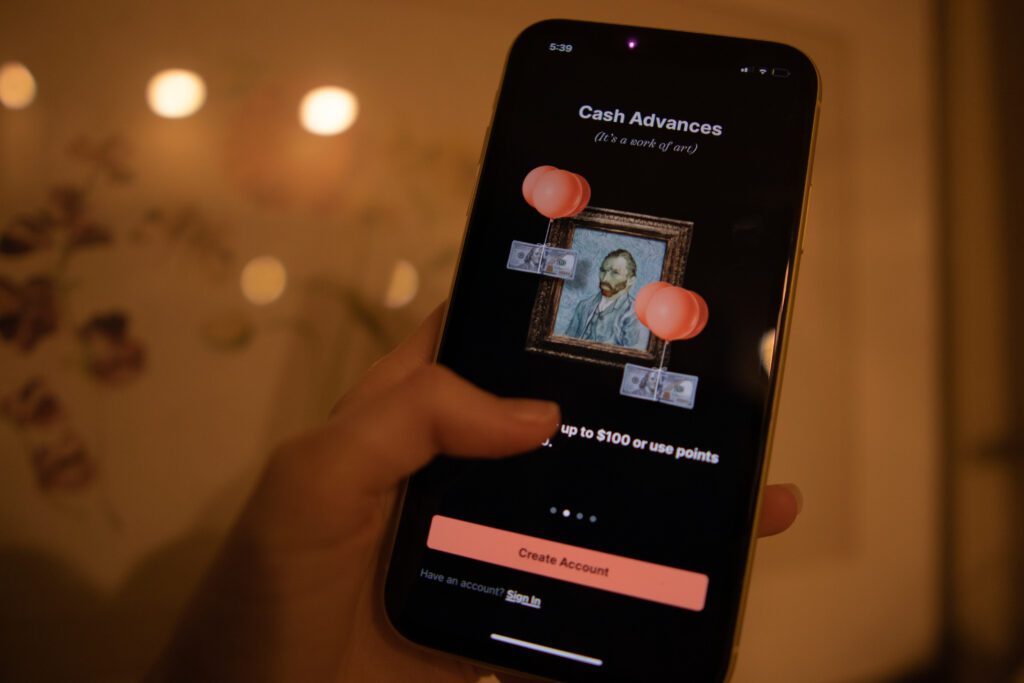 Chicago-based Klover was founded in 2019 and has raised over $60 million in venture capital from Mercato Partners, Traverse Partners and other investors.
The app is a fixture in the top 50 financial apps charts on both the App Store and Google Play. Klover has been downloaded well over 1 million times, It has over 100,000 reviews and a 4.7 rating on the App Store and over 45,000 reviews and a 4.3 rating on Google Play. Many negative reviews mention frustration with low advance limits and the need to earn and redeem points to increase your borrowing limit.
Like most cash advance apps, Klover is not a bank. Its debit card and other banking services are provided by Blue Ridge Bank, N.A., member FDIC. Deposits are federally insured for up to $250,000, so your money is safe with Klover. The app connects to your bank account via Plaid, the prominent and highly secure financial connection service that gives you control over what Klover can access. Your data with Klover is data is protected by 256-bit encryption.
While Klover has some of the lowest fees of any cash advance app, the company earns a significant portion of its revenue through monetizing its users' data. "Our business model revolves around leveraging consumer-permissioned data and insights in concert with trusted partners." Klover claims that it strictly adheres to rigorous privacy laws, including the European Union's General Data Protection Regulation (GDPR) and the California Consumer Privacy Act (CCPA). If you use Klover, you should carefully note how and with whom your personal data is shared.
Get up to $200 with no credit check >>> Check out Klover
Watch our Klover app review
The Klover app makes it quick and easy to borrow quick cash when you need it, and its simple fee structure and low cost may make it worth having on your phone. However, the Klover points program requires high effort for low reward and it isn't always obvious who Klover is sharing (or selling) your data to. There are more straightforward apps like Klover that make it easier to borrow $200 when you need it.
WAIT! High overdraft fees aren't the only way your bank is costing you money.
With inflation overheating, you've probably heard that interest rates are climbing sharply. That means that for the first time in years, it's a great time to shop around for a high interest savings account.
The national average interest rate for savings accounts is currently 0.23% APY – that means that if you have $2,500 in a savings account, you'd earn just $5.76 after one year! Move those hard-earned savings to an FDIC-insured bank paying 3.50% APY and you'd earn $81.73 more!
Don't let your hard-earned savings sit there doing nothing. Check out the rates that you can earn at other banks:
Latest posts by Mitchel Harad
(see all)