Editor's Note: Overdraft Apps provides detailed product reviews and recommendations based upon extensive research and our own hands-on testing. We may earn a referral fee when you sign up for or purchase products mentioned in this article.
Need to borrow money?
You could ask your friends to lend you cash, check in with the Bank of Mom and Dad, or apply for a loan at your local brick-and-mortar bank.
But if you want to save time, enjoy a 100% online application, and get money from flexible lenders (who don't just see you as a walking credit score), you can use one of the growing number of money lending apps instead.
While most of our recommended apps that loan you money charge no interest or late fees, some require monthly subscription fees and optional express fees and tips that can end up translating into sky-high annual percentage rates (APRs).
Spotting the good from the not-so-good is crucial.
The best app to lend you cash offers a high enough borrowing limit, flexible repayment terms, and speedy delivery without substantial added costs.
To help you make an informed decision, here's what you need to know.
What money lender apps let you borrow instantly?
Like the Top Gun franchise, you might have a need for speed.
When you've got an urgent expense, upcoming bill, or other cost that can't wait, it helps to know which apps offer immediate access to funds and which talk a big game.
Taglines like "get cash quick" look great on the side of a bus, but if they make you jump through hoops (or pay sky-high charges) to release your funds immediately, you end up losing out..
Check out the following table for a round up cash advance apps and how long it takes to get your funds.
| App | Free (Wait For Your Money) | Express Fee (Get Your Money Instantly) |
| --- | --- | --- |
| Albert | 2 – 3 business days | $6.99 |
| B9 | Almost instantly to your bank account or B9 card | $0 |
| MoneyLion | 1 – 5 business days | $0.49 – $8.99 |
| PockBox | Can Be Less than 1 Hour | N/A |
| Cleo | 3 – 4 business days | $3.99 |
| Dave | Up to 3 business days | $1.99 – $5.99 |
| Current | Instantly on debit card transactions | N/A |
| Brigit | 2 – 3 business days | $4.99 |
| SeedFi | Percentage of loan available immediately | N/A |
| Earnin | 1 – 2 business days | $0.99 – $3.99 |
| Chime | Instantly on debit card transactions and ATM withdrawals | N/A |
Please Note: Money lending apps have more terms and conditions than any sane person would want to read. But it pays to know the details.
For example, a MoneyLion Instacash advance takes 2 to 5 days to an external checking account. But only 1 – 2 days to a MoneyLion RoarMoney account. For an advance of $30 to $45 you'll need to pay an express fee of $2.49 to get money sent immediately to your RoarMoney account. This rises to $4.99 to an external checking account.
The fine print matters, so check out our individual app reviews (linked in the table above) for the FULL facts and figures. Don't worry, we've read through the T&Cs of every app we review and bottomline them for you!
How do I borrow $100 from a money loan app?
Need to borrow one hundred dollars?
Use the following checklist to avoid any delays or mistakes in your application. While the specific steps will differ from one cash advance app to the next, these strategies will help you do your due diligence:
Research different apps that lend you money: Doing homework might not be the most fun way to spend your time – but it can save you unnecessary fees and stress! Compare the different cash advance apps available to find one that best suits your needs. Look at factors such as interest rates, repayment terms, fees, and customer reviews.
Check your eligibility: Before applying for a loan, check the eligibility requirements for the money lending app you've chosen. Make sure you meet all the requirements to avoid wasting time, such as having a certain credit score, whether you need a regular source of income or can apply as a gig worker, and a valid bank account.
Review the terms and conditions: Before deciding on an advance, carefully review the T's & C's. Make sure you understand the interest rate, repayment terms, fees, and any other associated costs.
According to Rhett Stubbendeck, CEO of LeverageRx, it's what you DON'T initially see that can sting you in the long run. He explains, "watch out for any hidden fees and charges; usually, they have in-app purchases. Furthermore, you should verify the security of the app because some cash advance apps don't have sufficient security measures and can put your personal as well as financial information at risk."
Don't love the idea of doing homework? We don't blame you.
That's why we've rounded up 9 of the best money lending apps so you can see the full pros and cons quickly and easily.
Best money lending apps of 2023
The "best" money loan app will come down to your needs. Some are more suited to smaller loan amounts (like borrowing $50 to pay for an upcoming date). Others provide the possibility to increase your borrowing limit to $200 or more with a good usage history.
Unlike payday loans (that often come with sky-high interest rates), these apps offer a great alternative with no interest charged and even options to receive your funds without fees.
Here are some of the best money lending apps to check out.
#1 – Albert: Enjoy interest-free cash advances up to $250!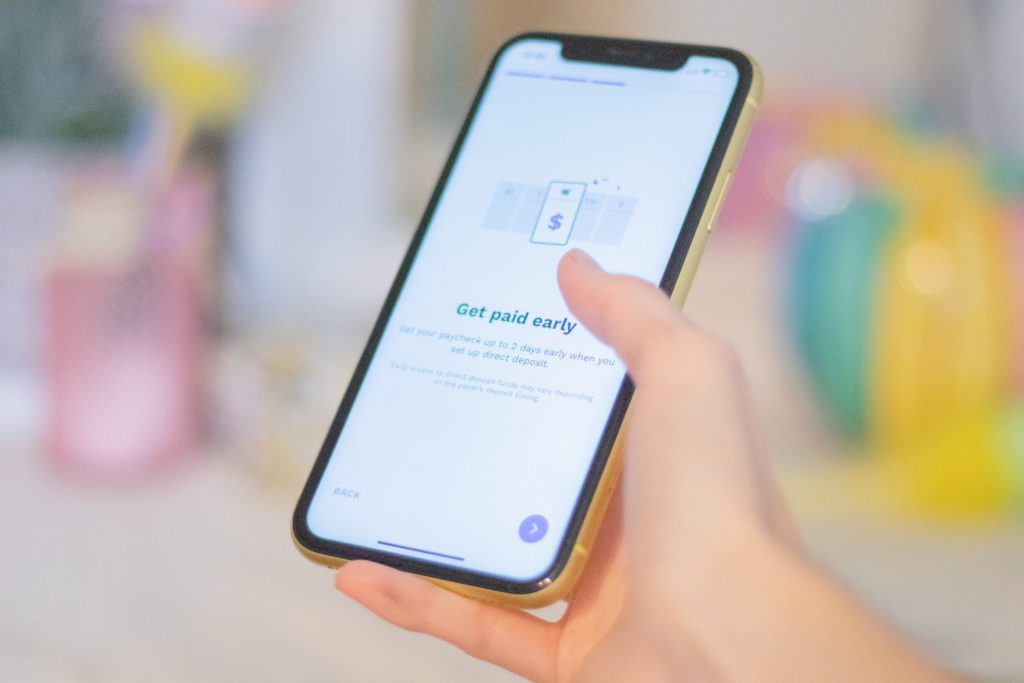 Get cash advances up to $250 quickly and easily with Albert – offering one of the largest amounts available among money lending apps. 1
There's no interest or subscription fees for most users. So with just a few taps, you can request money and have it sent to an Albert account in about 10 minutes. Or, to your bank account in 3 days at no cost (there is an express fee if you want your funds sent to a separate bank account instantly).
If your credit score has taken a hit (or has yet to take off), you'll love knowing there's no credit check or obligation to move your direct deposit. You can qualify for up to three cash advances per pay period with no late fees. And since the repayment is automatically set to align with your next paycheck or benefits payment, your cash advances work on autopilot.
The Albert app is free to download and offers a suite of money management tools, spending insights, and savings tips. You can also get your burning money questions answered from Albert Geniuses – real humans who are financial experts that can provide personalized advice on your questions about saving, borrowing, investing, and more. Got a question about taking out a car loan, the best way to pay down your credit card balances or how to build up an emergency fund? These are the people to ask! You'll get a one month free trial of Albert Geniuses when you sign up with Albert.
No interest cash advances and a free month of expert money advice >>> Get the Albert app ????
#2 – PockBox: Ideal when you need to borrow $200, $2,000 or $20,000 fast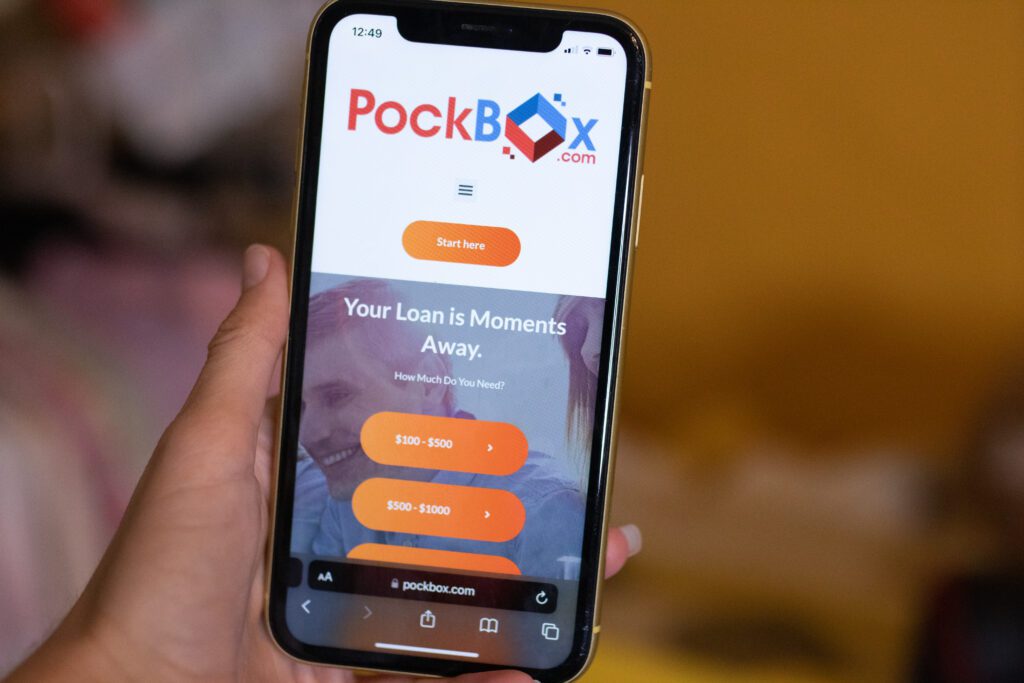 Type "apps that lend you money" into the App Store and Google Play and you can quickly become overwhelmed with options.
It's tough to tell which apps are best suited to provide the amount you're looking for, and offer the best rates and fees.
PockBox takes the job of figuring out where to apply off of your hands. With just a few questions, PockBox instantly retrieves loan quotes from up to 50 lenders, enabling you to compare loan offers in minutes to find the one that best fits with your finances.
Loan amounts can range from $100 all the way up to $20,000, and with most lenders, you can receive your loan as early as the next business day (or even sooner). PockBox is completely free to use with no obligation.
Whether you have near-perfect credit, or no credit at all, PockBox can connect you with lenders specialized in helping borrowers like you. If you have great credit, you could qualify for a low rate personal loan with years to repay. Or you can access a few hundred dollars in instant cash with no credit check and no interest.
Don't get bogged down filling out tedious applications with a bunch of money lending apps!
Use PockBox for one-stop shopping for whatever size loan you need.
Compare loan offers from $200 to$20,000 >>> Check out the free PockBox app ????
#3 – MoneyLion: Low cost $250 cash advances from a feature-packed app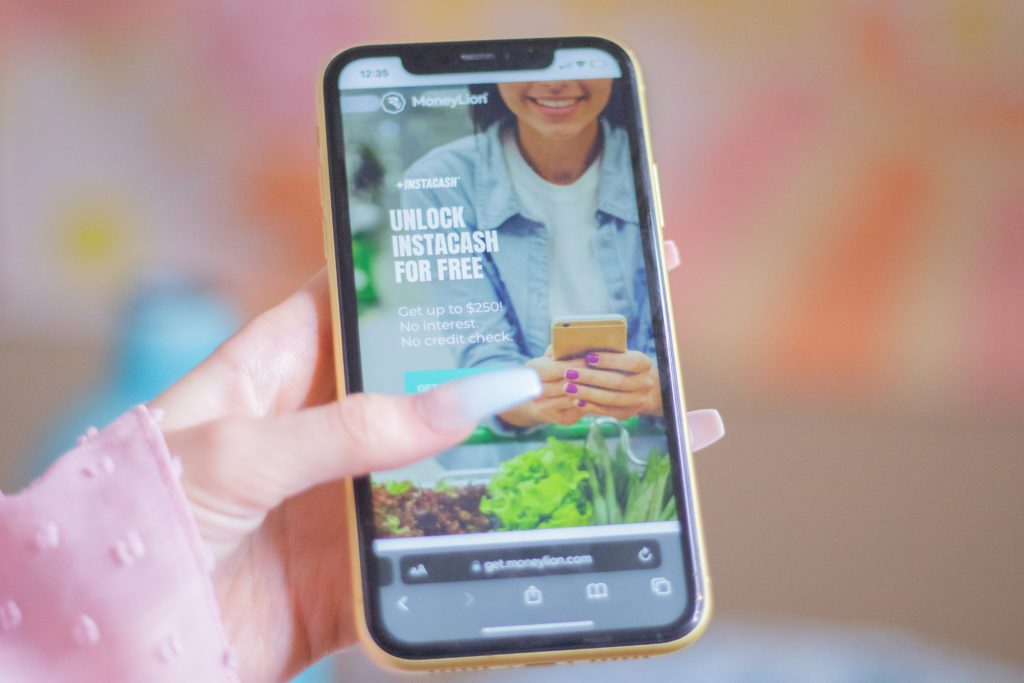 MoneyLion Instacash lets you borrow up to $250 instantly, without a credit check, interest, or monthly fees.2
Setup your MoneyLion account with Instacash and you'll be instantly eligible for a $25 cash advance (it's that easy!). With every direct deposit you receive or by switching your deposit to a MoneyLion RoarMoney account, you can increase your eligible amount for future advances.
MoneyLion stands out because you can obtain as many advances as you like, up to your eligible limit. Plus, with free 48-hour cash delivery, or an express fee ($3.99 to your RoarMoney account or $4.99 to your bank account) you're in control of when you get your cash.
Beyond cash advances, the full-featured MoneyLion app offers digital banking, automated investing, credit-building loans, budgeting, financial tracking, and rewards.
Get cash advances up to $250 with no interest >>> Check out MoneyLion ????
#4 – Cleo: $100 cash advances with a healthy dose of AI-inspired comedy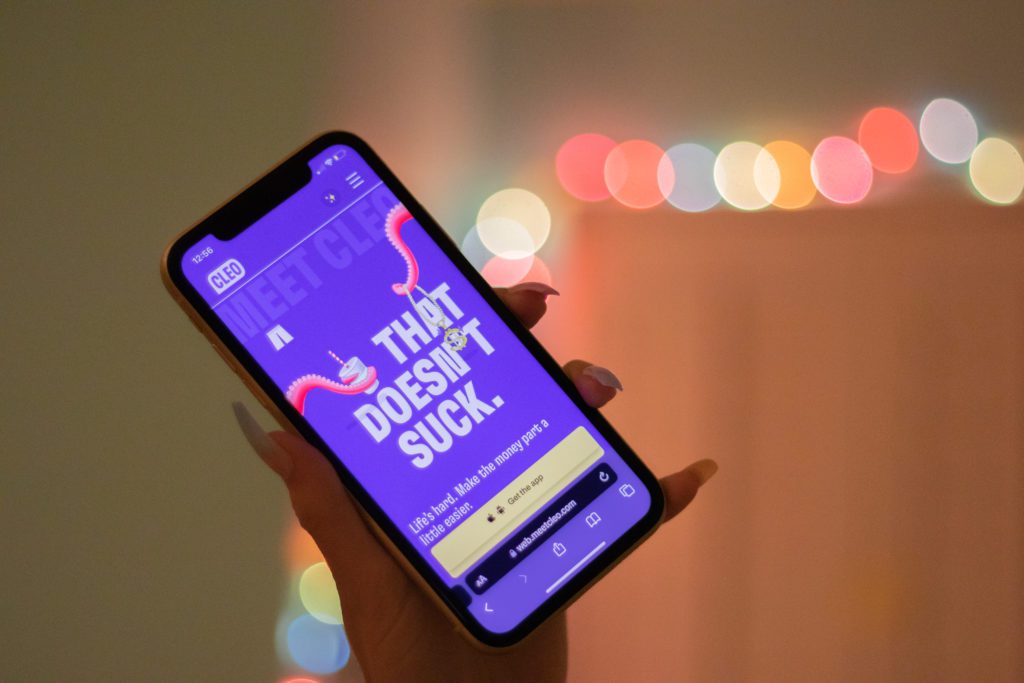 Cleo is a hilarious AI-powered financial assistance app that provides up to $100 no-interest cash advances almost instantly. 3
With the Cleo app in your hand, you can track your spending, save automatically, earn cash-back rewards, and build credit. Plus, with Cleo, you can receive cash advances directly to your bank account without a credit check.
Funds typically take 3-4 business days to arrive. But if you need instant funds, you can pay a $3.99 express fee to get your money within 24 hours.
Check out the Cleo app for free today and get powerful insights and tips to get a better handle on your finances – with a side order of hilarious memes and AI sass you won't find on any other money lending platform. Cleo's money advice is no joke, but she will seriously crack you with what she has to say about your finances.
Get Started in 2 Minutes (And Borrow up to $100) >>> Check Out Cleo's Sass ????
#5 – Dave: Instant $500 cash advances from the OG money lending app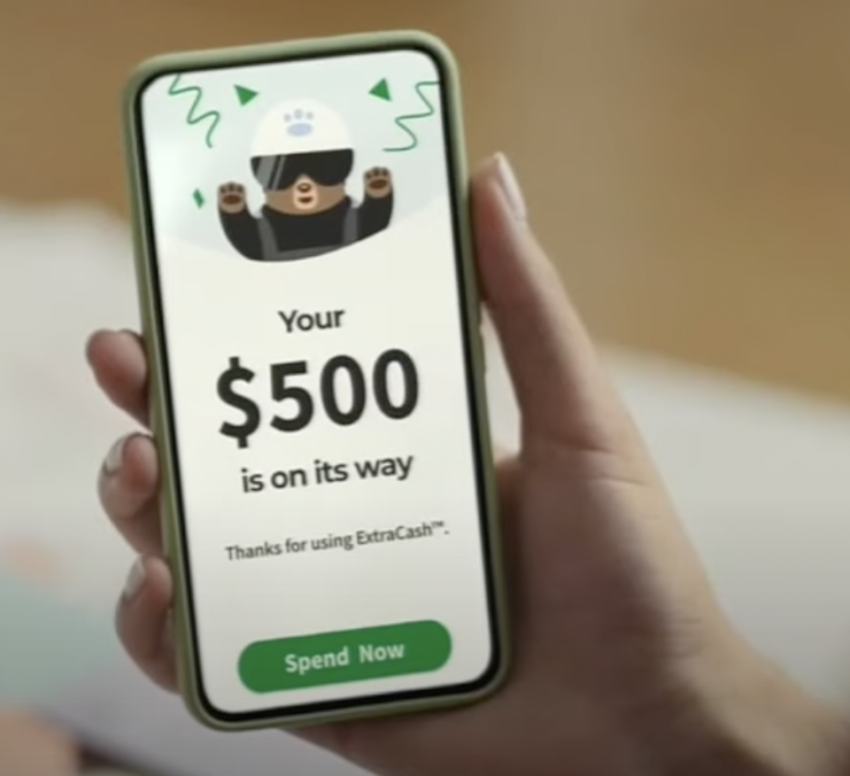 Dave's cash advance app has millions of users who can borrow up to $500 with no credit check or interest.4
Unlike many other money loan apps on this list, you can request a Dave cash advance as soon as you've signed up and get your money instantly (we're talking under 60 seconds!!!) via a Dave Debit MasterCard with fees ranging from $1.99 to $9.99.
You can also transfer the cash advance to your bank account for free, though this will take up to three business days.
A subscription to Dave will set you back a grand total of $1 per month (a small cost for up to $500 in cash advances!). Any cash advance you are approved for will be automatically repaid on your next paycheck, and late fees are not charged. You can borrow again once the advance is repaid.
????Overdraft Apps Tip: It's better to look at your initial borrowing limit rather than the advertised limit as it can take time to work your way up to the maximum amount. Unlike other money borrowing apps that cap your first advance at as little as $20, with Dave you can qualify for the full $500 cash advance limit right away.
Get a cash advance for up to $500 instantly >>> Check out Dave ????
#6 – Brigit: Borrow up to $250 without worrying about overdraft fees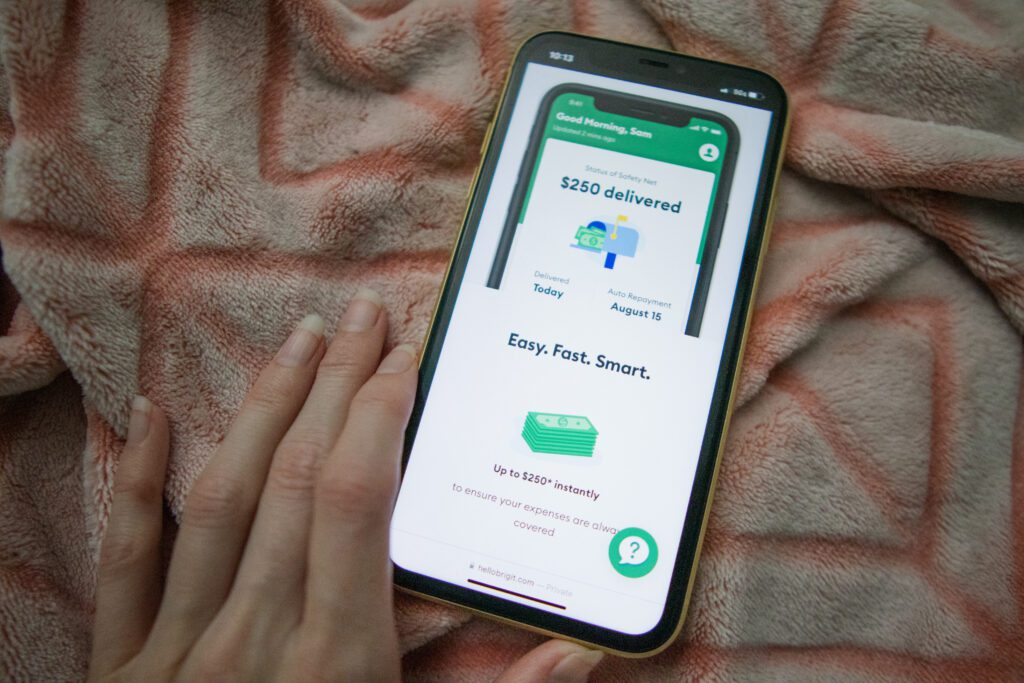 Brigit can assist you with instant cash advances to cover bills, emergency expenses, or simply access the funds you need.5
The loan amount you're approved for, ranging between $50 to $250 per pay period, is based on your ability to repay comfortably – so you're not being stretched beyond your financial limits.
To access the cash advance feature, you will need to upgrade to a $9.99 per month subscription since the free plan has limited features without cash advances.
Although paying for an app that lends you money might not be at the top of your "Things I Want To Do" list, think of it this way – the monthly subscription fee is less than the average overdraft fee ($39 or more) and most late fees, so you can end up saving money in the long run.
Moreover, Brigit uses an algorithm to alert you when you're likely to run low on funds before your next paycheck. Brigit Plus users receive automatic up to $250 cash advances when they face a cash shortage, reducing the risk of bank overdraft or NSF fees.
Access up to $250 in fee-free overdrafts >>> Explore Brigit Now ????
#7 – B9: Get up to $500 from one of the lowest cost money lending apps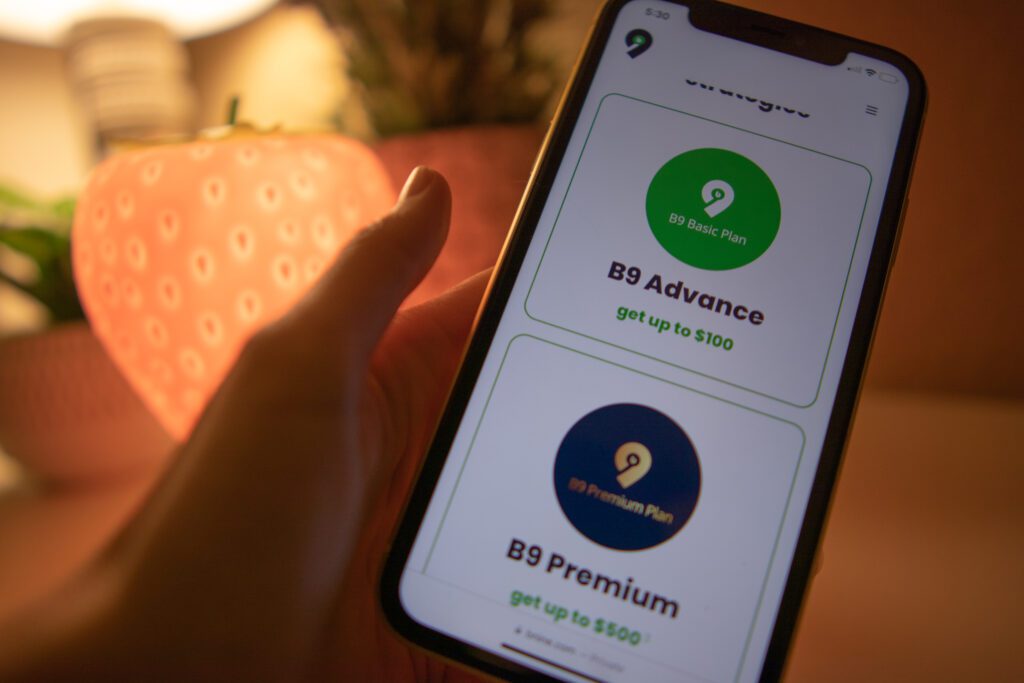 B9 is a money lending app that helps you access up to $500 of your unpaid earnings instantly.6
While some apps require you to earn a regular paycheck to be eligible for advances, B9 considers income from multiple employers, side hustles, rental or tutoring income, and government benefits to determine your advance limit. There are no credit checks, interest, or late fees, and you can use your B9 account for everyday banking without a minimum balance requirement or overdraft fees.
You can access your money instantly through the B9 debit card or have it sent to your regular bank account or debit card. There is no interest, express fees or tipping! Plus, with a B9 debit card, you can earn up to 5% cashback on selected spending categories.7
B9 charges just one fee for advances, a monthly subscription. There are no express fees, optional tips or interest. Borrow up to $100 at a time with the $9.99 a month Basic Plan, or up to $500 with the $19.99 a month Premium Plan, which also includes the B9 Visa debit card plus features to help you monitor your credit report and score.8
With just one simple fee, B9 is one of the lowest cost apps that loan you money. Take out a $100 cash advance once per month and the effective cost on the Basic Plan is $9.99, which is tied as the second cheapest way to borrow $100 in our analysis of the 15 most popular loan apps!
Advances up to $500 with one simple fee >>> Explore B9 ????
#8 – Chime SpotMe: Borrow $20 right away (up to $200) with no overdraft fees
Chime's SpotMe® feature allows you to overdraft your account up to $200 without overdraft fees.
9
SpotMe is gaining popularity, with millions of people downloading Chime to manage and borrow money as needed. The overdrafts, which start at $20, can increase up to $200.
What's more, enrolling in SpotMe is free. After setting up your account to receive a qualifying direct deposit of $200 or more per month, Chime will cover overdrafts up to $200 without charging overdraft fees.
????Overdraft Apps Tip: SpotMe has low overdraft limits, but the app allows you to check how much you can spend to avoid fees and prevent declined transactions. You can access up to $20 in overdrafts immediately and gradually increase your limit.
Get fast access to fee-free overdrafts >>> Sign up for Chime in less than 2 minutes ????
#9 – Current: Quickly borrow up to $200 with fee-free overdrafts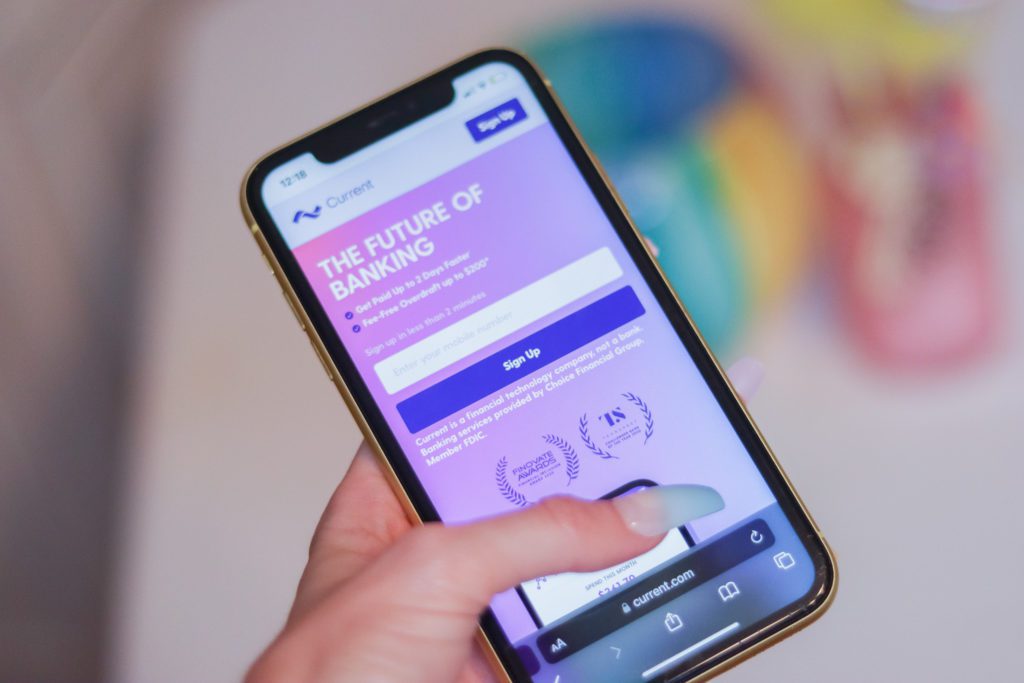 Current is a bank app that can instantly loan you$200 without any interest or fees, and without undergoing a credit check.10
Using Current, you can access almost all of the features you typically use a bank for, right from your smartphone. Upon signing up for Current, you'll receive a debit card that can be used at the millions of merchants that accept Mastercard, or to withdraw cash from nearly 40,000 ATMs without incurring any fees.
Current Overdrive is the most sought-after feature offered by the app, allowing you to access up to $200 in no-fee overdrafts for your debit card purchases instantly.
11
With Current, you don't have to worry about planning in advance for unforeseen expenses that might arise.
Simply make qualifying direct deposits to your Current account, and Overdrive will activate whenever you need it. This way, you can avoid the hassle, embarrassment, and exorbitant fees associated with making a purchase when you don't have enough funds in your account.
Get up to $200 whenever you need it >>> Check out the free Current app ????
---
BEFORE YOU GO FIND YOUR NEW FAVORITE MONEY LENDING APPS…
Check out our most popular articles:
WAIT! High overdraft fees aren't the only way your bank is costing you money.
With inflation overheating, you've probably heard that interest rates are climbing sharply. That means that for the first time in years, it's a great time to shop around for a high interest savings account.
The national average interest rate for savings accounts is currently 0.23% APY – that means that if you have $2,500 in a savings account, you'd earn just $5.76 after one year! Move those hard-earned savings to an FDIC-insured bank paying 3.50% APY and you'd earn $81.73 more!
Don't let your hard-earned savings sit there doing nothing. Check out the rates that you can earn at other banks:
Latest posts by Alexander Porter
(see all)