Editor's Note: Overdraft Apps provides detailed product reviews and recommendations based upon extensive research and our own hands-on testing. We may earn a referral fee when you sign up for or purchase products mentioned in this article.
Need to get $50 NOW? Here are three instant loan apps that can help you get the cash you need.
It doesn't matter if it's a $50 loan, a $50 cash advance, or finding $50 in the pocket of your jeans… actually, we can't help with that one.
But we can show you apps to help you get a $50 loan instantly AND without paying overdraft fees.
Even better, we'll show you three different instant loan apps that can put $50 in your pocket fast so you're in control of your money and avoid the headaches and financial stress that come with being short on cash in an emergency without a safety net.
Best of all, some of these solutions have low or no fees. This sure beats the high cost of bank overdraft fees, which can quickly climb past $100 a day just for making a few small purchases while your checking account has a negative balance.
Millions of Americans live paycheck to paycheck right now (you might be the same). So whether you're a little short before payday, facing unexpected expenses, or want to splurge a little on a well-deserved purchase, here are three instant loan apps for when you need to get $50 instantly.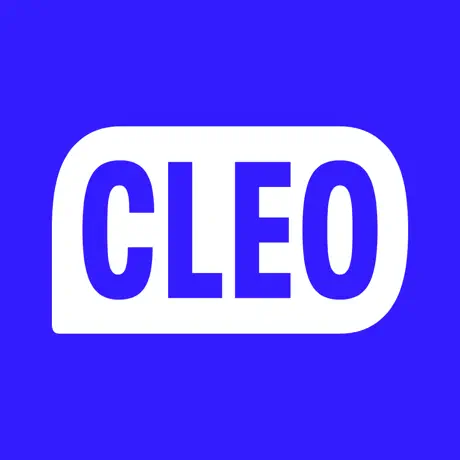 Why is Cleo one of our favorite cash advance apps?
Super speed - Get up to $250 in your bank account today!1
No, No, No! - No credit check, no interest, no tips, no late fees
😂 😂 🤣 -

Hilarious

, smart money advice you might finally listen to
What we'll cover:
How much does a $50 cash advance cost?
We looked at 15 of the most popular cash advance apps and discovered that the cost of borrowing $50 can vary widely depending upon the app that you choose, how fast you need your money and how much you choose to tip.
On average, it will cost you $11.02 for a $50 cash advance. Most cash advance apps don't charge interest, but instead, they hit you with up to three different fees when you repay your loan:
A monthly subscription fee: Some apps will require you to pay a monthly fee to access cash advances, or to increase your cash advance limit. Apps like Cleo include some extra features, like cash back offers, for the monthly fee.
An express fee: Nearly every app offers an express option to send your money to your bank account in minutes. But, this comes at a cost (up to $7 for a $50 advance with some apps). If you don't want to pay the express fee, you'll have to plan ahead and wait three to five business days to receive your funds. You may also have the option of accessing your money through a debit card issued by the cash advance app, which might have lower or no fees.
An optional tip: Some apps might suggest that you leave a tip to support their service. For example, Dave suggests a 15% tip, which can add significant cost to your cash advance. Remember, leaving a tip is always optional, and it won't impact your ability to get a cash advance or reduce your cash advance limit.
But, it's also important to remember that the cheapest option might not always be the best option for you. Varo Money ranked as the lowest cost way to borrow $50, with just $3 in fees. But, you can't take out an advance until your Varo account is at least 30 days old and you've activated your Varo debit card. Additionally, you'll need to receive at least $1,000 in direct deposits within the last 31 days to qualify for an advance.
It's important to carefully consider your situation and shop around for a cash advance app that meets your needs and budget. Remember, even if an app charges low fees, it's important to fully understand all the terms and costs associated with borrowing before you take out a cash advance.
"I need to get $50 instantly" = Use an early paycheck app
Best For: Accessing your paycheck before payday
You may work five days a week (or more), but you only get paid every two weeks. There are definitely some weeks where getting paid faster would come in handy. Early paycheck apps do exactly that by getting you the money you've already earned but haven't been paid for yet.
For example, let's say you get paid every two weeks. You're still a few days short of payday but an overdue bill is going to sting you with late fees unless you settle it today. Using a cash advance app, you can use your next paycheck to borrow the $50 you need today, often at an unbeatable price – with $0 fees.
You can cover your urgent expenses. And your early paycheck app will automatically deduct the amount you borrowed from your next direct deposit. This means you don't have to follow up or keep track of what you owe.
Cleo: Cash advances for up to $100 with sassy financial advice you might actually pay attention to.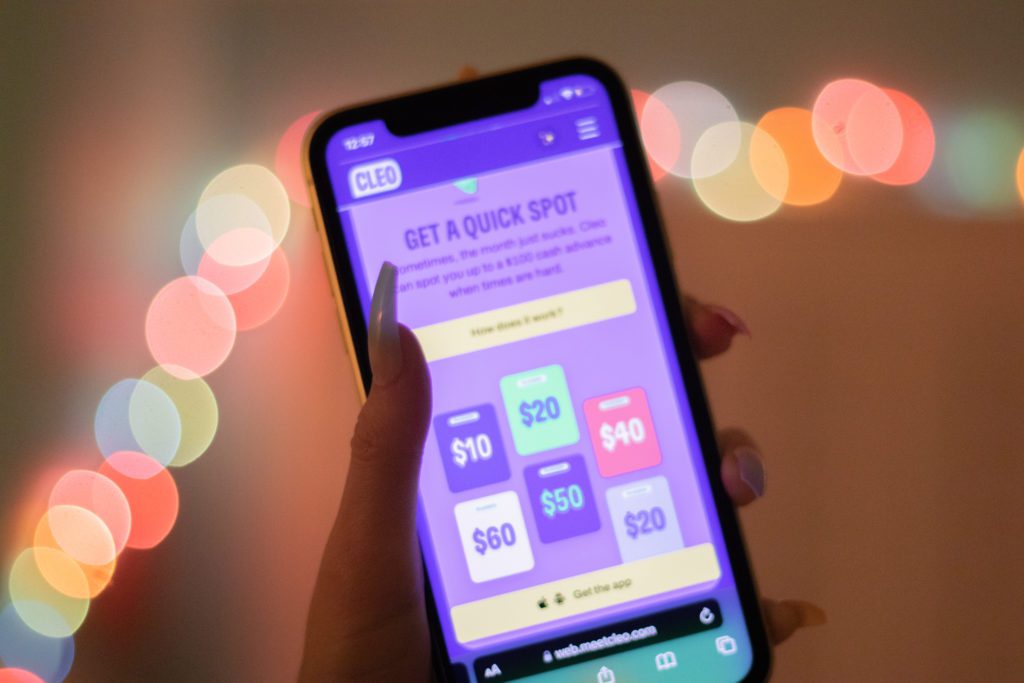 Cleo is a "money app that doesn't suck" (her words!).
An AI-driven financial app, Cleo organizes your money in a way that shows how small changes can have a big impact on your life. Once downloaded, Cleo will analyze your recent spending and ask a few questions to learn more about your financial situation. From there, the sassy (code for wiseass) AI will offer practical suggestions to help you spend less and stay on top of your money.
As a new Cleo user, you can borrow up to $70 instantly (as in a few minutes from right now!) and this can increase to $100 based on the transaction history of your linked bank account.
With no credit check waiting for you and no proof of regular income to apply, Cleo's $100 cash advances are a popular feature, but you'll also find good value in the app's credit score coaching and analysis plus cashback offers at restaurants, retail, gas stations and grocery stores.
No-interest cash advances for up to $100 >>> Create a Cleo account in two minutes
We Recommend: Albert for up to three cash advances per pay period with no interest, no subscription fee and no tips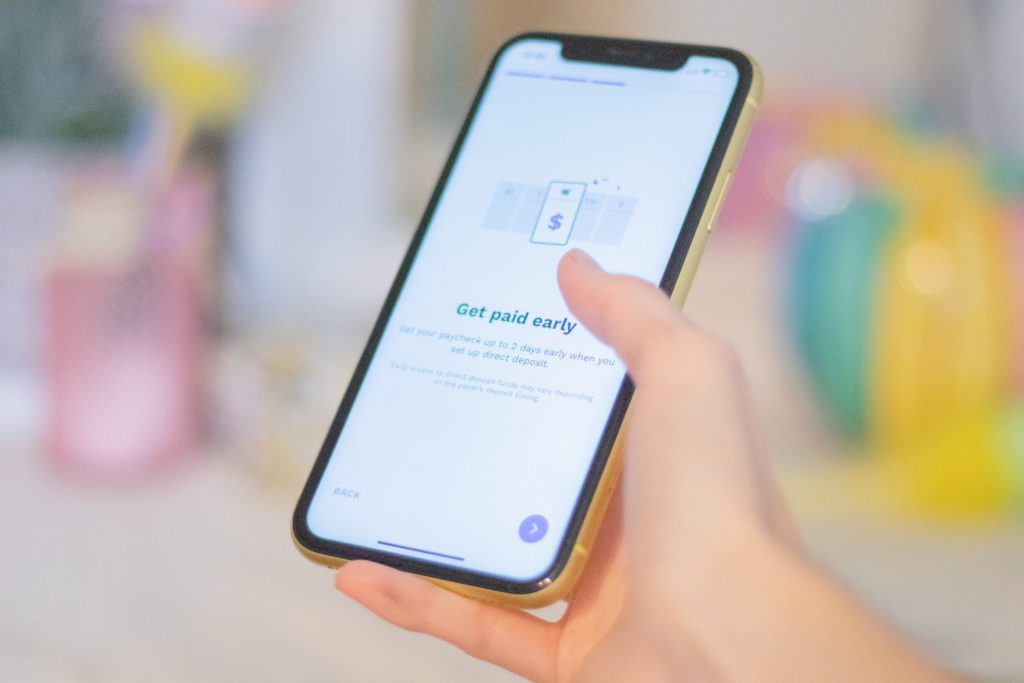 Of all the instant loan apps, we recommend Albert for up to $250 cash advance2.
There is no interest and no fees on Albert's cash advances (called Albert Instant), with the age of your account and your direct deposit influencing how much you can borrow. And if you've got better things to do than set reminders and alarms to keep up with repayments (who doesn't?!), you can relax because Albert sets your repayment to occur automatically on the date of your next paycheck.
Albert can be linked to your existing bank account, so you don't need to go through the inconvenience of changing your direct deposit to a new bank. If you do make the switch and set up an Albert Cash Account, you can access your paycheck two days early and get nearly instant cash advances. Plus, there's no credit check, either!
Get up to $250 instantly with no credit check >>> Check out Albert
| | |
| --- | --- |
| Pros | Cons |
| ✔ Get up to $250 in cash advances | ✘ Direct deposit required for instant cash advances |
| ✔ Access up to 3 cash advances per pay period | ✘ Requires bank account & employment info |
| ✔ No direct deposit if you don't want | |
| ✔ No credit check | |
"I need to get money now!" = $50 Instant Loan Apps
Best For: Accessing larger amounts of cash or for those without a regular paycheck
If you need $50… and probably more, then your best bet is a short-term loan.
Thankfully, the days of putting on your best suit and heading into the bank to apply for a loan are long gone. There are 16,000 Google searches for '$50 instant loan app' every single month. So you're not on your own in wanting a loan that offers the fifty bucks you need (plus extra in reserve).
Thankfully, instant loan apps make it possible to apply from the comfort of your own home (even if your credit isn't great), get approval in minutes, secure an instant $50 loan, and plenty more to help you get the funds you need and avoid overdraft fees.
We Recommend: PockBox to borrow $50 (even if you have bad credit)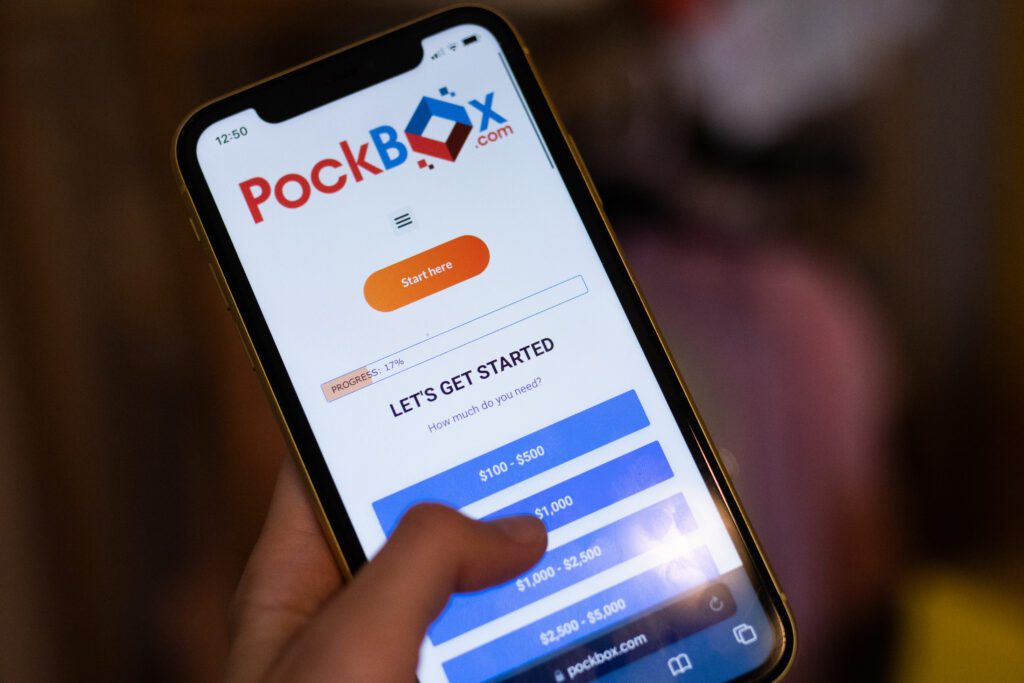 Pockbox provides loans and cash advances. With PockBox, you can connect with lenders to borrow as little as $20 or as much as $20,000. See what you qualify for in minutes via a single, simple online form. PockBox will instantly shop around your application to multiple lenders and present you with the best loan offers that you qualify for right away. PockBox is free to use and many of the apps and lenders that it may connect you with don't perform a credit check, so don't let some blemishes on your credit score get in the way of applying.
In most cases, the funds you need (whether it's a $50 instant loan or something more substantial) are available in your account within 1 business day. That's how you avoid the sky-high costs and potential damage to your credit score that comes from missing or bouncing important bill payments.
Explore PockBox (get up to $2,500 fast)
| | |
| --- | --- |
| Pros | Cons |
| ✔ Access up to $2,500 fast | ✘ Must have regular income to qualify |
| ✔ Get approved for a $50 loan in minutes | ✘ Funds take 1 business day |
| ✔ No fees or charges to apply | |
"I need $50 but my account is empty" = No fee overdrafts from a neobank
Best For: Handy banking features with no fees and multiple ways to quickly get extra cash
Need to borrow fifty dollars from a cash app because your account balance is dangerously close to zero?
We've all been there.
Maybe bills are due (and dishonor fees are around the corner). Maybe you need to make an urgent purchase but there's a big, fat $0.00 in your account. That's where a new breed of financial apps called 'neobanks' can help you borrow $50 instantly.
These instant loan apps offer all of the most popular features of a bank – plus some exciting new ones – directly from your phone. This can include the ability to access your paycheck a few days before payday and to make overdrafts with no fees.
Compare this to most banks that charge $35 or more for transactions when your account goes negative, and you can quickly incur over $100 in fees per day with just a few small purchases.
We Recommend: MoneyLion Instacash to put up to $250 in your pocket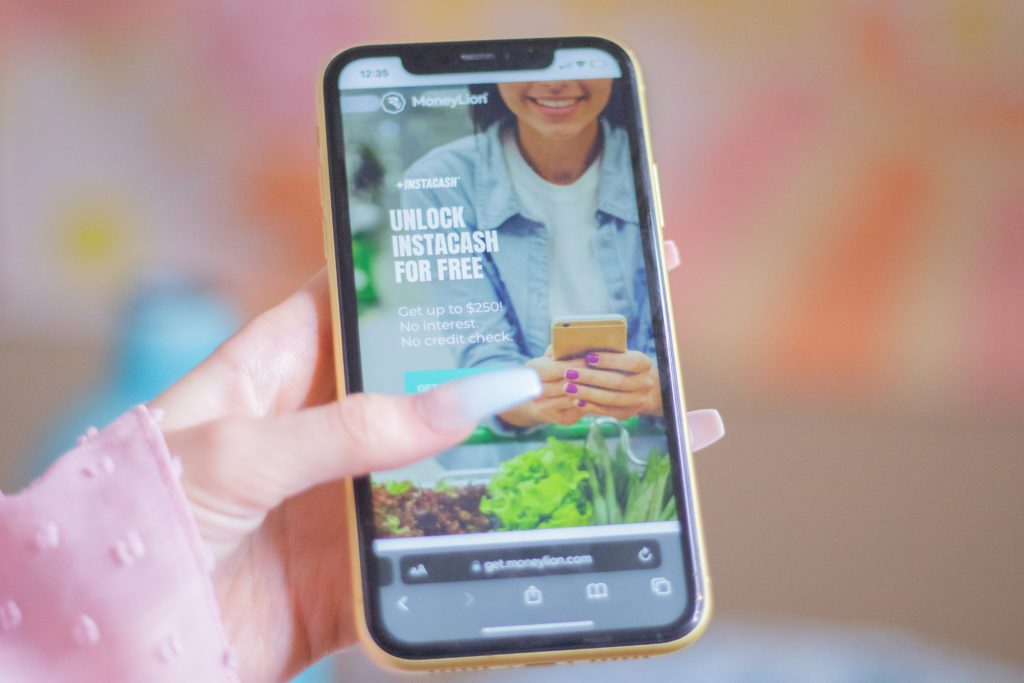 We recommend MoneyLion Instacash for a $50 cash advance3 because it can give you up to $250 with no interest, no credit check and no mandatory subscription fees. (Like most instant loan apps, there is a small express fee for a MoneyLion cash advance if you need to get your funds in minutes.) Once you're qualified, you can easily get cash in a few short steps so there's no reason to panic when you need to borrow fifty dollars.
You can also use the MoneyLion app to apply for a Credit Builder Plus loan up to $1,000 with some of your funds available immediately – often up to a few hundred bucks. If you need to work on your credit score AND need quick money, MoneyLion Credit Builder Plus might work for you.
Get cash advances up to $250 with no interest >>> Check out MoneyLion
| | |
| --- | --- |
| Pros | Cons |
| ✔ Fee-free overdrafts up to $250 | ✘ 3-5 business days to external checking account |
| ✔ 0% APR cash advances | ✘ Initial overdraft limit of $25 |
| ✔ No credit check | |
Watch: Our favorite cash advance advance apps to get fifty bucks
Final thoughts and what to do next…
One of the most common reasons Americans fail with their money is that they don't understand it. This isn't because they're naive, but because they don't fully understand their options.
But ignorance isn't bliss.
When you need to quickly get $25, borrow $100, borrow $200 or even get a $1,000 loan, it's no good to bury your head in the sand or start texting your friends and family to Venmo you cash right away. To stay on top of your money in the long term, you need to stay on top of your options.
Using the instant loan apps in this guide won't just help you borrow $50 to help you cover expenses and pay your bills, while steering clear of costly payday loans. You'll also be helping your future self. Whether opting to get a $50 cash advance app, a $50 fee-free overdraft, or a $50 instant loan app with no credit check, savvy Americans don't leave their finances until tomorrow – they start today.
So, which instant loan app will you use to borrow 50?
Next: Free instant cash advance apps (that are totally legit)
WAIT! High overdraft fees aren't the only way your bank is costing you money.
With inflation overheating, you've probably heard that interest rates are climbing sharply. That means that for the first time in years, it's a great time to shop around for a high interest savings account.
The national average interest rate for savings accounts is currently 0.23% APY – that means that if you have $2,500 in a savings account, you'd earn just $5.76 after one year! Move those hard-earned savings to an FDIC-insured bank paying 3.50% APY and you'd earn $81.73 more!
Don't let your hard-earned savings sit there doing nothing. Check out the rates that you can earn at other banks:
Latest posts by Alexander Porter
(see all)
Eligibility requirements apply. Not all users will qualify. Advance amounts range from $20 to $250. Instant transfers subject to express fees. Visit meetcleo.com/terms for more information.
Download the Albert app to see if you qualify. Repay the advance with your next paycheck. Fees may apply. Advance amounts based on qualification and may vary. Albert is not a bank. Banking services provided by Sutton Bank, Member FDIC.
Instacash is an optional service offered by MoneyLion. Your available Instacash Advance limit will be displayed to you in the MoneyLion mobile app and may change from time to time. Your limit will be based on your direct deposits, account transaction history, and other factors as determined by MoneyLion. See Membership Agreement and help.moneylion.com for additional terms, conditions and eligibility requirements.