Editor's Note: Overdraft Apps provides detailed product reviews and recommendations based upon extensive research and our own hands-on testing. We may earn a referral fee when you sign up for or purchase products mentioned in this article.
30-SECOND SUMMARY: Beem can earn a place on your phone with cash advances up to $1,000. But with a late fee of $5 (no thanks), issues connecting with freelancer incomes, and murky pricing, we wouldn't blame you if you wanted more options. We found Dave's $500 cash advance the best value (available to new users and in your bank account in 60 seconds), but read on for the top 5 cash advance apps like Beem.
Get a cash advance for up to $500 instantly >>> Check out Dave 👈
Beem can come to your rescue when you find yourself short of cash before payday – although it might not be suitable for everyone.
At Overdraft Apps, we're always looking to empower you to make informed decisions to enhance your financial situation.
Whether it's by adding more money to your pocket with Beem, or using one of the five cash advance apps like Beem that we downloaded and tested, discover the top alternative to Beem that offers swift access to the cash you need.
Is Beem right for you?
Beem maintains a strong presence as one of the top 100 most downloaded finance apps across both the App Store and Google Play.
You can use Beem's standout feature, Everdraft, for instant cash advances ranging from $20 to $1,000 with no credit check. Beem also keeps fees low and won't charge you any interest. This maximum amount is notably higher compared to most other money borrowing apps, which usually limit their lending to $250 or $500.
Getting started with the Beem app is a breeze, as it's free to download and get set up in 5 minutes (or less). To qualify for a cash advance, you'll need to grant Beem access to your bank account data through Plaid. Beem then analyzes your account history and transactions to determine your cash advance eligibility.
The main factors considered for qualification include:
Consistent pattern of deposits (e.g. a regular paycheck)
The age of your bank account
Average and current balance
Spending habits
Your history of successfully repaying previous Beem advances.
So, why don't we love Beem?
The lack of transparent pricing is frustrating. Beem isn't great for Uber drivers, freelancers and gig workers with fluctuating income. And Beem's $5 late fee bucks the trend of cash advance apps offering flexible repayment options without late fees.
Additionally, Been seems to make heavy use of fake reviews to boost its ratings. Beem has a very respectable 4.4 rating in the App Store, though only a 3.2 on Google Play. Take a closer look at the App Store reviews, and you'll quickly notice a pattern. Most of the 5-star reviews are long, rambling stories with awkward wording. Quite a few of them are exactly the same! It certainly doesn't help build trust.
If those are tough to look past for you, read on for some of our preferred apps similar to Beem.
5 best apps like Beem
#1 – Dave: Lightning-fast cash advances up to $500 (yours in 60 seconds)
The Dave app has been in existence for quite some time and holds the distinction of being the pioneer overdraft app.
With a $1 per month subscription, you gain access to no-interest Dave cash advances of up to $500, all without the need for a credit check. Obtaining your money is incredibly swift – in under a minute – although there are Express Fees that apply for amounts up to $13.99.
Alternatively, to avoid these fees, you can have your cash sent directly to your bank account, but it will take three business days for the funds to arrive.
Get a cash advance for up to $500 instantly >>> Check out Dave 👈
#2 – PockBox: Easily compare cash advance loans up to $5,000, even if you have a poor credit score
If you're in need of quick cash, the apps listed here are an excellent choice. However, if you require a larger sum, PockBox stands out as the top choice.
PockBox specializes in loans for individuals with bad credit or no credit scores, providing the option to compare lending choices of up to $5,000. This sizable amount can help cover significant expenses without getting caught in the debt cycle often associated with high-interest payday loans.
To begin, simply answer a few questions, and PockBox will present you with loan quotes from up to 50 lenders. There's no obligation to choose any of them, making it simple to compare and select the lender that best suits your needs.
PockBox offers borrowing amounts ranging from $100 to $5,000, a significantly higher range compared to apps like Albert on this list.
Once approved, the lenders can deposit the funds into your designated account within one business day or even in just a few hours.
Compare loan offers for up to $5,000 >>> Check out the free PockBox app 👈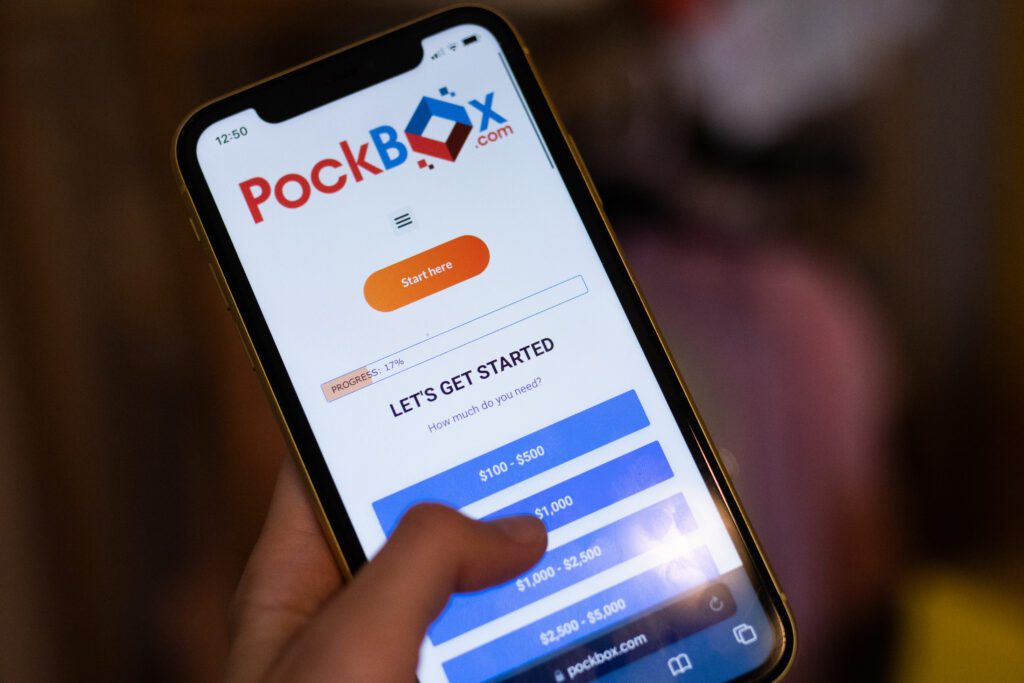 #3 – MoneyLion – Easily compare cash advance loans up to $5,000, even if you have a poor credit score
MoneyLion offers up to $250 in just a few taps on your phone.
Their cash advance service, known as Instacash, starts at $25, and if you have recurring deposits, your limit can increase up to $250. If you need a little more than twenty five bucks, you can reach the maximum cash advance limit in as little as 8 weeks – or even as little as 3 weeks!
MoneyLion offers no fees, no interest on borrowed money, and no credit check. This means your credit score won't disqualify you, even if it's taken a hit.
And if you're not a fan of fees (is anyone?!) using MoneyLion can be entirely free as long as you meet the recurring deposit requirements. There are still two optional fees you can choose to pay:
Pay $5.99 to receive your cash advance instantly if you have a MoneyLion RoarMoney account.
Pay $8.99 to receive your cash in minutes directly to your bank account.
If you prefer not to pay a Turbo fee, don't worry. You'll still receive your funds within 12-48 hours if you're a MoneyLion customer or 3-5 days if you're using an external bank account.
Get cash advances up to $250 with no interest >>> Check out MoneyLion 👈
#4 – Albert: Fee-free cash advances up to $250 with help from a "Genius" or two hidden in your phone
Albert offers cash advances of up to $250 without any interest or fees and no credit check.
With a quick and easy account setup process, you can have the cash in your bank account within 20 minutes of downloading the app. If you need cash instantly, there's an option to have it sent to your bank account for a small express fee. If you want to skip the fee, you'll need to wait up to 3 business days to access your cash advance.
Albert securely links to your bank account and assesses your account history and activity to determine your cash advance limit. If you have a well-established bank account with regular deposits, you could be eligible for a higher cash advance limit right from the start.
As an added bonus, Albert provides access to a team of real human financial experts, known as Albert Geniuses, who are available 7 days a week. They can answer all your money-related questions, ranging from paying down credit cards to improving your credit score and crafting a budget that suits your needs.
While the Albert Genius service costs $6/month, you'll enjoy a complimentary 30-day trial when you sign up with Albert.
Get up to $250 with no credit check >>> Download the Albert app free 👈
#5 – Cleo: Smart-Ass AI that will crack you up and put $100 in your pocket
Cleo is an AI-powered financial assistance app that offers up to $100 cash advances and plenty of laughs.
Cleo's artificial intelligence capabilities help you manage your finances with various financial management features, including expense tracking, automatic savings, and the opportunity to earn cash-back rewards.
When you download Cleo (which is free) and create an account (also free), you'll access powerful insights and advice about your financial situation. And since Cleo is powered by AI, you can opt to be Roasted (i.e. do better!) or Toasted (i.e. you're doing great) to help improve your money management.
Outside of some AI fun, Cleo's cash advances are up to $100 without any credit checks. While the cash advance typically takes 3 to 4 business days to reach your bank account, Cleo also offers an express option. By paying a small $3.99 fee, you can have the money in your account within 24 hours.
Get Started in 2 Minutes (And Borrow $100) >>> Check Out Cleo's Sass 👈
---
BEFORE YOU GO…
Check out our most popular articles:
WAIT! High overdraft fees aren't the only way your bank is costing you money.
With inflation overheating, you've probably heard that interest rates are climbing sharply. That means that for the first time in years, it's a great time to shop around for a high interest savings account.
The national average interest rate for savings accounts is currently 0.23% APY – that means that if you have $2,500 in a savings account, you'd earn just $5.76 after one year! Move those hard-earned savings to an FDIC-insured bank paying 3.50% APY and you'd earn $81.73 more!
Don't let your hard-earned savings sit there doing nothing. Check out the rates that you can earn at other banks:
Latest posts by Alexander Porter
(see all)