Editor's Note: Overdraft Apps provides detailed product reviews and recommendations based upon extensive research and our own hands-on testing. We may earn a referral fee when you sign up for or purchase products mentioned in this article.
Empower is one of the most popular cash advance apps, offering quick access to up to $250 with no credit check. The Top 50 finance app also offers full service banking1, including no overdraft fees and the ability to access your paycheck two days early. Empower gives you a great set of tools to conveniently manage and access your money, but it also charges higher fees than most other apps. Is it worth it? We dig into the details in our Empower app review.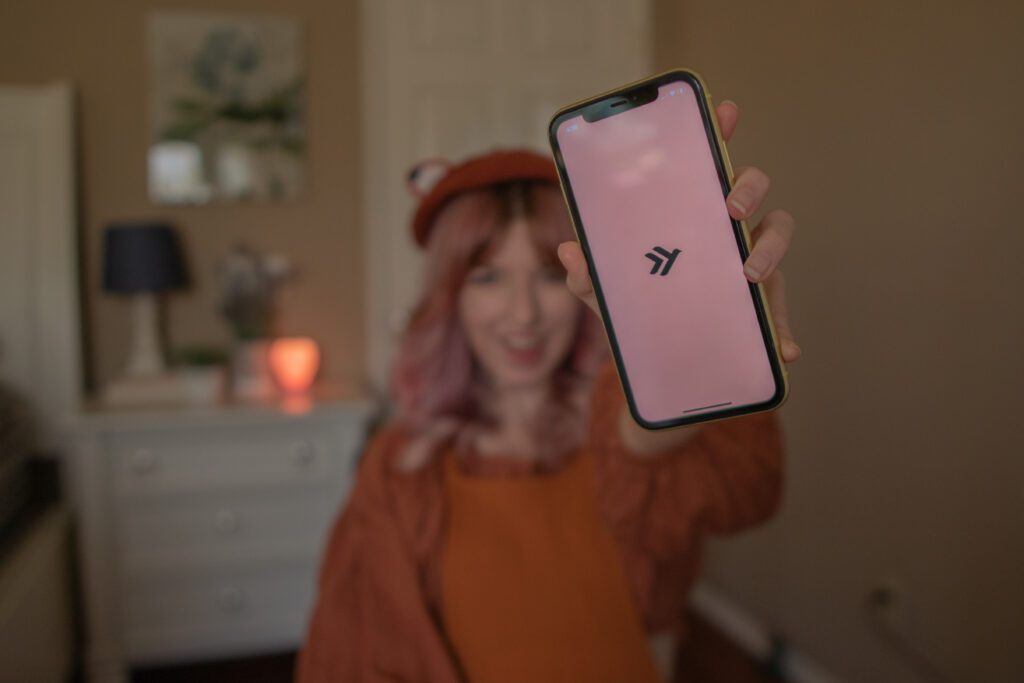 Until recently, if you found yourself short on cash you faced to tough and expensive decisions (if you had options at all). You could rack up $35 overdraft fees every time you handed over your debit card, pay high rates and fees for a credit card cash advance, or enter the even costlier world of payday loans.
Fortunately, a popular new breed of instant loans apps has emerged that get you a bit of cash in minutes, with just a a few taps on your phone. Many of these apps have reasonable fees, don't charge interest and will approve for a small loan without a credit check. Empower is one of the most popular cash advance apps.
Note that there are two popular, but unrelated finance apps named Empower. Empower cash advance has a peach and black logo. The other Empower is a retirement investing platform (formerly known as Personal Capital), with a red and blue logo that resembles a waving flag. (In the wrong place? Click here for the 'other' Empower app.)
How do Empower cash advances work?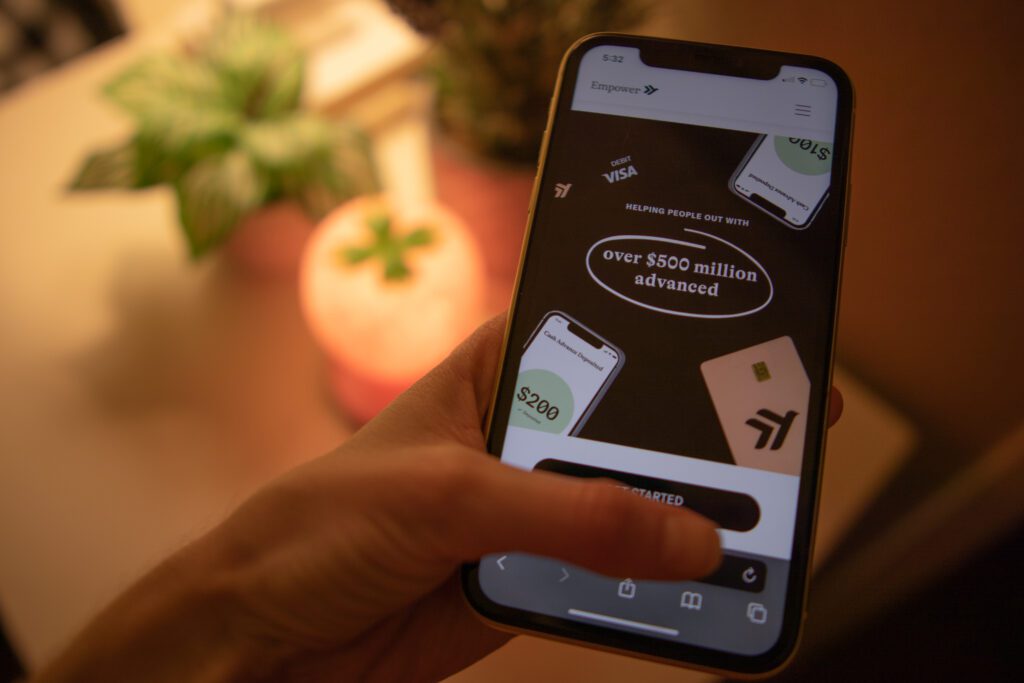 Empower can provide you with instant cash advances for up to $250. There is no credit check and you don't need to move your direct deposit to qualify. To determine your eligibility for an Empower cash advance, the app links to your bank account via Plaid and analyzes your regular, recurring deposits (such as a paycheck or gig work earnings), your account activity and your account history. You'll see what you qualify for within a minute. Your cash advance limit can increase as you build up a track record of repaying advances; you can check the amount you have available at any time in the app.
You can have your Empower cash advance sent to your bank account within a few minutes for a delivery fee, or in 2 – 3 business days for no fee. You can also access it via an Empower debit card instantly, for now fee. A virtual Empower debit card is set up for you as soon as you create your account, and you can request a physical card as well at no extra charge.
Your repayment is automatically scheduled for the date of your next recurring bank account deposit. You can change this date in the app. Empower does not charge late fees, but you won't be able to take out another cash advance until your outstanding advance and fees are repaid.
The Empower app is well designed and extremely easy to use. You'll see how much of a cash advance you qualify for in less than five minutes (and before you're asked to pay the subscription fee). Our testers each qualified for a $75 initial advance, compared to the $20 – $50 initial limit we've experienced with most other other apps, like Cleo or Grid Money. We had the $75 in our bank account about 15 minutes after downloading the Empower app!
Need to borrow more? >>> Check out these $500 instant loan apps
What other features does the Empower app offer?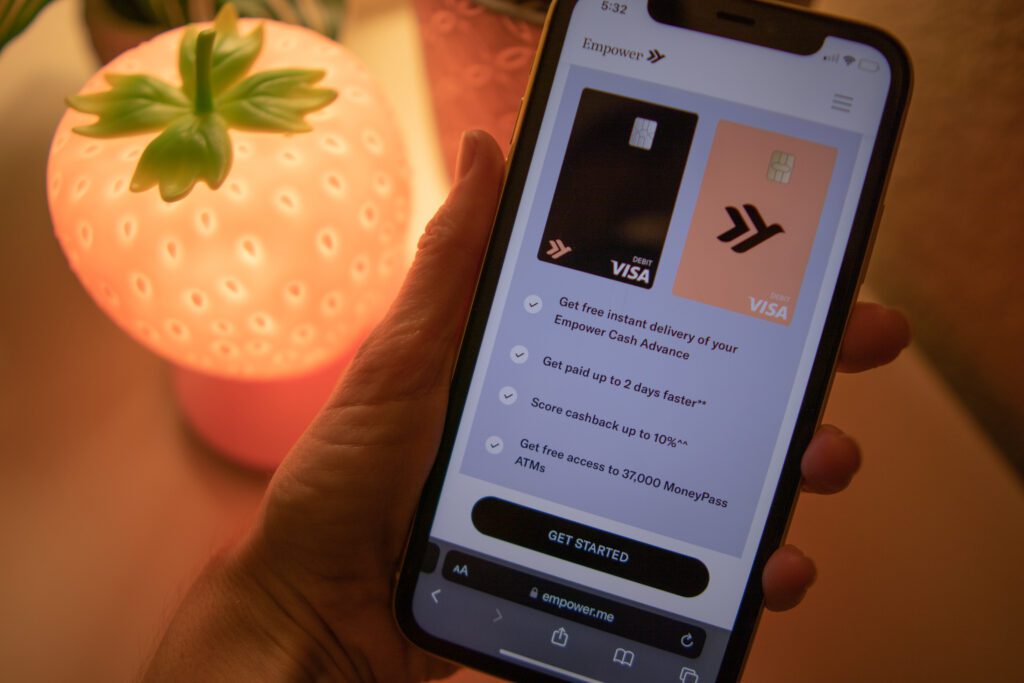 In addition to cash advances, you can also use Empower as a full featured banking app. There is no minimum balance. You can use the Empower VisaⓇ debit card at nearly 40,000 in-network ATMs with no fee, and earn up to 10% cashback on certain purchases. Empower does not charge overdraft fees, and if you set up direct deposit of your paycheck to your Empower account, you can access it up to two days before payday.
The app also provides some simple tools and alerts to help you track your bank balance and spending. There's also an automatic savings feature that will move money to an Empower account when it looks like you have some extra cash on hand. You don't earn any interest on this balance, so you may be better off comparing savings accounts to find one paying a high yield and setting up your own regular transfers.
How much does an Empower cash advance cost?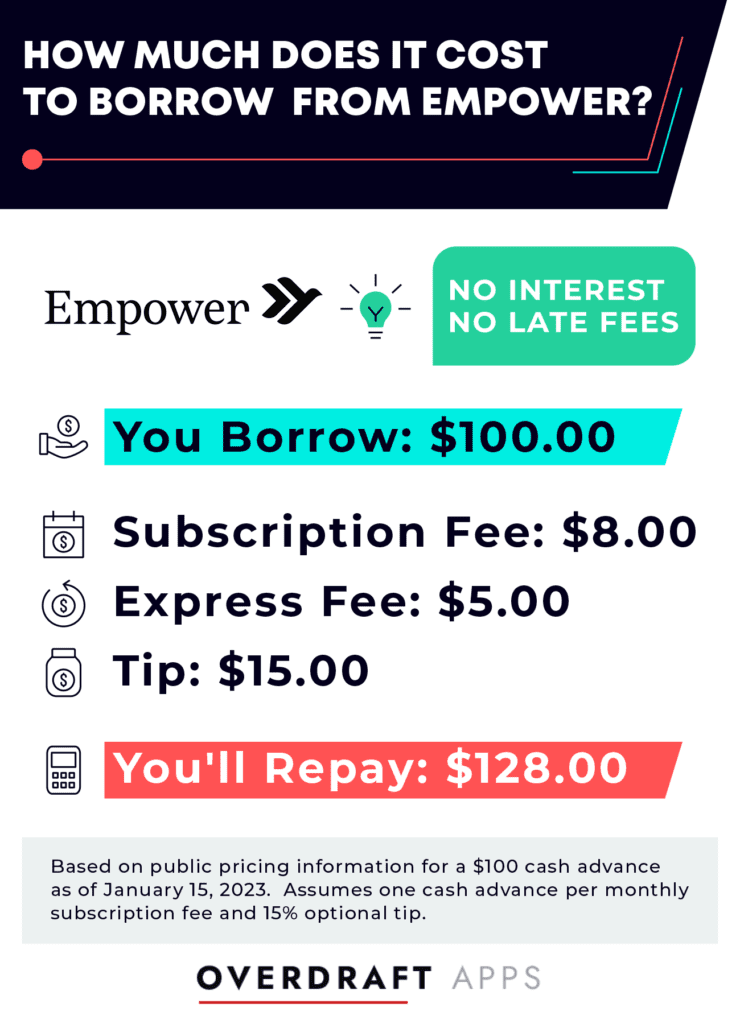 You'll face up to three fees for an Empower cash advance, and they can add up.
First, you'll need to subscribe to Empower for $8/month to access cash advances and the banking features. If you want your money transferred to your external bank account instantly, you'll need to pay a delivery fee of up to $8 as well. Empower will also ask you to leave a tip to help support the service.
Take out one $100 cash advance per month, pay the delivery fee and leave a 15% tip and you'll owe Empower $28 in fees. We analyzed the costs of borrowing $100 from the 15 most popular cash advance apps and found that the average cost is $15.85. Empower was the most expensive option out of all 15 apps.
There are ways to reduce the cost. There is no delivery fee if you access your advance via the Empower debit card or wait 2 – 3 business days to have it sent to your bank account. The tip is optional and leaving a small tip or no tip at all won't impact your cash advance limit, so we recommend that you skip the tip.
You can take out more than one Empower advance per month without an increase in the subscription fee. Of course, if you don't need an advance for a while, you'll still pay the subscription fee each month (which does also give you access to other features). To cancel your Empower subscription, you'll need to go to the Billing section of the app; deleting the app will not cancel your subscription.
Want lower fees than Empower? >>> Here's where to borrow $100 for less
Is the Empower app legit?
Empower boasts over 1 million users and frequently ranks as one of the top 50 most downloaded finance apps in the App Store and Google Play. The San Francisco-based company was founded in 2017 by former venture capitalist Warren Hogarth, who has gone on to raise a whopping $175 million in investment to fund the business.
Your money is safe with Empower. It is held in an account with Empower's partner bank, nbkc bank, and your deposits are insured by the FDIC for up to $250,000. The Empower Visa debit card includes Visa's Zero Liability Policy, which protects you from unauthorized charges if your card is lost or stolen.
Looking for a cheaper way to get instant cash? >> Compare loan offers in minutes
Cash advance apps like Empower
Empower may be popular, but there's no reason to pay its high fees. Few cash apps charge as much as Empower does, and there plenty of other options with lower fees, higher cash advance limits and no credit check. Here are a few worth checking out:
*Eligibility requirements apply.
Chime is a financial technology company, not a bank. Banking services and checking account provided by The Bancorp Bank, N.A. or Stride Bank N.A.; Members FDIC.
Watch our Empower cash advance app review
WAIT! High overdraft fees aren't the only way your bank is costing you money.
With inflation overheating, you've probably heard that interest rates are climbing sharply. That means that for the first time in years, it's a great time to shop around for a high interest savings account.
The national average interest rate for savings accounts is currently 0.23% APY – that means that if you have $2,500 in a savings account, you'd earn just $5.76 after one year! Move those hard-earned savings to an FDIC-insured bank paying 3.50% APY and you'd earn $81.73 more!
Don't let your hard-earned savings sit there doing nothing. Check out the rates that you can earn at other banks: