Editor's Note: Overdraft Apps provides detailed product reviews and recommendations based upon extensive research and our own hands-on testing. We may earn a referral fee when you sign up for or purchase products mentioned in this article.
Stop us if this sounds (painfully) familiar…
It's been one of *those* months. The ones that feel like every possible bill, payment, and problem come at once.
You're struggling to pay your bills and keep your head above water, so your bank account is overdrawn. But needing cash to cover urgent expenses, you're left wondering, "can I withdraw money if my account is already overdrawn?"
If this describes you, you're not alone. Studies show 1 in 3 American consumers overdraw their checking accounts annually. Sometimes getting through the month is tough, but that doesn't mean you need to go without the funds you need.
In this article, we'll take a look at how to withdraw money from an overdraft account, as well as discover a few no-fee alternatives to help you get the cash you need without the overdraft fees you're keen to avoid.
What we'll cover:
Can you withdraw cash from a negative account?
For many people, the answer will be yes.
However, it depends on your bank and exactly how you have set up your checking account. Sometimes you need to specifically opt into overdraft coverage, other banks require you to opt-in for overdraft protection.
Consider Chase Bank for example.
Chase's Standard Overdraft Practice means that the bank will let you overdraw if there are insufficient funds for a check or an automatic payment. But debit card transactions including cash withdrawals will be refused if you have insufficient funds. (This is also the case if you have a debit card hold from a recent purchase that is locking up some of your bank account balance.)
On the other hand, if your Chase account has overdraft protection enabled you will be able to withdraw cash if your bank account balance is negative. But you should expect to pay fees.
US Bank on the other hand offers the option to opt in to overdraft coverage for ATM and debit card transactions so you can withdraw an amount of cash exceeding your available balance. You can even withdraw cash if your account is already overdrawn.
Like Chase, US Bank also offers overdraft protection, which we'll discuss in-depth later on.
How much can I overdraw my checking account?
An overdraft is effectively a loan and loans always involve a credit risk assessment.
For this reason, the amount you can overdraw your checking account will depend on the bank's internal criteria. Your bank will consider:
How long your account has been open for
How often you use the overdraft facility
Whether you repay your overdrafts within a reasonable amount of time
If you're asking "how much does Chase let you overdraw your account?" or looking for your own bank's limit, each bank will offer different overdraft limits. However, on a standard checking account, you can expect anything from a $100 limit to a $1,000 limit – high earners will qualify for far larger overdrafts. You can ensure you have access to a solid overdraft by maintaining long-term banking relationships and by always meeting repayments on your loans.
Can I withdraw money from my savings if my checking account is overdrawn?
Yes.
Keep in mind, you can prevent your checking account from ever going into the red thanks to overdraft protection, a facility offered by most banks. Overdraft protection links your checking account to another account you have at the bank, such as your savings account.
Overdraft protection is straightforward. If your checking account has insufficient funds for a transaction your bank will automatically attempt to transfer funds from the linked account, typically your savings account.
Instead of overdrawing your checking account you simply withdraw funds from your savings account instead.
FIND OUT MORE >>> Can you overdraft a savings account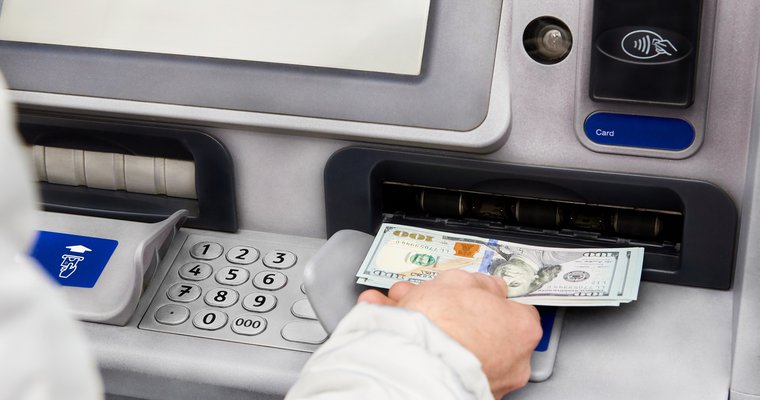 What are the fees and charges for overdrawing a negative balance?
Overdrawing a checking account is not free.
Even if your account is already overdrawn you will continue to be charged fees for further transactions and withdrawals. Mainstream banks such as Chase and Bank of America generally charge fees in the range of $30 to $40 per transaction. So, if you withdraw $20 while your account is overdrawn you can be charged twice your ATM withdrawal, just in fees. (Meanwhile, a few major banks such as Capital One 360 and Citibank have eliminated overdraft fees.)
That said banks tend to limit the number of charges they will impose on any given day. Again, it depends on your bank, but you can expect a maximum of up to 6 charges per day.
One way to prevent charges is to use overdraft protection. Overdraft protection is free with some banks, others will charge a smaller charge, say, $12 each time you make use of overdraft protection.
BONUS: Avoid withdrawing a negative balance with fee-free alternatives
Overdrafts can feel like a "get out of jail free" card when you need extra cash – even if your account balance has already been overdrawn.
But the fees and charges can place significant pressure on your finances, and leave you in more trouble than when you started.
Whether you're an account holder without access to an overdraft, or, you're having a rough time financially, you may find that at some point you need an alternative to bank-authorized transactions on your checking account.
Luckily there are plenty of alternatives to checking account overdrafts. Check out the following popular and proven apps to help you access money when your account is overdrawn.
Fee-Free Option #1: PockBox
PockBox is the ideal app to top up your checking account by up to $2,500 so you're not forced to keep withdrawing money from an overdrawn bank account. Better still, it's fast and easy to get approved for funds. After providing some basic information about yourself, the PockBox app will connect you to the best lender possible and approve you in mere minutes.
Fee-Free Option #2: Chime
Chime is one of the most popular of the new wave of fintech apps that make it easy, convenient, and affordable to manage and access your money.
Chime's SpotMe® service allows you to make debit card purchases or ATM withdrawals that overdraw your account with no overdraft fees. This lets you withdraw from a negative account without the constant fees and charges imposed by banks.
Limits start at $20 and can be increased up to $200.1
and there's no cost to enroll in SpotMe. Once you set up your account to receive a qualifying direct deposit of $200 or more a month, Chime will cover up to $200 in overdrafts on your account – without charging you overdraft fees!
Here's an example of how SpotMe can help you avoid sky-high fees:
It's your brother's birthday so you head out to grab a $20 bottle of wine. But you have $0 in your bank account. With most banks, that purchase will require an overdraft and you'll be hit with an overdraft fee of $35 or more, turning that $20 bottle of wine into a $55 gift (ouch). But if you've set up SpotMe (and have your paycheck regularly deposited into your account) and use your Chime debit card to pay for that bottle of wine, that $20 overdraft will be covered with no fee to you. The next time you make a deposit to your Chime account, the $20 negative balance will be instantly cleared.
SpotMe doesn't have high overdraft limits. But it will show you how much you can spend right in the app to help you cover urgent purchases and avoid those unwanted moments when your transactions are declined. As well as accessing $20 in overdrafts right away, you can grow your limit over time to stay on top of your money.
Click here to sign up with SpotMe for fee-free overdrafts – it's fast and easy!
Final thoughts and what to do next…
"If my bank account is negative, can I still use it?"
You're here because you've asked that question more than once.
The short answer is yes – you can withdraw from a negative account. But this depends on your bank, any overdraft coverage offered and meeting specific criteria as a customer. The number of times you can overdraw a negative account comes down to your bank. But it does raise a more important question…
"Aren't there BETTER ways to access money on a negative balance without incurring fees?"
And the answer to that question is a resounding YES. Consider the following options whether you need cash to tide you over until payday, or monthly support in the form of fee-free overdrafts:
Top up your checking account by up to $2,500: PockBox
Withdraw from a negative account without fees: SpotMe
These no-fee alternatives can help you stop using your debit card or visiting the ATM when your checking account is empty. Remember, a convenient bank service that lets you overdraw an empty account might seem like a Godsend… but the sky-high fees you're paying are going straight into your bank's pockets.
Knowledge is power. With the alternate options listed in this guide, you'll be able to meet your financial obligations and enjoy your life without relying on overdrafts.
WAIT! High overdraft fees aren't the only way your bank is costing you money.
With inflation overheating, you've probably heard that interest rates are climbing sharply. That means that for the first time in years, it's a great time to shop around for a high interest savings account.
The national average interest rate for savings accounts is currently 0.23% APY – that means that if you have $2,500 in a savings account, you'd earn just $5.76 after one year! Move those hard-earned savings to an FDIC-insured bank paying 3.50% APY and you'd earn $81.73 more!
Don't let your hard-earned savings sit there doing nothing. Check out the rates that you can earn at other banks:
Latest posts by Mitchel Harad
(see all)
Chime SpotMe eligibility requirements and overdraft limits: Chime SpotMe is an optional, no fee service that requires a single deposit of $200 or more in qualifying direct deposits to the Chime Spending Account each month. All qualifying members will be allowed to overdraw their account up to $20 on debit card purchases and cash withdrawals initially, but may be later eligible for a higher limit of up to $200 or more based on member's Chime Account history, direct deposit frequency and amount, spending activity and other risk-based factors. Your limit will be displayed to you within the Chime mobile app. You will receive notice of any changes to your limit. Your limit may change at any time, at Chime's discretion. Although there are no overdraft fees, there may be out-of-network or third party fees associated with ATM transactions. SpotMe won't cover non-debit card transactions, including ACH transfers, Pay Friends transfers, or Chime Checkbook transactions. See Terms and Conditions.
Chime is a financial technology company, not a bank. Banking services provided by, and debit card issued by, The Bancorp Bank or Stride Bank, N.A.; Members FDIC.