Editor's Note: Overdraft Apps provides detailed product reviews and recommendations based upon extensive research and our own hands-on testing. We may earn a referral fee when you sign up for or purchase products mentioned in this article.
30-SECOND SUMMARY: Dave pretty much invented no-interest cash advances, and the ability to get up to $500 with just a few taps on your phone remains popular with the company's millions of users. We love the $1 membership and impressive borrowing limit (even if you're a new user). But if you're looking for more options, check out the following cash advance apps.
Get a cash advance for up to $500 instantly >>> Check out Dave 👈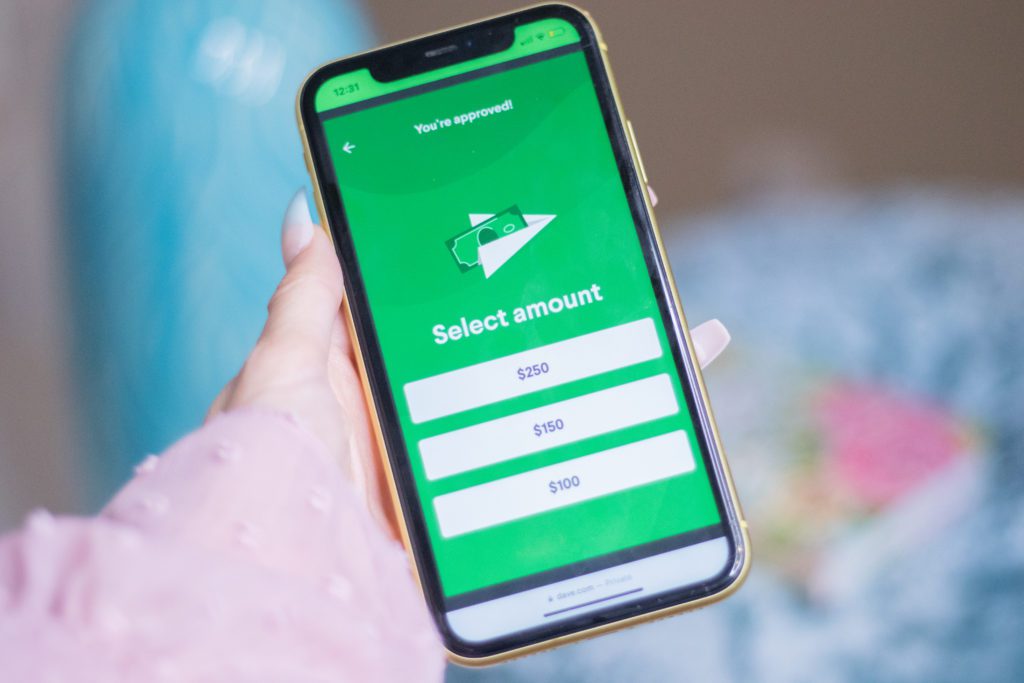 Why We Love Dave: $500 cash advance with no interest and no credit check
Dave is best known for its no-interest cash advances that enable you to get up to $5001 with just a few taps on your phone with no interest and no credit check.
You can request a cash advance for up to $500 as soon as you sign up with Dave, and receive your funds almost instantly (we're talking under a minute!).
You can have your cash advance sent to a Dave Debit MasterCard with an Express Fee ranging from $1.99 to $9.99 (depending on the size of the advance).
Or, avoid the fee by waiting up to three banking days to have the money deposited into your linked bank account. This is great if you want to avoid moving your direct deposit.
Once the money is in your account you can use it on whatever you like, including ATM withdrawals, debit card purchases, bill payments, or transfers through Venmo or Cash App, however it takes three banking days to receive the funds.
How to learn more:
🤓 Overdraft Apps Tip: A qualifying direct deposit also gets you one free year of LevelCredit by Self Financial, which reports your rent, utility and cell phone payments to credit bureaus to help boost your credit score.
How much does a Dave cash advance cost?
Dave doesn't charge interest on cash advances, but there are three fees that you may need to pay.
First, to be eligible for a Dave $500 advance, you'll need to subscribe to Dave for $1/month; you can cancel at any time.
Next, depending on where you want your cash advance sent and how fast you need the money, you may need to pay an Express Fee:
$1.99 – $9.99 (depending on the size of your cash advance) to have your funds sent to a Dave Spending Account almost instantly.
$2.99 – $13.99 (depending on the size of your cash advance) to have your funds sent a linked bank account using your debit card, usually in under an hour
No express fee to have your funds sent to your linked bank account, usually in three banking days.
Additionally, Dave will ask you to make a tip when you schedule a cash advance. This is optional and Dave says it helps offer services to other users (and an undisclosed donation is made to the charity Feeding America for each tip.).
Tipping is completely optional and the amount of your tip won't impact your cash advance limit.
Here's how those fees can add up:
Let's say you sign up as a subscriber so that you can get a $100 cash advance for one week. You need your money quickly so you pay the $4.99 express fee and leave a 10% tip of $10. Your no-interest cash advance from Dave has now cost you $16.
This is the equivalent to a massive 834% annual percentage rate!
Your cash advance will be scheduled for repayment on the expected date of your next paycheck. If you need a little extra time, Dave does not charge late fees.
🤓 Overdraft Apps Tip: If you're looking to spread out your payments over a longer period of time, check out these $500 instant loan apps.)
Get a cash advance for up to $500 instantly >>> Check out Dave
What are the best cash advance apps like Dave?
Dave invented the cash advance app, making it more convenient and less costly to access cash when you need it. With six million users, Dave remains the king of the category.
However, the competition hasn't been standing still. A number of newer money lending apps offer features that make it faster and easier to borrow when you need it, and with lower fees – in some cases, FREE.
We spoke to Tom Blake, passive income expert from This Online World who recommends looking for apps that offer more than just a high borrowing limit.
He explains, "Cash advance apps can be quite lucrative if you take advantage of different sign-up bonus offers many apps promote. In the past, apps like Chime, Earnin, and Dave had also offered sign-up bonuses or referral bonuses. So, do a bit of research before trying out a cash advance app to see if you can earn some bonuses with a simple code or promotion."
To help you compare your options, here are six instant cash advance apps like Dave.
#1 – Albert: Enjoy zero interest cash advances for up to $250
You can access Albert cash advances1for up to $250 with no interest or subscription fees!
You can request money with just a few taps in the app, and have it sent to an Albert account in about ten minutes or to your bank account in three days with no fee. (You can have the funds sent to your bank account right away for a $6.99 express fee.)
Albert doesn't perform a credit check or require you to move your direct deposit. You can qualify for up to three cash advances per pay period. Your repayment is automatically set to the date of your next paycheck, but you can easily move this to be earlier or later with no late fees.
Get up to $250 instantly with no credit check >>> Get the Albert app 👈
#2 – MoneyLion: Borrow up to $250 with absolutely no credit check
MoneyLion is a popular cash advance app like Dave, with $250 yours in a few taps of your phone.
Known as Instacash, MoneyLion cash advances start at $25 with limits rising to $250 if you provide recurring deposits (you can max out your cash advance limit in as little as 8 weeks – or as little as 3!).
You can request cash with no fees, no interest on the money you borrow, and no credit check – so you're not disqualified if your credit score has taken a hit.
MoneyLion can be 100% free to use (as long as you meet the recurring deposit requirements), though you can choose to pay two optional fees.
1). Pay $5.99 to receive your cash advance in minutes if you have a MoneyLion RoarMoney account
2). Pay $8.99 to receive your cash in minutes to your bank account
If you don't want to pay a Turbo fee, you'll get your funds in 12-48 hours (for MoneyLion customers) or 3-5 days (for external bank accounts).
MoneyLion will ask you if you'd like to provide a tip, but there's no punishment for keeping your money to yourself so you don't need to shell out extra if you don't want to.
Get cash advances up to $250 with no interest >>> Check out MoneyLion 👈
#3 – Go2Bank: Sleep easy with $200 in overdraft protection and no monthly fees
Go2Bank is a neobank – a new, modern type of bank – that offers a handy mobile banking app packed with features to help you manage your money and build credit – all with no minimum balance requirement, no hidden fees, and no monthly fee (when you make an eligible direct deposit)2.
Overdraft protection3 is simple with Go2Bank. Simply set up and receive direct deposits and you'll be automatically enrolled in for overdraft protection for purchases made with your Go2GBank Visa debit card.
Unlike some banks that keep your overdraft limit a secret, Go2Bank shows you exactly how much you have available to spend, and how you may be able to increase your overdraft privileges.
Go2Bank gives you several ways to avoid paying costly overdraft fees, too. There are no fees on transactions that overdraft your account by less than $5 and you have a 24 grace period to bring your account balance back above zero to avoid fees.
Plus, Go2Bank even gives you access to your direct deposited paycheck two days early4, to help shorten that wait until payday, at no charge!
Up to $200 in overdrafts and can get paid two days early >>> Check out Go2Bank now! 👈
#4 – PockBox: You need quick cash but Dave turned you down
Dave offers cash advances of up to $250. But for many users (especially new ones) Dave only provides $25. And sometimes you may not be eligible at all.
If Dave can't get you the cash that you need, the PockBox app could be a good solution. It allows you to get a personal loan as soon as tomorrow in some cases, for up to $2,500 (or borrow as little as $100).
Answer just a few quick questions, and PockBox will quickly seek offers from more than 50 online and offline lenders. This means that the chances of being approved for a loan is higher than individual lending apps. You can qualify for a loan even if you have some problems with your credit history. You may even have several offers to choose from!
Get up to $2,500 >> See what you qualify for in minutes at PockBox 👈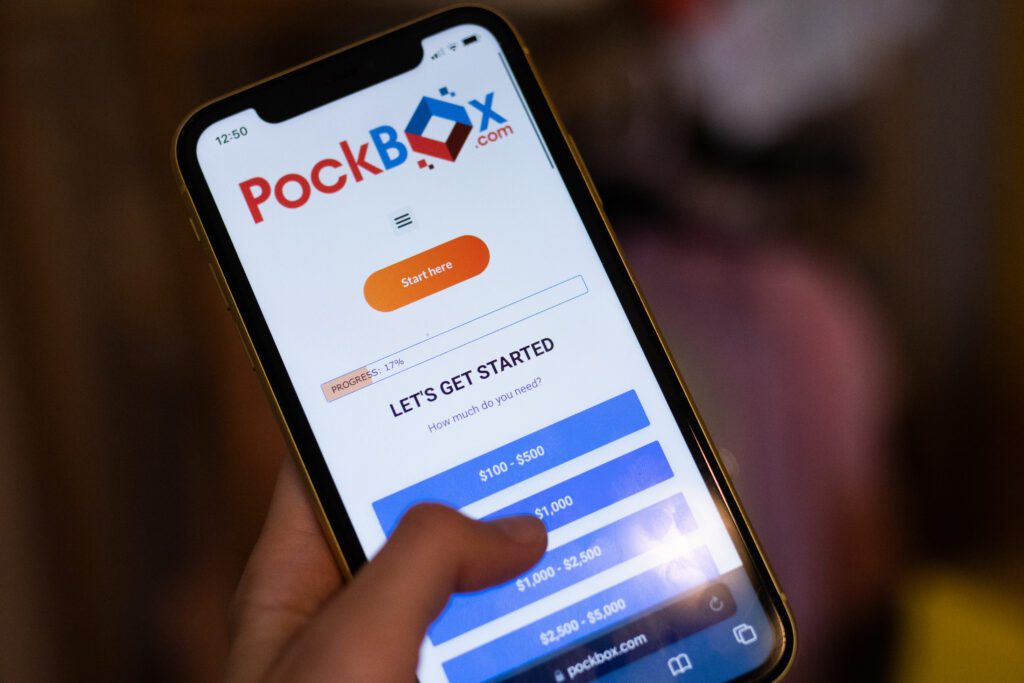 #5 – Current: Overdraft your debit card by up to $200
Dave's cash advances come in handy when you know you're going to need some extra cash over the next few days. But what about that nerve-wracking feeling when you go to pay with your debit card and are unsure if the charge is going to go through?
Dave doesn't let you overdraft your debit card. Fortunately, there's Current, which offers many of the same great features that Dave does.
Plus, the ability to overdraft your debit card by up to $200 with no fees.
Like Dave, Current has partnered with a bank to offer convenient banking features right from your phone. You can access cash from nearly 40,000 fee-free ATMs, cash checks right in the Current app, and use your Current debit card with the millions of merchants that accept MasterCard.
Current also offers a slew of cashback offers at local and national retailers, restaurants and gas stations. (It's tough to find cashback offers on a debit card, and many of Current offers are quite generous, including 4% back at heaps of restaurants and 2% back from brand name gas stations!)
Set up direct deposit with your Current account and you can access your paycheck two days early (same as Dave) and gain access to no-fee overdrafts for up to $200, so you can still use your debit card if your balance is temporarily below $0. You won't pay a monthly or minimum balance fee, either.
Sign up for Current for free >> Get up to $200 in fee-free overdrafts with Current 👈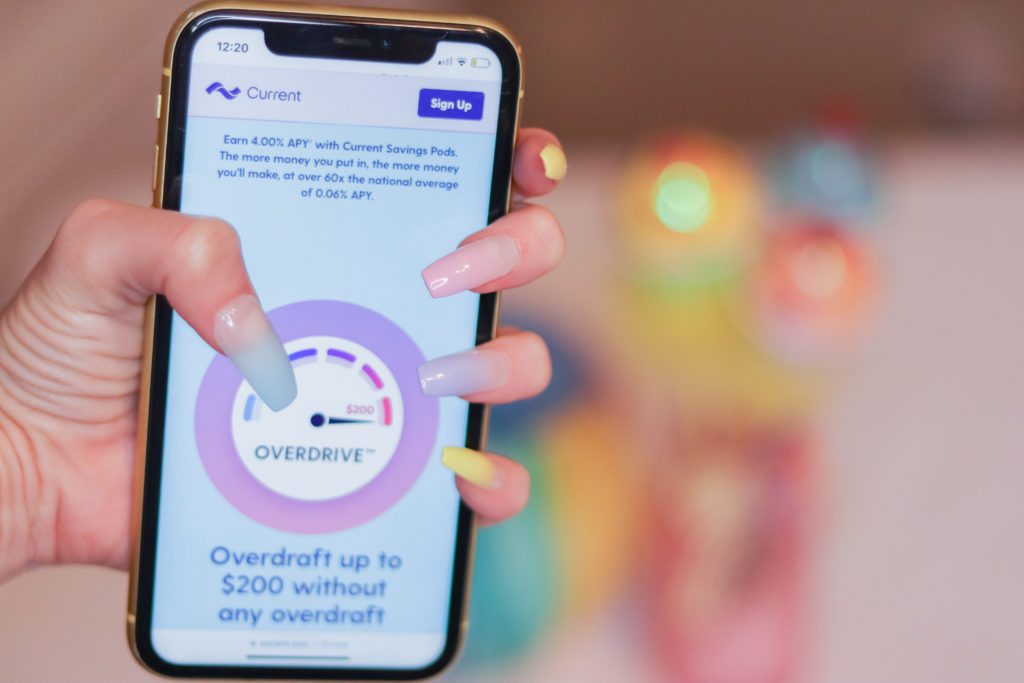 #6 – Earnin: You want to cash out your wages early as a cash advance
You've worked hard for your money, so why shouldn't you access it when you need it?
Earnin lets you get paid early any time you have earnings.
You can access a cash advance for up to $100 through Earnin and have your bank account in under 30 minutes.
You can qualify for cash advances of up to $100 per day and borrow up to $500 per pay period! Your advance will be automatically repaid when you receive your next paycheck. You can then use Earnin to cash out again whenever you need to.
Earnin connects to your existing account (same as Dave) so you don't need to go through the hassle of moving your direct deposit. It also means that you can use your money however you like, including ATM withdrawals and bill payments.
Earnin offers true no-cost cash outs.
It only takes a few minutes to create and verify a new Earnin account, and you can request your first cash out right away.
Read our full Earnin review
💰 Need to borrow more than $500? Check out these $1,000 instant loan apps.
---
Frequently Asked Questions About Cash Apps Like Dave
What other apps work like Dave?
In a word – plenty!
Launched in 2017, Dave was one of the first losw-cost cash advance apps to offer an affordable alternative to overdrawing your account (and the overdraft fees that tag along).
We wrote an in-depth guide on the 12 best money borrowing apps available right now. Click the link below and you'll have an easy-to-follow breakdown of the best apps like Dave.
"Show me 12 apps that work like Dave"
What app will give me $50 instantly?
We recommend the following apps for an instant $50 cash advance:
Cleo: New users can borrow up to $70 immediately with a healthy dose of humor (seriously, you'll laugh your ass off).
Albert: Grab a cash advance with no interest, no fees, and no need to switch over your direct deposit.
PockBox: See what you qualify for in minutes without being punished (or rejected) by a poor credit score.
Dave isn't right for me. How can I borrow $200 from Cash App?
You can't overdraw Cash App to borrow an extra $200 – but there are ways for you to avoid annoying overdraft fees and borrow $200 as a Cash App user. Click the link below to check out our full 'Cash App Review' and uncover 3 x quick and easy ways to borrow two hundred bucks.
---
How we picked these loan apps like Dave
To come up with this list of cash advance apps, we selected more than a dozen of the most popular loan apps like Dave, downloaded them and got to work testing them out. We considered features including fees (upfront or hidden), eligibility, borrowing limits, and interest rates. We also looked for additional features that might benefit you when looking for interest-free cash advances. We may receive a referral fee if you purchase or use some of the products described in this article.
WAIT! High overdraft fees aren't the only way your bank is costing you money.
With inflation overheating, you've probably heard that interest rates are climbing sharply. That means that for the first time in years, it's a great time to shop around for a high interest savings account.
The national average interest rate for savings accounts is currently 0.23% APY – that means that if you have $2,500 in a savings account, you'd earn just $5.76 after one year! Move those hard-earned savings to an FDIC-insured bank paying 3.50% APY and you'd earn $81.73 more!
Don't let your hard-earned savings sit there doing nothing. Check out the rates that you can earn at other banks:
Latest posts by Mitchel Harad
(see all)