Editor's Note: Overdraft Apps provides detailed product reviews and recommendations based upon extensive research and our own hands-on testing. We may earn a referral fee when you sign up for or purchase products mentioned in this article.
Dave pretty much invented no-interest cash advances, and the ability to get up to $500 with just a few taps on your phone remains popular with the company's millions of users. However, Dave charges higher fees than many other apps and offers less flexibility in how you can access extra cash when you need it. Here are several apps like Dave that offer additional ways to conveniently get a spending boost when your funds are low, with fees that lower than Dave charges – sometimes even free.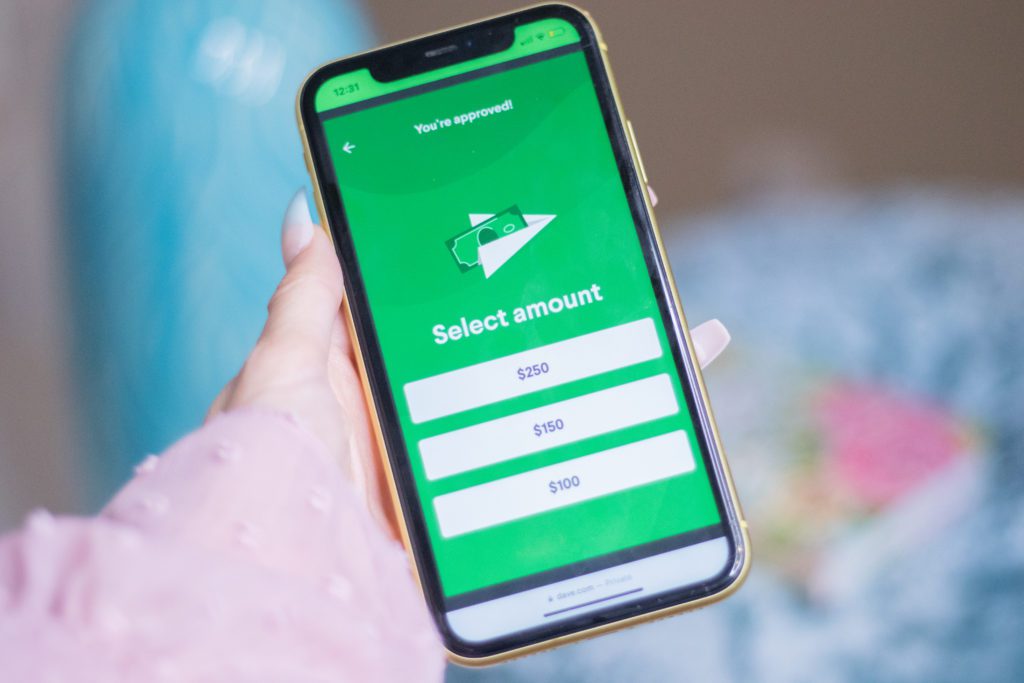 Instant cash advances, with no interest and no credit check
Dave offers a full suite of features to help you manage and access your money.
Dave is best known for its no-interest cash advances, that enable you to get up to $5001 with just a few taps on your phone. There is no interest and no credit check.
You can request a cash advance for up to $500 as soon as you sign up with Dave, and receive your funds almost instantly (we're talking under a minute!). You'll need to have your cash advance sent to a Dave Debit MasterCard, and there is an Express Fee that ranges from $1.99 to $9.99, depending on the size of the advance. Alternative, you can avoid the fee by having the money deposited into your linked bank account. This avoids the hassle of moving your direct deposit to a new bank and you can use the money for whatever you like, including ATM withdrawals, debit card purchases, bill payments, or transfers through Venmo or Cash App, however it takes three banking days to receive the funds.
To qualify for an advance, your linked bank account must be at least 60 days old, show at least two recurring deposits and have a positive balance. Dave will consider a number of factors when you make a request for a cash advance. This includes how far away your next payday is, your account history and spending patterns, and how much is deposited into your bank account each month.
Your cash advance limit is recalculated daily. Reapplying after you have made a deposit into your bank account or are closer to payday may increase your approved cash advance amount (though you also may no longer need the money under those circumstances). Dave doesn't check your credit when you request a cash advance, so there is no impact to your credit score.
Dave also includes some nifty tools to help you get a better handle on your money and your life. Its budgeting feature looks at your spending habits and deposit history to help you better plan ahead, including warning you of potential upcoming overdrafts. Side Hustle is a job search function built into the app that helps you find short term or part time jobs and gig work to earn a few extra bucks.
You can also use Dave as a full featured bank, through its partnership with Evolve Bank & Trust (an FDIC insured bank so you know your money is safe with Dave). There is no minimum balance and no monthly fees, and you'll get a Dave debit card that you can use for purchases and at over 30,000 fee-free ATMs. Set up your direct deposit with Dave and you can also get access to your regular paycheck up to two days early. A qualifying direct deposit also gets you one free year of LevelCredit by Self Financial, which reports your rent, utility and cell phone payments to credit bureaus to help boost your credit score.
Get a cash advance for up to $500 instantly >>> Check out Dave
How much do Dave cash advances cost?
Dave doesn't charge interest on cash advances, but there are three fees that you may need to pay.
First, to be eligible for Dave cash advances, you'll need to subscribe to Dave for $1/month; you can cancel at any time.
Next, depending on where you want your cash advance sent and how fast you need the money, you may need to pay an Express Fee:
$1.99 – $9.99 (depending on the size of your cash advance) to have your funds sent to a Dave Spending Account almost instantly.
$2.99 – $13.99 (depending on the size of your cash advance) to have your funds sent a linked bank account using your debit card, usually in under an hour
No express fee to have your funds sent to your linked bank account, usually in three banking days.
Additionally, Dave will ask you make a tip when you schedule a cash advance. The tip is optional and Dave says it helps offer services to other users (and an undisclosed donation is made to the charity Feeding America for each tip.). However, Dave is a public, for-profit company so it's more likely that your tip is lining Dave's pockets than it is for altruistic purposes. The good news is that tipping is completely optional and the amount of your tip won't impact your cash advance limit.
These fees can add up. Let's say you sign up as a subscriber so that you can get a $100 cash advance for one week. You need your money quickly so you pay the $4.99 express fee and leave a 10% tip of $10. Your no-interest cash advance from Dave has now cost you $16. This is the equivalent to a massive 834% annual percentage rate!
Your cash advance will be scheduled for repayment on the expected date of your next paycheck. If you need a little extra time, Dave does not charge late fees. (And if you're looking to spread out your payments over a longer period of time, check out these $500 instant loan apps.)
Get a cash advance for up to $500 instantly >>> Check out Dave
What are cash advance apps like Dave?
Dave invented the cash advance app, making it more convenient and less costly to access cash when you need it. With six million users, Dave remains the king of the category. However, the competition hasn't been standing still. A number of newer money lending apps offer features that make it faster and easier to borrow when you need it, and with lower fees – in some cases, FREE.
Here are six instant cash advance apps that can make up for Dave's shortcomings:
#1 – No interest cash advances for up to $250 + $150 signup bonus – Try Albert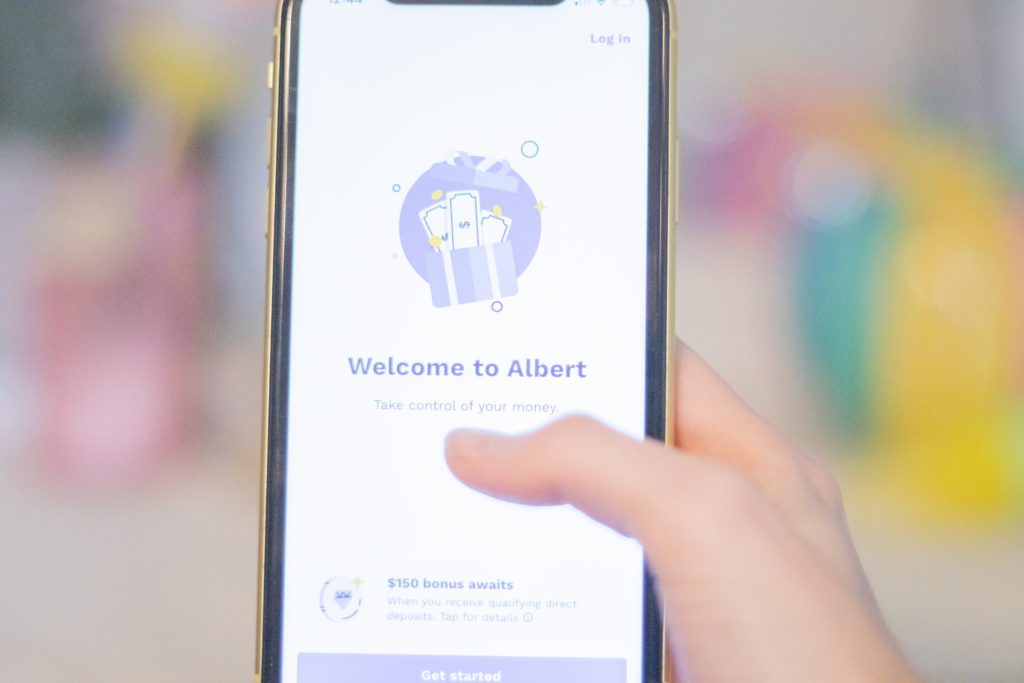 You can access Albert cash advances2for up to $250 with no interest or subscription fees! You can request money with just a few taps in the app, and have it sent to an Albert account in about ten minutes or two your bank account in three days with no fee. (You can have the funds sent to your bank account right away for a $6.99 express fee.)
Albert doesn't perform a credit check or require you to move your direct deposit. You can qualify for up to three cash advances per pay period. Your repayment is automatically set to the date of your next paycheck, but you can easily move this to be earlier or later with no late fees.
Download the Albert app free to get a great set of tools to help you manage your money, better understand your spending, and achieve your savings goals. Oh, and there's one more great reason to give it a try – you can get a $150 new account bonus for giving Albert a try!3
No interest cash advances and a $150 new account bonus >>> Get the Albert app
#2- You want a cash advance app that won't run a credit check – Try MoneyLion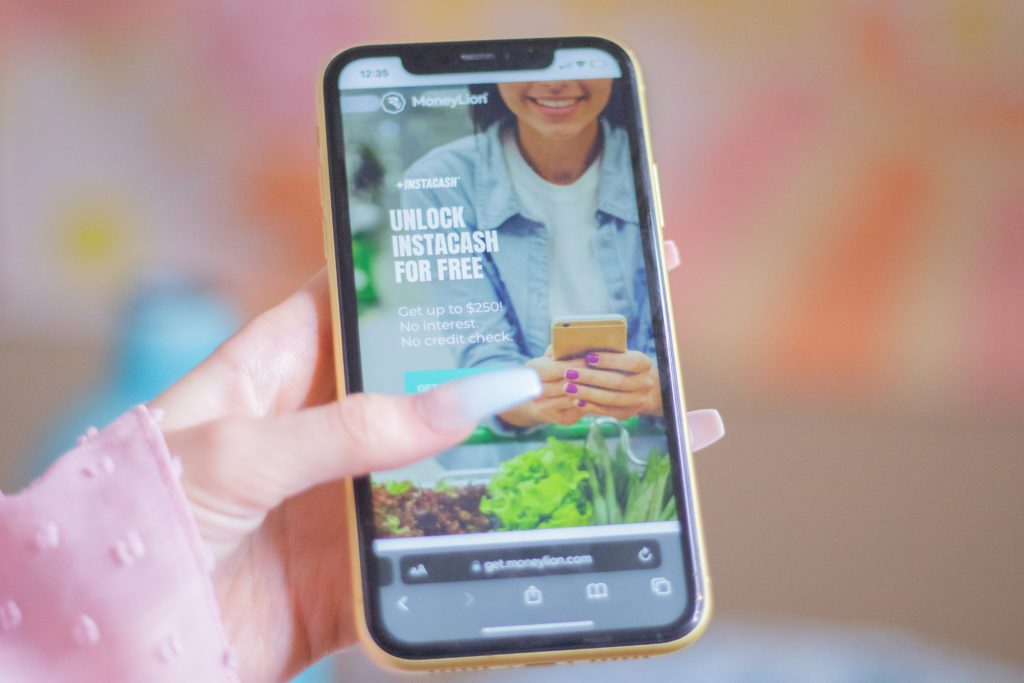 MoneyLion is a popular cash advance app like Dave, with $250 yours in a few taps of your phone. Known as Instacash, MoneyLion cash advances start at $25 with limits rising to $250 if you provide recurring deposits (you can max out your cash advance limit in as little as 8 weeks – or as little as 3!).
You can request cash with no fees, no interest on the money you borrow, and no credit check – so you're not disqualified if your credit score has taken a hit. MoneyLion can be 100% free to use (as long as you meet the recurring deposit requirements), though you can choose to pay two optional fees.
1). Pay $5.99 to receive your cash advance in minutes if you have a MoneyLion RoarMoney account
2). Pay $8.99 to receive your cash in minutes to your bank account
If you don't want to pay a Turbo fee, you'll get your funds in 12-48 hours (for MoneyLion customers) or 3-5 days (for external bank accounts). MoneyLion will ask you if you'd like to provide a tip, but there's no punishment for keeping your money to yourself so you don't need to shell out extra if you don't want to – and since MoneyLion is worth an estimated $250 million, we get the feeling they'll be fine without your tip).
Get cash advances up to $250 with no interest >>> Check out MoneyLion
#3 – You want $200 in overdraft protection without worrying about monthly fees – Try Go2Bank
Go2Bank is a neobank – a new, modern type of bank – that offers a handy mobile banking app packed with features to help you manage your money and build credit – all with no minimum balance requirement, no hidden fees, and no monthly fee (when you make an eligible direct deposit)4.
Overdraft protection5 is simple with Go2Bank. Simply set up and receive direct deposits and you'll be automatically enrolled in for overdraft protection for purchases made with your Go2GBank Visa debit card. Unlike some banks that keep your overdraft limit a secret, Go2Bank shows you exactly how much you have available to spend, and how you may be able to increase your overdraft privileges.
Go2Bank gives you several ways to avoid paying costly overdraft fees, too. There are no fees on transactions that overdraft your account by less than $5 and you have a 24 grace period to bring your account balance back above zero to avoid fees.
Plus, Go2Bank even gives you access to your direct deposited paycheck two days early6, to help shorten that wait until payday, at no charge!
Up to $200 in overdrafts and can get paid two days early >>> Check out Go2Bank now!
#4 – You need cash but Dave turned you down – Try PockBox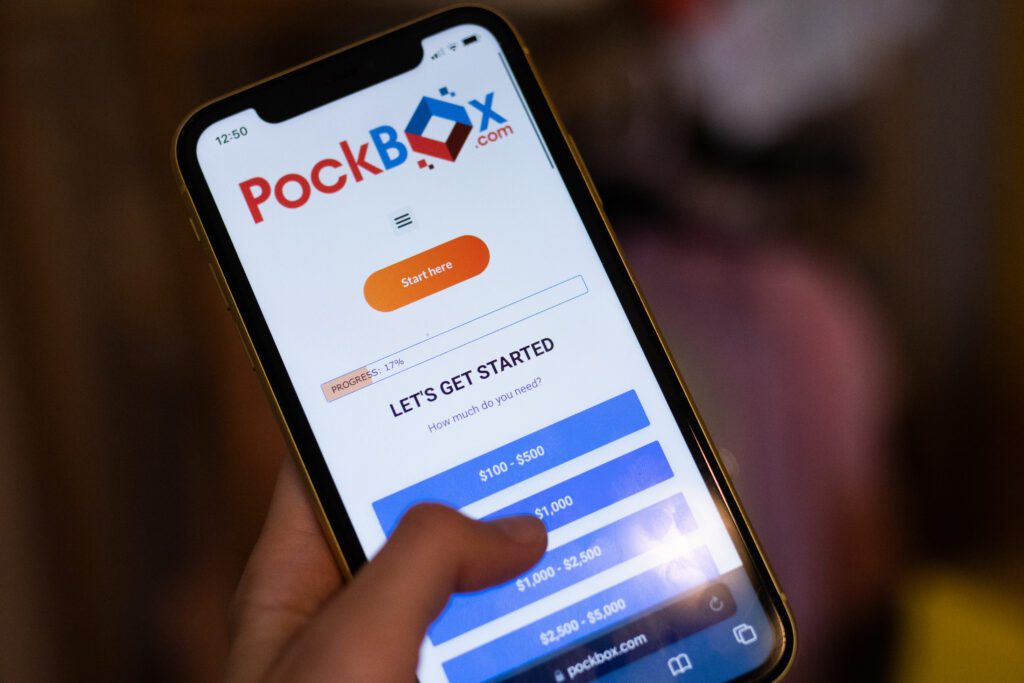 Dave offers cash advances of up to $250. But for many users (especially new ones) Dave only provides $25. And sometimes you may not be eligible at all.
If Dave can't get you the cash that you need, the PockBox app could be a good solution. It allows you to get a personal loan as soon as tomorrow in some cases, for up to $2,500 (or borrow as little as $100).
Answer just a few quick questions, and PockBox will quickly seek offers from more than 50 online and offline lenders. This means that the chances of being approved for a loan is higher than individual lending apps. You can qualify for a loan even if you have some problems with your credit history. You may even have several offers to choose from!
>> Get up to $2,500 – see what you qualify for in minutes at PockBox.
#5 – You don't want to plan for when you'll need a few extra bucks – Try Current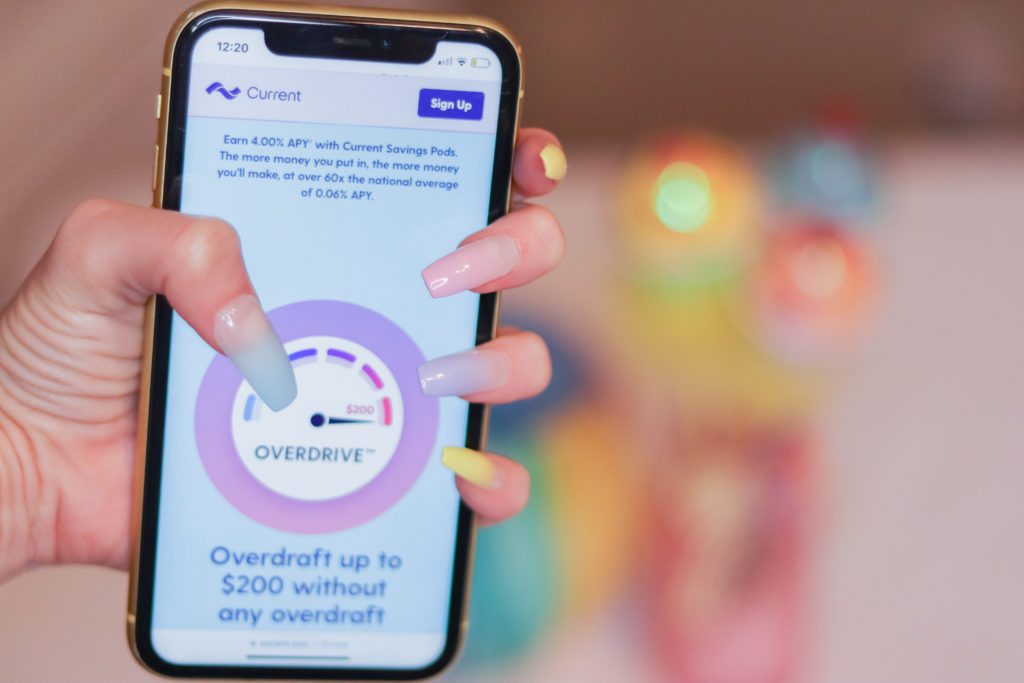 Dave's cash advances come in handy when you know you're going to need some extra cash over the next few days. But what about that nerve-wracking when you go to pay with your debit card and are unsure if the charge is going to go through?
Dave doesn't let you overdraft your debit card. So if your account balance is low and you didn't plan ahead with a cash advance then you're out of luck. Fortunately, there's Current, which offers many of the same great features that Dave does. Plus, the ability to overdraft your debit card by up to $200 with no fees.
Like Dave, Current has partnered with a bank to offer convenient banking features right from your phone. You can access cash from nearly 40,000 fee-free ATMs, cash checks right in the Current app, and use your Current debit card with the millions of merchants that accept MasterCard. Plus, Current offers a slew of cashback offers at local and national retailers, restaurants and gas stations. (It's tough to find cashback offers on a debit card, and many of Curren't offers are quite generous, including 4% back at heaps of restaurants and 2% back from brand name gas stations!)
Set up direct deposit with your Current account and you can access your paycheck two days early (same as Dave) and gain access to no-fee overdrafts for up to $200, so you can still use your debit card if your balance is temporarily below $0. You won't pay a monthly or minimum balance fee, either.
Signing up for Current is free and takes less than two minutes.
>> Get up to $200 in fee-free overdrafts with Current
#6 – You don't want to pay for cash advances – Try Earnin
You've worked hard for your money, so why shouldn't you access it when you need it? Earnin lets you get paid early any time you have earnings.
You can access a cash advance for up to $100 through Earnin and have your bank account in under 30 minutes. And Earnin's limits are higher than Dave's. You can qualify for cash advances of up to $100 per day and borrow up to $500 per pay period! Your advance will be automatically repaid when you receive your next paycheck. You can then use Earnin to cash out again whenever you need to.
Earnin connects to your existing account (same as Dave does) so you don't need to go through the hassle of moving your direct deposit. It also means that you can use your money however you like, including ATM withdrawals and bill payments.
Earnin offers true no-cost cash outs. Unlike Dave, there is no subscription fee and you don't need to pay extra to get your money quickly. Earnin also asks you make an optional tip when you request a cash advance. But this is completely optional and declining to leave a tip won't impact your ability to get another cash advance.
Here's how Earnin makes it easy to get cash when you need it:
You've got the day off work and your favorite band is in town - but your bank account is empty. Instead of overdrawing your account (and copping expensive overdraft fees), you use Earnin to request a $100 advance on your wages. Earnin moves your money to your bank account in minutes, with zero fees or charges. You get your concert tickets with the outstanding amount automatically deducted from your next paycheck.
It only takes a few minutes to create and verify a new Earnin account, and you can request your first cash out right away.
Read our Earnin review
👉 Need to borrow more than $500? Check out these $1,000 instant loan apps.
---
How we picked these lending apps like Dave
To come up with this list of cash advance apps, we picked a handful of apps like Dave, downloaded them onto our phones, and got to work testing them out. We considered features including fees (upfront or hidden), eligibility, borrowing limits, and interest rates. We also looked for additional features that might benefit consumers looking for interest-free cash advances. These include credit checks, speed of accessing funds and overdraft support. We may receive a referral fee if you purchase or use some of the products described in this article.
WAIT! High overdraft fees aren't the only way your bank is costing you money.
With inflation overheating, you've probably heard that interest rates are climbing sharply. That means that for the first time in years, it's a great time to shop around for a high interest savings account.
The national average interest rate for savings accounts is currently 0.23% APY – that means that if you have $2,500 in a savings account, you'd earn just $5.76 after one year! Move those hard-earned savings to an FDIC-insured bank paying 3.50% APY and you'd earn $81.73 more!
Don't let your hard-earned savings sit there doing nothing. Check out the rates that you can earn at other banks:
Latest posts by Mitchel Harad
(see all)
ExtraCash™ is a DDA account with overdraft utility that is subject to eligibility requirements. Taking an ExtraCash™ advance will make your account balance negative. Express delivery fees apply to instant transfers. See the Extra Cash Account Agreement for more details.
Download to see if you qualify. Repay the advance with your next paycheck. Fees may apply. Advance amounts based on qualification and may vary. Albert is not a bank. Banking services provided by Sutton Bank, Member FDIC.

Here are the criteria to earn the $150 bonus:

Set up direct deposit with Albert Cash,
Receive a qualifying direct deposit of $500 or more within 45 days of joining Albert;
Receive a qualifying deposit of $500 or more every 30 days for 90 consecutive days,
Use your Cash card to spend $200 or more on qualifying goods or services every 30 days during the same 90-day period, And
Meet all of the above requirements within 150 days of joining Albert
Be sure to see the full terms and conditions and eligibility conditions.
Monthly fee waived whenever you receive a payroll or government benefits direct deposit in the previous monthly statement period. Otherwise,$5 per month.
Activated, chip-enabled debit card and opt-in required. $15 fee may apply to each eligible purchase transaction that brings your account negative. Balance must be brought to at least $0 within 24 hours of authorization of the first transaction that overdraws your account to avoid the fee. Go2Bank requires immediate payment of each overdraft and overdraft fee. Overdrafts paid at Go2Bank's discretion, and Go2Bank does not guarantee that it will authorize and pay any transaction. Learn more about Overdraft Protection (PDF).