Editor's Note: Overdraft Apps provides detailed product reviews and recommendations based upon extensive research and our own hands-on testing. We may earn a referral fee when you sign up for or purchase products mentioned in this article.
"What's the BEST money lending app available right now?"
It's tough to find a straight answer to that question since every money lending app will put its hand up and claim to be the best. So we'll help you cut through the white noise.
Getting a loan using an app is sometimes just the easiest and quickest way to get cash when you urgently need it. Not all apps are the same though. You need to closely check out the app description and read money lending app reviews carefully before you choose a lender.
You don't want to be caught out with high upfront fees, astronomical interest rates, or harsh collection tactics.
To get you the money you need (without the fees, charges and interest you'd rather avoid), let's look at some of the different apps you can choose from, including which app is best for which type of loan.
What to expect…
Top 3 cash app recommendations
#1 – PockBox.com for up to $2,500 even if you have bad credit
PockBox is the perfect app to get cash advances of up to $2,500. The process is sleek and straightforward. You will just have to give some information about yourself. The PockBox app will connect you to the best lender possible and approve you in a matter of minutes.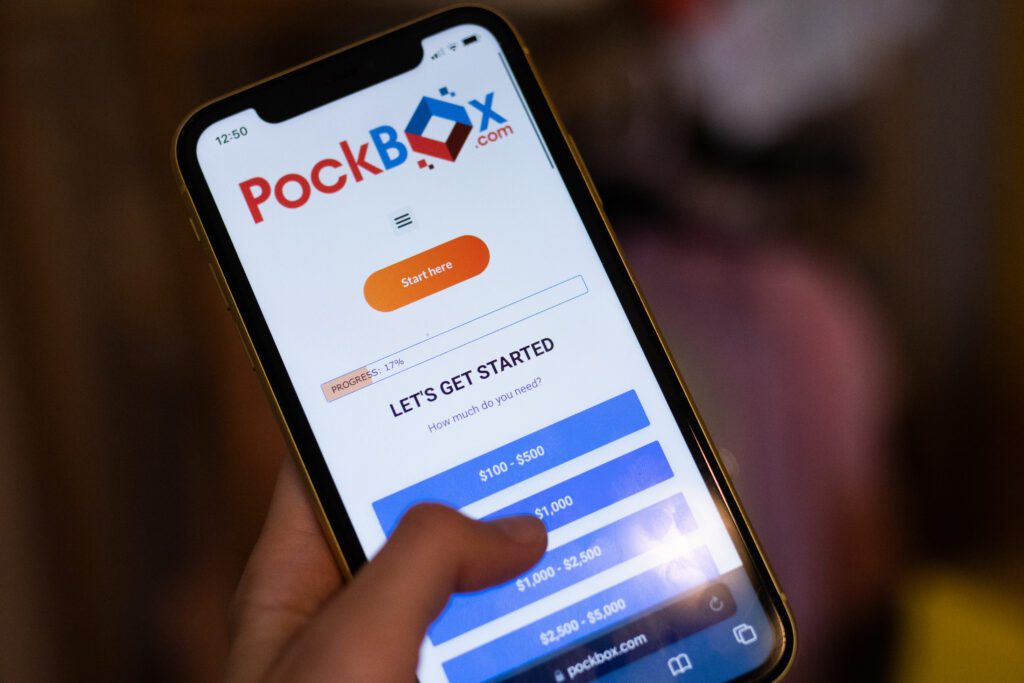 Borrow Up to $2,500 >>> Compare your options on PockBox
#2 – LoanSolo
LoanSolo lets you borrow small amounts of money – between $100 and $1,000. The process is quick, online, and if approved, you will get your money by tomorrow. It is very straightforward and doesn't require much for you to do except providing regular personal information.
#3 – MoneyLion for loans up to $1,000 or cash advances up to $250
A money lending app with no credit check, MoneyLion can help you borrow a little or a lot.
With MoneyLion Instacash, you can enjoy cash advances up to $250 with no credit check and no interest, In just a few taps on your smartphone, you can borrow money to cover your rent, pay for a night out, or splurge on yourself.
Need a little more?
MoneyLion Credit Builder Plus provides loans up to $1,000, with some of your funds available upfront (this can be as high as several hundred bucks!). The remainder of your funds is put aside in a locked savings account until you pay your loan in full. As a credit builder loan, this helps to improve your credit score AND puts a nice lump sum in your account to use in any way you like.
As a Credit Builder Plus member, your cash advance limit is increased to $300 – and using this feature won't impact your credit score.
Get cash advances up to $250 with no interest >>> Check out MoneyLion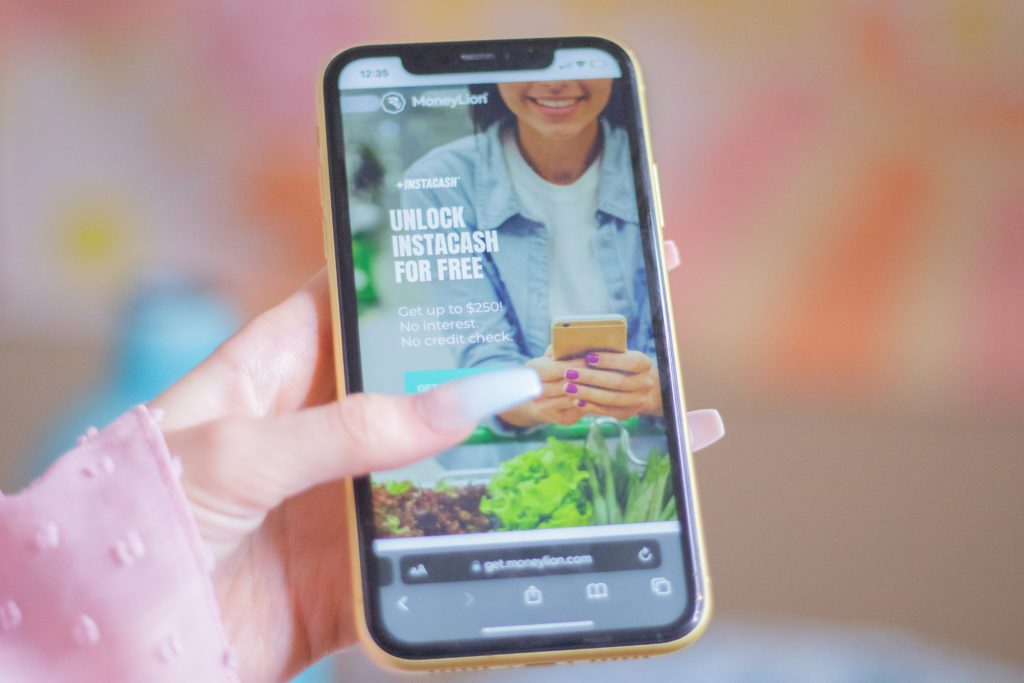 BONUS: Apps that loan you money
You get different types of money lending apps and they are all suited to different borrowing requirements. Some apps are great for getting a little cash without paying any interest at all. Also called an overdraft app, these apps are excellent replacements for overdrafts where you just need a couple of dollars for a short period, but you don't want to pay an expensive overdraft fee. You can borrow amounts in the range of $25 to $75 with an overdraft app.
Need to borrow more? Do THIS to borrow $200… ????
You get a different range of apps which are better for larger loans. These usually won't offer you loans for free. However, though you will be charged interest, you can borrow as much as $30,000 with apps that are geared towards larger loans. So, before you pick an app, first think about how much money you need to borrow, and how long it will be before you can pay back the money.
Looking for a small loan app? You'll love these…
It is quite common for people to be just a little short of money. You don't need a big loan, you just need to borrow $50 or borrow $100 to pay an unexpected bill or to cover yourself for a few days until you get paid. Small loans are a completely different requirement compared to a large, long-term loan. Thankfully, plenty of apps are great for small loans.
Here are a few of our favorite apps to lend you a little money until your next paycheck:
Need a lending app for bigger amounts? Check these out
You don't need to go to a bank if you want to borrow a large sum of money. You can use a money app to borrow as much as $30,000. Avant, one of the longest-standing money apps offer large loans but to qualify for a large loan with the Avant app you will need a good credit score. Avant does offer smaller loans at higher APRs to people who have less than perfect credit.
Another app that is a top choice for larger loans of up to $2,500 is the PockBox.com app. You may get your funds on the next business day with PockBox. The company will consider customers who have an adverse credit history, making PockBox a good option if you need a large loan but you don't have an excellent credit history.
Are instant loan apps *really* instant?
Typically, no. Remember that even if a provider promises near-instant approval that does not mean your funds will be available instantly. It is common for a provider to approve a loan nearly instantly but transferring funds usually takes at least a working day or more. Every lender has a different policy when it comes to depositing loans. You can expect large sums to take a few working days to land in your account.
For example, Avant approves your loan almost instantly in many cases but provides you with funds only the next day, with some loans taking even longer to clear. PockBox also promises quick approval but your loan funds are deposited into your account the next day.
There are some exceptions. The Albert App can place funds in your account immediately – though you'll need to move your direct deposit. This isn't mandatory, but you'll need to wait for funds to clear (2-3 days for the Albert app) or pay an express fee ($6.99 for the Albert app).
How accessible are mobile loan apps?
A handy Android or iOS app is the perfect way to get access to quick funds. But not every money app has a mobile app. And not every app allows you to complete the entire application process on your phone. Yet some providers do a great job of presenting an excellent, highly-rated app to their users.
Dave and MoneyLion are both top examples of mobile loan apps where you can both borrow money using an app and also manage your loan with it. MoneyLion is another excellent example of an app that lets you borrow money using your phone. You can save on the MoneyLion Plus subscription fee just by using the MoneyLion app.
On the other hand, providers such as PockBox do not offer mobile phone apps at all. You can only apply for a PockBox loan by using the PockBox website. Other providers are somewhere in-between: Avant does not let you apply for a loan with its mobile app but you can manage your loan including payment schedule and outstanding balance using the Avant app.
WARNING: These are the cash loan apps you should NOT use
Just because an app has successfully made it into an app store does not mean that the company behind the app is a reliable lender. You should always read the reviews and experiences posted by other users before you download an app, and before you take out a loan.
One example of an app that has left many users frustrated is ACE Cash Express. ACE promises quick and easy payday loans but reviewers complain about customer services that are difficult to deal with while also complaining that the app simply does not work, freezing as soon as you try to apply for a loan.
Security Finance's $MyLoan$ app is supposed to let you manage your Security Finance loan account on your phone but users are not happy. Users complain that the app constantly crashes and that it is difficult to reset your password if you forget what it is.
Why money loan apps have become so popular
Money lending apps are popular for lots of reasons. First, people are often finding that they are short of cash when they least expect it. Sometimes it is a matter of overspending in a month but it can also be due to an unexpected bill. An app is simply an easy way to borrow money when you need it urgently.
Next, money apps are technology-driven. The imaginative tipping system used by some money lending apps is a great way to encourage users to pay for their loans while at the same time ensuring that people who cannot afford interest and charges won't pay any.
Apps can also turn a profit from analyzing the data they collect by connecting to your bank account. The technology factor is replacing the interest charge factor for many apps but interest charges still make up a large part of the profits for many money apps.
Final thoughts and what to do next…
As with any loan users should watch out for traps with money apps.
Make sure you know exactly what the interest and charges are for an app. Consider how reliable the provider is: is your data safe, for example? Also read money lending app reviews to see what other users say about their experience.
Finally, some apps can trap you into subscription products if you take out a loan, watch out for ongoing subscription charges when you sign up to an app.
WAIT! High overdraft fees aren't the only way your bank is costing you money.
With inflation overheating, you've probably heard that interest rates are climbing sharply. That means that for the first time in years, it's a great time to shop around for a high interest savings account.
The national average interest rate for savings accounts is currently 0.23% APY – that means that if you have $2,500 in a savings account, you'd earn just $5.76 after one year! Move those hard-earned savings to an FDIC-insured bank paying 3.50% APY and you'd earn $81.73 more!
Don't let your hard-earned savings sit there doing nothing. Check out the rates that you can earn at other banks:
Latest posts by Mitchel Harad
(see all)