Editor's Note: Overdraft Apps provides detailed product reviews and recommendations based upon extensive research and our own hands-on testing. We may earn a referral fee when you sign up for or purchase products mentioned in this article.
Cash advance apps are now used by tens of millions of Americans for everything from filling up the gas tank to grabbing a pair of concert tickets. But these are not only growing more popular, they're getting significantly more expensive too. As some of these apps start facing a government crackdown on hidden fees, new research shows what they really cost – and how you can save on costs the next time you need to borrow some quick cash.
As inflation continues to squeeze budgets, more consumers are turning to popular cash advance apps to help make ends meet until payday.  These apps typically provide access to several hundred dollars in cash in less than 15 minutes after signing up, with no interest and no credit check. Browse the finance category on the App Store or Google Play and you'll find nearly twenty of these apps ranking as the most frequently downloaded. Several cash advance apps, including Earnin, Dave and MoneyLion, have been downloaded more than 10 million times!
As these apps become more popular than ever, the cost to use them is climbing rapidly.
The fees to borrow from cash advance apps have become much more expensive to consumers over the past six months. In our exclusive research study, we found that the cost of using the most popular money borrowing apps has jumped by 24% since we last analyzed fees in April of this year! jump in costs since the site benchmarked costs in April of this year. 
The average cost to borrow $100 is now $19.08, with fees ranging from $6.00 to $34.99.  Lower cost options are harder to find but they are still out there, with Varo, Vola, Cleo, and B9 each charging less than $10 in fees to borrow $100.  
The higher costs are driven by fee increases from several widely used apps, plus the rising popularity of newer, pricier apps such as Super, which we found to be the priciest app to borrow from. Cost calculations for the study are based on public pricing information as of October 13, 2023. The analysis assumes one advance per monthly subscription fee, express delivery fee to an external bank account, and the lower of 15% or maximum optional tip for apps that request tips.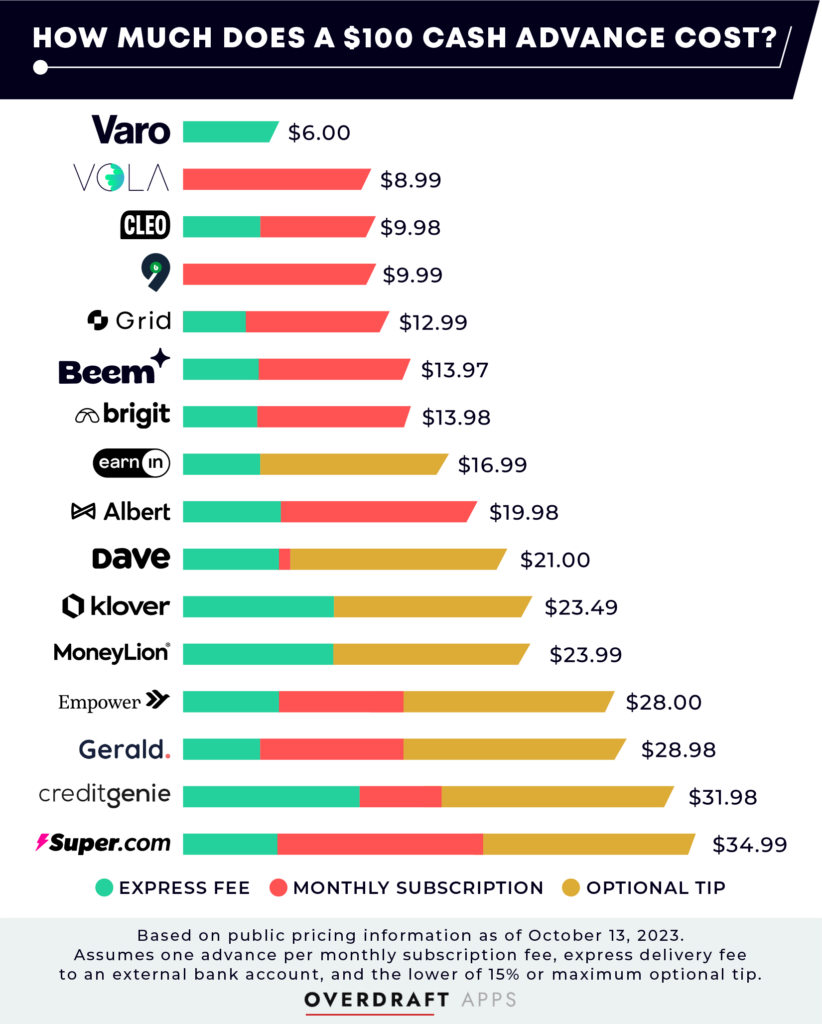 How to Borrow for Less
With a steep increase in costs and a wide range of prices and fee structures, doing a little research before borrowing can add up to significant savings, especially if you use these apps regularly to access extra cash.
Shop around: If you look at the App Store listings or websites for most of these apps, it can be challenging to tell them apart. They all offer fast access to cash with no interest or credit check, but if you try to dive down into what they'll really cost you, you may not make much headway. (In fact, the Federal Trade Commission announced an $18 million settlement with the maker of Brigit, one of the most popular cash advance apps, for deceptive advertising and fees.)  Good news, we've got you covered with guides and recommendations on the best options to borrow $50, $200, $500, and $1,000!
Plan ahead: Convenience comes at a price, and most apps will charge you an express fee to deliver your money within minutes. However, if you anticipate your cash needs, you can request funds a few days in advance and avoid the rush—and the extra cost. By being proactive with your finances, you can sidestep express fees that accumulate over time.
Skip the tip: Tipflation is showing up in a new and unexpected place – your lender. While tipping for service is a well-ingrained habit, it's optional in the realm of cash advance apps. These apps often suggest tipping, but you are under no obligation to do so. Foregoing the tip doesn't affect your borrowing capabilities or limits. Remember, every dollar saved is a dollar earned.
Don't forget about those subscriptions: Some apps will require you to sign up for a monthly subscription to access cash advances and other features. Subscriptions range from $1 to a steep $19.99, and are usually automatically billed to your bank account each month – where it's easy for them to go unnoticed. If you're no longer using an app, make sure you cancel it to avoid racking up high costs. Most apps will require you to cancel within the app or via customer service; simply deleting the app won't put an end to those monthly charges!
So how much can a little extra work help you save? Consider Dave ExtraCash™, one of the most popular apps. Borrowing $100 with an express fee for transfer to an external bank account and a 15% suggested tip will cost you $19. But, if you have your funds sent to Dave's debit card (which also just takes minutes) and skip the tip the cost is just $3 — the most competitive rate among the providers surveyed. (Dave also charges a $1 monthly subscription fee.)
And we'll even do you one better. Here are some totally legitimate ways to borrow from cash advance apps without paying any fees.
What are cash advance apps?
Over the last six years, cash advance apps have seen a meteoric rise, becoming a go-to for quick funds. These apps typically allow users to borrow up to $250 or $500. However, for new users, the limit is often in the $50 – $150 range, thought it can be as low as $5 to $10. Build up a brief history of on-time repayments and you'll generally see your limit quickly climb.
The appeal of these apps is partly due to their no-credit-check policy, which makes them a lifeline for those with poor or no credit history. They operate by connecting to users' bank accounts through Plaid, a widely-used financial services platform, to assess factors like account age, average balances, and deposit frequency and amounts.
Deposit history tends to be the most important factor in determining how much you can qualify for, so having an established bank account that shows consistent deposits, such as a paycheck, tend to have the best results. If you have irregular earnings, such as from platforms like Uber or DoorDash, you can have a harder time qualifying, though there are a number of cash advance apps that are friendlier to gig workers.
When you're in a pinch for cash, these apps can dispatch funds quickly to a bank account or an app-provided debit card, though an express fee is usually attached to such rapid transfers. You can usually see what you're eligible for at any time in the app, an many of them can put money in a new user's account within minutes of signing up, provided you're eligible.
Repayment is automatically set for when the app expects your next regular deposit, and the amount you borrowed plus any fees and tips, will be automatically deducted from your bank account. If you need more time to repay, most apps make it easy to change your repayment date, and since there is no interest or late fee (in most cases), you won't incur extra costs by stretching things out a bit. Late payments generally aren't reported to credit bureaus either, though if you take too long you may see your borrowing limit reduced or your borrowing privileges may be suspended.
Watch: Cheapest Cash Advance Apps Revealed
WAIT! High overdraft fees aren't the only way your bank is costing you money.
With inflation overheating, you've probably heard that interest rates are climbing sharply. That means that for the first time in years, it's a great time to shop around for a high interest savings account.
The national average interest rate for savings accounts is currently 0.23% APY – that means that if you have $2,500 in a savings account, you'd earn just $5.76 after one year! Move those hard-earned savings to an FDIC-insured bank paying 3.50% APY and you'd earn $81.73 more!
Don't let your hard-earned savings sit there doing nothing. Check out the rates that you can earn at other banks:
Latest posts by Mitchel Harad
(see all)